DVD Creator
Make 1:1 Lossless DVD/Folder/ISO Out of Video Files in Different Formats.
Free Download
Free Download
Convert VHS to DVD: Where and What Are the Best Methods to Use
If you are being motivated by nostalgia that lets you want to bring back old memories, then this article is for you. We couldn't deny the popularity of camcorder tapes as being the first medium to capture memories with your loved ones. Be it for documentation of memories or for storing old movies, VHS was the top of the line. However, VHS has become too old to use these days. But you can still have the nostalgic vibes with your old videos or movies, and that is through converting VHS to DVD.
There are plenty of good reasons why you would want to have this type of conversion. But some of the few that might get your approval are the preservation, convenience, upgraded quality, and easy sharing and distribution. To have a deeper comprehension of this, allow this article to give you the best places where you need to do the conversion, as well as the best tools to make the conversion a good deal.

Part 1. Is VHS Dead?
This is probably one of the very questions that come to your mind when you see the need to convert VHS tapes to DVDs, so allow this part to explain further. The Video Home System, or VHS, is now considered a widely outdated technology, making it considerably "dead" in mainstream use. Although it was the famous format for recording and watching video content in the 1980s and 1990s, it eventually faced a comprehensive decline in the world of technological advancements, unfortunately. To bank on this, due to more advanced and convenient alternatives emerging, the VHS tapes, together with the VHS players, were gradually phased out.
As mentioned a while ago, various factors primarily drove the decline of VHS. And to give you further discussion about this, here is the list of the factors below.
Upgrade of digital technologies over VHS like the DVDs and later Blu-ray discs. These types of disc formats offer more compact storage and higher video quality. Resulting in a transfer of VHS to DVD service.
The convenience of the newer disc formats. The said formats have some convenient features, such as menu navigation and chapter selection, making them more appealing to users today.
Next is the birth of online video platforms and digital streaming that made access to a vast library of content a lot easier. This also renders the playback control specifically the need to rewind and fast forward.
VHS tapes have been susceptible to deteriorating over time. The magnetic tapes utilized in VHS can deteriorate, which results in video and audio quality lost. This factor, linked with the VCR repair services and the scarcity of replacement parts, made it increasingly challenging to maintain a functioning VHS playback system.
While the VHS is considered a dead format for everyday use, there are still some calling scenarios for its relevance. Just like what we brought up in the introduction part, many people choose to retain their VHS tapes for archival or nostalgic purposes, as they hold onto their rare content or cherished family videos. Moreover, some users and collectors appreciate the retro charm of VHS more, so they maintain VHS tape collections and VCRs. However, remember that any rebirth in VHS usage is relatively limited compared to the utility of modern streaming and digital media technologies.
Part 2. Where to Convert VHS to DVD
Since the VHS tapes are not the mainstream anymore, you don't bother to get a VHS DVD player. Conversion remains the ultimate way to get your memories back. To convert VHS to DVD, you can explore various options, including online services and local businesses. Thus, here is the list of the places where you can see such types of conversion services.
1. Local Electronics Stores
Many computer repair or electronics shops may offer VHS tapes to DVD conversion services. You can check out the stores in the table below to see if there's one in your area.
| Store | Transfer Service |
| --- | --- |
| Walmart & Sams' Club | YesVideo.com |
| Walgreens | iMemories.com |
| CVS | YesVideo.com |
| Costco | YesVideo.com |
2. Video and Photo Specialty Shops
Some stores that specialize in photo and video services offer conversion of VRC to DVD. These stores often have the needed expertise and equipment to handle the conversion.
3. Online Conversion Services
Like the previous one, online companies also provide conversion services, where you can ship your tapes to them. Then, online service companies such as iMemories, Legacybox, and YesVideo will convert the VHS content to digital formats or DVDs and send you back the converted media.
4. Local Media Production Companies
Another option that might help you with your VHS to DVD conversions is the local media production companies, especially those that offer video digitization and transfer services.
5. DIY Option At Home
If you have the technical skills and the equipment, then you can also perform this DIY option conversion at home. What you will need? A VCR, recorder, a blank DVD, and the required cables will connect the two devices. In addition, you can utilize video capture cards with a computer to transform the VHS tapes and then produce the content onto DVDs.
Part 3. 3 Methods to Convert VHS to DVD at Home
Method 1. Digitize VHS to DVD via DVD Creator Software
Digitize your VHS recordings and convert them to DVDs with the help of this DVD Creator by Blu-raySoftware. This software is full-packed and a professional DVD creator program that will make your authoring process excellent. It works after you digitize your VHS, convert and author them into your desired DVD, as well as Blu-ray discs, folders, and ISO files using famous formats like MP4, WMV, MKV, MTS, etc. Aside from that, you can guarantee that your authored content has uncompromised or even better image display and sound quality.
Furthermore, this DVD Creator provides powerful burning speed at at 30X faster for it uses an advanced accelerated technology. Additionally, it supports VSO, CdrTool, and IMAPI SDK, which you can also enjoy. Expect to create videos in various DVD formats, too, like DVD-DL, DVD-9, DVD-R, DVD-5, DVD-ROM, DVD-RW, DVD-RAM, DVD+R, DVD+RW, and more. What makes it even more exciting to use is that this program offers plenty of menu templates and customizations for the title menus, such as family, travel, holiday, and many others.
DVD Creator
Multiple burning tools and options.
Burn files speedily to DVDs and Blu-rays.
Create disc/folder/ISO files from digitized VHS movies.
It comes with a wide variety of menu templates and customizations.
Accelerated authoring speed at 30X faster.
How to Convert VHS to DVD
Step 1Download the software on your computer, and place the DVD on the drive while the installation process is ongoing.
Step 2Connect your external VCR to your computer using the appropriate cable connectors. While the VHS is playing on your screen, record the entire content using your video-capturing software. This will be your step to digitize the VHS. You can also edit the recorded content before you proceed to the next step.
Step 3Once the digitized VHS is ready for conversion, launch the DVD Creator. Then, click the Add Media File(s) button at the center of the interface to load the digital VHS.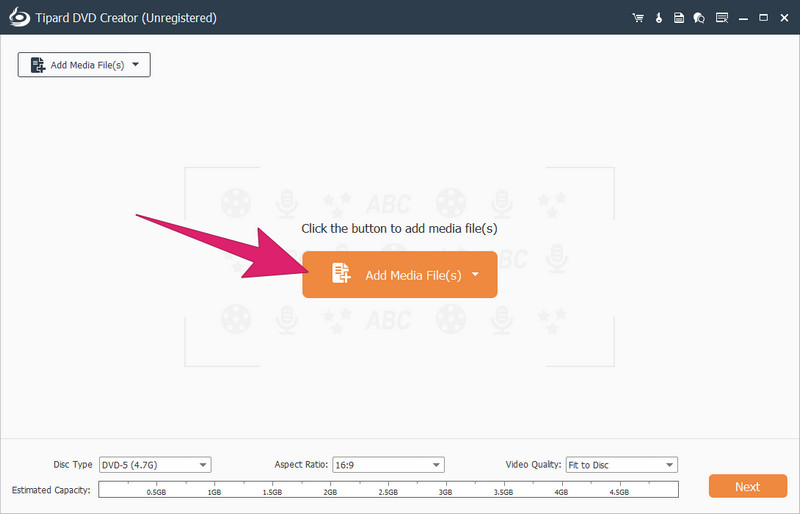 Step 4After that, customize the click the Disc Type, Aspect Ratio, and Video Quality according to your preferences. You may also access the Powerful Tools, which is located in the right upper part of the workspace. Then, click the Next button.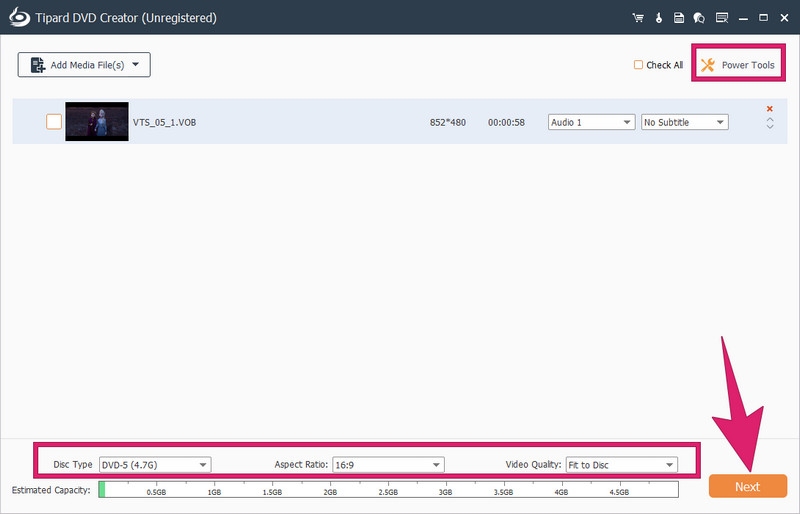 Step 5On the next interface, choose your desired menu template to use. Then, hit the Burn button to start the burning process.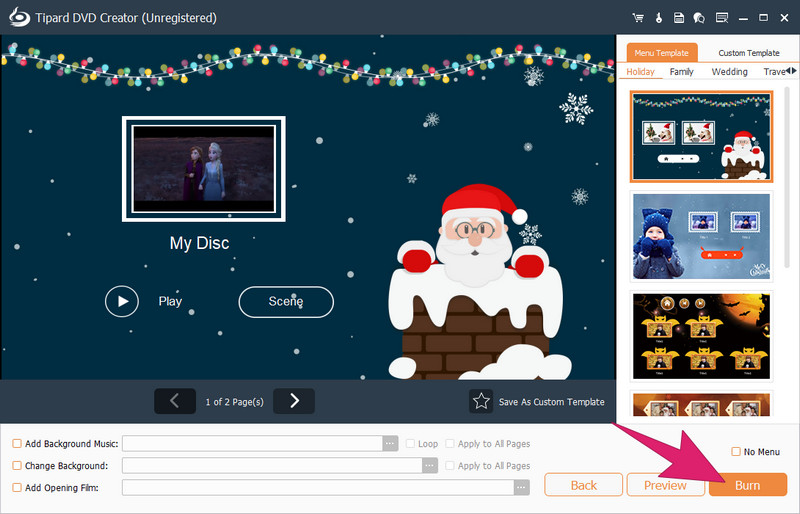 Once you've made the DVD, treat it lightly and be careful with the DVD scratches, for the disc is more prone to damage than the tough Blu-ray discs.
Method 2. Use a Standalone DVD Recorder
This next method is a relatively straightforward one and doesn't require a computer device. Hence, you will need a DVD recorder, which is a standalone one, a VHS player, a blank DVD, and audio and video cables. Here's how to record VHs into DVD.
Step 1Connect the VHS player's video and audio output to the input of your DVD recorder using the proper cables or composite or S-Video.
Step 2Next, open the disc tray of the recorder and insert the black DVD. Then, turn the DVD recorder on and select the proper input source.
Step 3Once selected, press the Record button from your DVD recorder. By doing this, the recorder will capture the VHS content onto the blank DVD in real-time.
Step 4Once the recording is finished and you have already finalized some needed aspects, you can now eject the DVD and name it with the title or whatever label you want for the content.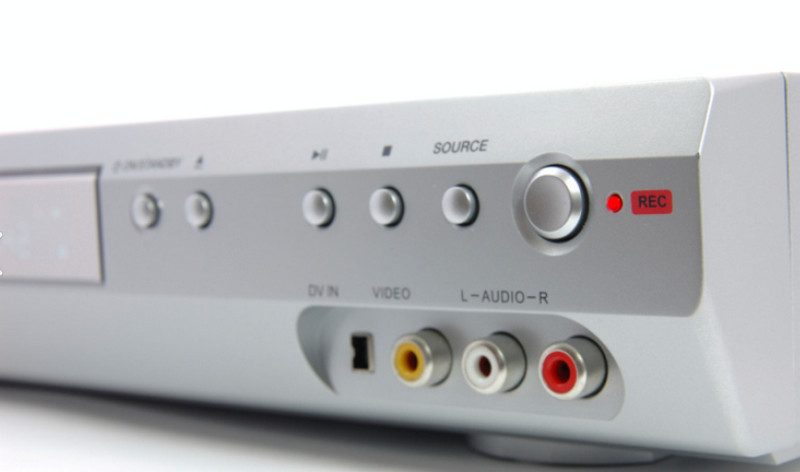 Method 3. Use a VCR/DVD Combo Unit
Another straightforward method to use is a combo unit of VCR and DVD. This method is designed to transfer your VHS tapes to DVD process simply. See the steps below to follow.
Step 1Plug your combo unit. Then, connect it to your TV monitor by following the manual guide of the unit.
Step 2Launch the unit and open its DVD tray to place the disc on it. Then, on its VCR portion, place the VHS tape.
Step 3You may now start the copying process by pressing the Copy or Dubbing button, depending on what your unit offers. You will see some prompts on your monitor during the process, most of which you must follow.
Step 4When the copying process is completed, you may choose to finalize the DVD. After that, eject the disc from the combo unit.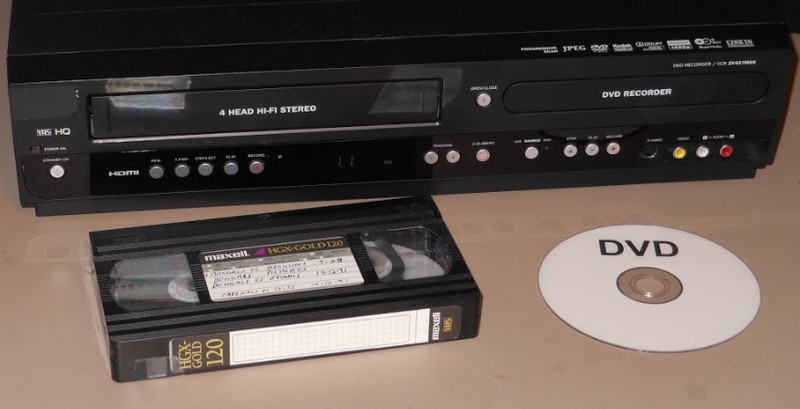 Part 4. FAQs about VHS to DVD Conversion
Does CVS convert VHS tapes to DVDs?

Yes, some CVS stores offer VHS to DVD conversion services.

Is it worth it to convert VHS to DVD?

VHS can be worth converting to DVD if you want to preserve and modernize your old VHS tapes, as VHS players are now obsolete.

How much does it cost to convert VHS to DVDs?

Converting VHS to DVD can vary on the amount of price. Per tape typically ranges from $20 to $35. However, prices may change by location and the additional services you require. Hence, you may contact your local CVS for the price they offer.
Conclusion
To sum it up, all the solutions above are feasible for you to convert VHS to DVD at home easily. To make the whole DVD burning process much easier, you can prepare a workable DVD recorder and download the versatile DVD Creator picked by Blu-ray Software. Then, start transferring your precious memories to a much more modern gadget, the DVD disc. You can try it for free with the download buttons above whenever you want.