Blu-ray Ripper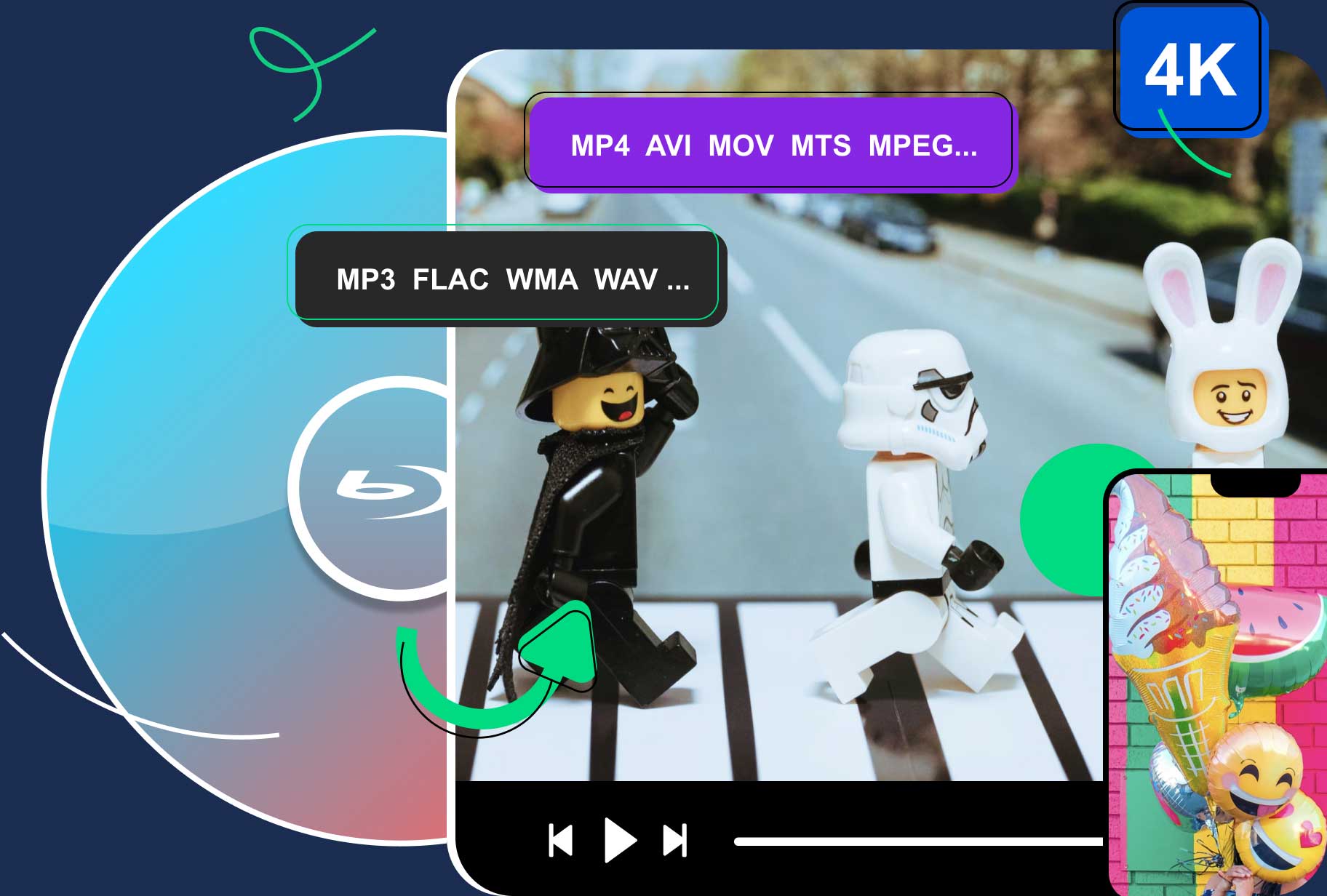 High-Quality Solution for Ripping Blu-ray/DVD/Folder to Any Formats Quickly
Free Download
Free Download
[Tutorial] Backup Blu-ray Movies in Digital Forms on Windows & Mac Losslessly
Getting your Blu-ray movies backed up is a common method that can better save the physical room with the digital version and carry the movies everywhere you go. Aside from this, there are many digital forms you can choose from. For example, if you back up the Blu-ray movie in MP4 format, you can watch it on any device you have. Moreover, you have other digital options if you also want to preserve the original structure in your Blu-ray movie. Read this article and dig out all the ways you can utilize to back up Blu-ray movies on your computer.

Disclaimer:
Blu-ray Software does not encourage the illegal ripping of commercial discs that you do not own copyrights to. But, you are free to use the products mentioned to rip, backup, or digitize any Blu-ray discs that are not copyright protected.
Part 1: Backup Blu-ray Movies in Digital Format [Recommend]
Copy the Blu-ray movies to your computer as digital formats is the best backup method once you have digital formats like MP4, MKV, AVI, MOV, or others. They might vary in compatibility, but they are all good at transferring and sharing. There will be no worries about disc scratches or riots. To fully extract your Blu-ray movies and back them up in digital formats with original quality, Blu-ray Software recommends Blu-ray Ripper as one of the best ripping software for Windows & Mac users.
This ripper specializes in backing up your Blu-ray or DVDs with lossless quality and full content. You can copy Blu-ray anywhere, including computers, USB drives, iOS, Android, etc., because there are numerous compatible formats designed for these devices.
There are no tricks or complicated configurations. All you need is to click, click, and it will be done correctly.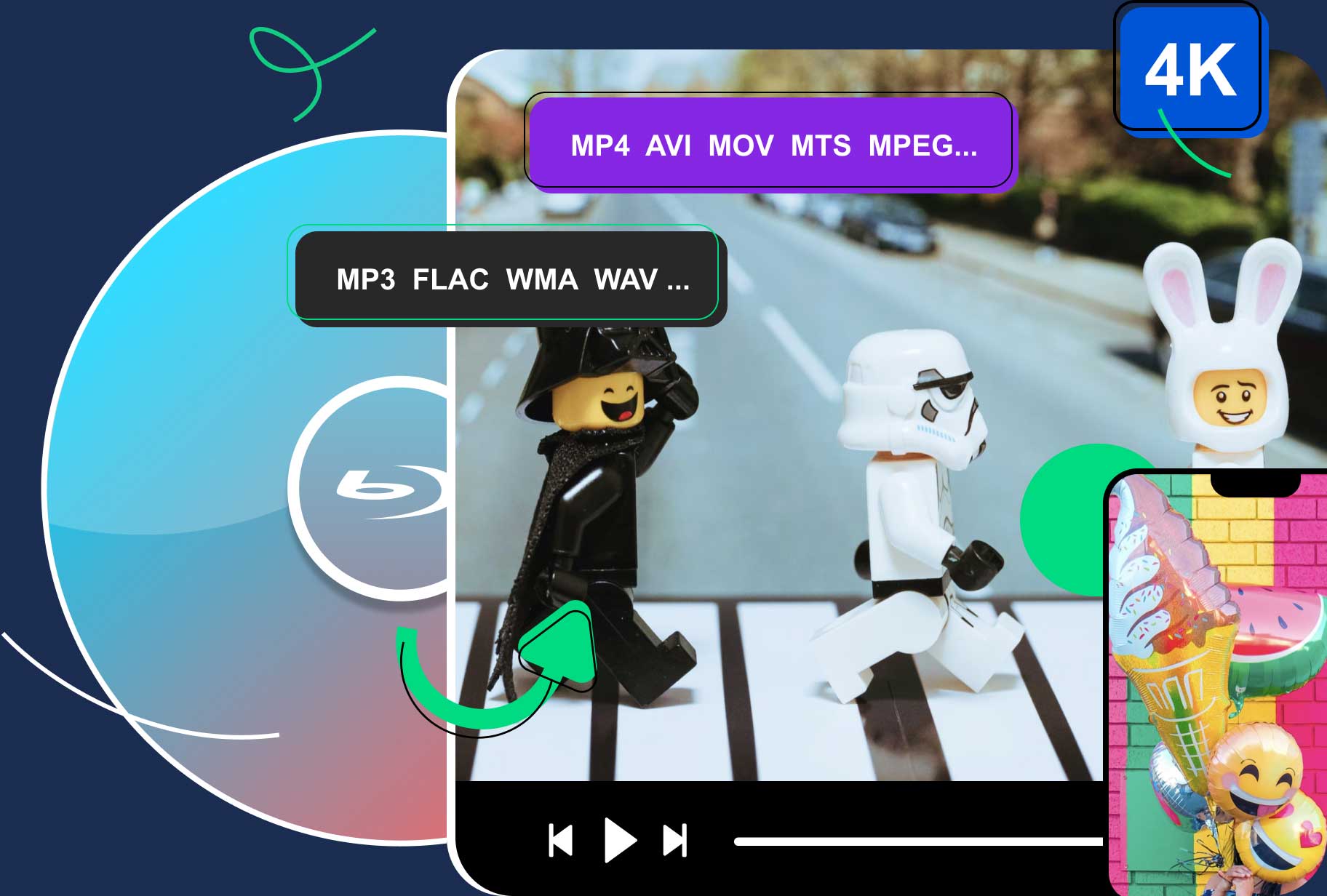 Blu-ray Ripper
Copy Blu-ray movies to over 500 digital formats.
Rip all titles in one disc in batches.
Back up titles to different digital formats separately.
Edit movies, audio tracks, and subtitles from Blu-ray.
Complete the Blu-ray to digital backup in minutes.
How to Copy Blu-ay to PC/Mac as Digital Formats Losslessly in Blu-ray Ripper
Step 1Prepare a Blu-ray drive, insert the Blu-ray disc into it, and connect it to the computer. Download and install this ripper recommended by Blu-ray Software on the computer. Click the Load Blu-ray disc button and choose your inserted disc after launching the ripper.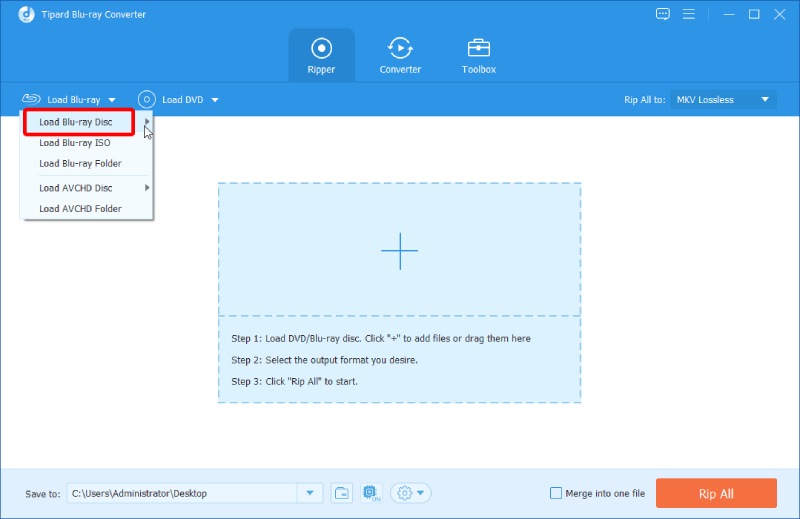 Step 2After the ripper loads your titles, remove the unnecessary ones, and click the Output Format button near the main movie. You can choose the first Lossless option or other formats with high resolutions. Click the Custom Profile button in that format to change its resolution.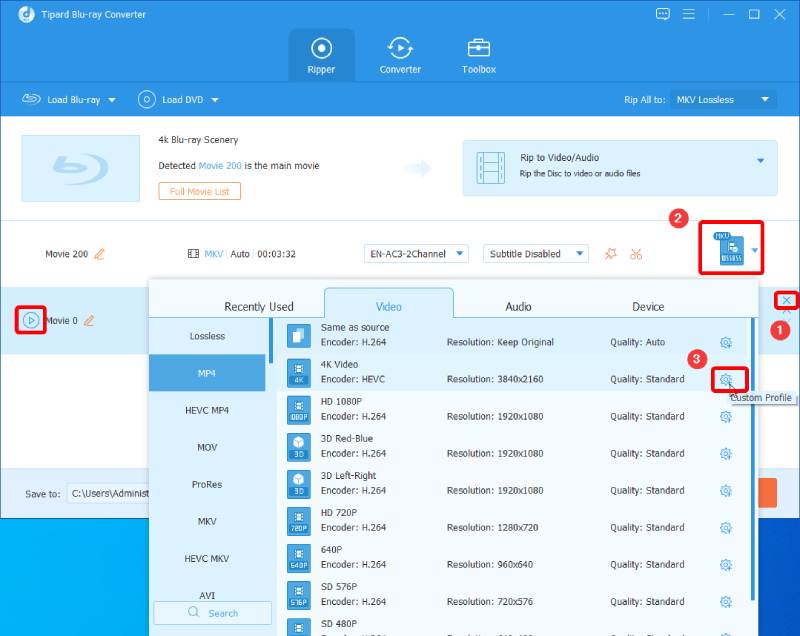 Step 3Before ripping the Blu-ray to the computer for backup, choose a destination folder for the final file by clicking the Browse and Select Folder button. Next, click the Rip All button to copy the Blu-ray to digital format on your computer. Once it completes, the destination folder will pop up.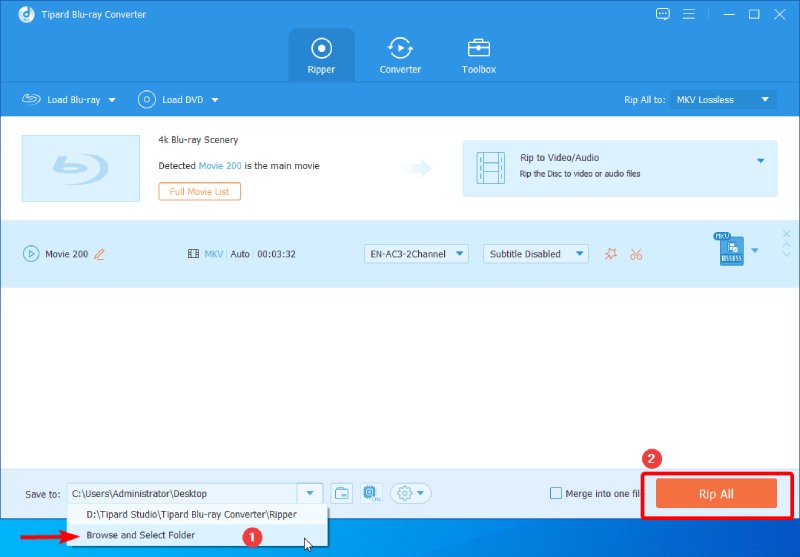 Part 2: Copy Blu-ray with Source Structure to PC & Mac
Besides converting the Blu-ray movies to friendly digital formats, you can also copy Blu-ray to ISO or the Blu-ray folder on your computer. This way, you can preserve the original file structure from your Blu-ray disc. Therefore, you can still see the menu when opening the ISO or folder backups. Blu-ray Copy is here to help you create such backups on Windows. The Full Disc mode takes care of everything and copies the entire structure of the source Blu-ray disc. With this copier, you can back up the Blu-ray disc to another disc, ISO files, or folders.
Blu-ray Copy
Copy Blu-ray discs with three copy modes.
Select preferred video/audio/subtitle tracks for backup.
Get the exact Blu-ray copies with high quality.
Support a wide range of Blu-ray discs like BD-R, BD-RE, BD-R DL, etc.
Free Download
How to Copy Blu-ray to PC with Source Structure in Blu-ray Copy
Step 1Connect a Blu-ray drive to your computer and insert the disc into that drive. Next, you can download, install, and launch this copier on the computer. Then, click the File and Load Blu-ray Disc buttons. You can see the disc name and choose it for loading.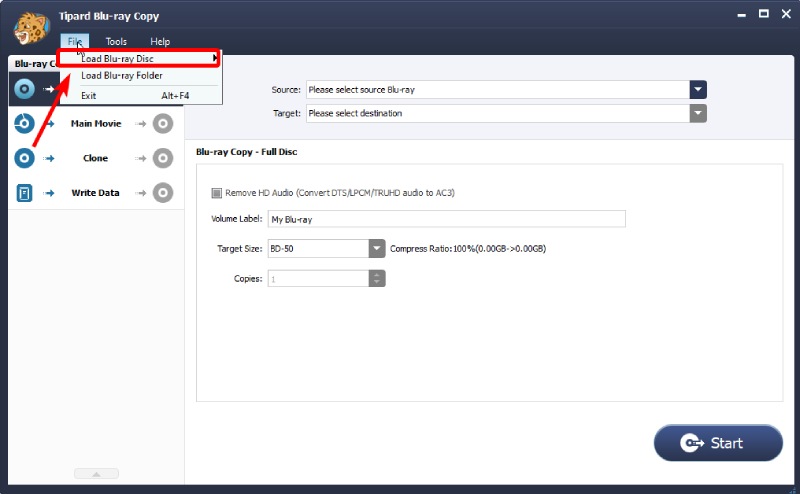 Step 2After choosing the source disc, select a copy mode. For full content, you can choose the Full Disc mode. To preserve the original structure, click the Target dropdown option to choose the Save as ISO File option and find a finder to store the ISO file.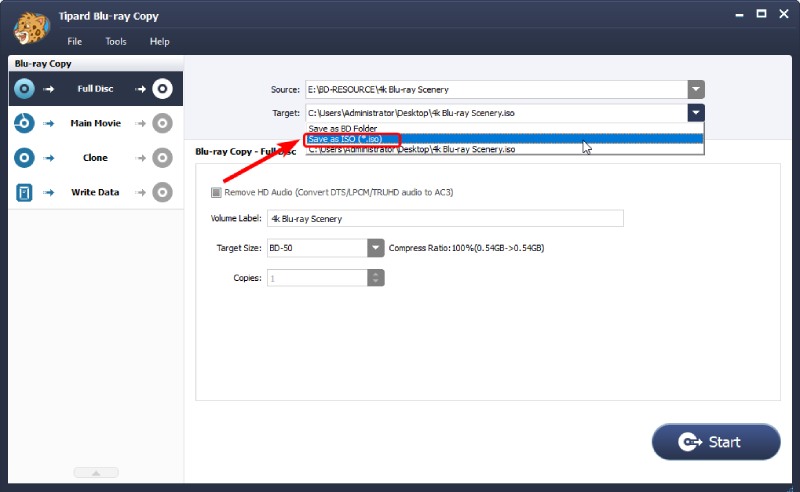 Step 3Then, you can enter a new name for the ISO file in the blank near the Volume Label. Click the Start button to copy your Blu-ray disc to an ISO file and maintain the source structure.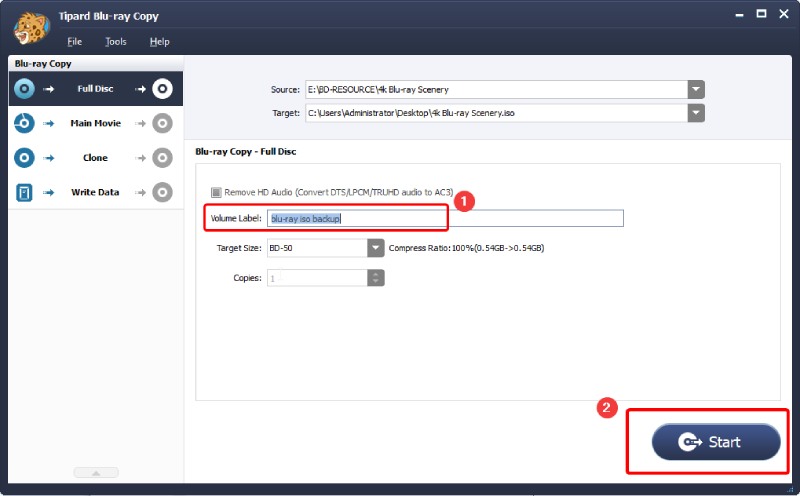 Sum: Both methods can fully back up the Blu-ray movie from your disc, and each has individual advantages. You can copy your Blu-ray disc to a digital format like MP4 for simple playback, sharing, and transfer. Meanwhile, you can also copy it to an ISO file and save the original file structure with it.
Part 3: FAQs about Backup Blu-ray Movies
Can you copy Blu-ray movies to a hard drive?

Yes, you can. You can rip your Blu-ray movies to digital formats and copy them to the hard drive on your computer. Or you can also use the copying software to copy the Blu-ray to ISO files and save them on your hard drive.

How many times can a Blu-ray be rewritten?

According to several sources, a BD-RE disc can be written 10,000 times at most with the same quality if the disc is in good condition.

Does Blu-ray copy harm the disc itself?

No, it does not. Copying a Blu-ray disc will not harm the physical. But if you eject the disc improperly or abruptly, then the disc might be damaged.
Conclusion
After seeing the detailed steps above, you will surely grasp how to copy Blu-ray movies on your computer for a full backup with all the original data. Have a try yourself and download the powerful software above to copy the Blu-ray movies on your computer. Meanwhile, you can share this article with friends to help them with Blu-ray backup issues.