Top 6 Region-Free Blu-ray Player Software [Windows & Mac]
Why can't you play Blu-ray discs from Australia on your computer in the US? Because there are region codes, you can only play in the regions or areas of the codes. The best one to solve such an issue is to buy a region-free Blu-ray drive and install region-free Blu-ray player software on your computer. With these two essential elements, you can freely stream any Blu-rays you have at home, regardless of where you purchase them. But not all Blu-ray players on your computer are region-free. You can save the trouble of picking the correct ones from the large Blu-ray player software market. This article lets you know the 6 best Blu-ray players on Windows and Mac, along with their highlights and downsides.

| | Highlights | Downsides |
| --- | --- | --- |
| Blu-ray Player | Simplicity; lossless playback; strong compatibility with all Blu-ray discs; hardware acceleration | |
| VLC Media Player | Free; cross-platform; customization; multiple plugins. | Blu-ray playback error |
| Macgo Blu-ray Player | Direct display of Blu-ray menu; cinavia protection removal. | High price for Blu-ray playback |
| Free Mac Blu-ray Player | Easy set-up; low resources consumption | Play Blu-ray with watermark and ads |
| PowerDVD 22 | Casting Blu-ray to any smart TVs | Occupy and consume large space |
| Aurora Blu-ray Player | Function well in old Windows 8; post comments on Facebook or Twitter | Take up lots of computer's processing power |
Part 1: What is Region-Free Blu-ray Player Software
To better elaborate on the definition of the region-free Blu-ray player software, there are other things you must know, like region codes. You can also follow the steps to make your Blu-ray player hardware region-free.
Region Codes
The reason why you need a region-free Blu-ray player on the computer is because of the region codes. The three region codes for Blu-ray discs are A, B, and C. Each represents different regions or countries worldwide. You can only play a region-locked Blu-ray disc in the corresponding region.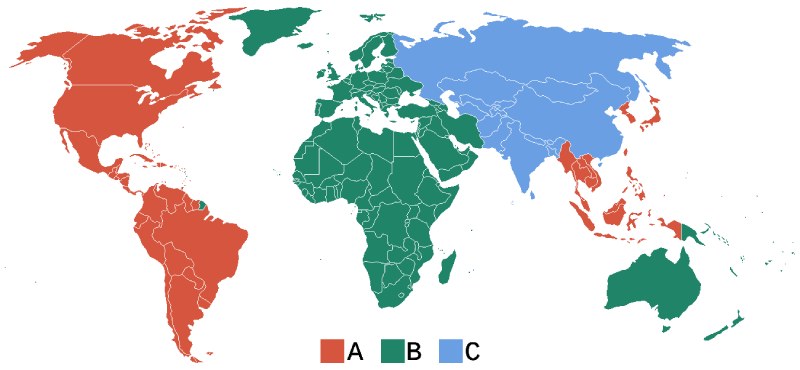 For example, suppose you are in the US and have a region B disc. In that case, you can only play if you move to Australia, New Zealand, Europe, the Middle East, or Africa. However, if your disc has all ABC region letters, it is region-free, and you can play it worldwide.
Region-Free Blu-ray Player Software
After knowing the region codes, you can better understand why you need a Blu-ray player for all regions. Such a player helps users play discs worldwide regardless of their region codes. This kind of Blu-ray player supports all Blu-ray regions. Besides the region-free software, you will need a region-free Blu-ray drive to work together and read the discs. These are two indispensable elements for a successful playback of discs with region codes on Windows or Mac computers.
How to Make Blu-ray Player Region Free - Hardware
You can manually change the region codes of your hardware Blu-ray player if it is not region-free. The following steps work fine with most players. For example, you can try the steps on your Sony Blu-ray player.
Step 1Turn on your Blu-ray player with no disc in it.
Step 2After seeing the 'No Disc' message, press PAUSE on your remote.
Step 3Press 3, 1, 4, 1, 5, and 9 on the remote. You will see CODE or FF on your TV.
Step 4Next, press 0 on the remote. The number 0 represents all regions. Press PAUSE again.
Step 5You can turn off your player now. Wait for 30 seconds till your turn it on again, and you will get a region-free Blu-ray player.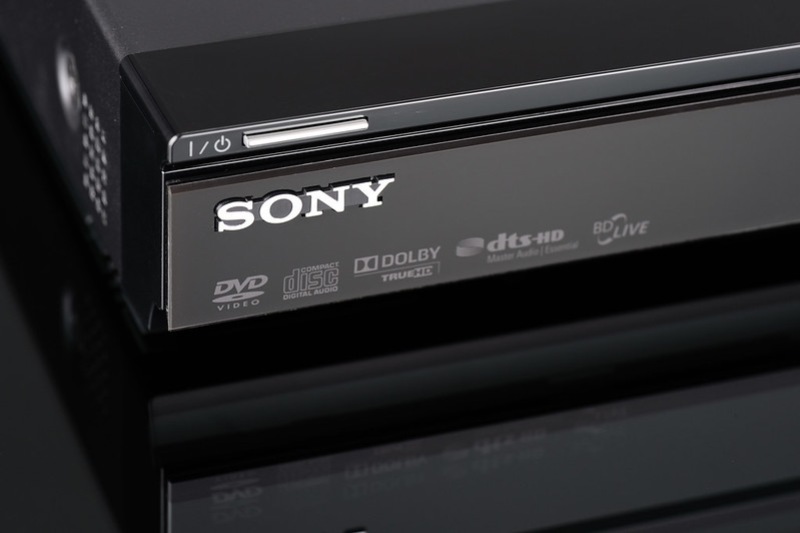 Tips
If the above guide does not work with your player, you can go to the VideoHelp forum and search for detailed methods targeting your specific player.
Part 2: 6 Best Region-Free Blu-ray Players for Windows and Mac
The following content introduces the 6 best region-free Blu-ray players across Windows and Mac with their major features. They all play Blu-ray discs from all regions without the hassle, and you can choose whether you prefer to play Blu-rays on Windows or Mac.
1. Blu-ray Player [Windows & Mac]
The first pick from Blu-ray Software is Blu-ray Player, a versatile region-free Blu-ray player available on Windows and Mac. This player allows you to play Blu-ray discs from regions A, B, and C. Meanwhile, it also supports the playback of DVDs from all regions. Hence, installing this player covers all the playback scenarios. Additionally, you can enjoy an immersive watching experience, for it supports all kinds of lossless audio technology like Dolby, DTS, etc. Furthermore, the quick loading speed of this player allows you to get instant movie playback.
Blu-ray Player
Play Blu-ray disc/folder/ISO files effortlessly.
Support lossless playback for 4K Blu-rays.
Accelerate hardware performance during playback.
Capture the video picture with a quick snapshot.
Play any Blu-ray within two steps in Blu-ray Player
Step 1Prepare a Blu-ray drive and insert your disc into it. Connect the drive to your computer. Download, install, and launch the player on your computer. Then, this region-free player will detect your disc immediately and load it for you.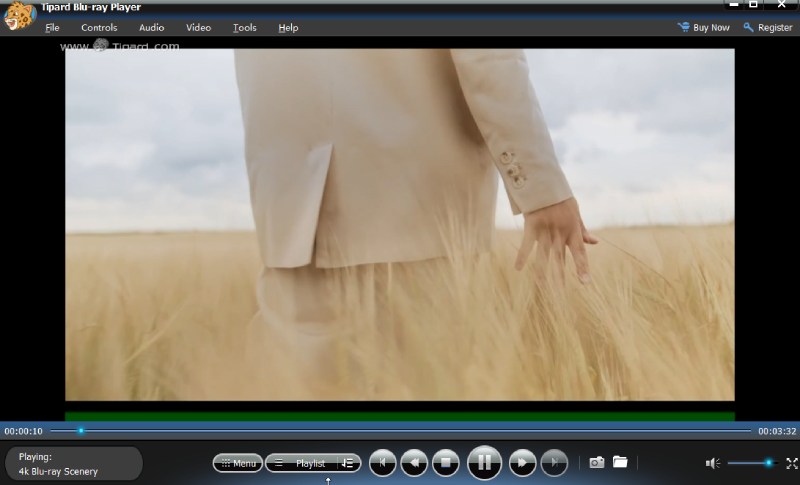 Step 2Once it loads the disc, it will start playing. You can also click the Menu button to see other chapters. Click the camera icon if you want to screenshot the video. If you click the playlist icon, you can also change the playback sequence to order, random, and single.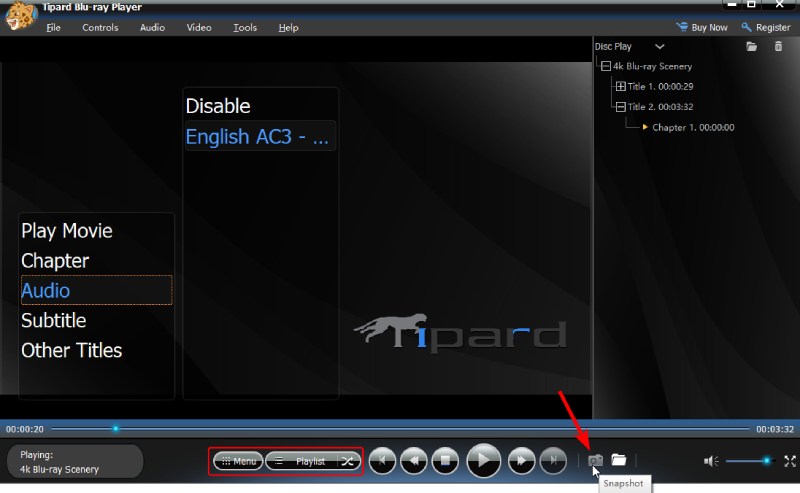 2. VLC Media Player [Windows & Mac]
VLC is a prominent free multimedia and Blu-ray player for all regions. It is also a cross-platform media player for Windows, Mac, iOS, and Android. Whenever you go, you can enjoy your Blu-ray movies in a VLC media player if you have the correct drive. VLC will ignore the regions and play whatever you insert. For users who wish for more advanced controls, VLC is a suitable choice. You can add multiple extra plugins to expand the features. But you might get Blu-ray playback errors like a lack of AACS decoding, which requires complex operations. So newbies can find better choices.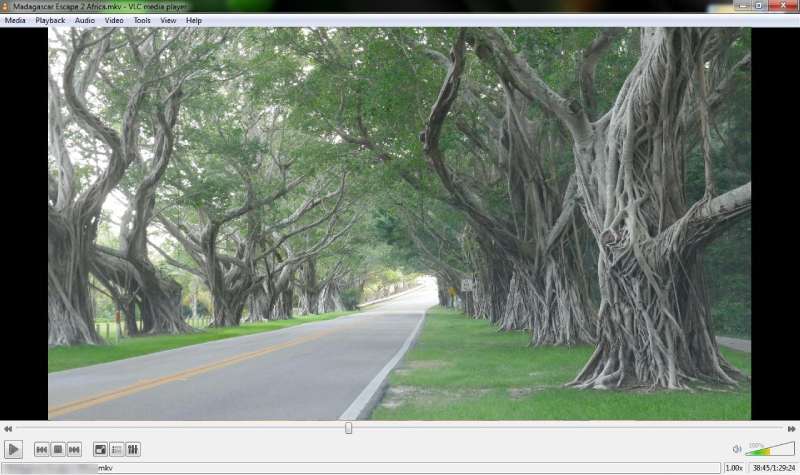 Offer multiple pre-installed video codecs.
Customize appearances by adding skin addons.
Browse live-streaming platforms with extra plugins.
Play Blu-ray discs with regions directly.
3. Macgo Blu-ray Player [Windows & Mac]
Macgo Blu-ray Player is a Blu-ray player for all regions on Windows and Mac. Although it has a free version for Windows and Mac, the free ones have a few features and can only play DVDs. You must upgrade the software to play Blu-ray discs, folders, and ISO files. Then you can play discs from all regions. Besides, the Macgo player also plays cinavia-protected discs. Overall, it is still a nice and basic Blu-ray player that is suitable for most beginners who wish for something other than fancy features. Although it is basic, it still offers high-quality playback for Blu-rays.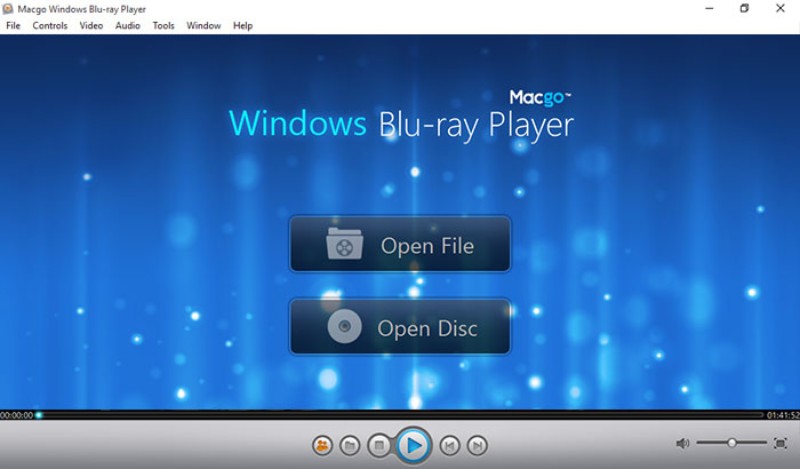 Fasten your Mac process with BluFast MX.
Offer helpful customer services in the paid version.
Adjust the picture and audio quality during playback.
Connect to your social media accounts.
4. Blu-ray Master – Free Blu-ray Player [Windows & Mac]
As a free region-free Blu-ray player software from Blu-ray Master, this player plays high-quality Blu-rays and DVDs on Windows and Mac. All the features are wrapped up in a simple and intuitive interface. You can find all the essential functions directly on the user's interface. However, since this free player does not support Dolby technology, you can't enjoy the original audio from your Blu-ray with Dolby sound. Meanwhile, you can't play your video in full-screen mode either in this free player.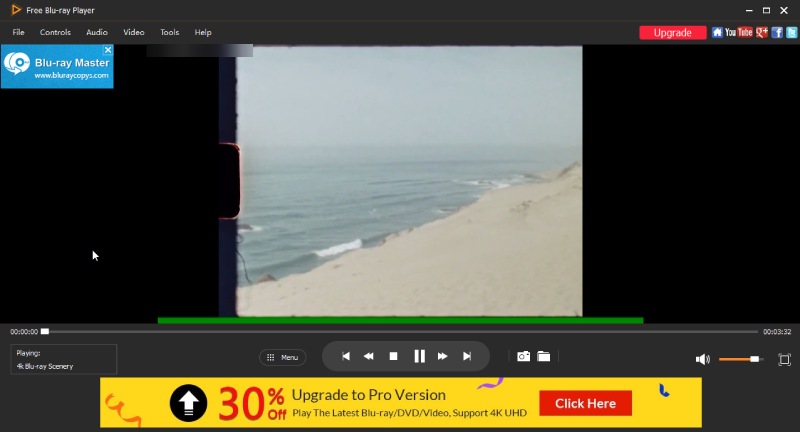 Show the Blu-ray menu directly after loading the disc.
Open recently viewed files quickly.
Play videos of multiple popular formats freely.
5. PowerDVD 22 [Windows]
PowerDVD 22 is an excellent region-free Blu-ray player offering a cinema-like watching experience. PowerDVD also supports 4K Ultra HD and 8K video playback with vivid colors. Meanwhile, you can hear the original audio of your 4K Blu-ray discs with DTS-HD, Dolby Audio, and Hi-Res 7.1 surround sound. You can also enjoy 360° VR video playback with an immersive sound experience. The only downside of this player is that only Windows 10 and 11 systems can play Ultra HD Blu-ray.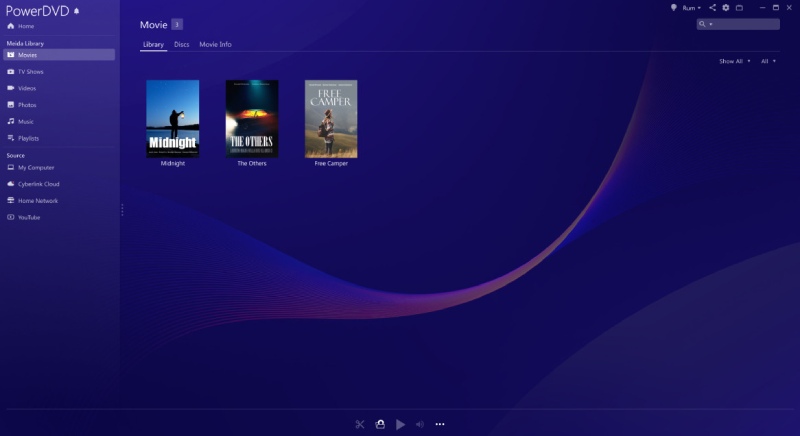 Cast your video to Apple TV, Roku, or other TVs.
Find out your video content with the small thumbnails quickly.
Trim, extract, or convert the favorite clips from the video.
Stream movies or music from the media library.
6. Aurora Blu-ray Player [Windows & Mac]
Aurora Blu-ray Player is an intuitive region-free Blu-ray player software. Because it not only supports multiple regions but also allows you to write comments about the movie you are watching. Then, you can directly share those comments on Facebook and Twitter. When opening a Blu-ray disc, you can choose the specific title or chapter to play. And this player requires little resources to play and occupies a small space on your computer. You must also ensure an internet connection when playing the Blu-ray with Aurora on your computer.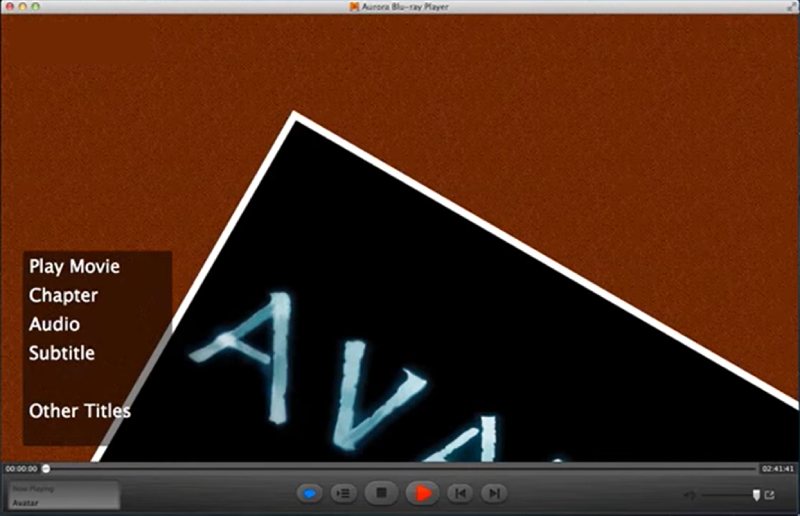 Support various subtitle formats like .srt, .ssa, .sub, .ssf, etc.
Work fine and stably on the old Windows 8 computer.
View video, audio, Blu-ray, DVD, and pictures.
Part 3: FAQs about Region-Free Blu-ray Player
How can I tell if my Blu-ray player hardware is region-free?

Check the back of your Blu-ray player. If there are all letters, ABC or no, your player is region-free. Then, you can insert Blu-ray discs from anywhere to play.

Are region-free Blu-ray players legal?

Yes, they are. Whether it is Blu-ray player hardware or software, it is legal to own such a player. But, for the hardware, selling a region-free Blu-ray player in the US is illegal.

Are 4K Blu-ray players region-free?

Yes, they are. Actually, all 4K Blu-ray discs are region-free. So, you do not need to worry about the region codes when playing 4K discs. All 4K Blu-ray players should be fine with the discs and can play them without trouble.
Conclusion
All the 6 best region-free Blu-ray players have their distinctive advantages. With the above-detailed features, highlights, and downsides, you will better know the software above and find the most suitable one among them. But if you want region-free playback, advanced control, and fast loading speed, the first pick, Blu-ray Player, will meet your demands just right. This player is the best choice for anyone who hates adjusting all kinds of settings and only wants a plain, region-free player.