Blu-ray Player
Smooth Playback for 4K Blu-rays/Folder/ISO File/Videos.
Free Download
Free Download
What Is a Blu-ray Disc | Definition, Specifications, Types, and Playback
Blu-ray discs, or simply Blu-ray, are often known as the successor to old DVDs. And a few people know the exact definition of a Blu-ray disc. You might wonder if upgrading to Blu-ray for your home theatre is necessary since it is getting increasingly popular. Or if you intend to purchase such discs for collection, you must prepare yourself with relevant knowledge and necessary preparations. Therefore, whether you are a newbie to the Blu-ray collection or simply curious about new things, here is a detailed introduction to Blu-ray, covering its definition, specifications, disc types, and other valuable tips. Whatever questions you have about Blu-ray discs, you might find answers in this article.

Part 1: What Is a Blu-ray Disc
Developed by Blu-ray Disc Association in 2005, the Blu-ray disc is a digital optical disc data storage format widely used in many scenarios, including the movie industry and video games. Besides storing data or files, you can also use the disc to record or re-write data. Blu-ray makes up for DVD's shortcomings. Different from DVD, which uses red-laser technology, Blu-ray uses blue-laser technology.
Hence, it stores more information in high density. Meanwhile, compared to DVDs, Blu-ray supports more advanced video and audio and higher resolution. The maximum resolution you can get from a Blu-ray is 1920×1080. You can easily distinguish between Blu-ray and DVD, for the Blu-ray disc logo has a blue letter 'b.' To dive in deeper about the conception of Blu-ray discs. Keep moving to the following details.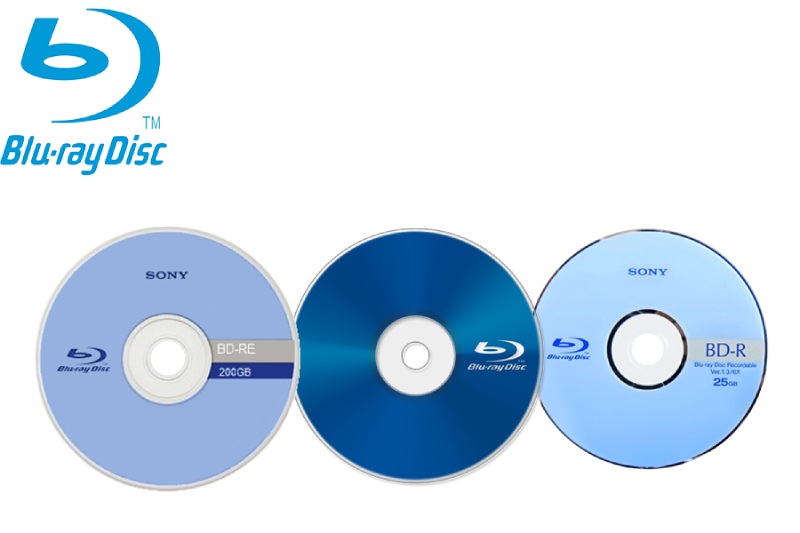 Part 2: Blu-ray Disc Specification
Take a look at the Blu-ray disc specifications in terms of disc types, storage capacity, file types, and writing and reading speed.
2.1 Blu-ray Disc Types
You can check their surface and see different notes if you have some blank Blu-ray discs by hand. That's because Blu-ray comes in 4 formats: BD-R, BD-R DL, BD-RE, and BDXL. Different formats have different functions. You may check the chart below to know more.
| | Re-Write | Readable | Data Recorded Times | Erasable |
| --- | --- | --- | --- | --- |
| BD-R | × | √ | One time only | × |
| BD-R DL | × | √ | One time only | × |
| BD-RE | √ | √ | Up to 1,000 times | √ |
| BDXL | × | √ | One time only | × |
Among all these types, BD-RE is the only writable Blu-ray disc that can record and rewrite data multiple times. You can erase the current data on your BD-RE disc and write new data into it. But the rest disc types can only record data for one time and remain readable. Meanwhile, you might also encounter a Blu-ray M disc named Millenniata M-Disc. Such a disc has both DVD and Blu-ray forms. What makes it different is the archival media longevity. It claims to store data for up to 1,000 years if the disc is properly written or recorded. Most regular DVD players can read M-Discs.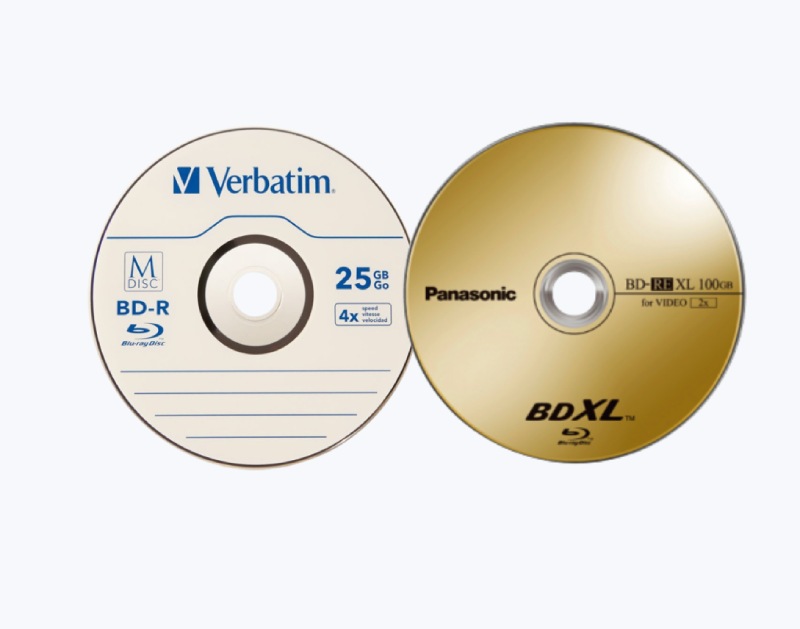 2.2 Blu-ray Disc Capacity & File Types
Before checking the details about Blu-ray disc capacity and compatible file types. Here is a quick Q&A that answers some popular questions as a warm-up.
Q1: How many data layers can exist on a single side of a Blu-ray disc?
A1: The maximum number is 4.
Q2: What type of file system is used by Blu-ray discs?
A2: Universal Disk Format (UDF) file system.
2.3 Writing & Reading Speed
Different Blu-ray drivers can read and write your disc at different speeds ranging from 1× to 16×. Although the 1× is the lowest speed, it can still help you play and record a real-time 1080P video. Recently, the highest reading and writing speeds are 12× and 16× separately. The corresponding data rate is around 54MB/s and 72MB/s.
2.4 Blu-ray Disc Region
All Blu-ray discs have region codes. The codes are A, B, and C. Even the region-free disc has code 'ABC' on its case. For example, if you live in the United States, you can't play discs with regions B or C. For more information about the region code, you can use the following chart from Sony's official site for reference.
| | Regions that can play the disc |
| --- | --- |
| Region A | North America, South America, U.S. Territories, Japan, South Korea, Taiwan, and other areas of Southeast Asia |
| Region B | Europe, Africa, the Middle East, Australia, and New Zealand. |
| Region C | Asia (except for Japan, Korea, Taiwan, and other areas of Southeast Asia) |
| Region ABC | Play worldwide |
Part 3: 4K Ultra HD Blu-ray Disc
When it comes to Blu-ray discs, you must have seen another type of disc with 4K Ultra HD. This disc is also a type of Blu-ray with better quality and uses a more advanced video codec - HEVC (High-Efficiency Video Codec). The maximum video resolution from a 4K Blu-ray disc is much higher than the standard 1080P. It supports 3840 × 2160 resolution. And the disc size is much larger than Blu-ray, for you can store up to 100GB of data in a triple-layer disc. So, you will see a much smoother picture and enjoy an immersive surround sound experience. However, even though the 4K Blu-ray disc delivers a better picture and sound, its popularity is much inferior to the Blu-ray disc, for it requires a better internet connection, and the regular Blu-ray players don't support such discs.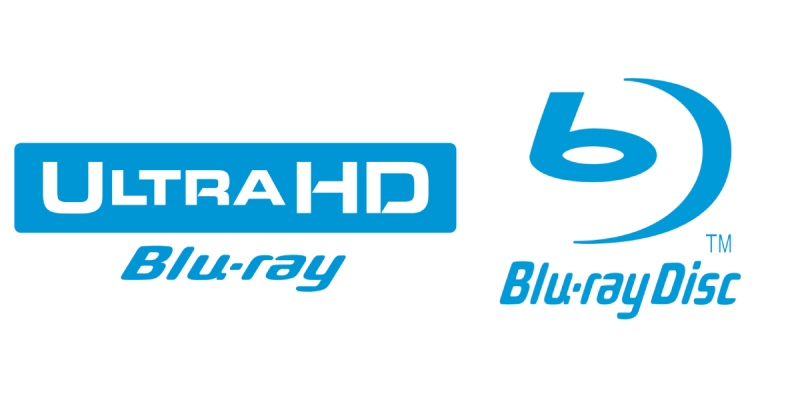 Part 4: Blu-ray Disc Tips
You must pay attention to their storage condition when storing physical Blu-ray discs to prevent accidental damage like humidity or scratch. Such damage will ruin your disc, and you will fail to play the disc. Except for storage, you must also have well-functioning compatible devices to play and watch Blu-rays. The following are helpful tips for newbies who just started a Blu-ray collection.
If you want to watch Blu-ray movies on your TV, you need a Blu-ray disc drive or player that supports your Blu-ray discs and matches the region code. Meanwhile, some computers already have an internal optical drive that might read Blu-rays, then you will only need player software on the computer to open the movie from your disc. For example, Blu-ray Software has picked one excellent player - Blu-ray Player. This player supports almost all Blu-ray discs, including BD-RE, BD-R, etc. Besides, you can use the player to play standard Blu-rays and 4K Blu-rays. Apart from the picture compatibility, the player supports Dolby and DTS audio technology to provide an immersive audiovisual experience.
4.1 Preparations for Blu-ray Disc Playback
Blu-ray Player
Load and play DVD or Blu-ray in seconds.
Offer simple hotkeys to control playback.
Take quick screenshots during video playback.
Add subtitles or extra audio tracks to the movie.
How to use Blu-ray Player
Step 1Download, install and launch the player. To play a Blu-ray disc, insert the disc into the drive. The program will automatically load your disc to play. Or you can click the Open Disc button on the main interface to play your disc.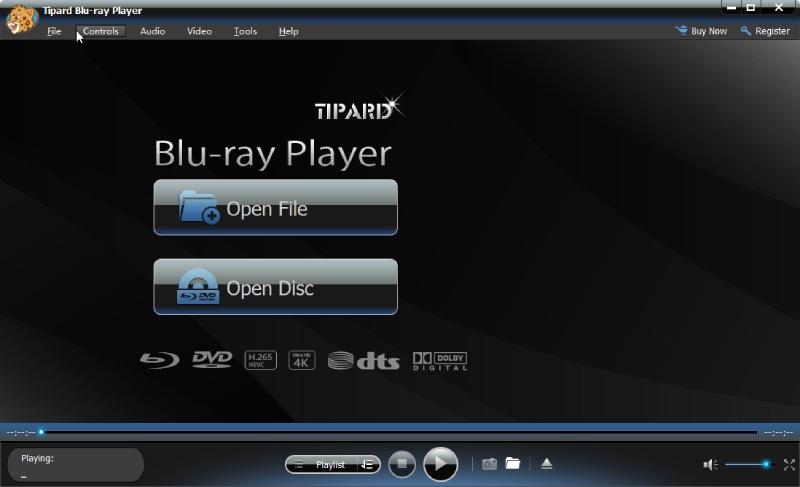 Step 2Once it loads your movie, you can check other titles via the Playlist or click the Menu to switch to other chapters in your Blu-ray. You can choose subtitles or audio tracks of other languages from the Menu if there are such ones in your disc.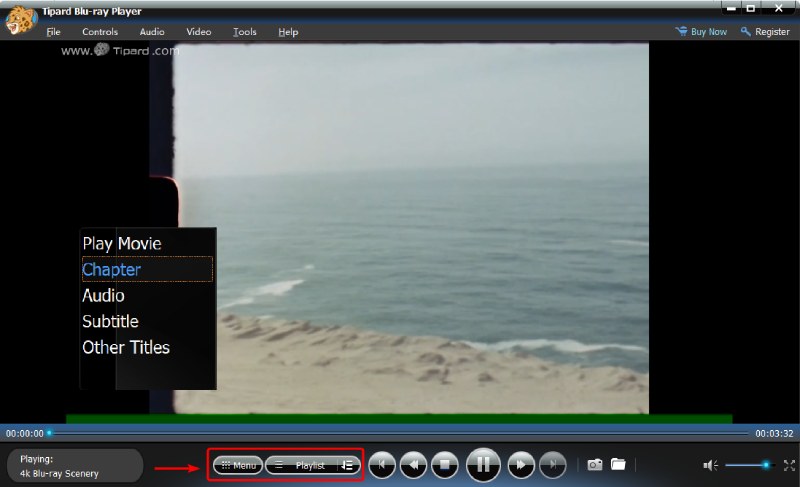 4.2 Best Conditions to Prevent Blu-ray Disc Rot
Although many people think disc rot is not real, misusing the discs or severe conditions can still cause defects to your precious Blu-ray disc. Two factors need your special attention: direct sunlight and extreme moisture. In this case, the best condition to keep your Blu-ray collections is somewhere warm and dry, like your room. Faults in manufacturing will lead to a bronzing disc, which can only be solved by replacing the disc. But, overall, the physical discs are durable and can last long.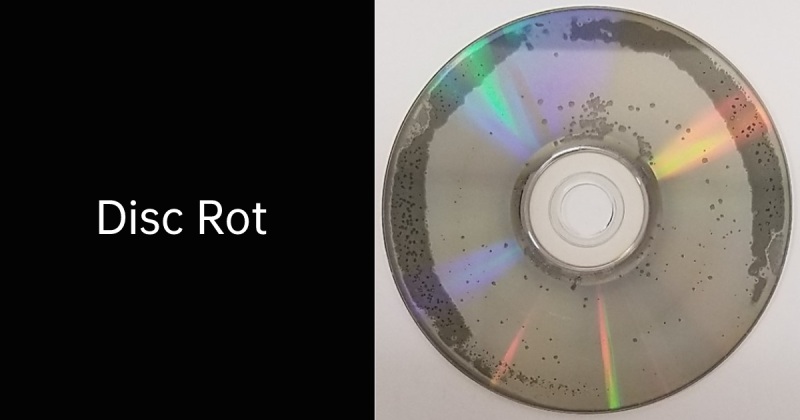 Part 5: FAQs about Blu-ray Disc
How to clean a Blu-ray disc?

You can use a soft dry cloth to swipe on the center outward. Remember that using liquid cleaners might damage the disc content.

What is a Blu-ray audio disc?

Blu-ray audio discs are disc that stores high-definition audio files. But, they deliver better sound quality than regular CDs because they offer a bigger size, higher bitrate, and a better dynamic range.

How to check if my disc is a region-free Blu-ray disc?

You can see your disc case. Usually, there is a region code on the back of the disc case. If your disc's region code has A, B, and C, it is region-free, and you can play it worldwide.
Conclusion
At the end of this article, you must be clear about the definition of a Blu-ray disc and know better about all the different types, Blu-ray disc sizes, file types, etc. Meanwhile, the tips above are meant to help you better protect your Blu-ray collection and offer you an easier way to play it on your computer. Share this article with friends who are interested in Blu-ray movies. You can also try the recommended Blu-ray Player to get a better and more convenient watching experience.