Blu-ray Ripper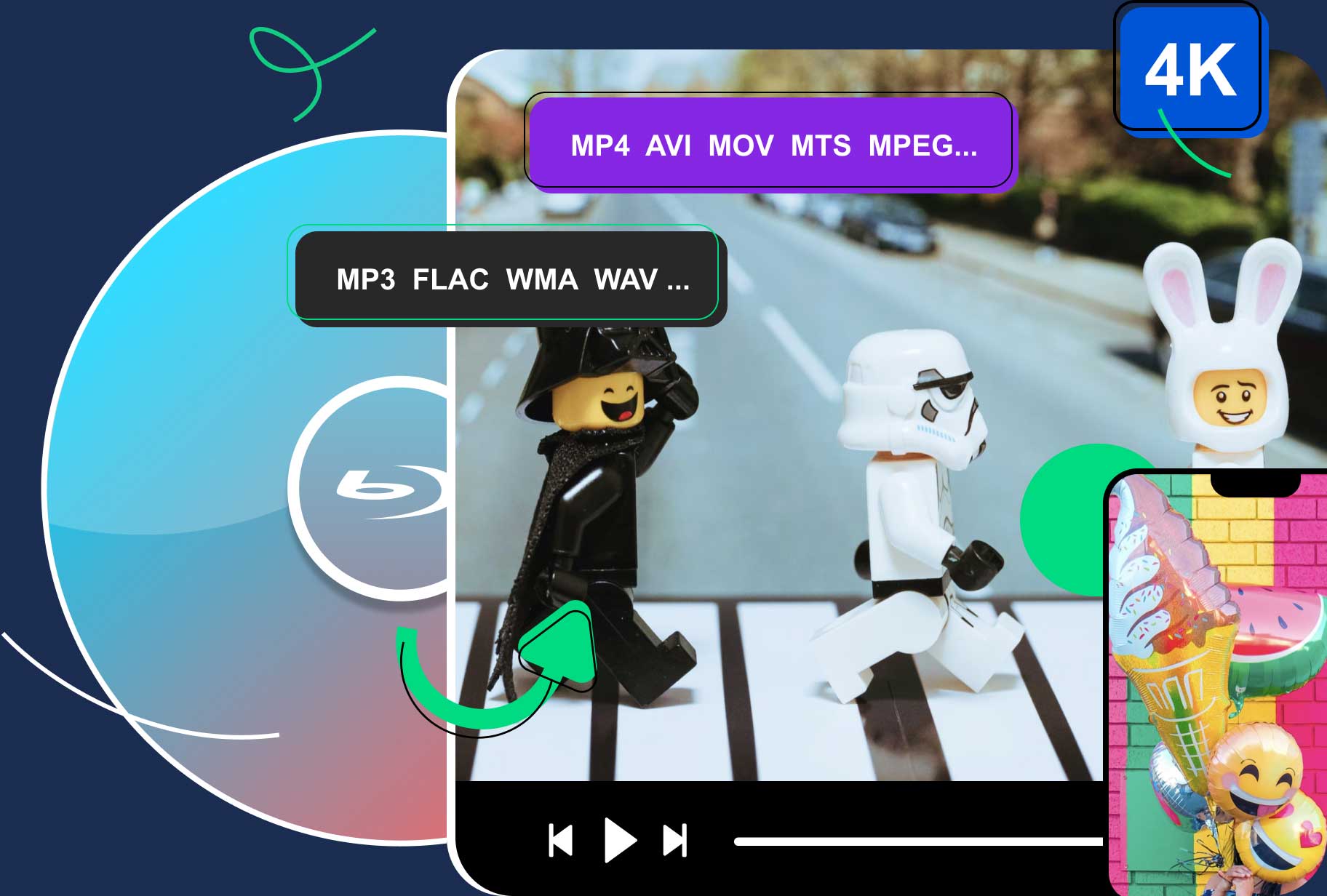 High-Quality Solution for Ripping Blu-ray/DVD/Folder to Any Formats Quickly
Free Download
Free Download
What Are SBS 3D, Half SBS, Full SBS, and Half-OU
If you like to poke around and explore new movies or TV shows on the Internet, you might see some sources labeled with SBS 3D. We all know what a 3D is and see it in the theater. But what is an SBS 3D, and what about the other related terms like half SBS, Full SBS, and half-OU? A short answer for this is that they are all 3D formats developed for 3D streaming on 3D TVs, projectors, etc. But, for a more detailed explanation and comparison. You need to read through the post and see which option is best for 3D streaming at home.

Part 1. What Is SBS 3D
SBS 3D is short for side-by-side 3D, also known as left and right 3D. It's a popular format for encoding the 3D movie and streaming it on 3D TVs, projectors, and VR headsets.
When a 3D movie is encoded with this format, the picture frame will be divided into two parts for the left and right eye, respectively. But it does not mean your video resolution will be downscaled. When such a 3D signal is sent to your 3D device, the device will rescale it and present the full resolution to you. Of course, on the premise of wearing 3D glasses.
Meanwhile, SBS 3D has two forms: half-SBS and full-SBS. Move on to see how they differ from each other and which one is better.
What Is Half-SBS
Half-SBS 3D divides each video frame into left and right halves. The horizontal view will be rescaled, and the horizontal pixels of the two halves view will equal the original horizontal pixel number.
For a 1080P video (1920×1080), the half resolution is 960×1080 for left and right, respectively. When the two halves are put together, you will get a 3D video in full resolution: 1920×1080.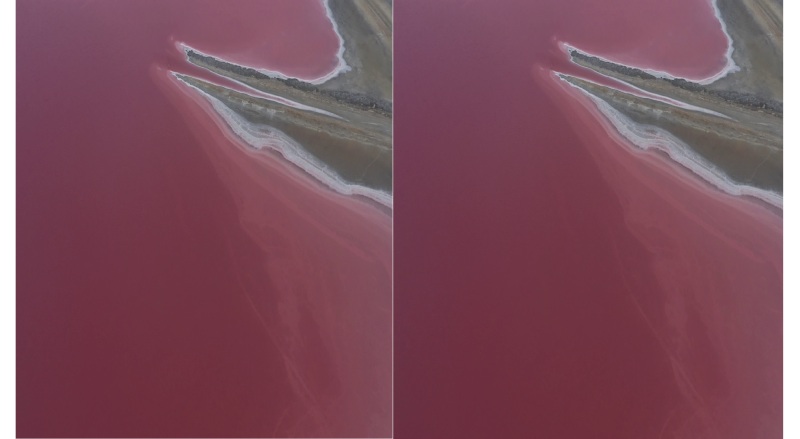 What Is Full SBS
A full SBS 3D is what its name implies. This format displays the full resolution of the video. The horizontal pixels you get will be twice the original pixel numbers. If it is a 1920×1080 video, then in full SBS 3D format, the view will be 3840(1920+1920) ×1080. Therefore, such a video quality will be better while the file size is also bigger.
Half SBS VS Full SBS
The biggest differences between half and full SBS 3D are quality and file size. The latter has a better quality for its full resolution. But it also has a bigger size and can only be played from BD, BD-25, and BD-50 with a 3D Blu-ray player. And you will need to upgrade the RAM to watch a full SBS 3D movie.
Half-SBS 3D, however, has a smaller file size and delivers a comfortable viewing experience due to its decent left and right resolution. Therefore, half-SBS is used much more frequently than full-SBS.
Part 2. Half-SBS VS Half-OU
Apart from half-SBS and full-SBS, another format on the field, half-OU, is similar to half-SBS. These two are common formats used for encoding 3D movies, especially when you want to watch the movie on devices using a DLNA network.
Half-OU means half Over-Under. The video in half-OU format is stored vertically, and the video for the left eye is above the one for the right eye. Taking the 1920×1080 video as an example, the resolution you get is 1920×1080(=560+560). The vertical pixels are divided into half.
Although half-OU and half-SBS are subsampled into halves, the latter would look more decent, for its height and width ratio is more appropriate, offering more details. Therefore, half-SBS is a preferred option for 3D TVs in most cases. But if your TV uses passive 3D, then half-OU is a better choice.
Part 3. Watch SBS 3D Movie on PC & Mac - Blu-ray Ripper
Although 3D TV is discontinued, there are alternative ways to watch 3D movies, and the computer is one of them if the monitor supports 3D technology, active shutter, or passive. To make the 3D movie playback easier, you can use Blu-ray Ripper to convert the movie to SBS 3D format. The ripping tool supports all SBS formats, including full-SBS, half-SBS, half-OU, and full-OU.
In this ripper, you can also choose the output resolution from 720P to 2160P. Meanwhile, the editing tool enables you to crop and rotate the Blu-ray video or add watermarks, audio tracks, and subtitles to the Blu-ray video.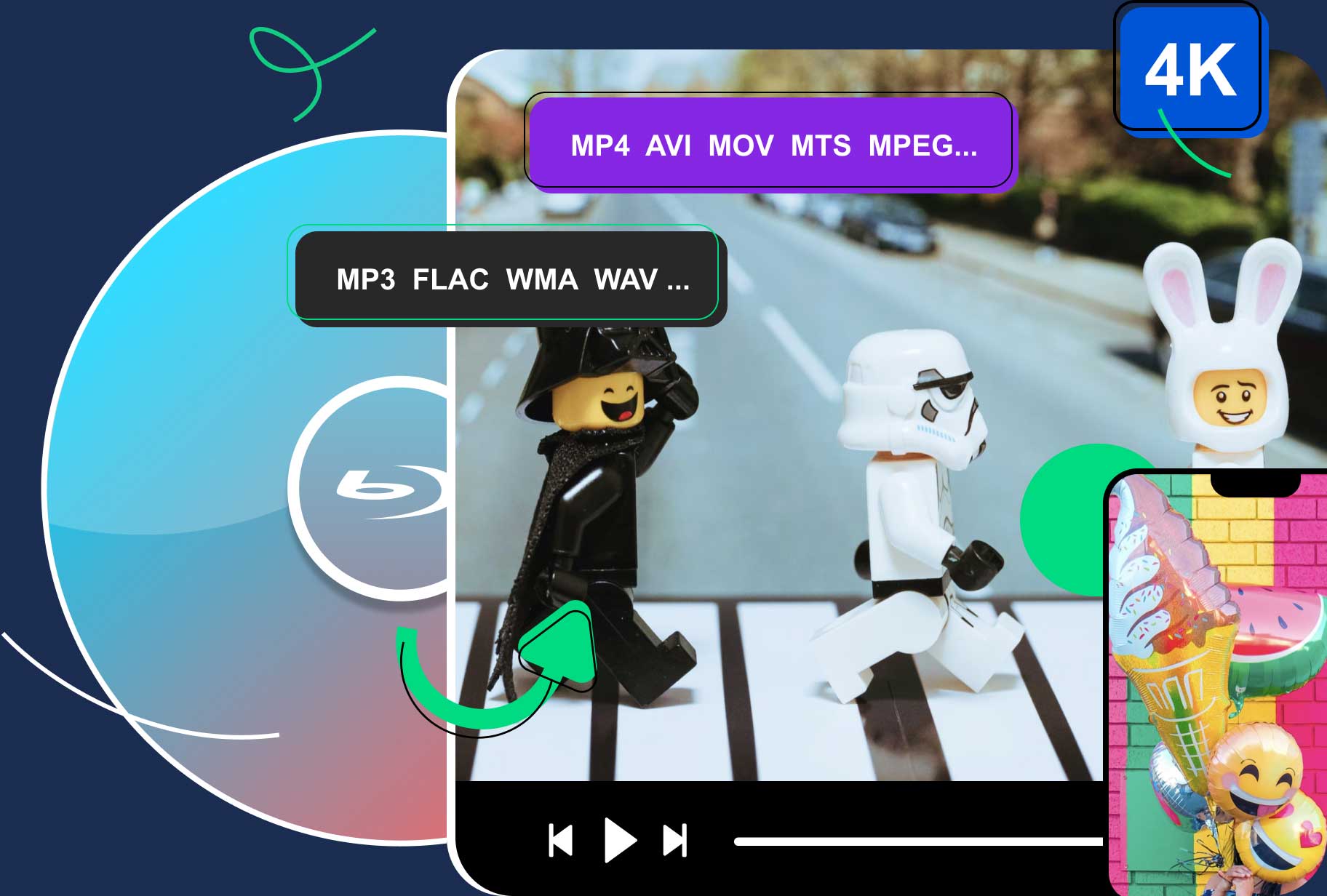 Blu-ray Ripper
Convert 3D Blu-ray to half or full SBS.
Compress all content from Blu-ray to 3D MKV format.
Use the built-in toolbox to compress or enhance the video.
Play and preview all titles from the 3D Blu-ray.
4 Steps to Rip 3D Blu-ray to SBS 3D
Step 1Set up the 3D Blu-ray drive and insert the disc. Download, install, and launch the converter on the computer. Click the Load Blu-ray Disc button to import the Blu-ray.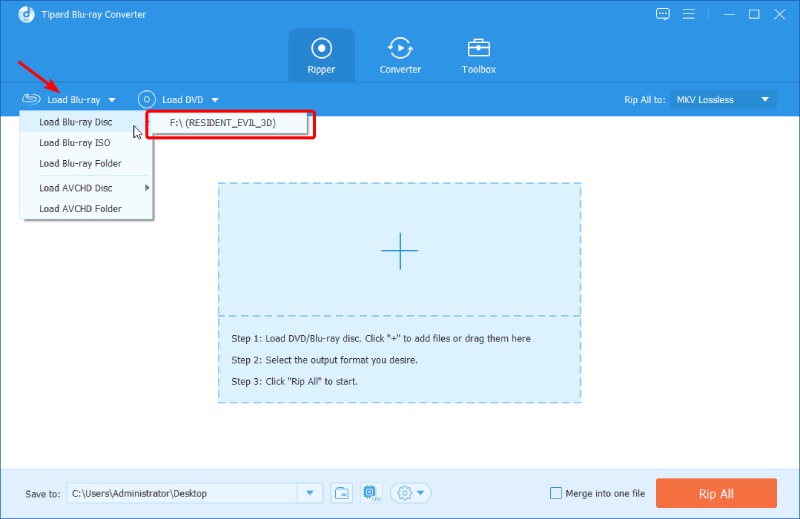 Step 2After loading all titles, click the Rip All to dropdown button and go to the Video tab. Find the MKV format and choose 3D Left-Right. It is SBS 3D.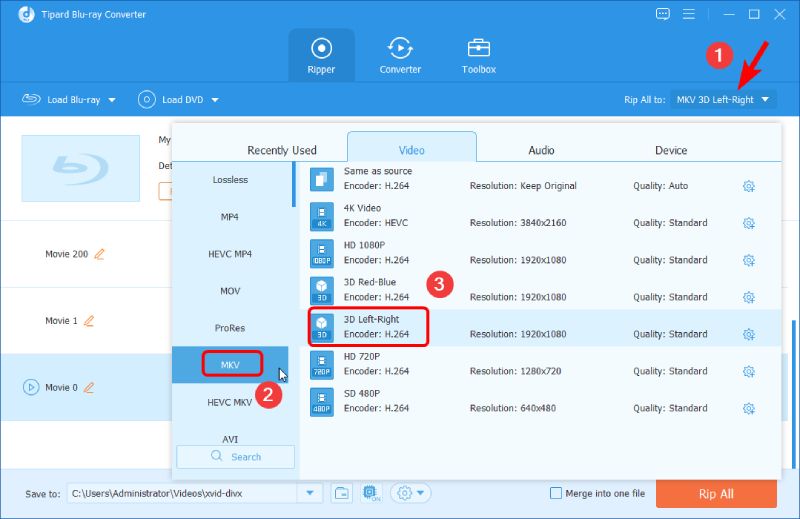 Step 3Click the settings icon. Choose half or full SBS from the Split Screen dropdown option. Click the Create New button to save the changes. Use the new profile you create as the output settings.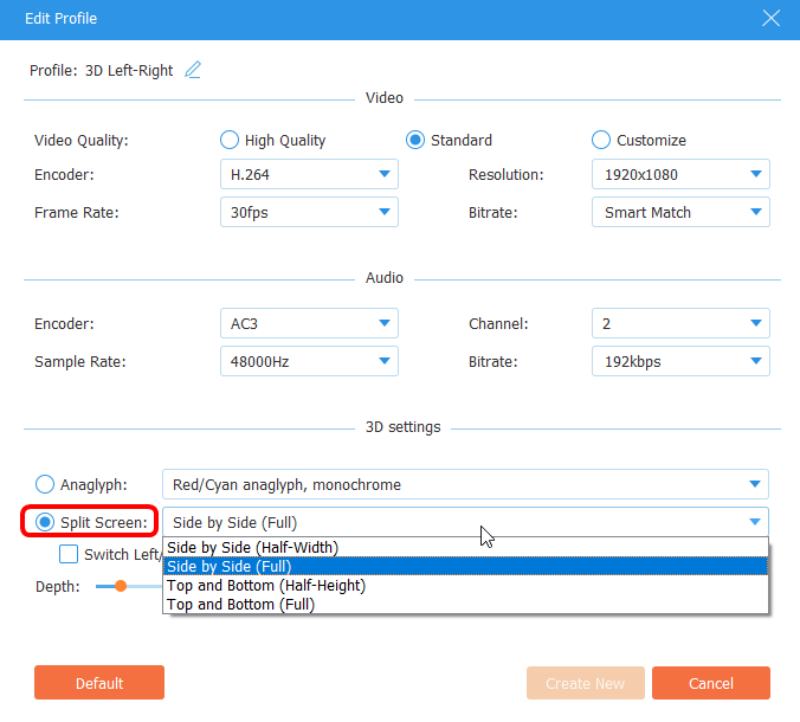 Step 4Select a destination folder by clicking the Browse and Select Folder button. After that, click the checkbox beside Merge into one file, and you will get only one video file. Click the Rip All button to rip the Blu-ray.

Part 4. FAQs about SBS 3D
Do they still make 3D televisions?

No, they do not. All the major TV manufacturers have stopped making 3D TVs. But, if you want to watch 3D movies at home, you can use projectors that support 3D playback.

How do I know if my TV is 3D-compatible?

Check out the specifications and manual. If you lost the manual, go to your TV manufacturer's website, find the supplied manual, and see if it is compatible with 3D.

Does YouTube still support the half-SBS 3D format?

Yes, it is. YouTube supports left-right SBS 3D videos. Your video should also contain stereo metadata to upload it on YouTube successfully.
Conclusion
Above is all the knowledge about 3D formats, half-SBS, half-OU, and full-SBS. Although full-SBS delivers better quality, its large file size makes it less favorable than half-SBS 3D. Hence, if you want to watch 3D at home, you should choose half-SBS over half-OU and full-SBS. Meanwhile, if you do not have a 3D TV, you can also rip your 3D Blu-ray to watch on the computer with Blu-ray Ripper.