3D Blu-ray Player Review | 4 Worth-Buying Smart Players with 3D Features
Upgrade your home theater with cutting-edge 3D Blu-ray players for a sur-real watching experience. For audiences serious about picture quality and sound, physical media like Blu-ray discs is better than online streaming. Blu-ray discs offer consistent audiovisual quality and offer smooth playback. Besides, the 3D Blu-ray discs give you an immersive movie experience at home. You only need a high-end 3D player that supports disc playback and delivers high-quality picture resolution, streaming features, and smart controls. From the three perspectives, here are the 4 best 3D Blu-ray players worth the money.

Part 1: LG BP620 Smart 3D Blu-ray Player
Price: $63 to $100 (Amazon)
LG 3D Blu-ray player is a wireless device that supports all DVDs and Blu-rays. The built-in Wi-Fi allows internet streaming. Hence, you can play discs and stream movies online with this player easily. It supports 3D Blu-ray playback, has three RCA-type outputs, and can connect to a stereo. The highest resolution you can get is 1920×1080. With 3D playback, surround sound, and standard resolution support, you will get a tremendous immersive 3D movie experience at home.

1 HDMI port and 1 USB port.
No multi-region support.
Provide a pack of customizable apps.
Smart Phone Remote Control (iOS & Android).
Pros

Great video picture quality.
Easy setup with wireless connection.
Cons

Can't add Premium apps to the shortcut menu.
Doesn't support all region codes.
Part 2: Sony 3D Blu-ray Disc Player (BDP-S5100)
Price: Starting from $58.18
Sony BDP-S5100 3D Blu-ray Player with Wi-Fi supports a wide range of online streaming services, including Netflix, Hulu Plus, Pandora, etc. The full 1080P HD support lets you fully enjoy a 3D Blu-ray movie with excellent visual quality. Moreover, this 3D Blu-ray player from Sony has less noise and gives a comfortable watching experience. Based on the features on Amazon, this Sony player supports all regions for Blu-ray and DVDs. You can enjoy any disc without geographic restriction.
Require 2AA batteries.
Dual-core processor for a faster loading speed.
Several ports for 3D-compliant HDMI, optical digital, USB, and Ethernet.
Pros

Strong Wi-Fi signal that can cover the whole house.
Control and browse from the mobile phone app.
Cons

The eject button and disc tray are fragile.
Does not support the DivX format.
Part 3: Samsung BD-F5900 3D Wi-Fi Blu-ray Disc Player
Price: Starting from $115
Samsung 3D Blu-ray player BD-F5900 has many features, from excellent compatibility with colorful apps to nice image quality. The interface is also easy, with big icons. As for the image quality, this player has no problem with 1080P and 4K disc playback. You can indeed have a good experience watching 3D, DVD, Blu-ray, and 4K UHD. Moreover, this Samsung player also has a fast-loading speed with the Quick Start mode while consuming more power to do that. Fortunately, you can change it to power-saving brains. All in all, this impact player has almost everything you need for a 3D Blu-ray player.

Dual-core processor for about 0.5-second start.
Access the web browser with built-in Wi-Fi and Smart Hub.
Pros

Screen mirroring with AllShare Cast.
Built-in CD ripper that can rip the CD to a USB drive.
Aggregate watching recommendations from different services.
Cons

Lack of NHL and HBO Go.
Only an HDMI and optical digital output.
The Quick Start mode consumes much power, even off.
Part 4: Sony BDP-S6700 3D Blu-ray Player
Price: Starting from $67.88
As one of the best 3D Blu-ray players, Sony BDP-S5100 offers various ways of connection, including Bluetooth, Wi-Fi, HDMI, and Ethernet. Meanwhile, with the built-in Wi-Fi, you can access multiple streaming services in this player, like Netflix, YouTube, Amazon Prime, etc. Moreover, the 4K upscaling feature in this 3D Blu-ray player can make the most of your 4K TV and let you enjoy Blu-ray movies with near 4K quality. However, the player does not support a 4K UHD Blu-ray disc, only the 3D Blu-ray, Blu-ray, and DVD.
Built-in Wi-Fi 2.4 GHz and 5 GHz.
HDMI, USB, Coaxial, and Ethernet for input & output.
HD, Dolby, and DTS-Master audio sound quality.
Pros

Improve online content with a 4K upscaling chip.
Support Miracast screen mirroring to view your Android phone.
Multi-room streaming with the SongPal Link Apps
Cons

Upscale anything to 4K but does not play native 4K discs.
No support for Hi-Res audio playback.
A limited number of streaming apps.
Bonus: Best 3D Blu-ray Player Software to Watch Any Disc You Have on the Computer
Unlike the external 3D Blu-ray player that might have drawbacks in disc support, Blu-ray Player picked by Blu-ray Software is compatible with all discs, including DVD, Blu-ray, 3D Blu-ray, and 4K UHD Blu-ray. Equipped with a user-friendly interface, this player lets you enjoy 3D movies without trouble. The customizable playlist allows you to check all the local discs or movies you have and jump to one of them quickly. Besides, the disc loading speed is also quick, for a large 2-hour movie will open in 0.5 seconds.
Blu-ray Player
Play a wide range of media files, discs, ISO files, and DVD/Blu-ray folders.
Watch 4K Blu-ray with the highest audiovisual quality.
Support multiple Dolby digital sound formats and DTS audio technology.
Capture screenshots with convenient keyboard controls.
How to use this 3D Blu-ray player software
Step 1Insert the 3D Blu-ray disc into the drive and connect the drive to the computer. Install this 3D Blu-ray player software on your computer, launch the player, and click the Open Disc button. Choose your disc in the pop-up.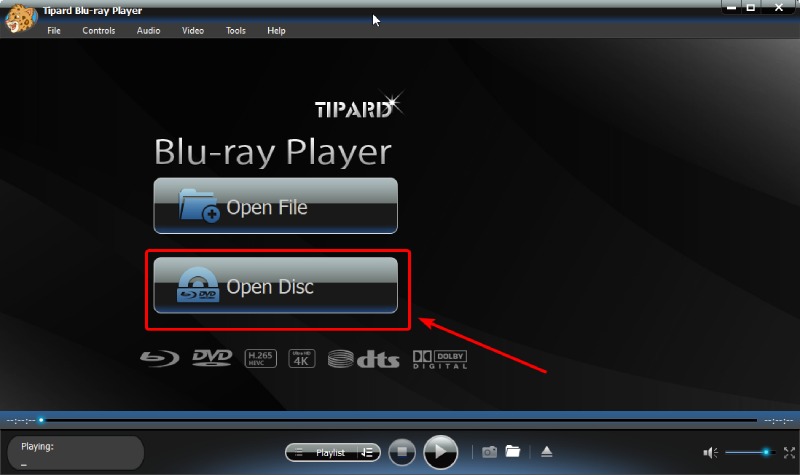 Step 2After loading, the player will play the 3D movie for you. Wear your 3D glasses, and you are ready to enjoy the movie. Meanwhile, to capture any moment during the movie. Press Alt and S keys to capture the screen or click the camera icon.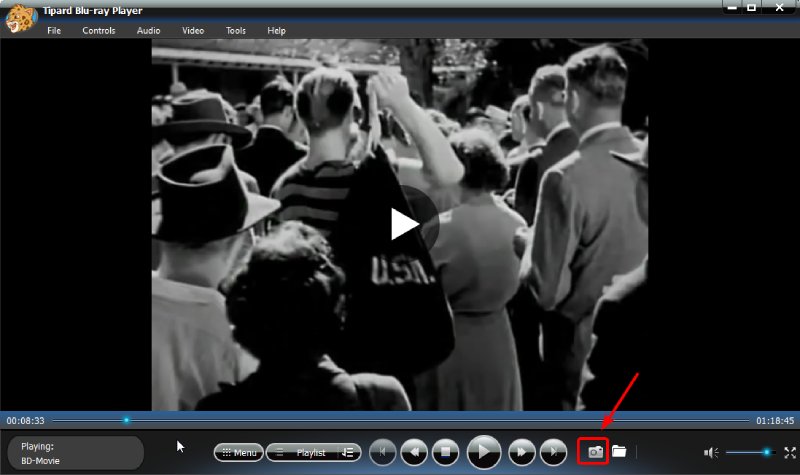 Part 5: FAQs about 3D Blu-ray Player
Can any Blu-ray player play 3D?

No. Not all Blu-ray players support 3D. You will need the players that have specifically included 3D support in their manuals or introductions.

Do you need a 3D TV to watch 3D movies on a 3D Blu-ray player?

Yes. You need a TV compatible with 3D or 3D projectors, a 3D Blu-ray player, some 3D discs, and 3D glasses. These are all necessary for enjoying a 3D movie at home.

Can you still buy 3D TVs?

No. Unfortunately, 3D TVs are dead. Manufacturers have stopped producing such TVs since 2006. If you still want to enjoy your 3D Blu-ray movie at home. Projectors compatible with 3D are also excellent alternatives. Normally, the starting price for a 3D projector is around $500.
Conclusion
You can find all these top 4 3D Blu-ray players from Amazon at reasonable prices. Some might not be from direct manufacturers and are second-handed. But none of them is discontinued by the manufacturer. You might get a good price with renewed ones. Meanwhile, for those who also wish to enjoy 3D movies on their compatible computers, a good 3D Blu-ray player software like Blu-ray Player is an excellent choice for your 3D playback. Get a download here to start watching 3D.