Blu-ray Player
Smooth Playback for 4K Blu-rays/Folder/ISO File/Videos.
Free Download
Free Download
What If DVD Player on Mac Does Not Work
Mac users may have trouble in playing DVDs. Sometimes, DVD Player on Mac may show messages like not permitted, supported disc not available, or skipping over damaged area. Other issues include the DVD not showing up on the Mac, automatic ejection of the DVD, failure to recognize a DVD, or sudden stop of video playback. When faced with such problems, the first step we should do is to identify the cause of the DVD player not working, and then apply the appropriate solutions. This passage lists all situations for DVDs not playing on Mac, and corresponding solutions are also provided. If you have encountered the same problem, continue reading and you can find your solutions.

Part 1. Possible Causes of DVD Player on Apple Not Working and Corresponding Solutions
When DVD Player on Mac stops working, it's important to locate the reason for its failure. Below are all the causes for the DVD Player on Mac not working, and you can troubleshoot your DVD Player on Mac according to the following different situations.
Causes 1: DVD Drive is damaged
If there is wrong with the DVD Drive, sometimes, the reason for DVD Player on Mac not working is not complicated. For example, there is much dust on the drive. In this situation, you can troubleshoot by cleaning the drive. If it does not work, and when you confirm your Mac DVD Drive is completely damaged, you should repair it or buy a new one. Unfortunately, it will cost you a lot. The alternative is that you can rip your DVD into other formats, and Blu-ray Ripper would be a good choice.
Causes 2: DVD is scratched
When your Mac can't read the DVD, or the quality of sound and image is degraded, maybe that is because the DVD is scratched or damaged. If there are small scratches on the DVD, you can clean and polish, or wax DVDs lightly. If there are scratches unrepairable, you have to purchase a new one.
Causes 3: Limited DVD region code
The limited region code may be another reason for the DVD Player on Mac not responding. Normally, DVD is encoded with region code, and the region code is a kind of encryption technology for DVD. The purpose of region code is to limit users to play DVDs from other regions. Under normal circumstances, users can alter region codes up to 5 times. When exceeds 5 times, the region will be locked to the latest modification and not play another foreign DVD.
If you have tried all of the above solutions, but your default DVD Player on Apple still does not work, a third-party DVD player may be your final choice. Among the best DVD Player on Macs, Blu-ray player from Blu-ray Software is highly recommended.
Part 2. Ultimate Solution to Fix DVD Player Not Working on Mac
When you find it hard to troubleshoot the failure of a DVD Player on Mac, try another DVD player. Blu-ray player is a region-free DVD player for Mac. It can play DVDs with different region codes and address the DVD copy protections, and it also supports over 600 multimedia formats playback.
Try another DVD Player for Mac.
Step 1Free download Blu-ray player from Blu-ray Software.
Step 2Add files or discs to Blu-ray Player.
Click Open Disc, select the DVD disc from your folder. Double click the target disc, then the DVD disc can be successfully loaded. You can click Play to watch the disc, and can also choose Scene to select different movies to watch, and freely choose different titles and chapters to watch.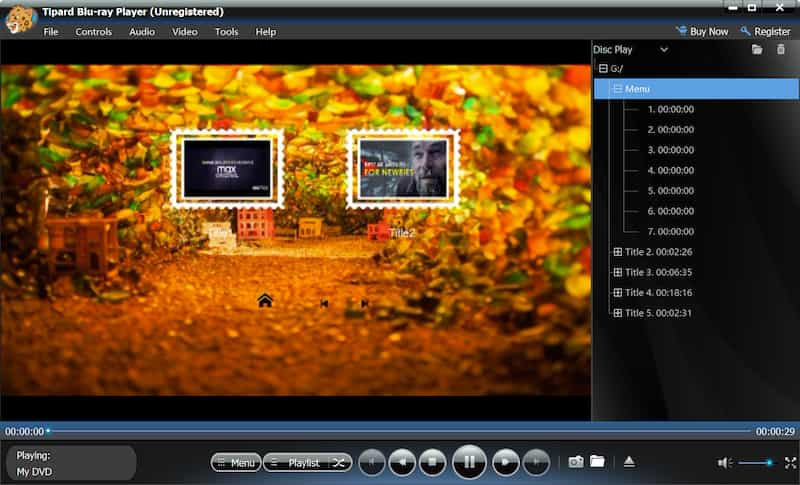 This Blu-ray Player supports DVD, and you can easily play Mac DVDs with a proper drive in this player. Notably, you can also open digital files from DVD, such as DVD folders or ISO files on your Mac through this player. More conveniently, you can directly drag and drop the DVD folders or ISO files to the player. The interface of this player is quite simple and you do not need to spend much time in learning. In a few clicks, the player will quickly open them and offer a smooth playback.
Part 3. FAQs about DVD Player
Why does my DVD Player on Apple only play some DVDs?

If your DVD Player on Apple only plays certain DVDs and not others, it could be due to compatibility issues. Some DVDs may be encoded in a format that is not supported by your DVD player software. In this case, you may need to use a different DVD player software or convert the DVD to a compatible format.

Is there an alternative DVD player software for Mac?

Yes, there are several alternative DVD player software options available for Mac, such as VLC media player, 5KPlayer, and Macgo Blu-ray Player. This software offers additional features and compatibility with various formats.

Can I play Blu-ray discs on my built-in DVD Player on Apple?

No, the built-in DVD Player on Apple is not designed to play Blu-ray discs. Blu-ray discs require a different type of optical drive and software that is not available on most Apple computers. If you want to play Blu-ray discs on your Mac, you can download Blu-ray player from Blu-ray Software.
Conclusion
As you can see, there are several potential reasons for the DVD Player on Apple not working. Some common issues include a scratched DVD, a dusty DVD drive, or a limited DVD region code. You can adopt methods like cleaning the DVD drive, polishing the DVD, using a ripper to unlock the restriction, or downloading a third-party DVD player with more features available on Mac. By following these troubleshooting steps, you can address the common issues, and then resort to corresponding solutions. If this message is helpful to you, be free to share it with your friends, or if you have any other questions, leave us a message.