Blu-ray Player
Smooth Playback for 4K Blu-rays/Folder/ISO File/Videos.
Free Download
Free Download
Is KM Player Really Worth Using When You Need to Play a Video?
If you are looking for software that can play your videos in high quality, then this article is sure to help you. KM Player is renowned for its ability to deliver high-quality video playback. Whether you're watching movies, TV shows, or your own homemade videos, KM Player ensures crisp visuals and seamless playback. With support for a wide range of video formats, you can enjoy your favorite content without any compatibility issues. You must have heard of many other advantages that KM Player can bring to you. But is it really flawless? Does it have downsides? So, to get the objective answers, dive into this article to explore the features and pros, and cons of KM Player and discover how it can revolutionize your video viewing experience.
Part 1. A Comprehensive Review of KM Player
KM Player is a versatile media player that offers a wide range of impressive features. It stands out for its ability to handle high-quality videos, including 4K, 8K, UHD, and 60FPS videos, ensuring a stunning visual experience. Additionally, KM Player supports various media file formats, such as AVI, MPEG, TS, MKV, MP4, WEBM, MOV, 3GP, 3G2, FLV, and MP3, making it compatible with a vast array of video and audio files and an excellent HEVC player across platforms.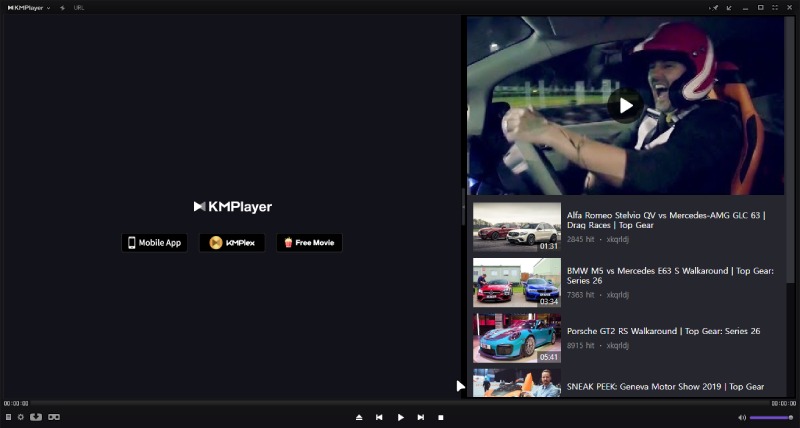 One of the standout features of KM Player is its high-quality Video Renderer, which enhances the video playback by delivering crisp and vibrant visuals. This allows users to immerse themselves in their favorite movies or videos fully.
Furthermore, KM Player boasts an upgraded music player, adding to its versatility. It provides a seamless audio playback experience with support for various audio formats. Users can enjoy their favorite songs and albums with ease.
KM Player caters to users with low-end PCs as well. You can download KM Player for Windows 10 64-bit and 32-bit on its official site. It incorporates a hardware acceleration function to optimize performance, ensuring smooth playback even on less powerful devices. This feature enables users to enjoy high-quality videos without experiencing lag or stuttering.

Another reason for KM Player to rank as one of the best video players in the world is that you can download videos via the URL in it. Furthermore, its versatile digital TV compatibility and online streaming support allow you to stream videos whenever and wherever you want.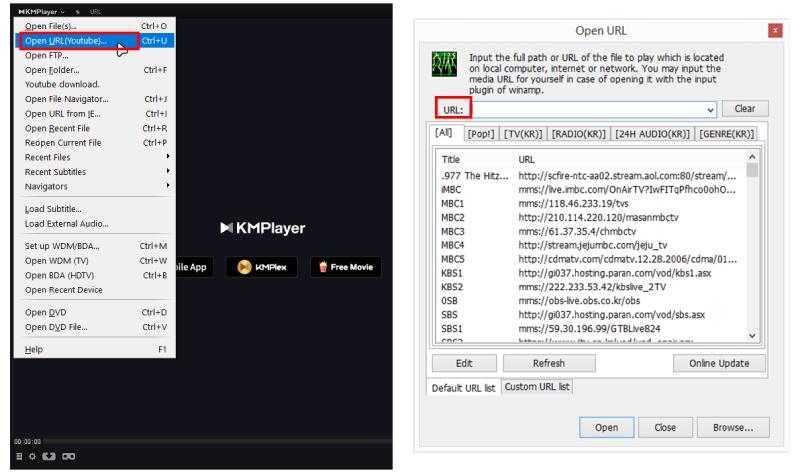 Lastly, KM Player allows users to capture videos in their desired format, including GIFs. This feature comes in handy when users want to create GIFs or capture specific moments from videos for sharing or personal use.
In summary, KM Player is a robust media player that excels in playing high-quality videos, supporting various media file formats, providing video downloading capabilities, featuring an upgraded music player, optimizing performance for low-end PCs, and enabling video capturing in desired formats. With its impressive range of features, KM Player offers a comprehensive multimedia solution for users' video and audio needs.
Pros

Provides a good 3D playback and viewing experience.
Supports mobile devices like iPhone and Android.
Lets users download online videos conveniently.
Streams free online movies in KM Player.
Cons

There are many pop-up ads.
The user interface is not friendly and intuitive enough.
It is hard to navigate in KM Player.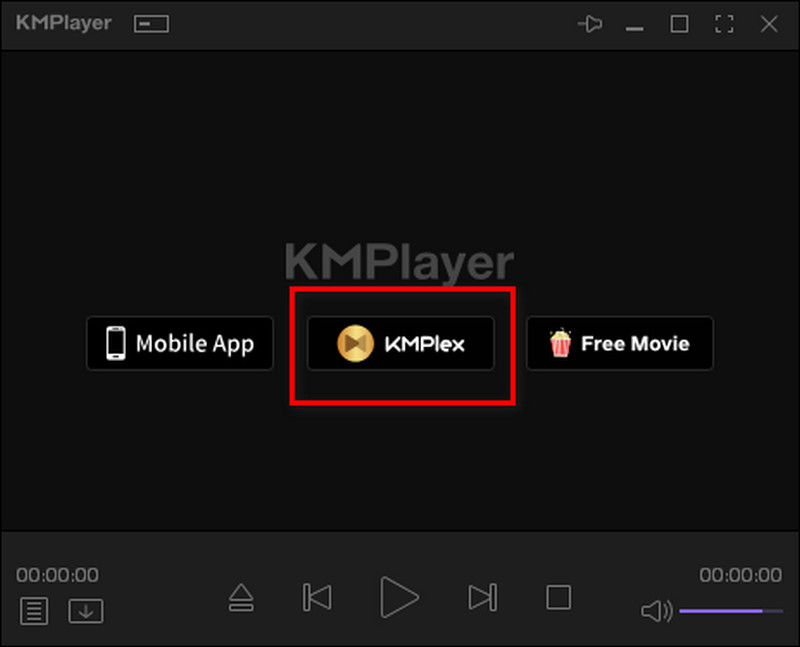 Bottom Line
All in all, KM Player is not bad and meets almost all playback requirements. However, it is not flawless and might not be suitable for users who prefer simplicity. If you are not tech-savvy, you might be confused by its advanced features and cluttered settings.
Part 2. A Perfect Alternative to KM Player
If you are looking for an easier media player that offers an exceptional multimedia experience, Blu-ray Player is here to revolutionize your media playback with its wide range of features and functionalities. The Blu-ray Player software offers a range of functionalities that enhance your movie-watching experience. In terms of functionality, Blu-ray Player is more stable and comprehensive than the KM player.
Blu-ray Player
Easily capture the best moments during movie playback.
Offer convenient hotkey shortcuts.
Allow you to customize the playlist order.
Play Blu-ray & DVD Disc/Folder/ISO on computer.
Have immersive audiovisual playback for lossless 4K Blu-ray.
Blu-ray Player allows you to customize the playlist order, create customized playlists based on your favorite movies, and manage lists for both Blu-ray and digital videos and music. This feature gives you more control over your movie selection and playback.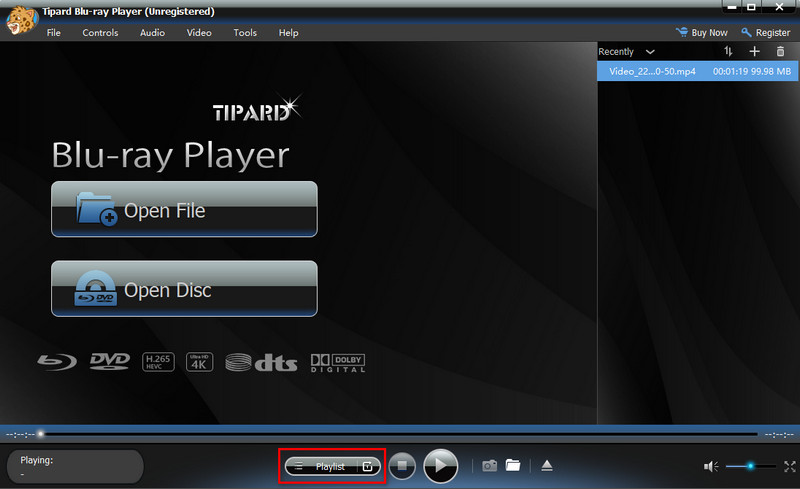 With a single click, you can easily capture the best moments during movie playback. The software lets you save these snapshots in popular formats such as JPEG, PNG, and BMP, making it convenient for creating interesting memes and emojis from your favorite movies.
To provide better control over playback, the Blu-ray player offers convenient hotkey shortcuts. These shortcuts allow you to play, stop, forward, backward, adjust volume, and make other adjustments while playing movies and music. This feature enhances user convenience and accessibility.
Blu-ray Player allows you to select specific titles, chapters, subtitles, and video/audio tracks from Blu-ray discs. This feature enables easy switching between different parts of a movie without any hassle.
The Blu-ray player software offers a comprehensive solution for movie enthusiasts on both Windows and Mac computers. It supports playback of Blu-ray and DVD discs using the appropriate drive. Additionally, it allows you to directly play digital files like ISO image files or Blu-ray/DVD folders with just a few clicks or drag-and-drop functionality.
High-quality playback for various video formats is provided, including 1080P and 4K UHD, without any loss of quality. It ensures a visually immersive experience while also supporting advanced sound technologies such as DTS and Dolby Digital, delivering exceptional audio performance.
Overall, the Blu-ray Player software offers a user-friendly interface with a wide range of features to enhance your movie viewing experience, providing convenience, customization, and high-quality playback.
Part 3. FAQs about KM Player
What is the best alternative to KM Player?

Blu-ray Player is the best alternative to KM Player for playing videos.

Is KMPlayer safe?

Yes, KMPlayer is safe to use. During use, its function is stable

What does KMPlayer do?

KM Player is a highly versatile media player renowned for its exceptional capabilities. It excels in effortlessly playing high-quality videos, including those in 4K, 8K, UHD, and 60FPS, guaranteeing an unparalleled visual feast.

Can KM Player play MKV file?

Yes, it can. As a versatile media player, KM Player handles all media formats, and MKV is just a piece of cake for it. One can easily open MKV videos in KM Player.

Why can't I play MP4 videos on my laptop?

In the case your video file is not corrupted, you can try other players such as Blu-ray Player.
Conclusion
In conclusion, if you're seeking software that excels in high-quality video playback, KM Player is the perfect choice. Its extensive functionality, user-friendly interface, and commitment to regular updates make it an excellent option for all your video playback requirements. In addition, Blu-ray Player, the KM Player's alternative, provides a range of features, including snapshot capture, hotkey controls, hardware-accelerated decoding, flexible media playback options, playlist customization, and high-quality audiovisual support. If you want to choose a suitable player, you can choose from these two.