4 Best M2TS Players on Desktop [Free Included]
Are you looking for the best M2TS player? Want to watch M2TS without quality loss? You are in the right place. M2TS is not the default format supported by Windows or Mac. If you want to open an M2TS file, you can try some third-party software. Today, this article recommends the top 4 M2TS players on Windows and Mac. It includes Blu-ray Player, VLC Media Player, Leawo Blu-ray Player, and 5KPlayer. You can read the details and choose one accordingly. Explore more now!

Part 1. What is M2TS Format & Application Field
M2TS is a format designed for Blu-ray disc Audio-Video 9BDAV) MPEG-2 Transport Stream containers. And it is usually viewed as a video format for storing high-definition video on Blu-ray discs or AVCHD. For example, it is ideal for preserving movies, TV shows, or other high-quality video materials. By the way, the filename extension of M2TS is .m2ts.
The primary application field for the M2TS format is in the production, distribution, and playback of high-definition video content. M2TS is the standard format for storing video and audio content on Blu-ray discs. And M2TS is utilized by video professionals for editing and post-production tasks due to its high quality and support for high bitrates. Besides, M2TS files can be played on compatible Blu-ray players, gaming consoles, and other devices that support Blu-ray technology.
Certainly, if you are looking for the most direct way to play an M2TS file, you can try the Blu-ray player software listed in the next part.

Part 2. 4 M2TS Players: Play M2TS on Windows & Mac
1. Blu-ray Player
Platforms: Windows, Mac
Price: $20.00/month
Blu-ray Software picked Blu-ray Player is one of the best M2TS players on Windows 11/10/8/7 and macOS. It supports various video and audio playback. Besides M2TS videos, it also can play TS, MTS, MP4, VOB, AVI, SWF, F4V, FLAC, WAV, etc. Moreover, it can play high-quality video up to 4K without quality loss. When playing M2TS, you can easily adjust the playback through the controls. And you also can customize the visual effects, such as brightness and contrast. More importantly, this M2TS player is easy-to-use for beginners with its straightforward interface. Just download the M2TS file player to enjoy your M2TS video now!
How to play MPEG files without hassle
Step 1Install and open the M2TS Blu-ray player on your computer.
Step 2Click the Open File button to add an M2TS file you want to watch.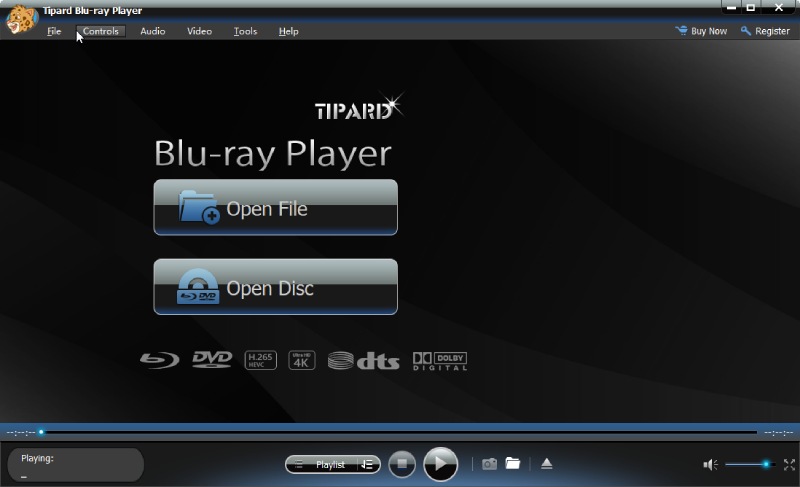 Step 3After loading, the program will play the M2TS video automatically. And you can adjust the menu, playlist, and playback speed at the bottom.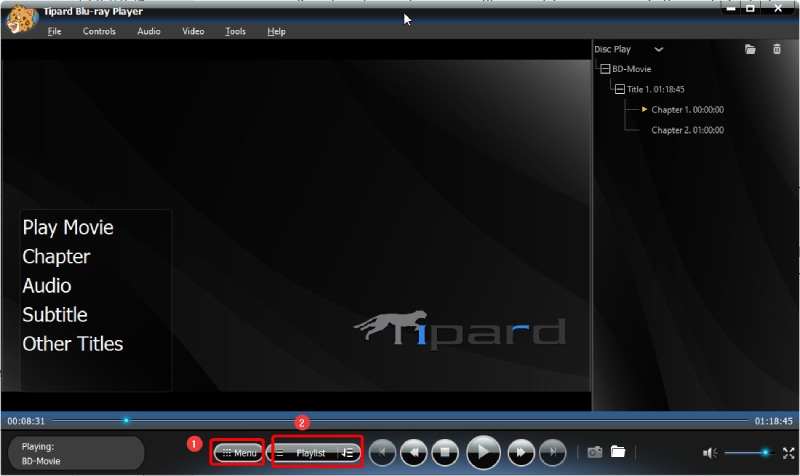 In addition, the Blu-ray player for PC & Mac is also an excellent choice to enjoy your Blu-ray movies and DVD videos.
2. VLC Media Player
Platforms: Windows, Mac, iPhone, Android
Price: Free
VLC Media Player is an open-source file player. It can play M2TS files across the platform. VLC can also play Blu-ray, DVDs, and regular media formats like MKV, MP4, WebM, WMV, MP3, and more common formats. When you play M2TS with VLC, you can control the video playback with the menus and hotkeys. Besides, you can add a new subtitle file to the M2TS video.
However, its interface is not user-friendly for beginners. And it not supports customizing the program background color.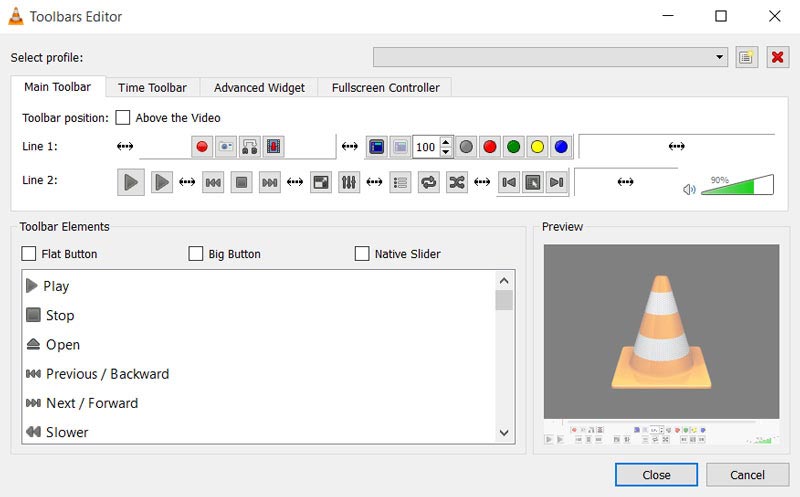 3. Leawo Blu-ray Player
Platforms: Windows
Price: Free
Leawo Blu-ray Player is one of the free M2TS players for Windows 10/8/7. This software can play M2TS,
TS, MP4, M4V, OGM, etc., up to 1080p. And it also can play Blu-ray and DVD with a cinema-like experience. Moreover, it offers various practical features, including a virtual controller panel, taking screenshots, customizing skin/language/background, and more. When you play M2TS videos via it, you will feel pleasant.
However, you can only play M2TS and other files on Windows with this player. And the program will pop up annoying ads when playback stops if you use the free version.
4. 5KPlayer
Platforms: Windows, Mac
Price: Free
5KPlayer is another popular M2TS player software. It can play your M2TS videos smoothly on Windows and Mac. Besides, it also supports playing MTS, MP4, AVI, WMV, MOV, MPEG, etc. And the video playback quality is up to 1080p/4K/5K. Therefore, you can enjoy M2TS videos without quality loss.
However, many users reported that the operation process is a bit complex. And sometimes the Airplay feature does not work smoothly.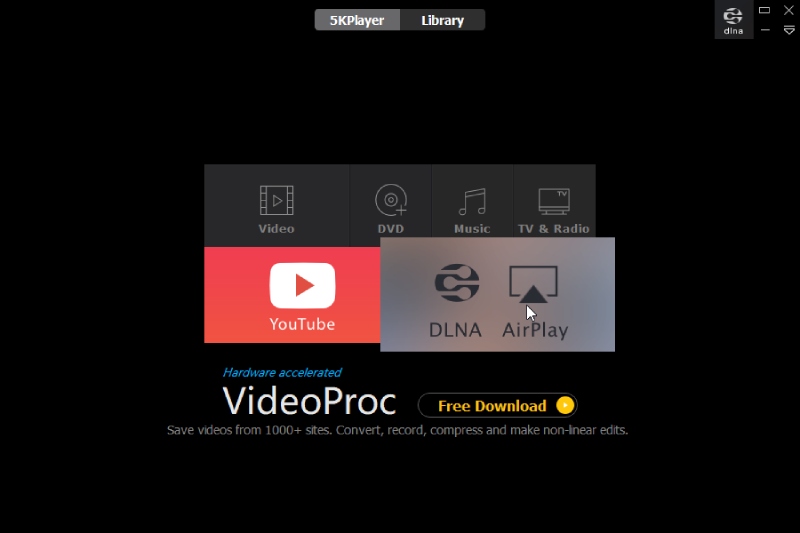 Part 3. FAQs of M2TS Player
Can Windows Media Player play M2TS files?

Yes. Windows Media Player is the built-in player on Windows computers. It can support various common formats of playback, including M2TS files.

What is the difference between M2TS and MTS?

MTS file is the memory-stored format used to record video clips with camcorders like Sony and Canon. However, when an MTS file is exported to a computer, it will be converted to the M2TS format. And you can easily view and process the video clips in .m2ts on a computer without compatibility issues.

Is M2TS better than MP4?

Not exactly. MP4 is a more common format than M2TS. However, M2TS has better-quality in video resolution.

Can Samsung TV play M2TS?

Yes. Most Samsung TVs support M2TS playback. But a small proportion of Samsung TV cannot play M2TS because of the compatibility issue.

Is GOM Player good for playing M2TS?

Yes. GOM Player can play M2TS files smoothly. More importantly, it is a free multimedia player software.
Conclusion
M2TS is commonly used in Blu-ray discs. If you want to play an M2TS video directly, you can use a compatible media player. In this article, you get 4 easy to use M2TS players on Windows and Mac. Pick out your favorite one and enjoy your M2TS videos. Any questions about the M2TS player? Leave your comments below.