Blu-ray Player
Smooth Playback for 4K Blu-rays/Folder/ISO File/Videos.
Free Download
Free Download
[2023] QuickTime Player Review - Should You Stick to It on Mac
QuickTime Player is an award-winning program developed by Apple company. You can use it to play various digital media. Although it is a pre-installed program for Mac, it is also available on Windows and offers a Pro version. In this QuickTime Player review, we will explore all its key features, its media compatibility, differences in Mac and Windows versions, how to use it, etc.

Part 1. Review QuickTime Player
QuickTime Player is a multi-functional player that plays audio and video files, records your Mac screen, and even captures your iPhone/iPad/iPod on-screen activities. Mac users might already know this default software, for it opens your video files every time you click them in the Finder. But, there are still many features in QuickTime Player you left unexplored. For example, do you know Apple actually offers QuickTime for Windows, too? Far beyond this, we've listed more features below for you to get a whole picture of QuickTime Player, your long-neglected media companion.
Media Playback
Apart from the basic support for regular video and audio formats like MP4 and MP3, QuickTime Player also supports playing other popular formats or formats that Apple develops. For example, QuickTime File Format (.MOV) is one of them. Below is the chart of all supported formats in QuickTime, the video player.
QuickTime Player (Supported File Formats)
Video
MPEG-1, MPEG-2, MPEG-4
3GPP, 3GPP2
AVCHD
AVI Motion JPEG
DV
Audio
MP3
iTunes Audio (.m4a, .m4p)
Core Audio
AU
AIFF
SD2
SND
AMR
WAV
Video Codec
MPEG-2, MPEG-4
H.261, H.263, H.264
Apple Pixlet
ProRes
Cinepak
Component Video
DV, DVC Pro 50,
Photo JPEG
Motion JPEG
Sorenson Video 2 and 3
Audio Codec
MP3
Apple Lossless
MPEG-4 Audio (AAC)
HE-AAC
AMR Narrowband
MS ADPCM
Qualcomm PureVoice
QDesign Music 2
IMA 4:1
MACE 3:1 and 6:1
ALaw 2:1
ULaw 2:1
24-bit and 32-bit Integer, and 32-bit Floating Point
You can see that although it is a long list of the supported file formats of QuickTime, its compatibility is still limited, for it cannot open files in WMV, FLV, AVI, MKV, and Blu-ray/DVDs. There are two solutions for you if you try to play such files. One is to convert the files to formats like MOV, MP4, etc., and the other is to refer to another alternative player on your desktop. Luckily, here comes an alternative to Apple QuickTime that handles well with all the above-mentioned formats.
Blu-ray Player, a versatile media player available on Windows and Mac, can play a wide range of media files and Blu-ray and DVD from all regions. Although the name suggests it is a Blu-ray player, it can still open your AVI, MKV, MOV, and other regular videos and audio. Meanwhile, unlike QuickTime Player for Windows, which does not support drag-and-drop playback, this player works perfectly fine with this action and immediately plays the file for you.
Blu-ray Player
Compatible with over 500 media formats.
Supports seamless playback of Blu-ray, DVD, folder, and ISO files.
Create a playlist with local media files.
Create a playlist with local media files.
Record Screen
QuickTime also allows you to record the Mac screen by initiating the built-in recording feature on Mac. When recording the screen, you are still using the Screenshot tool on Mac to record, but you can directly view the recording in QuickTime Player after it ends. To start a recording, you can click the New Screen Recording button from the File menu on the menu bar. However, one thing should be noted: the recording feature does not support recording your Mac's internal sound.

Edit a Movie
The editing feature of QuickTime Player enhances your playback experience, especially when combined with its recording function. Despite being a small player, it offers many useful features, making it an excellent choice for non-technical users. With QuickTime Player, you can record, trim, and play videos consecutively. Additionally, you can split your video recording into multiple clips.
QuickTime for Windows
MacBook is not the only place where you can access QuickTime Player. As a matter of fact, Apple lets you download QuickTime on Windows from its official site. However, since Windows users are not the primary target customers, you might need to lower your expectations. There are lots of differences between Mac and Windows versions. For example, you cannot record the screen or cut the video into segments. The video always plays in a new window, and the player does not work as a 4K Blu-ray player. Aside from these, the compatibility of QuickTime Player on Windows and Mac is the same.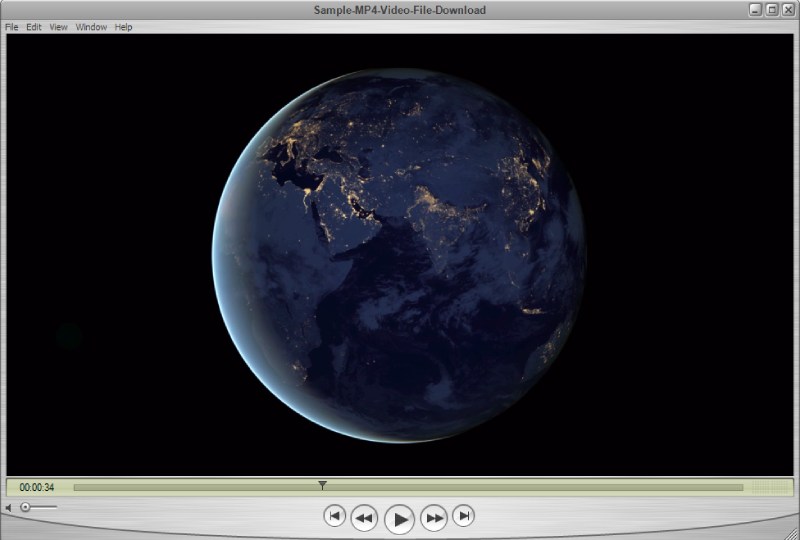 QuickTime Plugins
When installing the QuickTime Player on Windows, you can find two options: Typical and Custom. The Typical installation will get you more features except for the player, such as QuickTime for Java, QuickTime PictureViewer, and QuickTime web browser plug-in. As for the Custom installation, you can enable only the options you want. The plugins are not exclusive to Windows users. Mac users might sometimes see the missing QuickTime plug-in error in Safari or Firefox when playing a QuickTime video in the browser.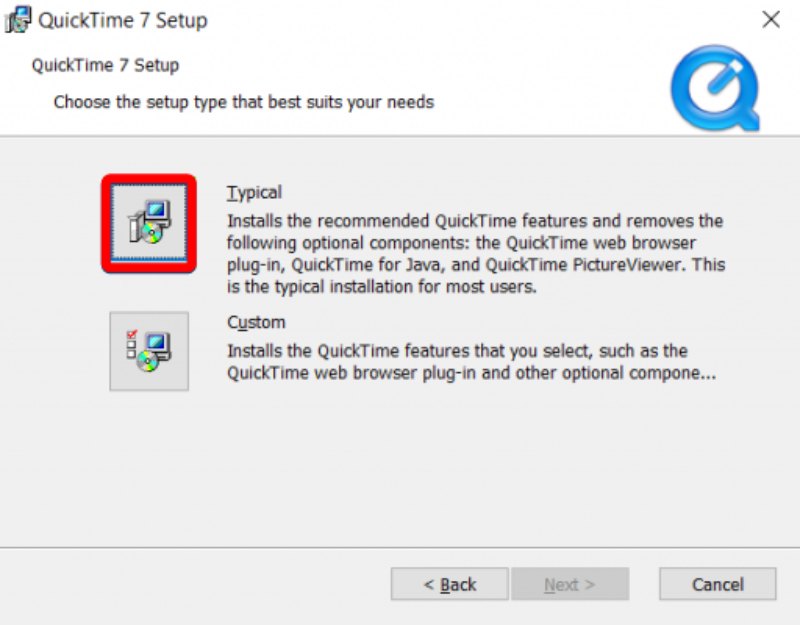 Part 2. Problems with QuickTime Player Playback
Despite QuickTime being multi-functional and the leading choice for most Apple users, errors can still occur and be too annoying to let you keep it. Before uninstalling QuickTime from your computer, let's review some common issues reported by other users and see some possible solutions.
1. QuickTime won't play MOV
It's clearly stated that MOV is one of the supported formats for QuickTime in the above review. Then, how come you fail to play the MOV video in QuickTime Player? Well, this is because of the codecs. QuickTime Player now only fully supports MOV encoded with MPEG-4 or H.264 and AAC audio. This error can be easily fixed by re-encoding the video.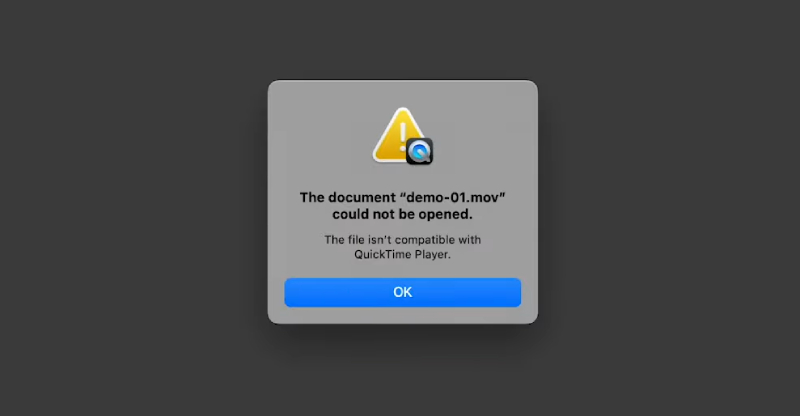 2. QuickTime Player not opening
When the QuickTime Player is not working on your Mac or Windows, or it cannot open any video file, check if there is a necessary update for the player. For your information, the latest version of the player for macOS v14.0 is 10.5. As for Windows, the latest version is 7.7.9.
If it is not about the software version, see what the pop-up window says about the error. If so, you can still use the re-encoding method to solve the problem.
3. This file contains some media which isn't compatible with QuickTime Player
Create a project and use codecs that are not compatible with QuickTime. You will see such an error after exporting and playing the project in the player. Luckily, the solution is also very simple. Import your project to your editor and export it with a different encoder that QuickTime supports.
Bottom Line
If you're a Mac user who doesn't frequently adjust codecs and only requires basic media playback, QuickTime player can be a great option for you. However, if you're a Windows user, it's not the ideal choice as it lacks advanced features and customer support. Even if you try to upgrade to QuickTime Pro, the relevant page seems to fail. Furthermore, Mac users who want to watch Blu-ray or DVD movies on their computers may find the player unsatisfactory. Therefore, it's time to look for an alternative to QuickTime Player that provides more stable playback for Windows and Mac.
Part 3. FAQs about QuickTime Player Review
Is QuickTime Player outdated?

No. It is certainly not outdated for Mac users. However, for Windows users, the QuickTime interface can be obsolete.

Is QuickTime Player safe to use?

Yes, it is. There is no adware or any malware during the installation. And you will see any pop-up ads while playing videos.

Why did Apple discontinue QuickTime?

As more operating systems and browsers supported MPEG-4 and succeeding standards like H.264, the necessity for a cross-platform QuickTime version faded, and Apple discontinued the Windows version of QuickTime in 2016.

Can QuickTime Player still open URLs?

No, it cannot. However, you can see the Open URL option in QuickTime Player on Windows. However, since Apple has already discontinued QuickTime on Windows, this feature is not working for most online links.

Do I need to install QuickTime Player on Mac manually?

If you are running an older version of the macOS, you then need to install QuickTime manually, for they do not include the player by default.
Conclusion
As far as the review goes, QuickTime Player is a fairly nice choice for most users, especially if you are using a Mac. But its performance in the Windows system can be rather disappointing. For a QuickTime alternative for Windows, Blu-ray Player ranks as one of the top choices, offering convenience and an intuitive interface. To have a go with it, do not hesitate to download it here.