Blu-ray Ripper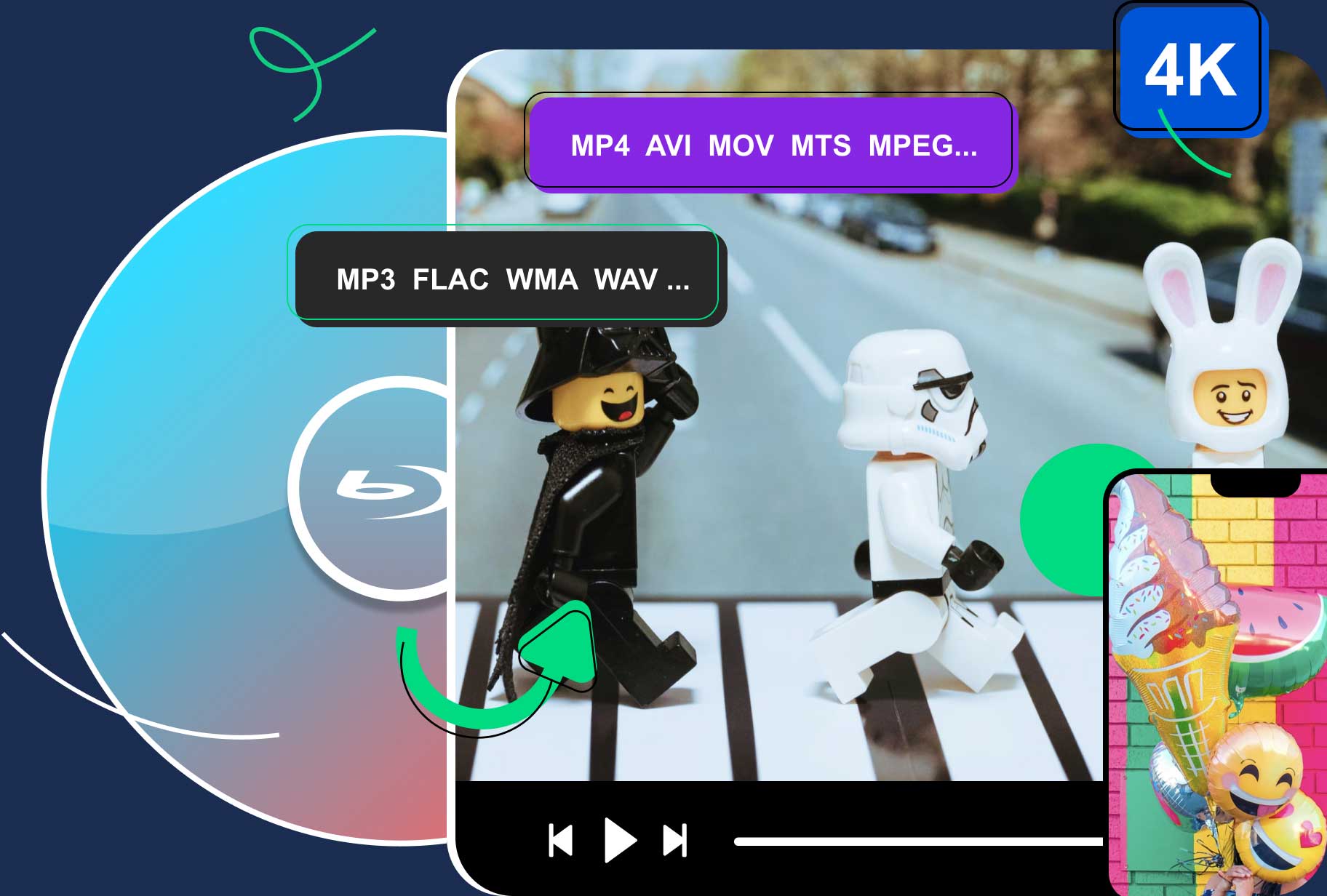 High-Quality Solution for Ripping Blu-ray/DVD/Folder to Any Formats Quickly
Free Download
Free Download
Best Blu-ray to VOB Converter to Rip with Full Content
Blu-ray enables us to enjoy all kinds of high-quality movies at home. Without leaving our house, we can get a cinema-like experience easily. Therefore, it is common to see a movie lover have a large amount of Blu-ray collections piling up on the shelves or in rooms, which also reveals one obvious disadvantage of the physical media. They take up too many living spaces. So why not convert Blu-ray to VOB files? Then, all the movies will be at your fingertips with a few clicks. Besides, Besides, you can also use the VOB file to burn DVDs in the future, which can be an excellent gift option. Starting from here, see how to rip the Blu-ray disc to VOB videos using Blu-ray Ripper, one of the best ripping tools for PC and Mac.

Part 1: How to Rip Blu-ray to VOB with Blu-ray Ripper
Blu-ray Software recommends Blu-ray Ripper to help you rip Blu-ray to VOB video files. Supporting Windows and Mac, this ripper program works efficiently for all Blu-ray ripping tasks. You will get a full copy of the Blu-ray movie in VOB video format without any content loss. The output VOB file has two resolution presets, 720×480 and 720×560.
If your Blu-ray has multiple language tracks, this Blu-ray to VOB converter lets you preview and remove the unnecessary ones. In this way, your ripping will become faster. Meanwhile, if the 480P VOB video is not enough, try the Video Enhancer tool inside the Toolbox and improve the picture quality of your output videos.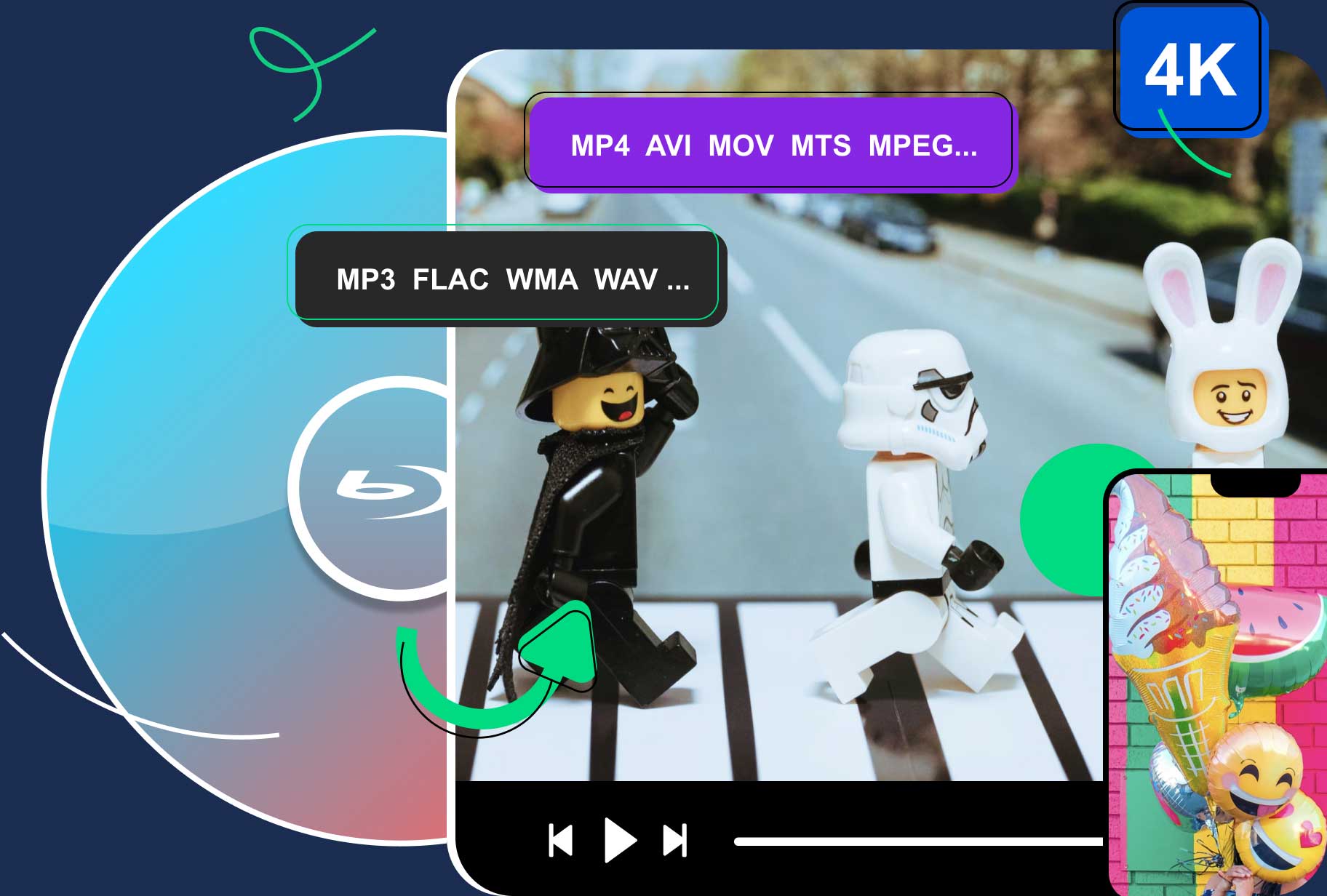 Blu-ray Ripper
Preserve all content from Blu-ray in VOB.
Watch the Blu-ray movie with the built-in previewer.
Compress your output VOB video file to fit into smaller DVDs.
Disable or add new audio soundtracks to the Blu-ray.
Steps to Convert the Blu-ray Disc into VOB File
Step 1Set up a Blu-ray Drive and Download the Ripper
Connect your Blu-ray drive to your Windows/Mac, download this Blu-ray to VOB converter for free, and you will get a 30-free trial to convert your Blu-rays freely. Launch the ripper and insert the disc into the drive. Then, select your Blu-ray from Load Blu-ray Disc.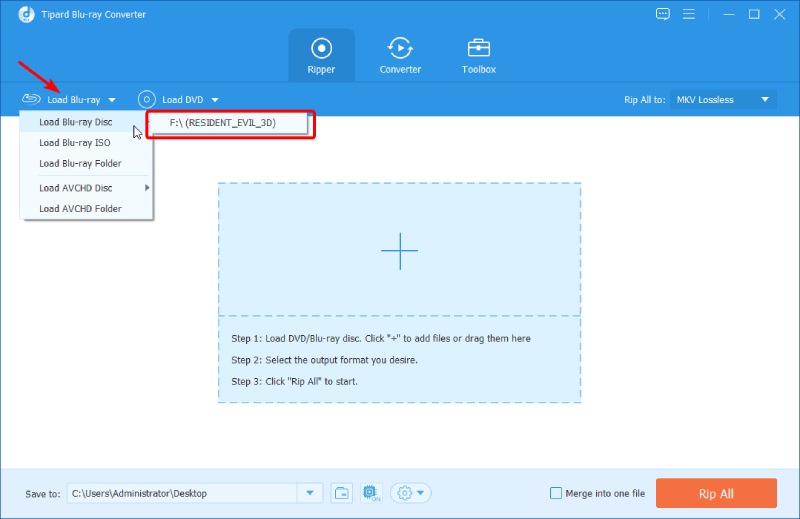 Step 2Choose VOB as the Output Format
Click the Output Format button and type VOB in the blank space to search for this format. Alternatively, find it in the Video tab. Click the format option on the right to choose it. You can also click the settings icon to change the resolution.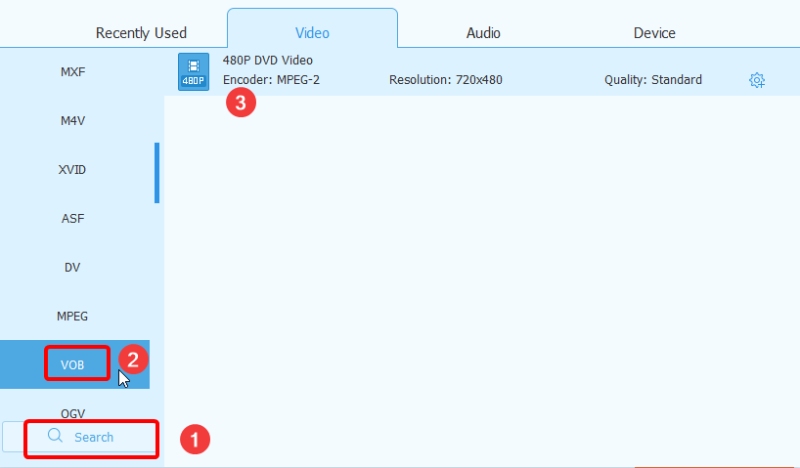 Step 3Find a Destination Folder and Rip
Next, click the down arrow and choose Browse and Select Folder. After that, a pop-up will appear, choose a folder to store your VOB file, and click the Open Folder button to confirm. After that, click the checkbox of Merge into one file, which allows you to get only one VOB video file of all the Blu-ray titles. Click the Rip All button to convert Blu-ray to VOB.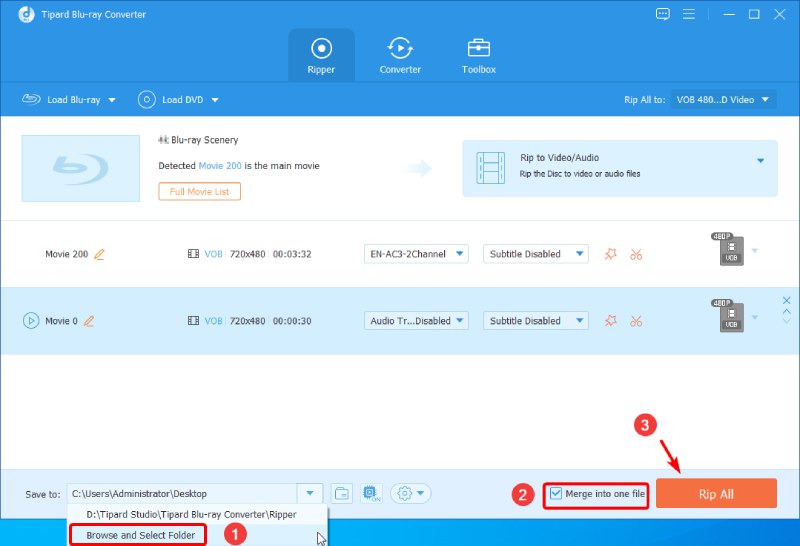 After successfully completing the conversion, the result will be stored in the destination folder you previously selected. If you also want to watch Blu-ray movies on more devices, you can convert the Blu-ray to more digital formats with this ripper.
Tip: How to Open the VOB Video after Ripping Blu-ray to VOB
Windows users have no trouble playing VOB videos because the default player, Windows Media Player, can easily handle this format. Launch the Windows Media Player on your computer and drag the VOB file you ripped from Blu-ray to the player's window. It will play then.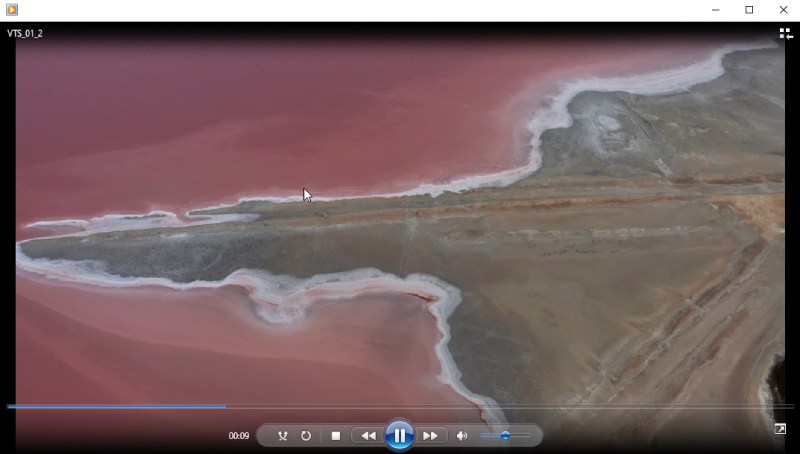 If your Windows Media Player does not play the VOB video, download and install a MPEG-2 codec for the player. You can get all the codecs you need for the Windows default player on the codecguide.com site.
If you want a more straightforward without spending time downloading extra codec packs, Blu-ray Software finds you a more powerful player, Blu-ray Player. The player can play multiple media files, including Blu-ray, DVDs, VOB, and many other formats. You can create a special VOB playlist with all your ripped files. Or use the player as the Blu-ray disc player to enjoy your Blu-ray movies. Meanwhile, you can capture any moment while playing VOB videos with the shortcut control.
Blu-ray and VOB Player
Play all sorts of media files and discs.
Support importing different audio and subtitle tracks.
Direct menu control of the Blu-ray and DVD.
Adjust video effects from hue, brightness, contrast, saturation, and gamma.
Part 2: FAQs about Blu-ray to VOB
Can a Blu-ray disc be converted to a DVD?

Yes, it can. You can use Blu-ray copy software to copy the whole content from your Blu-ray to a blank DVD. Or, with the steps above, you can convert Blu-ray to VOB video first and then burn the VOB file to your DVD disc.

Can I make VLC rip Blu-ray to VOB?

No, you cannot. VLC can play the VOB videos. But the output formats in VLC Media Player do not include VOB format. You cannot find it in the Profile either.

Is a VOB file a DVD?

No, it is not. A VOB file is a container format from a DVD. You can find these video files in a DVD video folder. But, it can be mounted into a DVD with authoring software. The VOB file often contains digital video, audio, subtitles, DVD menus, and other navigation contents.
Conclusion
That's all the steps you need to rip the Blu-ray to VOB video files on the computer. With Blu-ray Ripper, you can quickly get a VOB video from Blu-ray on both Windows and Mac. Meanwhile, you do not even have to worry about the VOB playback issues since Windows' default player, Windows Media Player, can play the VOB for you. Besides, although Mac does not support VOB playback by default, the powerful Blu-ray and VOB media player recommended by Blu-ray Software solves this issue easily. Enjoy your movies and play the Blu-ray without discs.