Blu-ray Ripper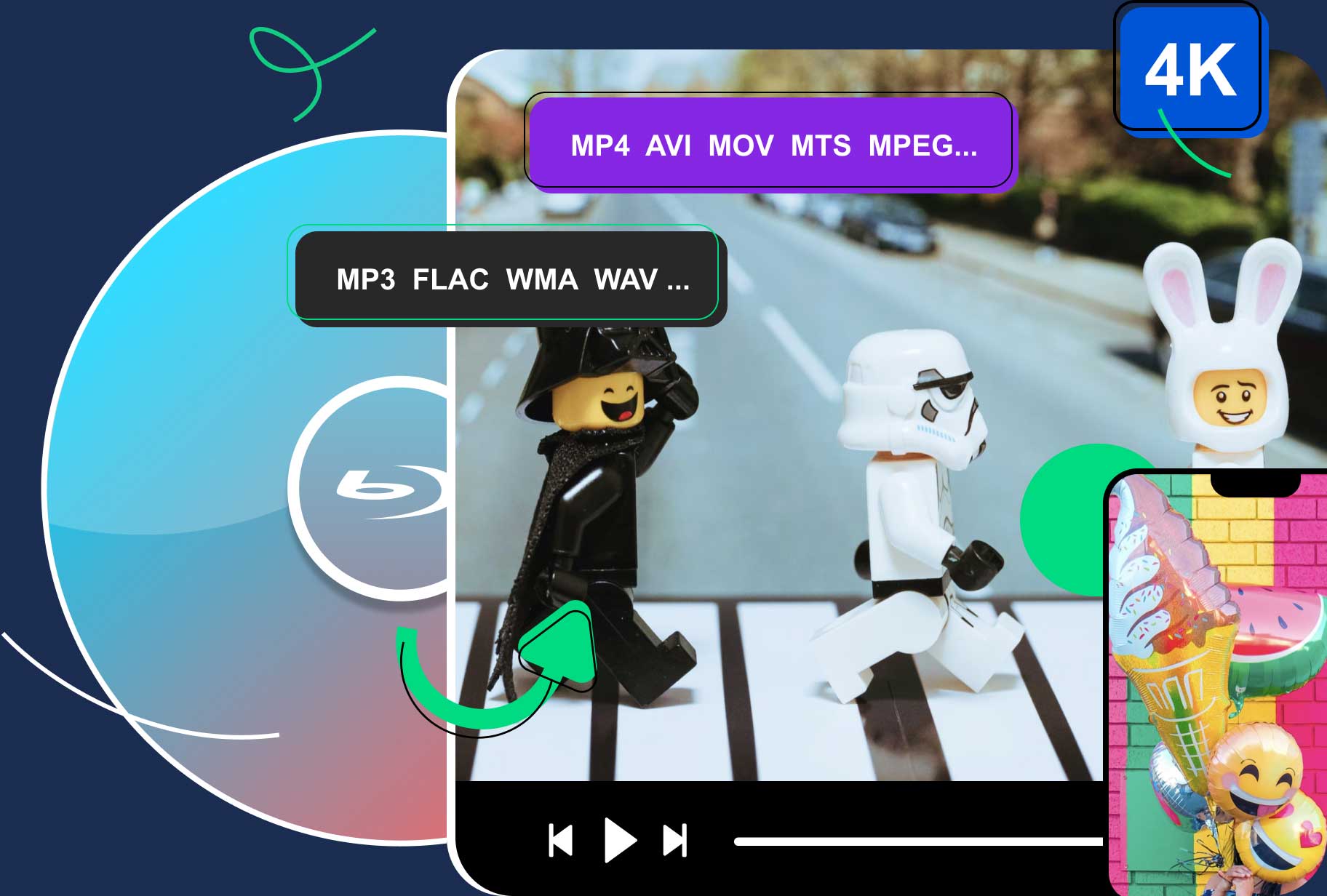 High-Quality Solution for Ripping Blu-ray/DVD/Folder to Any Formats Quickly
Free Download
Free Download
Four Solutions to Convert Blu-ray to Digital Copy on Computer
If you are tired of the heavy Blu-ray drive or player, it's time to get digital copies of your cherished Blu-ray movies. With digital copies, you can play these movies anywhere on any device. More importantly, if you convert Blu-ray to digital, you can have more format options. You can get MP4, ASF, MOV, AVI, WMV, or many other formats. Without further ado, walk yourself through the steps below to see how to get Blu-ray digital copies on your Windows/Mac computer.

Disclaimer & Preparation:
Some of the below ripping methods might contain copy protection removal features. But you should be aware that ripping commercial Blu-ray discs is illegal. Avoid abusing this feature for any commercial use. The ripping software requires users to have a compatible Blu-ray drive to read the discs. Ensure you have the correct drive and connect it to your computer before following the steps.
Part 1: Digital Copy VS Blu-ray
Digital copies and Blu-ray discs both have obvious highlights. For example, digital copies are much easier to watch and allow you to enjoy the movie anywhere. Meanwhile, digital copies are easy to share, and you do not need to lend friends the physical disc to share the movie. However, if the copies are not correctly acquired, there might be a decrease in the audiovisual quality.
As for Blu-ray discs, they are more stable and require no internet connection. If you have the right player or drive, you can watch it with excellent quality on your TV or computer at home. Furthermore, there is a larger chance for you to come across classic movies when purchasing Blu-ray discs. The disadvantage of Blu-ray discs is the storage. Unlike digital copies that require only disk space, the discs need actual space in your room and can even take up your whole room.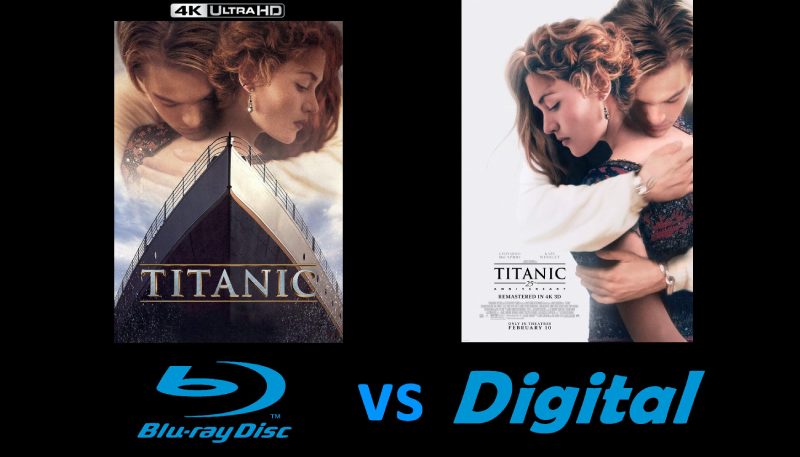 Part 2: The Quickest Way to Get a Digital Blu-ray Copy
When purchasing some Blu-ray discs, you might get a bundle that contains a digital code. The code allows you to redeem Blu-ray digital copies online. If you have the codes, then the fast way to convert your Blu-ray to digital is to use the codes to redeem a digital copy online. There are many disc-to-digital services online. VUDU and Movies Anywhere are two great examples. But the former is geo-restricted and offers services only in the US and Mexico.
Suppose you want to redeem your codes and get digital copies; take Movies Anywhere as an example. In that case, you can redeem a copy on the Movies Anywhere website. Find the code in your Blu-ray insert and enter the code on Movies Anywhere. Click the Redeem button. Then, there is your digital copy within a few seconds.

Part 3: Convert Blu-ray to Digital with Three Workable Rippers
What to do if there are no digital codes for you to redeem? You can still get digital copies of your own Blu-ray videos through Blu-ray to digital converters. You can easily rip the Blu-ray and get digital videos in different formats with converters. Here are the top 3 converters.
1. Blu-ray Ripper
This Blu-ray Ripper picked by Blu-ray Software is a ripping software excelling in converting any Blu-rays to digital formats. Supporting over 500 formats for output, this ripper enables you to convert Blu-ray to ASF, XVID, MP4, MPEG, VOB, and many other popular or unpopular formats. You can rip not only Blu-ray discs but also Blu-ray folders or ISO image files from Blu-ray. Getting digital copies in this ripping software is also quick, for there is hardware acceleration support for Intel, AMD, and NVIDIA. Furthermore, the output digital copy you get is also lossless and has the same audiovisual quality as the original Blu-ray.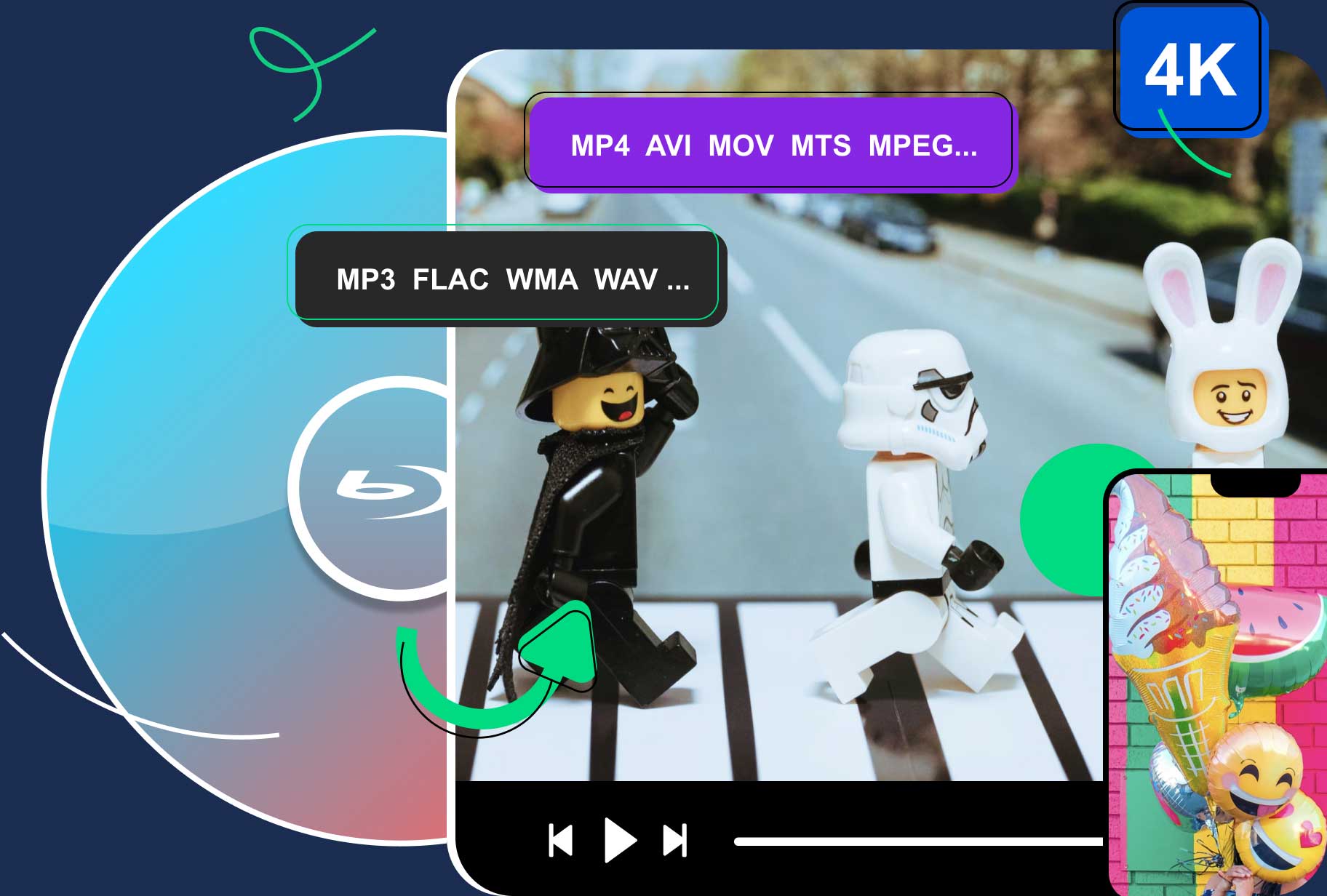 Blu-ray Ripper
Support video and audio editing before ripping.
Extract audio files from Blu-ray discs.
Merge all Blu-ray videos into one digital copy.
Adjust parameters for the desired output digital formats.
How to convert Blu-ray to digital with Blu-ray Ripper
Step 1You can free download this ripper via the link above. After that, install and launch it. Insert your Blu-ray disc into the drive. This tool will detect the disc and load the main movie for you. You can also choose to load the full title list.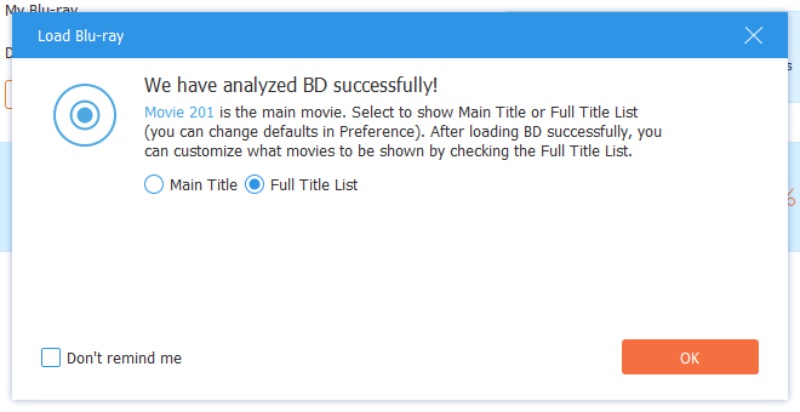 Step 2Choose a digital format from the Rip All to dropdown option. Or choose different formats for each video in the Blu-ray.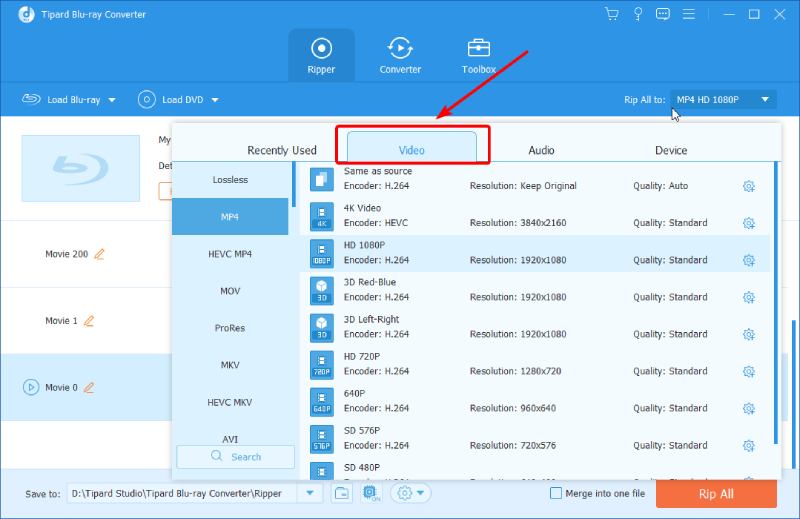 Step 3Afterward, choose a folder to save your digital copies by clicking the down arrow icon and choosing Browse and Select Folder option. Click the Rip All button to rip them to digital.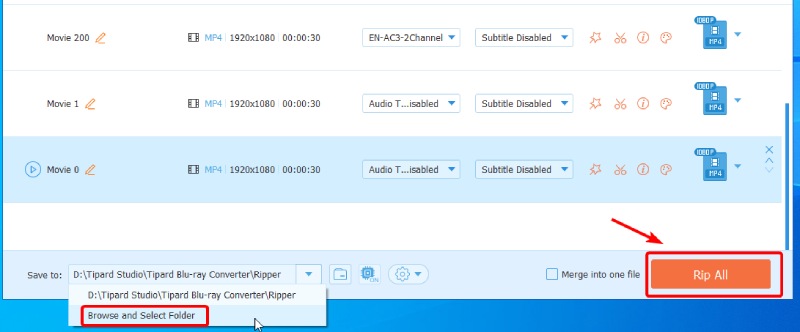 2. MakeMKV
MakeMKV is another Blu-ray-to-digital converter that can make digital copies of your Blu-ray. However, you can only get MKV format for output. When loading the Blu-ray, MakeMKV would filter out the titles that are no longer than 120 seconds. Additionally, MakeMKV helps remove some disc protections. You can enable this feature with one click.
Pros

Free of charge.
Quick setup and import.
Remove DVD and Blu-ray protections.
Cons

You must re-install it every 30 days for the free version.
Only one single output format.
How to convert Blu-ray to digital with MakeMKV
Step 1Install this converter from MakeMKV's official website. After installation, insert your disc into the drive and launch MakeMKV on your computer. The software will load your disc and analyze your titles. You can see the source information on the right.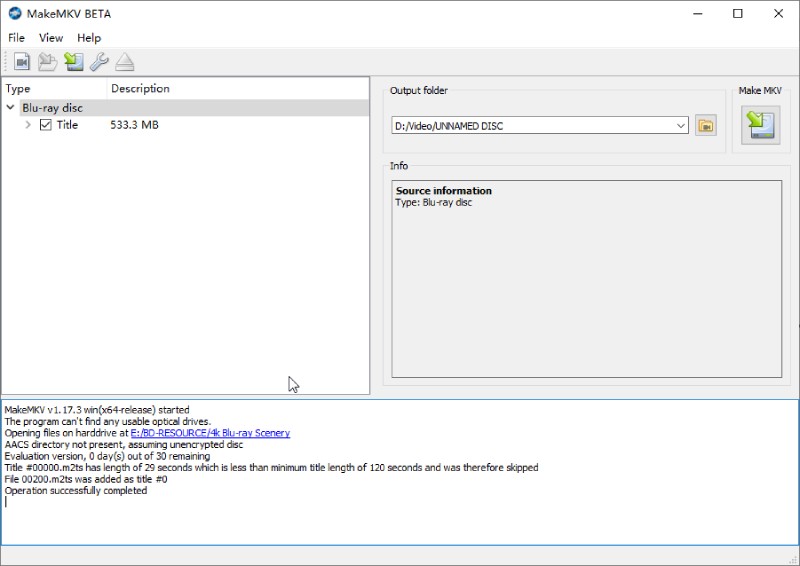 Step 2Click the Set Output Folder button to set up a folder for output storage. Next, click the Make MKV button nearby to start ripping your Blu-ray video and get a digital copy in MKV format.

Step 3A pop-up will remind you of the process after ripping ends. Click the OK button to confirm, and you can find your output video in the folder you just set.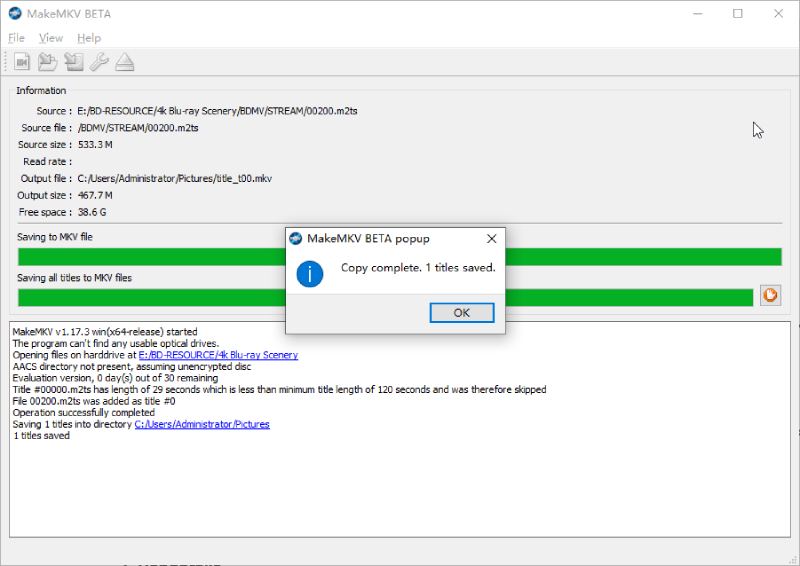 3. Handbrake
Handbrake is a free ripper full of well-designed presets that allow users to convert DVDs or Blu-ray to many digital formats. If you are willing to take the time to explore the program, you can see there are many customization options available in it. For example, you can set up a precise video encoder when converting Blu-ray to digital. However, it might not be user-friendly for beginners who know little about codec jargon or ripping tips. All in all, Handbrake is a powerful Blu-ray-ripping tool that delivers excellent outputs for DRM-free Blu-ray discs.
Pros

Add several Blu-ray files into the queue for batch ripping.
Live preview for a certain duration of the Blu-ray video.
The excellent result after ripping.
Cons

It takes energy and time to learn the program.
You can't tell which track is the one you want in Handbrake.
How to convert Blu-ray to digital with Handbrake
Step 1Insert your Blu-ray disc into the drive and launch Handbrake you downloaded from the official site. Click the disc file in it and continue to the main interface.

Step 2After scanning, choose the movie title you want to convert by clicking the Title dropdown option. If you have several movie tracks in different languages, it might be hard to distinguish them from others.

Step 3In the Summary tab, choose an output format. In other tabs, you can change the video codec, filters, framerate, quality, video picture size, etc.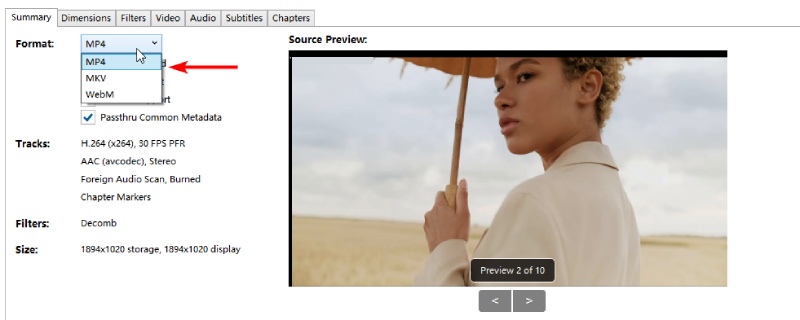 Step 4Choose a preset for your output based on your usage. Then, click the Browse button to choose a final folder for the digital output. After that, click the Start Encode button to rip the disc to digital.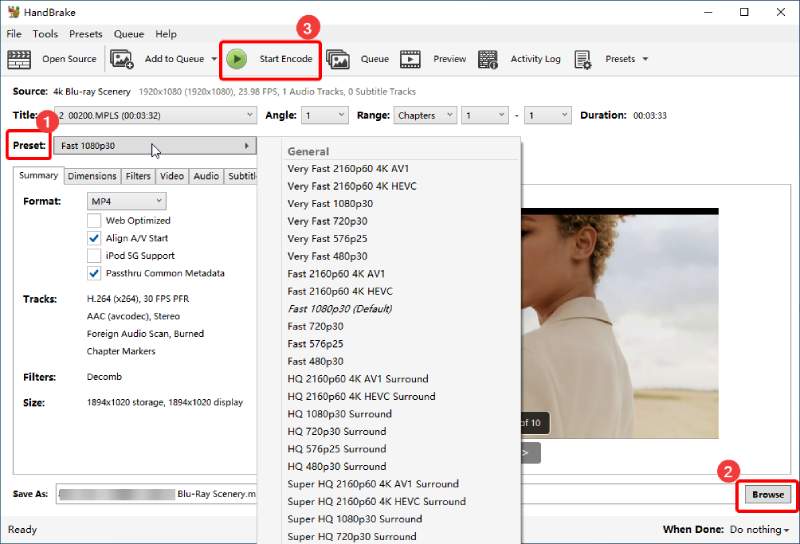 Part 4: FAQs about Convert Blu-ray to Digital
Do the Blu-ray digital codes expire?

The digital codes do have expired data. However, lots of people find that even their Blu-ray digital codes have expired. Some still work, and they can redeem the Blu-ray digital copies with the expired codes.

Can I get a Blu-ray digital copy even if there is no code?

Yes, you can. VUDU's disc-to-digital service enables users to convert Blu-ray to digital movies without any codes. You just need to scan the barcode of your Blu-ray and pay for the conversion. After payment, the movie will be added to your VUDU library.

Can Best Buy convert Blu-ray discs to digital?

There is no clear official statement from Best Buy saying that they can convert Blu-ray discs to digital files. But they can help you convert DVD collections with their CinemaNow service and offer a digital version of your movie instantly.
Conclusion
Now, you have got the complete guide on how to convert Blu-ray digital with three reliable rippers. You can start ripping your Blu-ray movies to digital videos and stream movies anywhere and anytime. Meanwhile, if you prefer simple operations and lossless quality, Blu-ray Ripper is definitely the first choice for you. Download now to have a try on your computer.