Blu-ray Ripper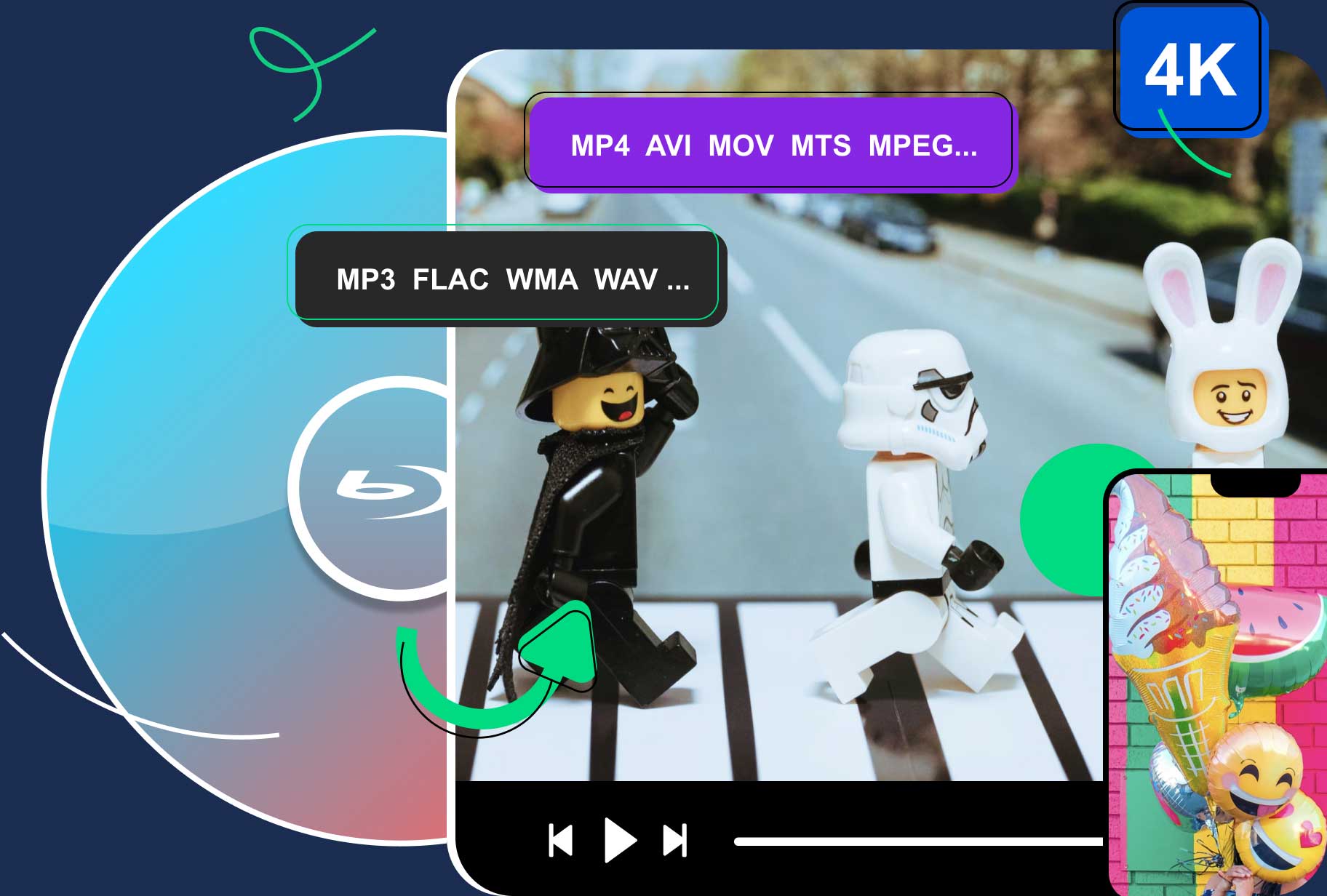 High-Quality Solution for Ripping Blu-ray/DVD/Folder to Any Formats Quickly
Free Download
Free Download
Easefab Blu-Ray Ripper Review - All You Need to Know
Blu-ray Disc remains an indispensable tool for realizing a theater-like experience at home and for watching movies in the highest possible definition. It is capable of storing videos in the highest possible quality for viewing on your TV and computer. But you may need an additional Blu-ray player and drive. If you are not convenient to play the disc directly for the time being, you can choose to use a professional tool to rip the videos inside so that you can watch them whenever you want.
Easefab Blu-ray Ripper is such a professional tool for ripping Blu-rays. In this article, we will offer an Easefab Blu-ray Ripper review to evaluate its performance from various aspects in order to provide you with better suggestions for use. In addition to this, you will be introduced to one of the best alternatives to it that will fulfill more of your claims.

Part 1. Easefab Blu-Ray Ripper Review
EaseFab Blu-ray Ripper applies advanced algorithms to rip the content of Blu-ray discs into digital formats. So, the contents in Blu-ray discs can be played smoothly on various devices and platforms. Once launched, it will scan and load Blu-ray discs into the software. Here, we will review the EaseFab Blu-ray Ripper and briefly describe its main features.
Rip Blu-ray or DVD to all popular video formats, including popular video formats like MP4, MKV, AVI, MOV, and more.
Offers device-specific presets for mobile phones, tablets, gaming consoles, and other devices, making it easier to choose the appropriate format.
Customize various output settings, such as video codec, resolution, bitrate, frame rate, audio codec, subtitle options, and more.
Utilizes advanced NVIDIA CUDATM technologies to ensure a 30× faster ripping of Blu-ray discs.
Extract subtitle tracks and audio tracks from Blu-ray discs.
Here are the steps for using it.
Step 1Insert your Blu-ray disc into the drive, and click the Add icon. The program will load it.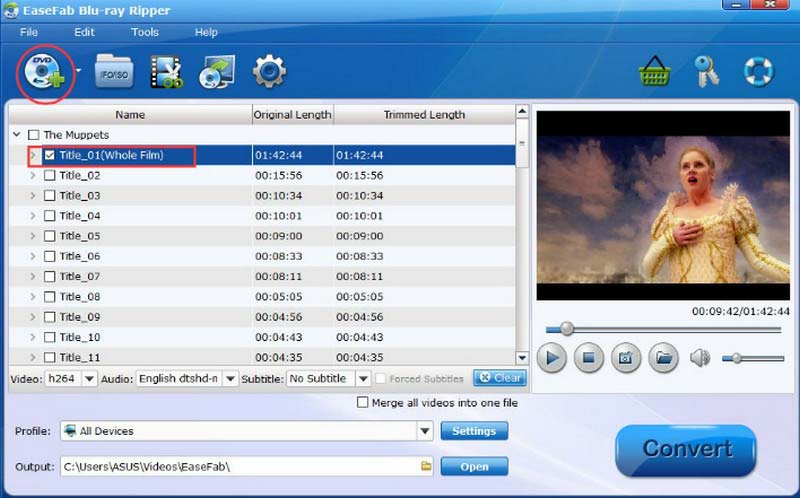 Step 2Choose your desired subtitle or audio track from the drop-down list next to Audio and Subtitles.

Step 3Click Profile to choose an output format. Choose the save path by clicking Output.

Step 4After finishing the settings, click Convert to start ripping your disc.
Is Easefab Blu-Ray Ripper Safe
EaseFab Blu-ray Ripper is the antivirus. It does not contain any malware or viruses that could harm your computer. But you should download it from the official website to ensure that you are getting the safe Easefab Blu-ray Ripper. If you still feel uneasy, you can also use some system protection software to ensure the safe operation of the EaseFab Blu-ray Ripper.
Can Easefab Blu-Ray Ripper Make An ISO File
If you want to preserve the entire Blu-ray disc structure, creating an ISO file will be a useful feature. EaseFab Blu-ray Ripper supports making an ISO file from your Blu-ray discs. You are allowed to make an exact copy of the Blu-ray disc, including all the menus, special features, audio and subtitle tracks, etc. To do this, simply select ISO as the output format after ripping a Blu-ray disc.
Can Easefab Blu-Ray Ripper Extract Subtitles
Extracting subtitles can help you freely choose, enable, or disable subtitles, depending on your preference. EaseFab Blu-ray Ripper can extract subtitles from Blu-ray discs. You can choose which subtitle tracks to include in the output file and even customize the font, size, and positioning of the subtitles.
Part 2. Possible Issues with Easefab Blu-Ray Ripper
Old User Interface
The user interface of EaseFab Blu-ray Ripper is a bit complex and old, especially if they are not familiar with video conversion software. It may take some time to understand and navigate through the various options and settings.
The Free Version Is Limited
EaseFab Blu-ray Ripper offers a free trial version, but it comes with limitations. The free version may have limited functionality.
Compatibility
Blu-ray discs come in different formats. The software may not fully support some Blu-ray discs. Currently, EaseFab Blu-ray Ripper does not support 4K Blu-ray discs. To avoid mismatch issues, you can check to see if your file format is supported before you start ripping.
Part 3. Best Alternative: Blu-Ray Ripper
There is an equally top tool, Blu-ray Ripper. Not only can it export video files from Blu-ray discs, but it also offers more than 500 output presets for video, audio, iOS devices, etc. You can also use the tools Blu-ray Ripper comes with if you have files that need to be modified. It supports you in video, audio, titles, and subtitles editing. Applying advanced features, Blu-ray Ripper enables extremely fast conversion speeds, and you don't have to wait too long to get high-quality videos. There are more interesting features waiting to be discovered after you try it out.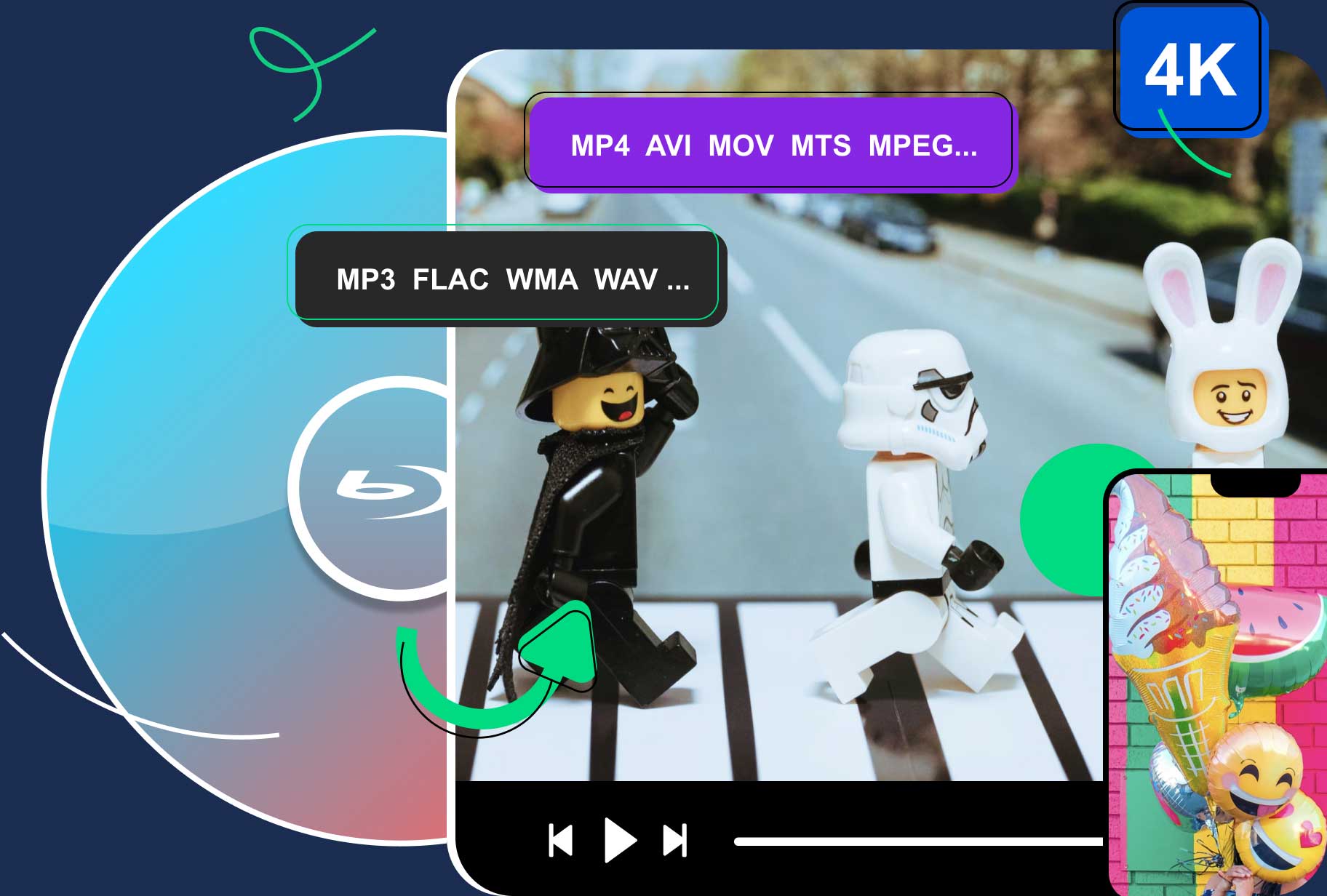 Blu-ray Ripper
Rip videos from Blu-ray or folder for lossless digital backup.
Support converting Blu-ray files to over 500 formats and devices.
Offer various tools for editing Blu-ray audio, video, title, and subtitles.
Achieve 80× fast speed performances for Blu-ray ripping.
Here are the simple steps in using Blu-ray Ripper.
Step 1Download and install Blu-ray Ripper on your computer. Then, put your Blu-ray disc into the external Blu-ray drive.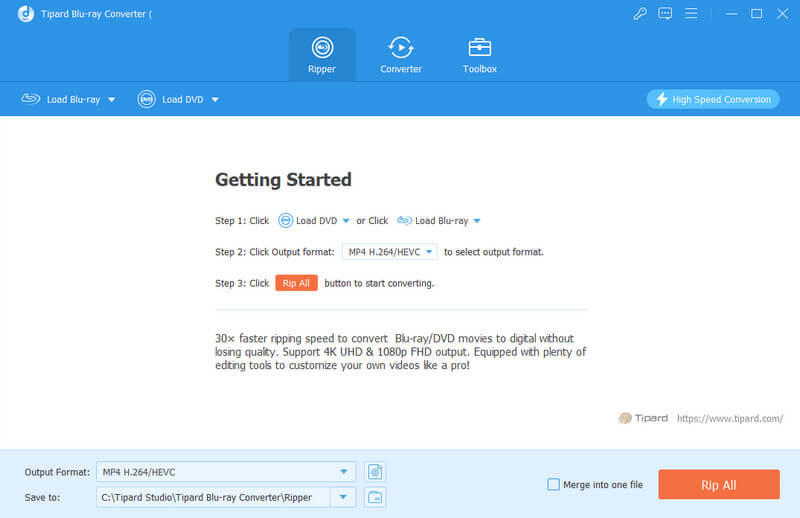 Step 2Choose Load Blu-ray Disc and click the disc you need to rip.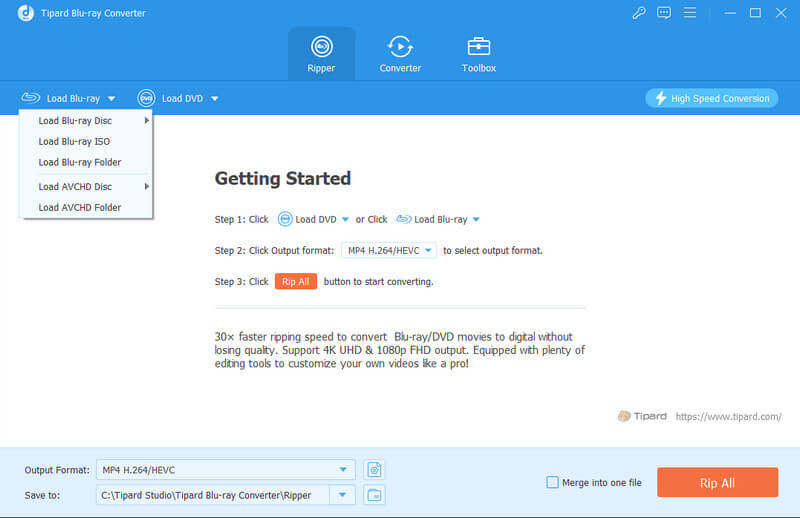 Step 3Choose your target format from Output Format. Drop down the list next to Save to, and select the save path for your ripped video.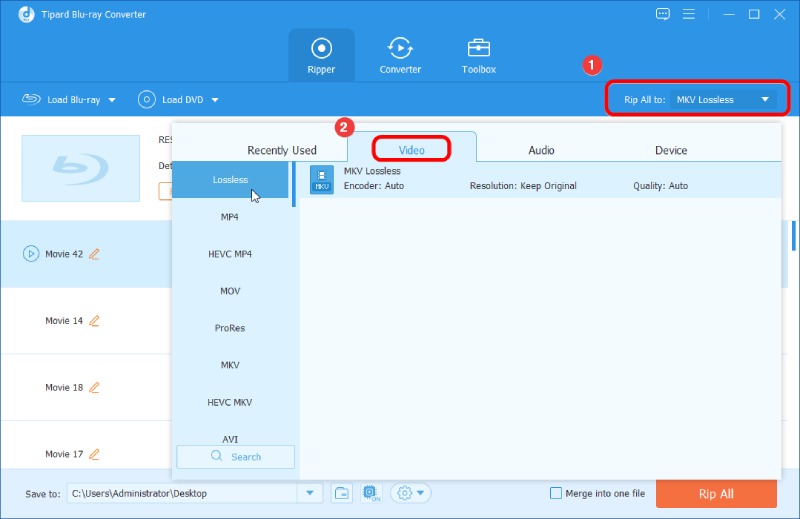 Step 4Click Rip All to start. When the process is finished, you will find your ripped video in the chosen save path.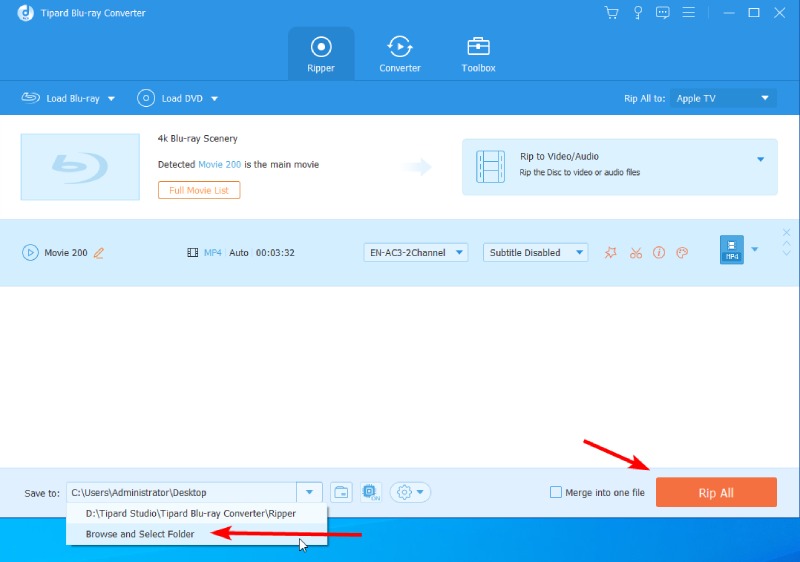 Part 4. FAQs About Easefab Blu-Ray Ripper Review
What is the best quality for Blu-ray?

Currently, the best quality that applies to Blu-ray is 4K Ultra HD. It also supports HDR and Dolby effects. Blu-ray is currently available in the highest definition of 3840×2160p, and the video and audio quality has been greatly improved.

How long should it take to rip a Blu-ray?

Generally, it takes 45 minutes to an hour to rip a Blu-ray disc that has a movie stored on it. The exact length depends on the file size, and the speed of the Internet is also an important factor. Good tools like Blu-ray Ripper can also help you shorten this time.

What is the lifespan of a Blu-Ray disc?

Blu-ray discs are still durable as a solid file storage carrier. A Blu-ray disc can be kept for 2 to 50 years, but only if you've stored it carefully and tried to prevent it from being harmed by external forces. Please note that it is best to store the disc in a cool and dry place. Avoid direct contact with its surface to avoid scratches.

What are the advantages and disadvantages of Blu-ray?

Blu-ray enables fairly high picture quality and stores videos with great clarity. It also has a large memory capacity of around 25 to 50 GB. However, it is not suitable for normal DVD players, requires a special Blu-ray player, and is more susceptible to external damage, such as scratches, breakage, etc.

How do I rip a Blu-ray to my hard drive?

After inserting your Blu-ray disc into the drive, launch a professional Blu-ray ripper on your computer and choose your hard drive as the output path. And your files will be automatically saved in there. Also, you can copy the files you ripped from the Blu-ray disc and print them to your target location.
Conclusion
Being a fairly well-known software, Easefab Blu-ray Ripper is trusted by many users around the world. However, you may not have a comprehensive understanding of its features and performance. In this article, we have reviewed Easefab Blu-ray Ripper in detail from all aspects and answered some common questions about it. After completing the reading, you will have a more comprehensive understanding of it so that you can apply it in your life. Meanwhile, we earnestly hope that you can leave a comment to share your thoughts with us.