Blu-ray Ripper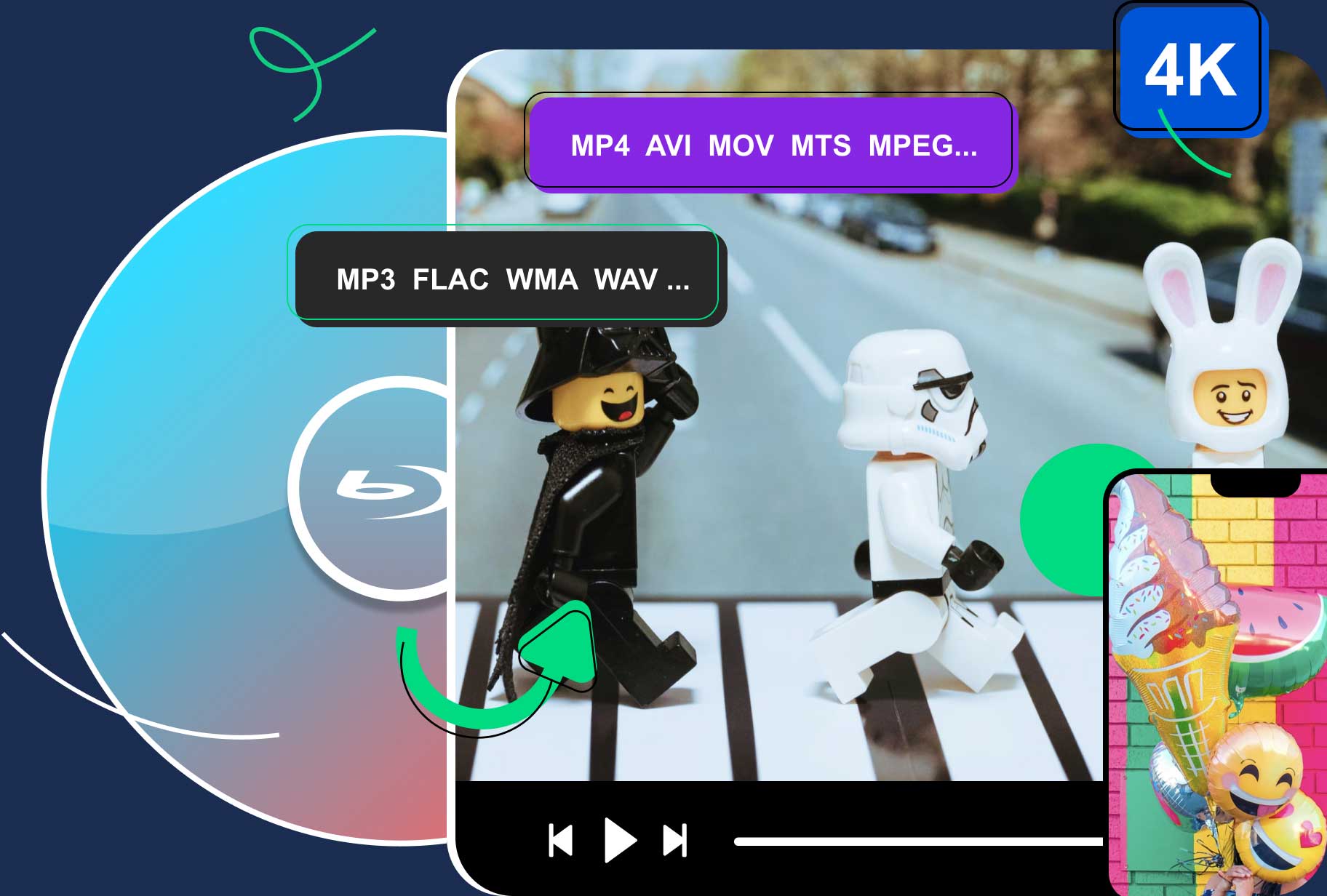 High-Quality Solution for Ripping Blu-ray/DVD/Folder to Any Formats Quickly
Free Download
Free Download
Blu-ray VS 4K: Detailed Introduction and Comparison
Movie lovers have always rushed to theaters for an immersive watching experience. However, times have changed. 4K and Blu-ray discs can now fulfill such immersive requirements at home. But you might still need clarification with these two terms and have so many questions wandering in your head. For example, is there any difference between these two? Or is Blu-ray 4K? Don't worry. Cause in this article, you will see an in-depth comparison of Blu-ray and 4K from different aspects. So, buckle up and move on to check it out.

Short Summary: In an ideal situation and from the perspective of audiovisual experience, 4K Blu-ray > standard Blu-ray > 4K. So 4K Blu-ray is worth it if you want the best audiovisual quality. However, from the compatibility perspective, 4K streaming is the winner.
Part 1: Is Blu-ray 4K?
First, for those who have yet to learn what Blu-ray and 4K are and think they are the same thing. Here is the quick answer. No, Blu-ray and 4K are different things. Then, you can move on and see the detailed introduction below of these two terms.
What is Blu-ray?
Blu-ray or Blu-ray disc, developed by Blu-ray Disc Association, is a digital optical disc data storage format designed to record, rewrite, and playback high-definition video (HD) and store large amounts of data. But now, people use it more for video or movie storage. With bigger storage capacity and better quality than DVD, Blu-ray is on the next level. Its maximum resolution is 1920×1080. Meanwhile, there are two types of Blu-ray discs: single-layer and dual-layer. The latter can store up to 500GB of data. You may see Blu-ray often when playing PS games. Why is it named Blu-ray? Because it uses a blue laser to read and write data. That also explains why some misspell it as – blue ray disc.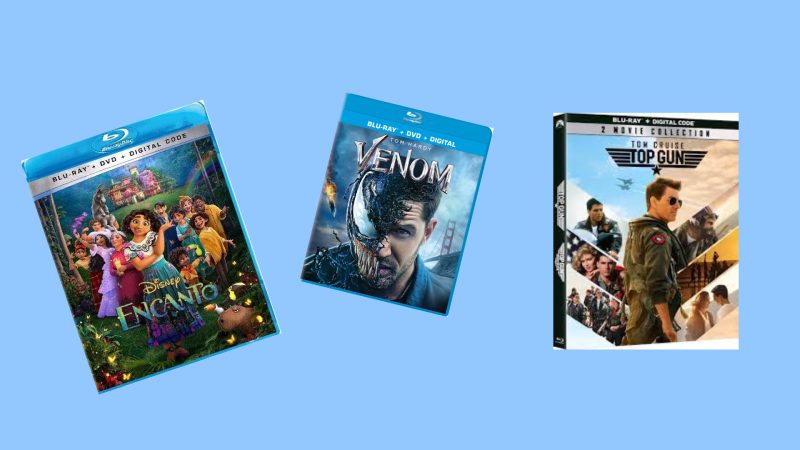 What is 4K?
4K, or 4K UHD, refers to the high-definition resolution with approximately 4000 horizontal pixels across your screen. 4K resolution is applied to different fields, including online streaming, digital television, and cinematography. 3480×2160 (4K UHD) and 4096×2160 (DCI 4K) are two common 4K resolutions. If you subscribe to the Netflix premium plan, you can see the 4K option when streaming movies. 4K gets increasingly popular with the widespread streaming apps on smart TV and streaming devices like Apple TV, Chromecast, etc.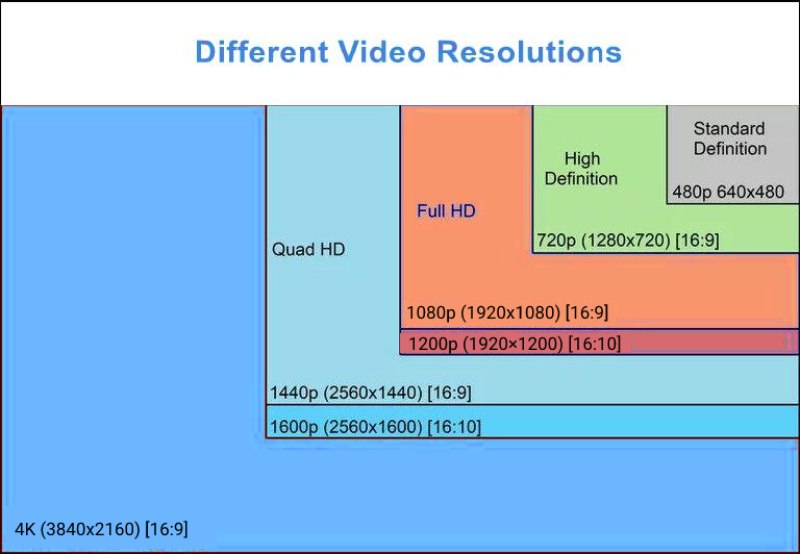 What is 4K Blu-ray?
4K Blu-ray differs from 4K resolution, but you might see them being put together. Especially when people mention 4K and Blu-ray together, in such circumstances, 4K refers to a 4K Blu-ray or 4K Ultra HD Blu-ray disc. 4K Blu-ray is superior to a standard Blu-ray for it uses HEVC codec, which provides better compression. Overall, it provides a better audiovisual experience than a standard Blu-ray.
Part 2: Blu-ray VS 4K: What Are the Differences
After knowing the definitions of these two terms, let's compare them and see the difference between Blu-ray and 4K. The following content will analyze and compare Blu-ray and 4K from eight perspectives: visual experience, audio quality, bitrate, compression method, storage capacity, HDR, compatibility, and price.
Sum
The chart below shows the benefits and differences of 4K Blu-ray, Blu-ray, and 4K streaming.
| | 4K Blu-ray | Blu-ray | 4K Streaming |
| --- | --- | --- | --- |
| Category | Digital optical disc data format | Digital optical disc data format | Service |
| Visual Experience | | | |
| Dolby Sound | √ | × | √ |
| Bitrate | 60 to 80MB/s | 125MB/s and above | Requires 25MB/s |
| Compression Method | H.265 | H.264 | |
| Storage Capability | 66 GB (dual-layer), 100 GB (triple-layer) | 25 GB (single-layer), 50 GB (dual-layer) | |
| HDR | √ | × | × |
| Compatibility | 4K drive | Blu-ray drive | Any device |
| Price | Starting around $15 | Starting around $15 | $16/month average |
Visual Experience
4K streaming and 4K Blu-ray are both in 2160P, and the maximum resolution is 4096 × 2160, while a standard Blu-ray disc has a maximum resolution of 1920 × 1080. However, the visual experiences from 4K streaming and 4K Blu-ray are different because of the bitrate. 4K Blu-ray's bitrate is higher than usual 4K streaming and delivers more data. Besides, 4K streaming has color banding, and you might see artifacts, which means the 4K video online doesn't give you smooth grayscale than 4K Blu-ray and Blu-ray do. And the 4K Blu-ray will look more real and sharper than the other two.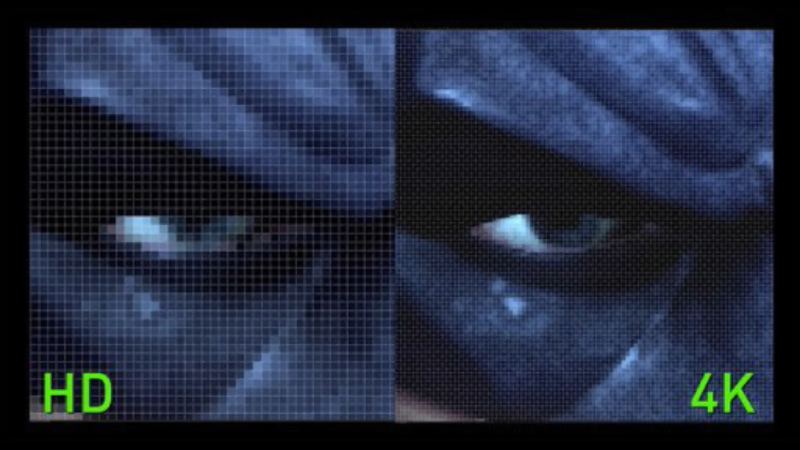 Audio Quality
Many 4K Blu-ray has Dolby Atoms tracks or Dolby Atmos DTS X, which deliver excellent sound quality. Such discs offer an immersive surround sound experience for Dolby technology uses no compression. So, the audio is lossless. You will also get Dolby sound if you pay a premium on platforms like Netflix. However, the compression is low, and the bitrate is much lower than the 4K Blu-ray. So, you will get a different audio experience.
Bitrate
This is an essential factor for your streaming experience. A higher bitrate can process more information in a fixed time, which gives you better picture quality. But it also results in a larger file size. The bitrate of a standard Blu-ray is about 60 to 80MB/s, and 4K Blu-ray's bitrate is 125MB per second and above. For 4K streaming, the bitrate depends on your internet speed. Take Netflix as an example; they recommend 25MB/s for 4K streaming.
Compression Method
4K streaming is a method rather than a format. So, here only compare 4K Blu-ray and standard Blu-ray compression methods. For a standard Blu-ray, it uses H.264 for video compression. It is also a standard compression method, and many MP4 videos also use it. For 4K Blu-ray, it uses a more advanced method – H.265. At the same file size, H.265 delivers better quality than H.264 and consumes less bandwidth. Hence, Blu-ray vs. 4K Blu-ray, the latter wins.
Storage Capacity
Another noticeable difference between Blu-ray and 4K Blu-ray is their storage capacity. A standard Blu-ray disc can typically store up to 50GB of data. A 4K Blu-ray, however, can handle up to 100GB of data in a triple-layer disc.
HDR
HDR, or High Dynamic Range, is specific to 4K Blu-ray and is the biggest difference between Blu-ray and 4K Blu-ray. Not all 4K discs have HDR; you can check if your disc case has an HDR note. HDR helps make the colors, highlights, and shadows more detailed and intense.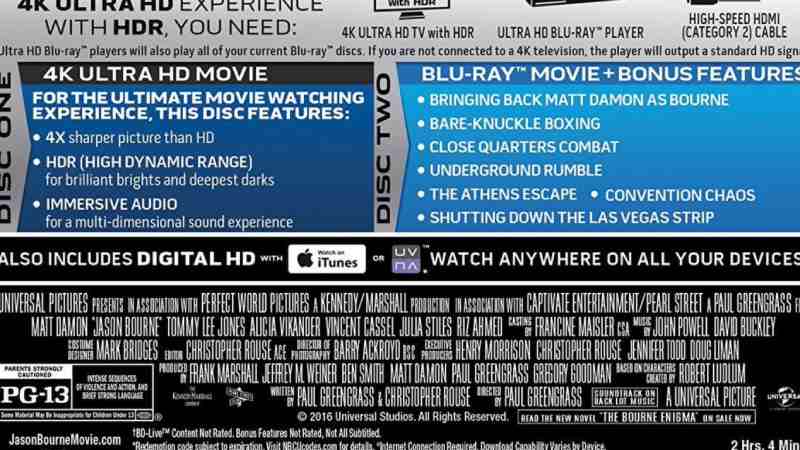 Compatibility
The biggest benefit of 4K streaming is that you can enjoy the 4K movies on any device as long as you have the internet and premium plans. You must have a Blu-ray or 4K Blu-ray player to play Blu-ray and 4K Blu-ray. Then, you will also need a screen like a computer screen or TV screen to play them.
Price
A 4K Blu-ray and Blu-ray disc are around $15. If you want more than one movie, you need to spend more to buy the discs. 4K streaming on Netflix, HBO, Hulu, or other platforms, allows you to stream hundreds of movies in 4K after subscribing to the 4K services. You might need to pay $16 monthly on Netflix for the 4K service.
Part 3: Can I Upconvert Blu-ray to 4K?
You can see from the above that 4K streaming has the benefit of easy playback and excellent compatibility. You do not need to carry a heavy drive to see the 4K movies. Therefore, you might ask: Can I upconvert Blu-ray to 4K for such convenience? The answer is yes. You can convert a Blu-ray to a 4K movie and play it across your devices with Blu-ray Ripper, picked by Blu-ray Software. Equipped with cutting-edge AI technology, this ripper lets you get 4K videos from Blu-ray discs in a lossless manner. You can also change to a desired resolution in multiple video formats. Besides, this software is compatible with standard Blu-ray and 4K Blu-ray.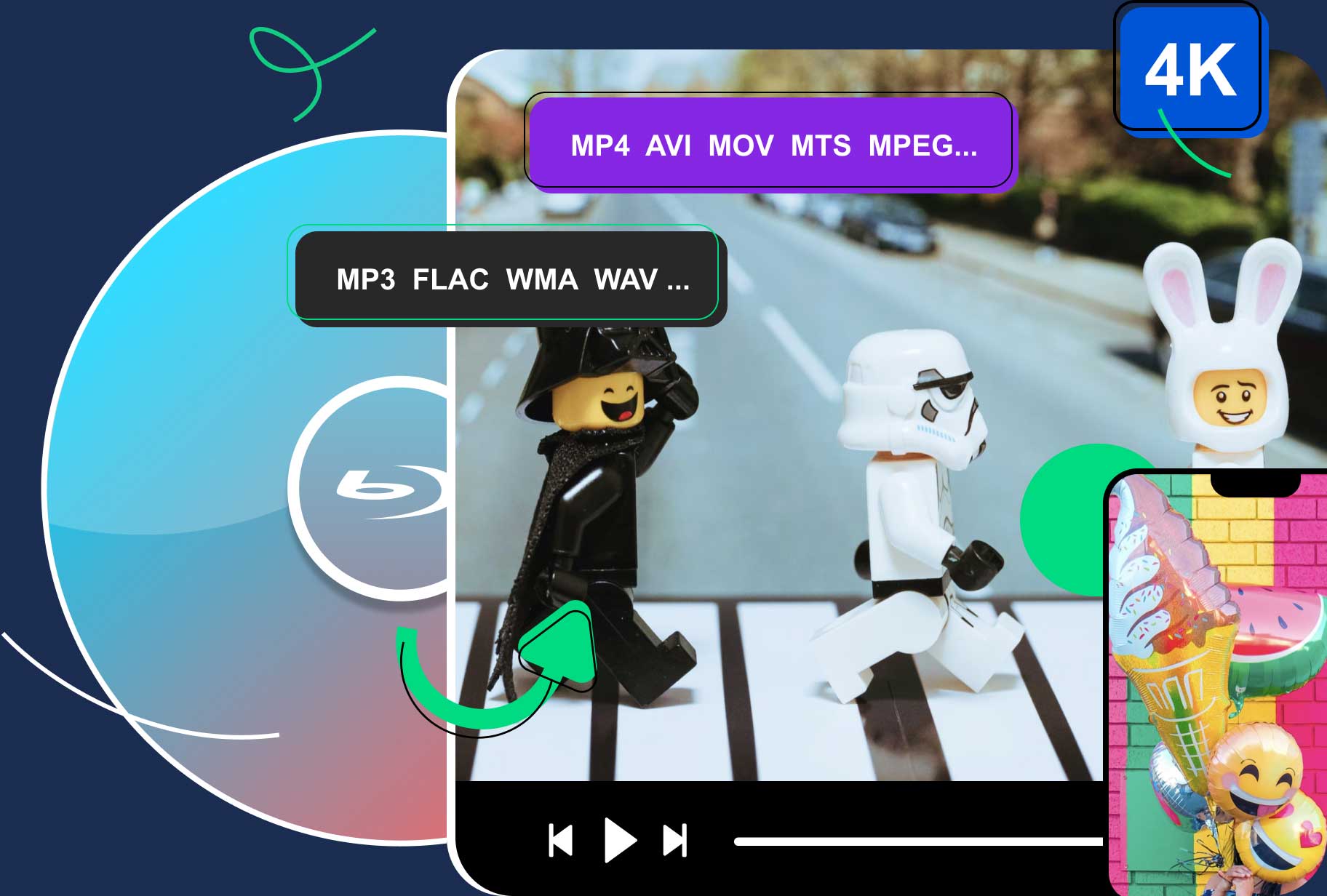 Blu-ray Ripper
Rip Blu-ray to 4K video with simple operations.
Convert a Blu-ray disc to any format losslessly.
Provide various ripping presets in output options.
Make concise ripping by cutting off the redundant parts in Blu-ray.
How to rip Blu-ray to 4K video in Blu-ray Ripper
Step 1Free download this ripper on your computer. Then, install and launch it. Next, insert the Blu-ray disc into the drive. Go back to the ripper and click the Load Blu-ray Disc button. The tool supports both 4K Blu-ray and standard Blu-ray discs. The software will read your disc and load the titles from it. You can choose to show the main movie or all titles.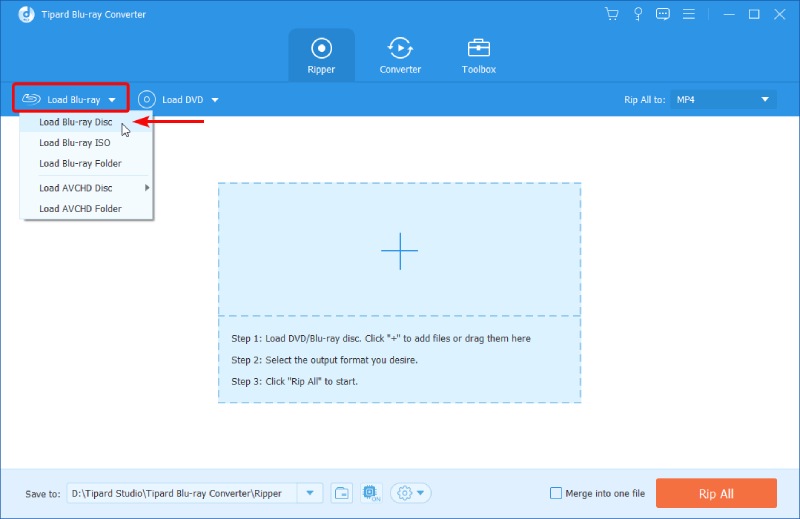 Step 2Afterward, choose an output format for the movie by clicking the Output Format button, in which you can see the 4K video option. You can also tweak the settings and change the video quality or encoder.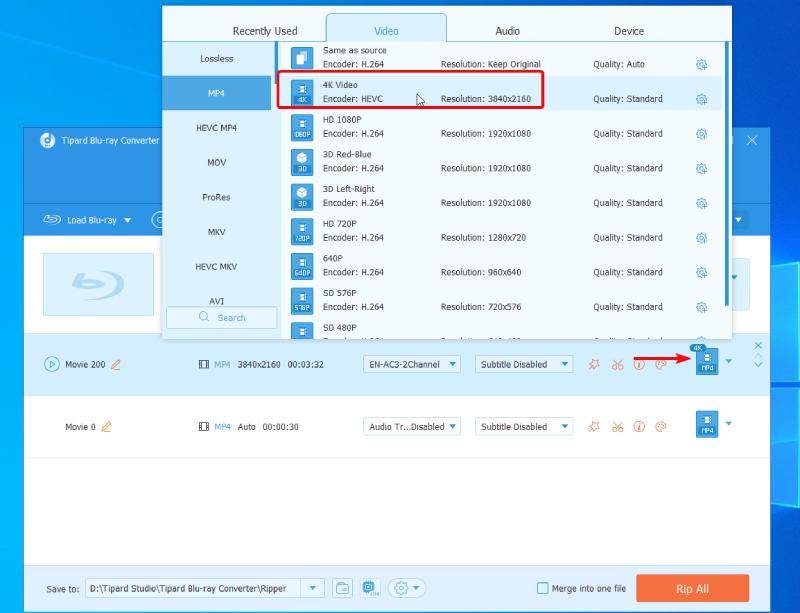 Step 3Now, you can choose a destination folder via the Save to dropdown button. A 4K video can be huge. So, make sure the disk where the folder lies has enough space. After that, click the Rip All button to rip the Blu-ray movie to 4K.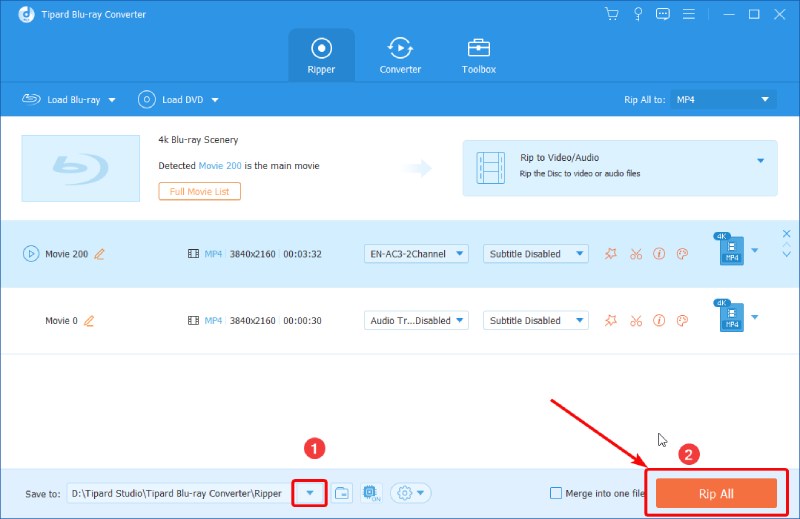 Part 4: FAQs about Blu-ray VS 4K
Is a 4K Blu-ray worth it?

Yes, it is. If you want the least quality loss and the best audiovisual experience at home. 4K Blu-ray is undoubtedly the best choice.

Does Blu-ray look better on a 4K TV?

Yes, it will. The Blu-ray picture can be upconverted by a 4K Blu-ray player or a 4K TV. You will see a much smoother picture. But it will not reach the full 4K quality.

Will there be an 8K Blu-ray?

No, not likely. According to CNN news, the 8K Association states that the industry's move from physical media to internet streaming means Blu-ray Disc won't support 8K.
Conclusion
By the end of this article, you can get a clear picture of what is Blu-ray or 4K. With the in-depth analysis and comparison above, you can see that the 4K Blu-ray disc has the best visual quality, while the 4K resolution is the easiest one you can get on any device because you can stream it on most platforms. Meanwhile, you can share this post with friends who enter the Blu-ray world and are confused about whether to upgrade to a 4K Blu-ray. Then, they can better see the differences between Blu-ray and 4K Blu-ray.