Blu-ray Player
Smooth Playback for 4K Blu-rays/Folder/ISO File/Videos.
Free Download
Free Download
11 Best Online Anime Sites That Are Fun to Watch
Naruto and One Piece are amazing animes that have been popular for years. So, where can you watch other cool animes like them online without downloading any software? Move on and see the long list below. In the list, there are the 11 best anime sites where you can explore all the interesting and fun anime online for watching and downloading. See what you can get from these sites and their particular highlights. You will never feel bored or out of anime and can watch as much as you want on the following 11 sites.

| | | | | | |
| --- | --- | --- | --- | --- | --- |
| Anime Site | Region | Best For | Price | AD-free | URL |
| 9Anime | All Regions | Autoplay and Quality Selection | Free | √ | https://9animetv.to/ |
| Zoro Anime Site | All Regions | Voice Character Profile and Post Section | Free | One | https://zoro.to/ |
| Netflix | All Regions | Exclusive anime and excellent quality | $6.99 to $19.99/Month | √ | https://www.netflix.com/ |
| AnimeDao | Region limited | Random Anime Recommendation | Free | × | https://animedao.to/ |
| AniPlus | All Regions | Anime Merchandise and TV Schedule | Free | × | https://www.aniplus-asia.com/ |
| Crunchyroll | USA, Philippines, India, UK, Canada, Australia, etc | Quick Updates of the Latest Anime | 14-Day Free Trial | √ | https://www.crunchyroll.com/ |
| Funimation | USA, Philippines, India, UK, Canada, Australia, etc | Select Audio and Subtitle Tracks | $9.99/Month | × | https://www.funimation.com/ |
| AnimeHeaven | All Regions | Auto-next Playback | Free | × | https://animeheaven.ru/ |
| soap2day | All Regions | Various Genres | Free | × | https://soap2day.to/ |
| Gogoanime | USA, India, UK, Canada, Singapore, Philippines, etc. | English Subtitles | Free | × | https://www3.gogoanimes.fi/ |
| Nyaa | All Regions | Free to download | Free | √ | Not sure |
Part 1. Top 11 Amazing Anime Sites to Watch Anime Online
Want more free anime at your fingertips? Then, you should not miss the 11 anime sites below, with some of them completely free. All of them are full of popular anime that are fun to watch.
Meanwhile, we also create an anime list to test the anime resource capacity of the following websites roughly. Our list includes 8 Japanese anime from the 1980s to 2023. All are high-rated and exciting anime. If interested, keep reading to see more.
Space Adventure Cobra
Space Adventure Cobra
Kindaichi Shounen no Jikenbo (TV & Movie)
Cowboy Bebop
Kemonozume (The Beast Claw)
Spy × Family
Oshi no Ko
Attack on Titan
Tips
Before seeing more details, please note that Blu-ray Software did not find these websites hazardous during the review but does not hold responsibility again their safety in the future.
1. 9Anime
9Anime is a free anime site possessing multiple popular and old-time anime. Without any pop-up ads, the website has a clean design. And almost all the anime on the site has English subtitles. Meanwhile, the auto play and auto next features save the time of clicking on each episode. Meanwhile, 9Anime does not require registration or an account to watch online. Registration is only required when posting comments. Furthermore, 9Anime has all 8 anime on our test list.

Pros

HD picture quality.
It does not need registration to watch.
Multiple anime sources.
Cons

Some anime takes a long time to load.
2. Zoro Anime Site
Zoro is one of the best anime sites among anime fans. It also includes all 8 anime picked by Blu-ray Software. There is an interesting feature on the Zoro website. The Random icon on the navigation can randomly recommends anime. Then, you can see the plot, the main character, and the voice actors/actresses, which is fun and brings surprises in a good way.
Additionally, the watch2gether function enables users to join the online live room to watch anime with others. By the way, the Zoro website is not 100% ad-free. They claim only one ad exists, but we experienced several pop-ups when disabling the ad blocker.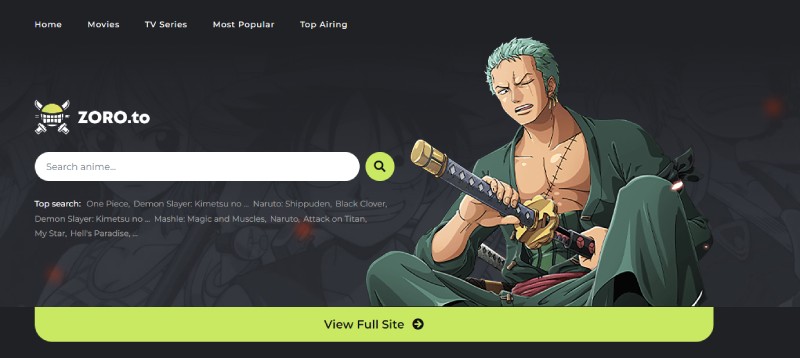 Pros

Automatically skips the intro.
A well-established anime fan community.
Excellent search tools.
Several Zoro proxy sites.
Cons

Unexpected redirects without an ad blocker.
Sudden pauses during watching.
3. Netflix
Although Netflix is not a free anime site, it has various exclusive anime titles, and its services are one of the largest streaming services across the globe. Unfortunately, Netflix has only 4 out of 8 anime in our list above. But you can still watch many other popular anime titles on this anime stream site, such as InuYasha, Demon Slayer: Kimetsu no Yaiba, Naruto, Cardcaptor Sakura, etc.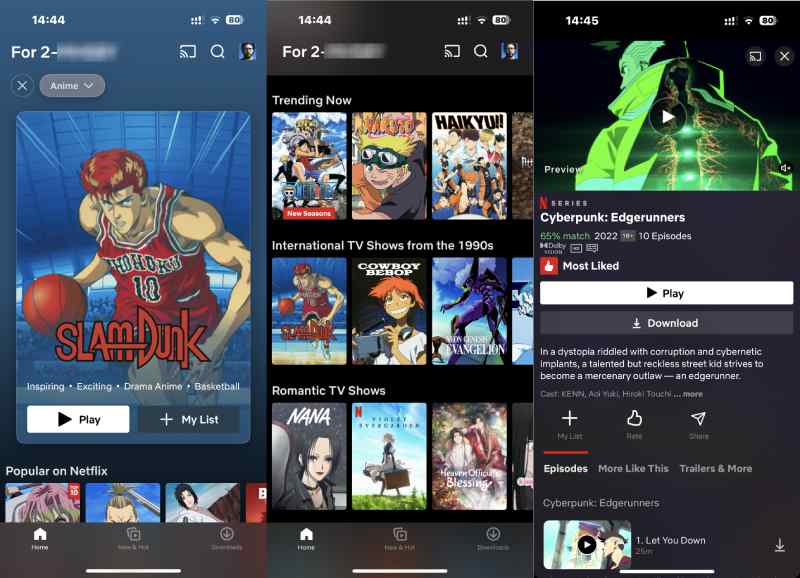 Pros

Unlimited and exclusive anime titles.
4K and Dolby Vision support.
The safest site to watch anime.
You can stream online or offline by downloading.
Cons

Anime titles vary in regions.
You cannot select picture quality.
It consumes lots of bitrate for buffering.
4. AnimeDao

Pros

Well-organized anime titles based on the timeline.
Easy access to the most popular anime.
Cons

You cannot choose picture quality.
You will need an ad blocker extension.
Some video files cannot be played.
5. AniPlus
Here comes another anime movie site, AniPlus, a comprehensive online website that contains anime movies, TV series, schedules, anime news, and even anime merchandise. What is special about this website is that AniPlus displays several screenshots from the anime next to the plot. Sadly, based on the list, we tested the website's anime source capacity. It turns out that AniPlus has only 1 out of 8 on the list (Attack on Titan).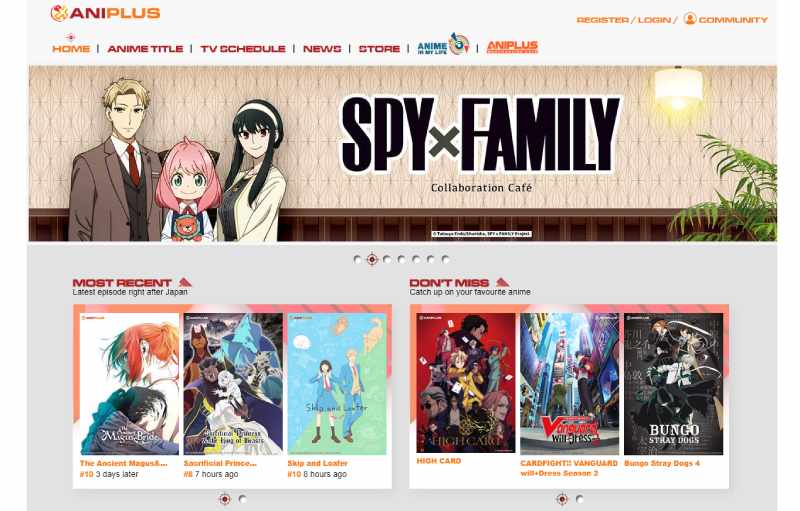 Pros

An informative and detailed TV schedule.
Interesting news related to anime.
Cons

It takes a long time to load.
Most of the anime titles are from recent years.
Requires the account to watch anime online.
Some anime titles are not available in certain regions.
6. Crunchyroll
Crunchyroll, a joint venture of Aniplex and Sony, is another anime stream site like Netflix that offers services that require a subscription. But you can get a 14-day free trial on Crunchyroll. You can see some Crunchyroll-exclusive anime titles on the website. Its source capacity scores 3 out of 8 based on our anime list.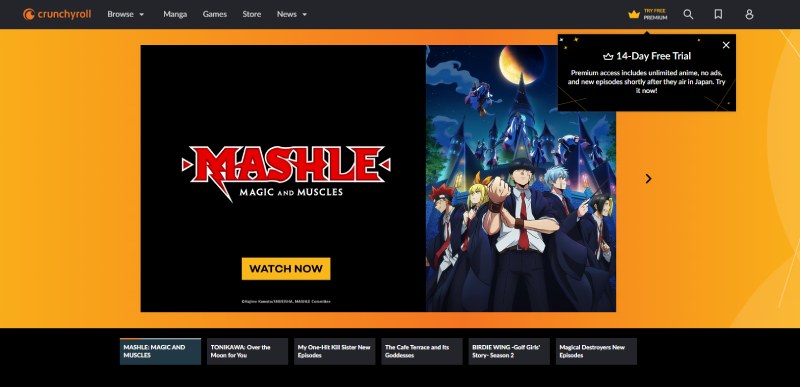 Pros

There are many latest anime titles.
Plenty of dubbed anime titles in different languages.
You can manually change resolutions.
Cons

Offline viewing is only available for $9.99 and $14.99 premium plans.
7. Funimation
Funimation, another subscription required unblocked anime site, is accessible in any browser and offers mobile apps. In 2022, Funimation was unified under the Crunchyroll brand. Hence, you can see most of the tilts on Funimation on Crunchyroll too. And the latter has more titles than Funimation.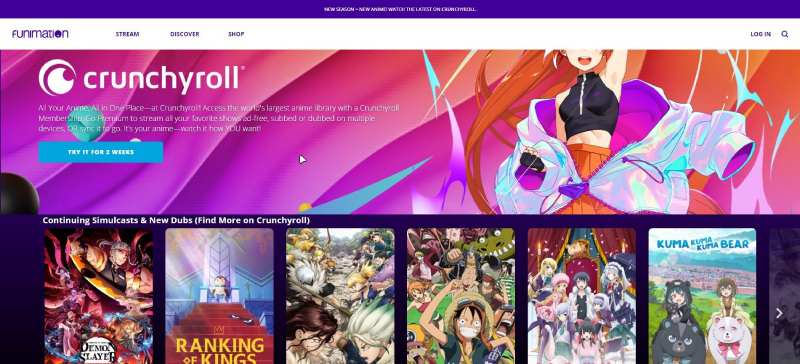 Pros

High resolution.
Cheaper subscription fee than Crunchyroll.
Watch on two screens simultaneously with premium.
Cons

Limited serving regions.
The search is not working.
8. AnimeHeaven
AnimeHeaven enables you to watch HD anime online for free. As one of the best anime sites online, AnimeHeaven covers multiple anime titles released from the 1980s to 2023. It has all 8 anime titles on our list. Therefore, you can watch most of the popular anime on the site. The website also has a clean playback online page; you can see nothing but anime playing on the screen.

Pros

Possesses all popular anime titles.
High-definition anime playback.
You can switch the website theme color.
Cons

Hard-encoded English subtitles only.
No hint if the video fails to play.
9. soap2day
Soap2day is an online movie website that contains various movies, TV series, anime, etc. Although it is not an ad-free anime site, you can install an extension in the browser to block all pop-ups or ads. Soap2day is a good alternative if you cannot access other anime sites temporarily. As for the capacity of anime sources on this website, it has none of the titles we listed at the top.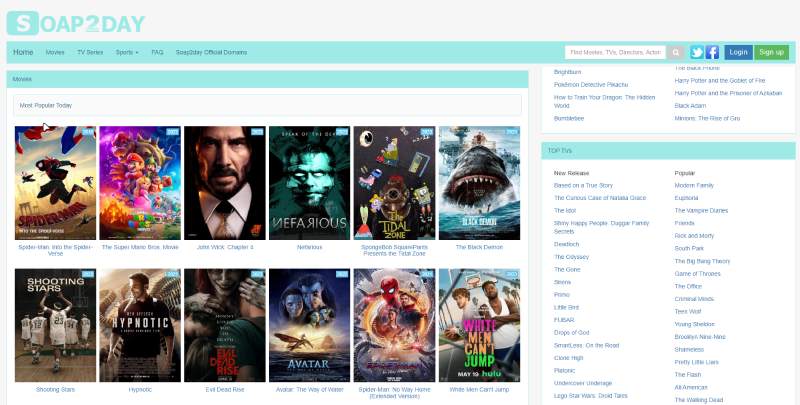 Pros

Best for watching anime movies.
Control playback online with shortcuts.
Cons

There are limited anime TV series.
Unexpected pop-up ads and redirects.
10. Gogoanime
Gogoanime has several charts that cover the popular anime of the day, the week, and the month. It is the best site to watch free anime when you have no idea what's on viral now. You can download the anime and add an anime to Favorites. But free downloading requires login first. Moreover, on the website, you can explore the anime by season in different years.
By the way, Gogoanime also scores 8 out of 8 for its anime capacity.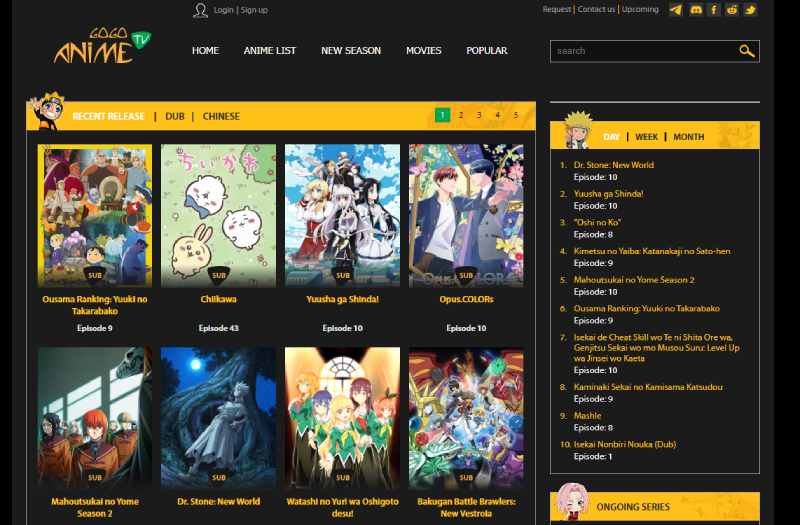 Pros

Great customer support.
Daily updates on new anime episodes.
You can download the anime online.
Quick loading speed.
Cons

You cannot choose subtitles.
There are few dubbed anime.
11. Nyaad
Nyaa is the best site to download anime. As a file-sharing website, Nyaa has many popular anime titles, including TV series, movies, manga, etc. You can even find some least-known anime there. Although you cannot directly watch the anime online on Nyaa, you can download 4K anime. Even if you already have offline episodes, you can also search for subtitles on Nyaa.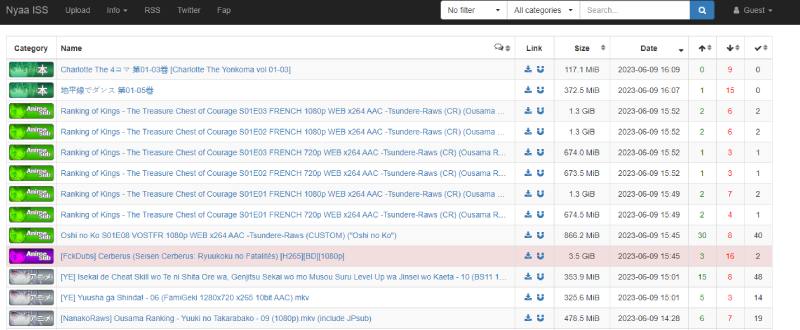 Pros

Unlimited anime resources.
You can find free subtitles and manga files shared by others.
Cons

Many similar suspicious websites to the real one.
Registration is unavailable.
Bonus. Top 1 Player to Watch Offline Anime on the Computer
Blu-ray Player, picked by Blu-ray Software, is one of Windows and Mac users' best media and disc players. One can freely drag your anime video file into the player and easily play it. Supporting up to 4K resolution, and Dolby and DTS sound, this anime player offers the best watching experience.
Blu-ray Player
Capture the screen with a quick snapshot shortcut.
Create an anime list and play the episodes in it.
Offer three playback options: Single, Shuffle, and Order.
Import subtitles while watching the anime.
Step 1Launch the player after downloading and installing it. Click the Open File button.
Step 2Browse for your anime video on the computer and select it. The player will play immediately.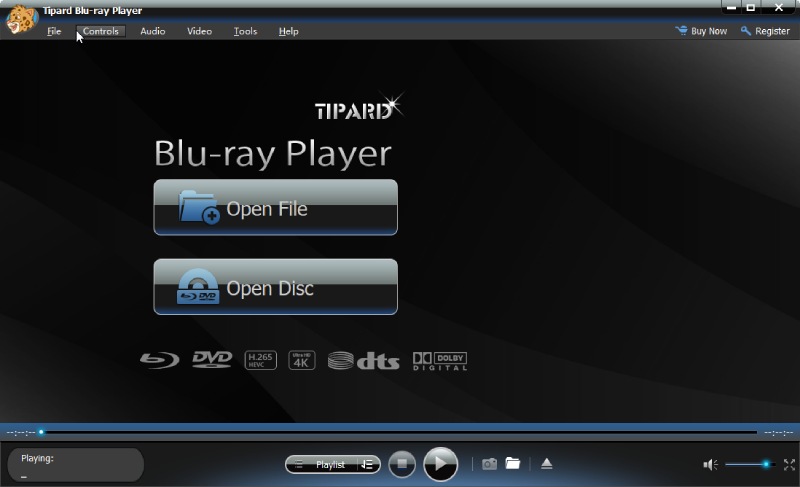 Part 2: FAQs about Anime Site
Is 9anime an illegal site?

No. 9anime is not illegal. Streaming on 9anime is also not illegal. It's legit to watch the anime online, and if you do not download or share the anime with copyright, there will not be any issue.

Is NarutoGet dead?

Yes, it is. The website has been shut down permanently due to certain circumstances. It was one of the best anime sites to watch Naruto online.

Where can I watch 4K anime?

Netflix. With the premium account and excellent internet speed, you can watch 4K anime on Netflix. Also, make sure your device screen can display 4K.
Conclusion
Above are all the best sites to watch free anime or download anime for free. Whenever you feel like you have no more fun anime to watch, explore these sites and get surprises. Meanwhile, most of the 11 anime sites above offers the latest update on anime news. Besides, if you decide to download some video files shared on Nyaa, the last anime site, do not miss the best player here. You can get a free and quick download right below.