Blu-ray Ripper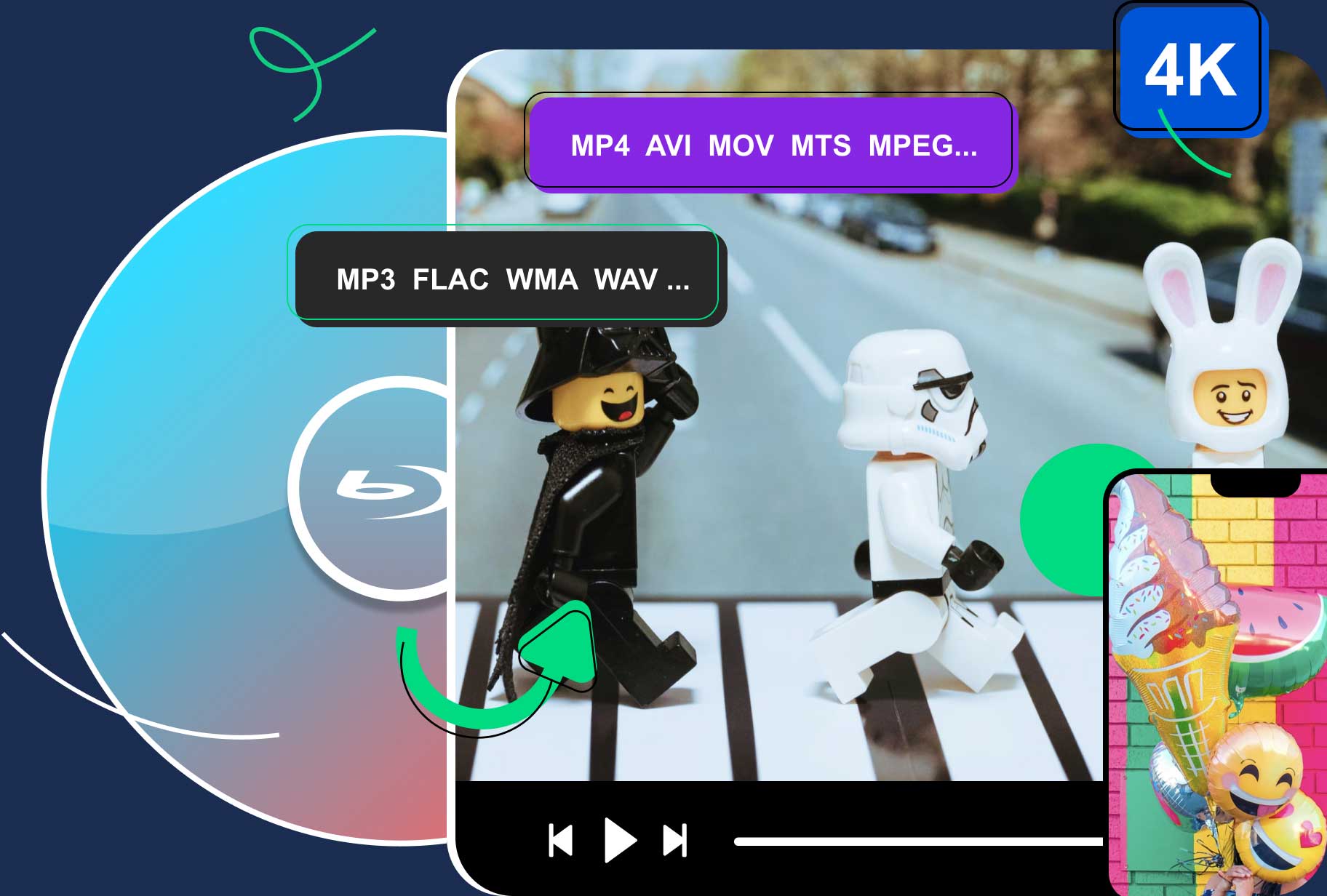 High-Quality Solution for Ripping Blu-ray/DVD/Folder to Any Formats Quickly
Free Download
Free Download
[Tutorial] How to Play Blu-ray on PS3, 4, 5
Apart from being your best game partner or device, your PS console (PlayStation) can also help you play video and music Blu-ray discs. Regardless of the PS console series, you can use PS5, 4, and 3 as Blu-ray players without hassle. Then, you will no longer need to purchase the extra Blu-ray drive or external Blu-ray. For anyone who doesn't know how to play Blu-rays or the PS fails to play Blu-ray, the following content gives you more information about your PS console Blu-ray playback and how you can use PS5, PS4, or PS3 to play Blu-ray movies directly and indirectly. Keep reading to see the tutorials, along with some extra knowledge.

Part 1: How to Play Blu-ray on PS 3, 4, and 5 Directly
All PS4 and PS3 models support Blu-ray discs. But none of the PS3 models support 4K Blu-ray playback, and you must have PS4 Pro to play 4K Blu-ray. And, if you are wondering does PS5 play Blu-ray, you can check the following chart to see which models of PS3, 4, and 5 can play Blu-ray or 4K Blu-ray.
Then, after checking the device requirements, you can move on and read the steps below to see how to use PS3, PS4, and PS5 to play Blu-ray directly.
| | 4K Blu-ray | Blu-ray | Supported File Formats |
| --- | --- | --- | --- |
| PS3 | × | All (Original, Slim, and Super Slim) | AVCHD (.m2ts / .mts); DivX; WMV; MPEG-2 PS (MPEG2 Audio Layer 2, AAC LC, AC3(Dolby Digital), LPCM); MPEG-2 TS (MPEG2 Audio Layer 2, AC3(Dolby Digital), AAC LC); MPEG-2 TS(H.264/MPEG-4 AVC, AAC LC); AVI; MPEG-1 (MPEG Audio Layer 2); H.264/MPEG-4 AVC High Profile (AAC LC); MPEG-2 TS(H.264/MPEG-4 AVC, AAC LC); H.264/MPEG-4 AVC High Profile (AAC LC); MPEG-4 SP (AAC LC) |
| PS4 | Pro | All (Original, Slim, and Pro) | MKV, MP4, AVI, MPEG-2 PS. MPEG-2 TS, AVCHD (.m2ts, .mts), XAVC S™ (.mp4) |
| PS5 | Base model | Base model | MKV, MP4, WEBM |
Make sure your PS consoles, regardless of their models, are up to date and have internet connections (for first-time playback only).
How to play Blu-ray on PS4 & 3
Step 1Connect your PS3 or 4 devices to your TV or other monitors. Then, insert the Blu-ray disc into the PS3 or PS4 Blu-ray drive; you will hear your disc spinning, and your PS3 or 4 will load the Blu-ray to play it.
Step 2Now, you can go forward on rewind the playback via L2 and R2 buttons on your controller. If you press the triangle button, you can access the menu, choose a subtitle, and adjust the volume.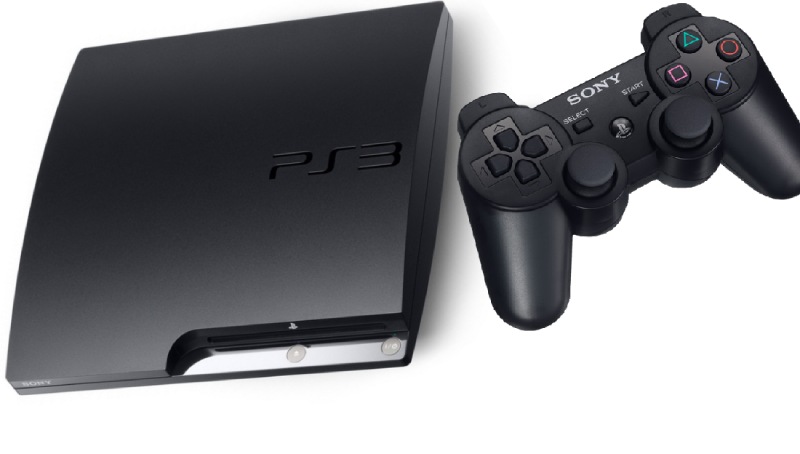 Note
Your PS consoles are also region-coded like your Blu-ray discs. Therefore, they can only play discs from a specific region or region-free discs. You can look at the model number to check your PS console's region code. For example, if your PS5's model number is CFI-10xxA, the xx represents the region.
How to play Blu-ray on PS5 Blu-ray Edition
Step 1Insert your Blu-ray disc into the disc slot of your PS5. You can see a disc icon spinning on the screen. Wait for a second, and you will see the information: Play Blu-ray Discs and DVDs. If you insert the 4K Blu-ray disc, you can also see Ultra HD Blu-ray.
Step 2Choose Play, and you can also choose Play from Beginning. Then, you will see a menu on the screen. You can navigate with a remote and start watching the movie.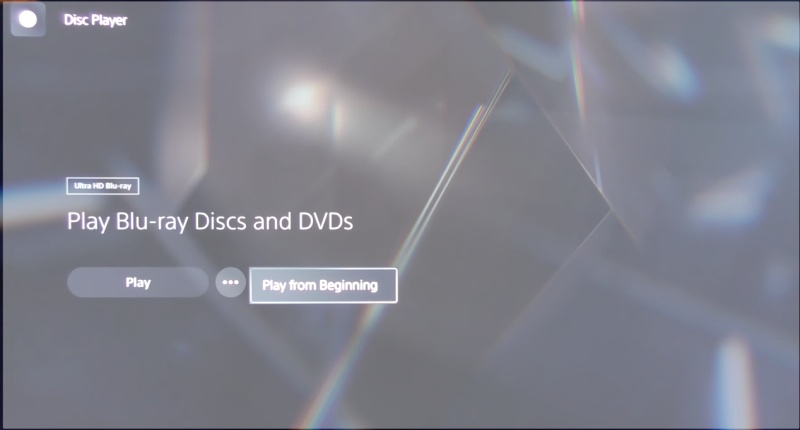 Part 2: How to Play Blu-ray on PS 3, 4, and 5 by Ripping
What to do if the PS3 won't play Blu-ray and the same happens to your PS4 or 5? You can still play Blu-ray movies on PS devices by ripping Blu-rays when they do not work. In this case, ripping can also help your back up your Blu-ray movies in digital formats, and you can still play them even when the discs are scratched.
To do so, Blu-ray Software carefully picked Blu-ray Ripper for you to rip Blu-ray to a USB drive and play it on PS3, 4, and 5 indirectly. You can convert your Blu-ray to any PS-compatible format like MKV and MP4. Additionally, since only PS4 Pro can play 4K Blu-ray, you can also rip 4K Blu-ray to digital formats and play on your original PS4. This method also works for PS3 and PS5 Digital Edition.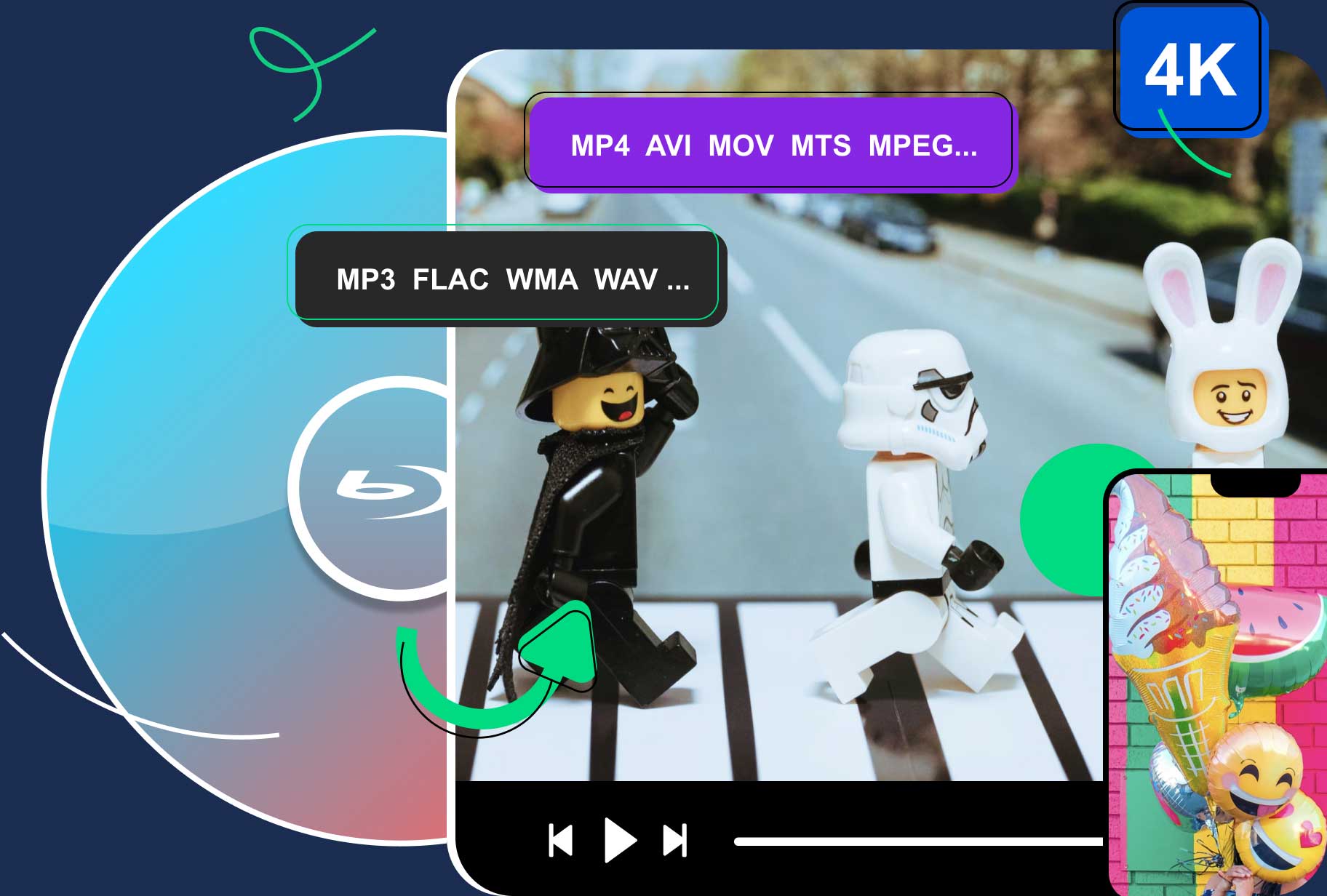 Blu-ray Ripper
Rip Blu-ray with carefully designed PS output presets.
Convert Blu-ray to other devices like iPhone, Android, Wii, Xbox, Apple TV, and more.
Convert your Blu-ray videos to over 500 formats.
Adjust parameters to get lossless ripping output.
How to rip Blu-ray and play on PS3, 4, and 5
Step 1Prepare a Blu-ray drive to read the disc and a USB drive for transfer later. Then, download, install, and launch the ripper on your computer. Insert your Blu-ray disc into the drive, connect the Blu-ray and USB drive to your computer, and the ripper will automatically load your disc.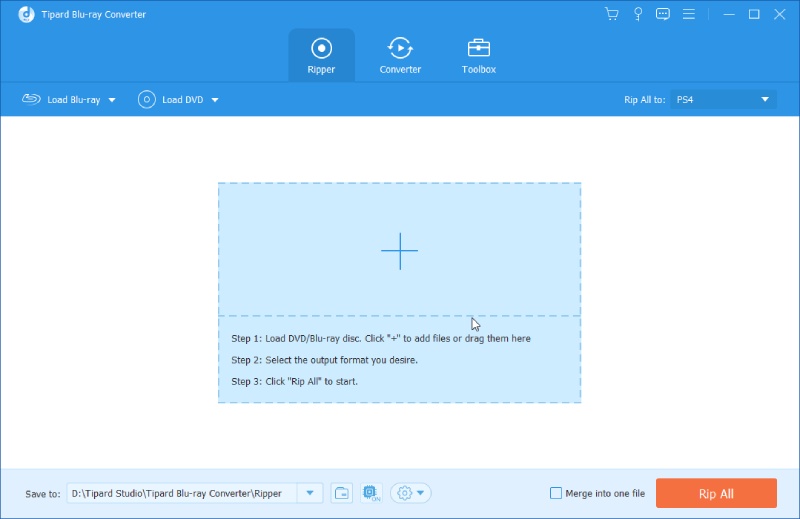 Step 2You can choose to load the main title only. Then, you will see only the main movie from your disc. Click that movie and click the Output Format button. Choose the Device tab. Scroll down to see the Games option, where you can find the PS4 and PS3 formats. Whatever you choose, it will fit your PS.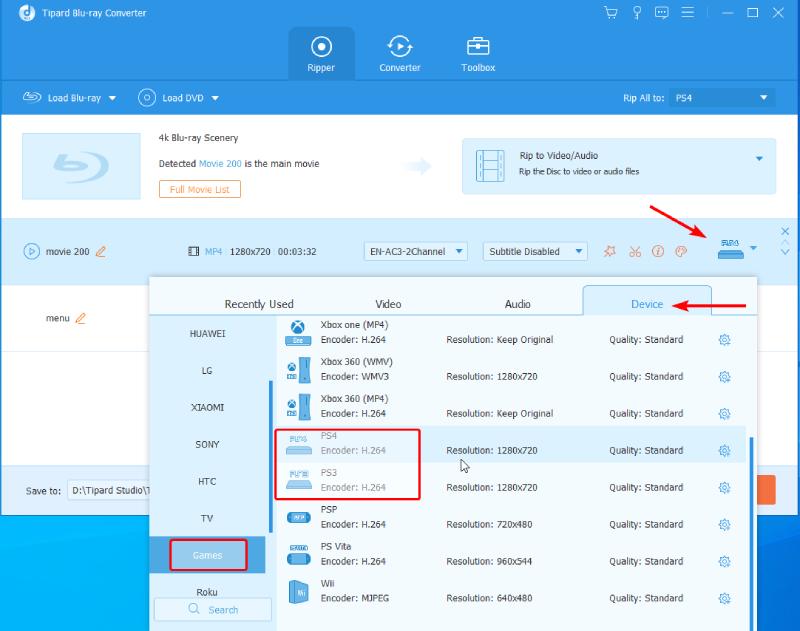 Step 3Next, click the down arrow near Save to and choose Browse and Select Folder. Choose the folder in your USB drive as the destination. After that, click the Rip All button to rip the Blu-ray movie to your USB drive. Once the ripping ends, the destination folder will pop up.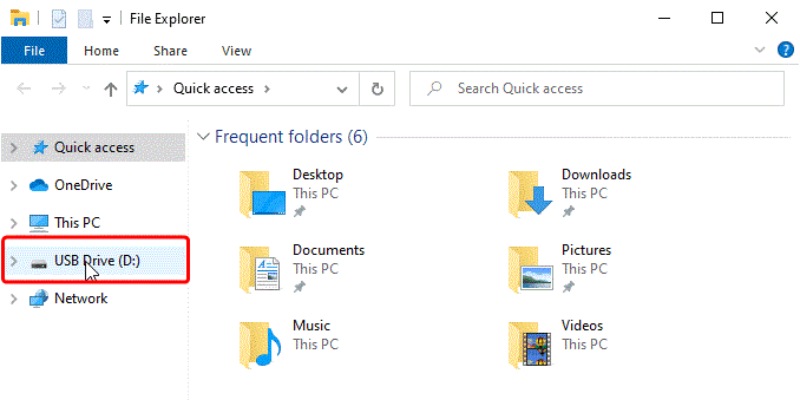 Step 4Now, you can connect the USB drive to your PS3, 4, or 5 consoles. Then, turn on your PS, select the USB drive, and press the triangle button on your controller. Choose Display All. Then, you can watch the content from the drive on your PS.
Note
You can also use this ripper to convert Blu-ray to other digital format options in the list. As long as the format you choose is coded by MPEG-4 or H.265; otherwise, your PS is not compatible with others.
Part 3: PS5 Blu-ray Edition VS Digital Edition
Plan to upgrade to the latest PS5 models? You must be curious about which one to pick, PS5 Blu-ray Edition or the Digital Edition. In fact, these two are identical in terms of processor, solid-state drive, and RAM. The biggest difference is that you can only play games bought and downloaded from PlayStation Store on PS5 Digital Edition. As for the PS5 Blu-ray Edition, you can play games from Blu-ray discs, which means you can share the games with friends since they are stored on portable discs. Hence, the Blu-ray edition is recommended and more worthy of purchase than the digital one since you can play more games, even the ones from a few years ago.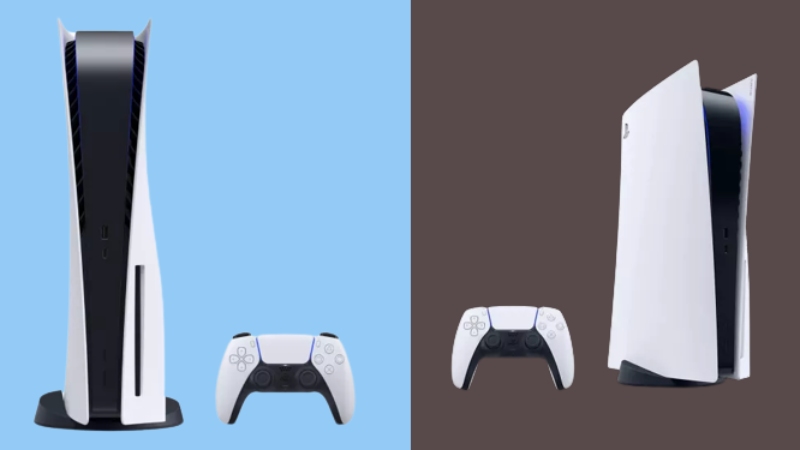 Part 4: FAQs about PS Plays Blu-ray
Will a US PS4 play region B Blu-ray movies?

No, it won't. Since the PS4 is from the United States, it can only play Blu-ray movies coded in region A. But the games are region-free, and you can play all Blu-ray games on a US PS4.

Why my PS3 won't play Blu-ray?

There are two possible reasons. First, your PS3 is not up to date. You can connect to the internet and update it. Meanwhile, your P3S must have an internet connection for first-time Blu-ray playback. Second, your Blu-ray disc region code is not supported by your PS3.

Can I change the region on PS4?

No, you can't. You can't change the PSN region of your current account on PS3, 4, or 5. You can create a new account if you are going to move to a new country.
Conclusion
To put it in a nutshell, you can thoroughly understand PS3, PS4, and PS5 Blu-ray playback after reading the article. Meanwhile, you also get to know the detailed steps to play the Blu-ray movies on your PS3,4, and 5. If you happen to have the PS5 Digital Edition, you can still play the Blu-ray movies by using Blu-ray Ripper to rip them to your USB drive for playback on PS5. Additionally, do not hesitate to share this article with friends who want to know the biggest difference between PS5 Blu-ray and Digital Editions.