Blu-ray Copy
Backup any Blu-rays to ISO files/Blu-ray discs/folders 30 times faster.
Free Download
How to Copy Blu-ray on Windows and Mac: A Comprehensive Guide
Blu-ray discs are known for their superior audio and video quality, making them popular among movie enthusiasts. However, sometimes you may find yourself in a situation where you want to copy Blu-ray content for backup purposes or make physical copies of the treasure memeories. This article will guide you through using reliable software to copy Blu-ray on both Windows and Mac. We'll also explore the benefits of Blu-ray copying. Whether you're a beginner or a tech-savvy user, you'll find the step-by-step instructions easy to follow.

Part 1: Why You Should Copy Blu-ray
While the primary purpose of copying Blu-ray discs is to have a backup of your valuable content, there are other reasons why you might choose to do so. Here are some benefits of copying Blu-ray on your computer:
1. Preserving your original disc: By making a copy of your Blu-ray, you can protect the original disc from damage, scratches, or loss. A backup copy can come in handy if your original disc becomes unplayable.
2. Convenience and portability: Having a copy of your Blu-ray on your computer allows you to easily access and play the content without the need for a physical disc. You can also transfer the copied content to various devices such as smartphones, tablets, or media servers.
3. Customization options: When you copy Blu-ray to your computer, you gain the ability to edit, compress, or convert the content according to your needs. This flexibility lets you create personalized versions of your favorite movies with customized settings.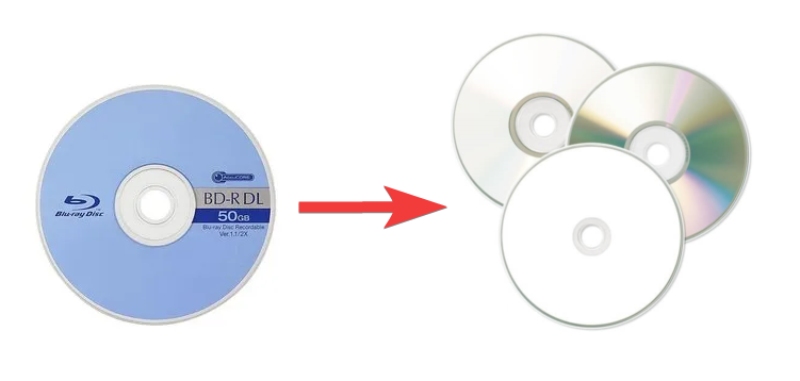 You can copy a Blu-ray disc to ISO file, Blu-ray folder, or another blank disc. These are common output choices for copying Blu-ray.
An ISO file is an exact replica of the original disc, while a Blu-ray folder contains the disc's content in a folder structure. As for copying to another blank disc lets you send the copies out as gifts.
Wisely choose a form or all to save your Blu-ray content.
Part 2: How to Copy a Blu-ray with the Best Copier
To copy Blu-ray discs effectively, Blu-ray Software recommends using Blu-ray Copy, a versatile and user-friendly software available for both Windows and Mac. This powerful tool allows you to create an ideal Blu-ray copy effortlessly. Meanwhile, you can choose from many copying modes, such as Full Disc, Main Movie, Clone, and Write Data. You can selectively select a copying mode and save the Blu-ray content in another disc, ISO file, or Blu-ray folder. This way, saving the 1:1 Blu-ray content in digital or physical form becomes much easier with this top copier. Follow the guide below to start copying.
Blu-ray Copy
Play the whole disc inside this copier.
Simple Blu-ray copying with no quality drop.
No data loss during the copying process.
Support Blu-ray/ISO/folder for copying from and to.
Free Download
The following steps of copying Blu-ray are feasible on both Windows and Mac computers.
Step 1Download and install Blu-ray Copy on Blu-ray Software. Launch the software once the installation is complete. Then, connect the disc drive to your computer and insert the drive.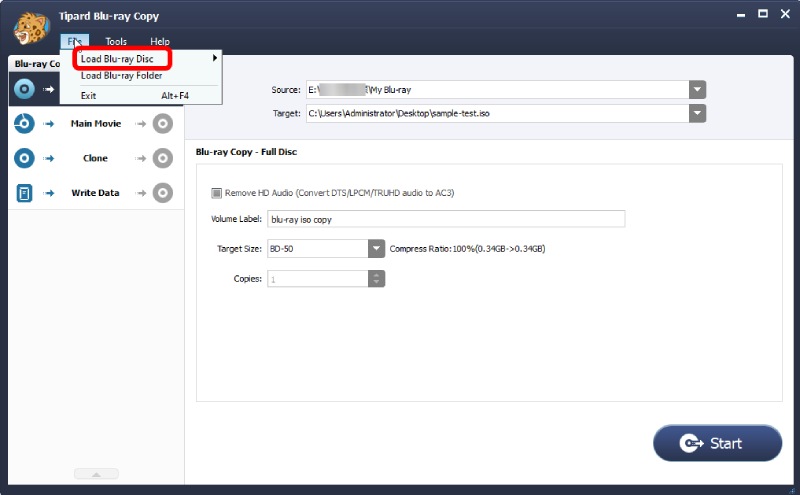 Step 2In the main interface of Blu-ray Copy, select the desired copy mode: "Full Disc," "Main Movie," or "Clone" (for 1:1 copying).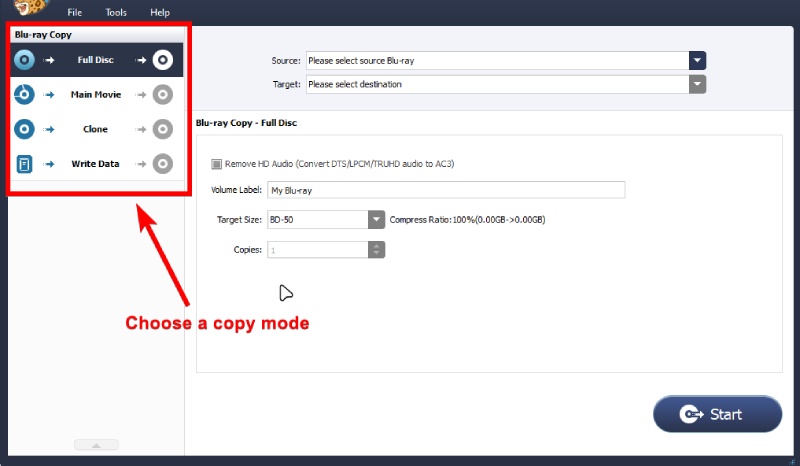 Step 3Choose the output destination for your copied Blu-ray. In this example, you can choose the ISO option as the destination. Meanwhile, the program will ask you to rename it and select a folder.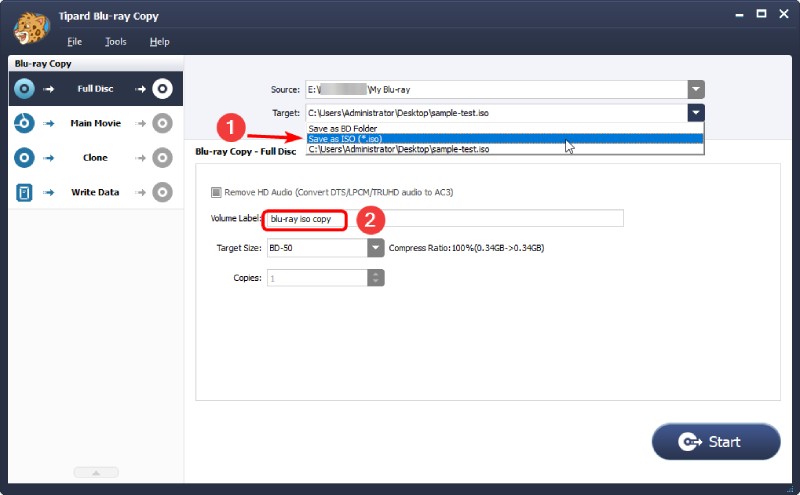 Step 4After that, click the Start button to begin the copying process. Blu-ray Copy will create an identical copy of the Blu-ray content.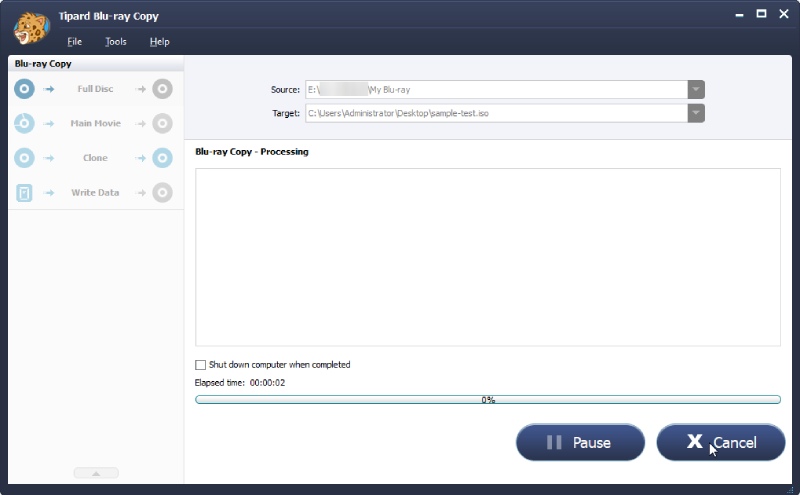 Tips
If you have another blank disc, you can also insert it into the drive. With the two discs in the drive, this Blu-ray copy software can identify them and copy Blu-ray disc to another disc on your computer easily. If you have only one drive, you can also use the output ISO or Blu-ray folder to burn a new disc.
Part 3: FAQs about Copy Blu-ray
Can you copy a Blu-ray disc to a regular DVD?

Yes, you can. But, Blu-ray's capacity is larger than DVD's. Copying Blu-ray to a DVD requires compression and can lead to quality loss or incomplete content.

Can I copy Blu-ray on my Mac?

Yes, with software like Blu-ray Copy, you can copy Blu-ray on Mac following the above instructions.

Are there any free Blu-ray copy software options available?

Yes, there are, but the numbers are limited. In most cases, the free copiers often offer limited features and might fail to copy the whole Blu-ray content successfully.

Can I copy 4K UHD Blu-ray discs?

Yes, but you need software that specifically supports 4K UHD Blu-ray copying. Meanwhile, all 4K UHD Blu-ray discs have copy protection. Therefore, you cannot copy the content without decrypting the disc first.

Is it legal to copy Blu-ray discs?

The legality varies by region. It is generally accepted for personal use or if you own the necessary rights. Always respect copyright laws.
Conclusion
Copying Blu-ray discs is a convenient way to protect your valuable content, preserve the original disc, and customize your movie-viewing experience. With the help of reliable software like Blu-ray Copy, you can create high-quality digital and physical copies of Blu-ray discs, whether you are using Windows or Mac. Remember always to respect copyright laws and only make copies for personal use or if you possess the necessary rights. Enjoy your Blu-ray content without worrying about losing or damaging your original discs by downloading the copier here.