Blu-ray Ripper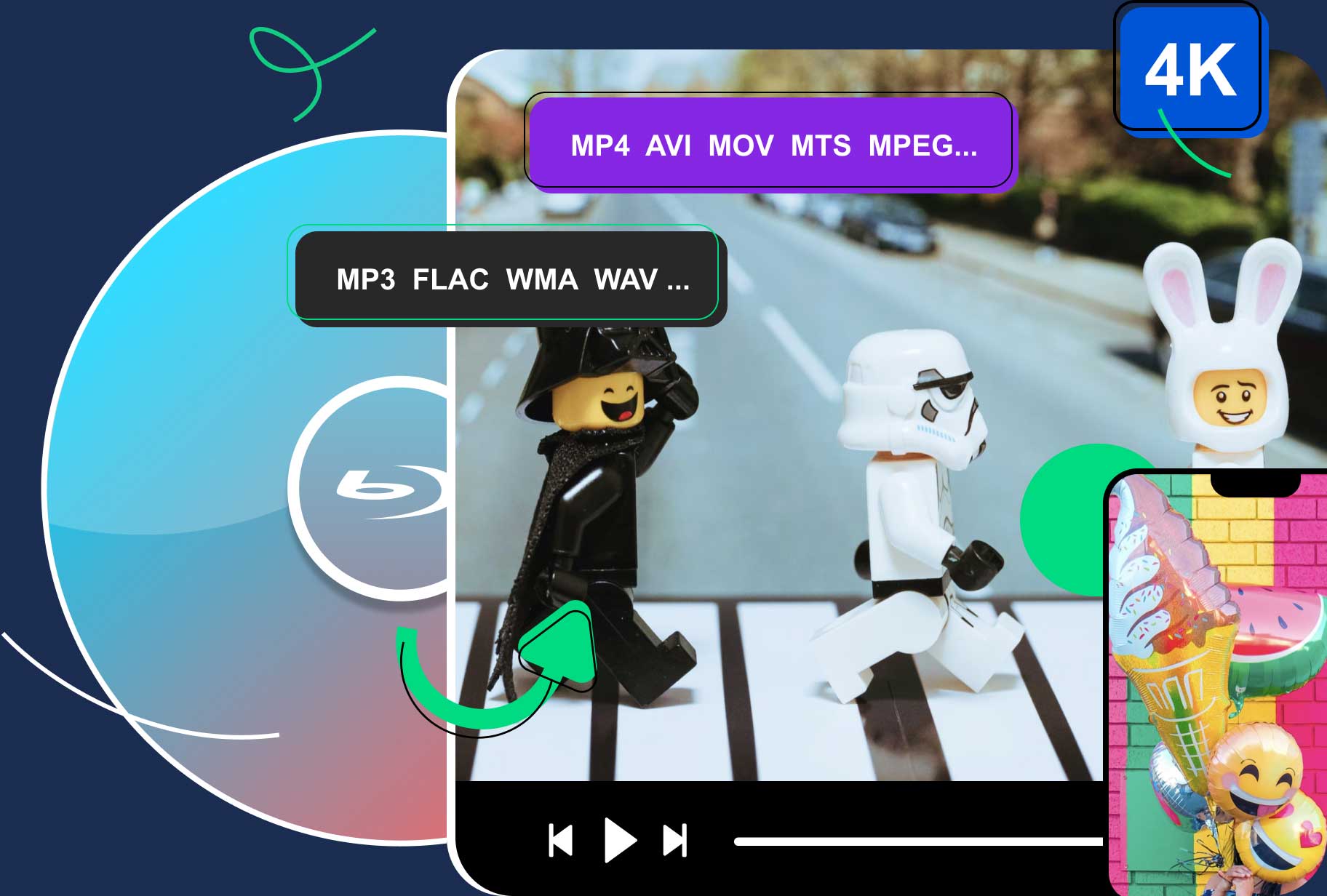 High-Quality Solution for Ripping Blu-ray/DVD/Folder to Any Formats Quickly
Free Download
Free Download
[2 Solutions] Convert Blu-ray to iTunes on PC/Mac to Watch Across Apple Devices
As a comprehensive media player and library across Apple devices, iTunes is still a workable program when it comes to transferring movie/music/TV playback. Meanwhile, Blu-ray is a high-quality optical disc format that delivers stable playback of high-definition or even 4K movies. If your player is not working, converting Blu-ray to iTunes is an excellent way to enjoy your movies on iPhone, iPad, Apple TV, and even iPod. Moreover, apart from manually getting a digital copy for importing to iTunes. Some of your Blu-ray or 4K movies might already come with an iTunes digital copy, and you can quickly redeem them to enjoy across Apple devices. Let's dive in and check the details out.

Part 1: Background Information: A Brief iTunes History
iTunes software program acts as a media player, library, and device management utility. This program also became available on Windows in 2003. Whereas the iTunes store is a digital media store where you can purchase to own music, TV shows, movies, and podcasts. These two programs are different. Initially, iTunes mainly focused on playing, downloading, and storing music or music collections for users.
With development, it later became a combination for users to access not only music but also e-book, podcasts, videos, and apps. You can also use it to back up content from these sources and transfer files between your iPhone/iPad and PC/Mac. However, due to software bloat, iTunes was gradually replaced by several Apple programs like Apple TV, Apple Music, Podcast, and Finder on macOS. Still, it remains a workable way to transfer and import files to your iPhone/iPad/iPod.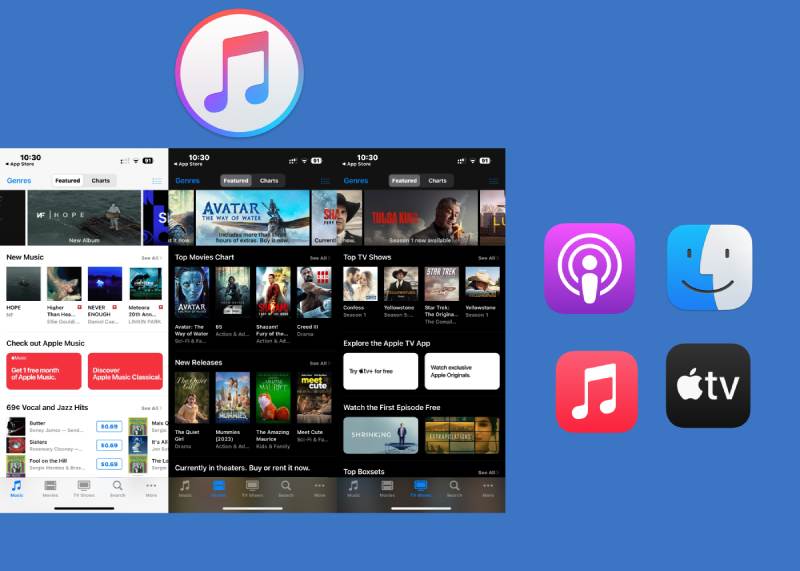 Part 2: 2 Methods to Convert Blu-ray to iTunes on Windows/Mac
Whether your Blu-ray has the iTunes digital copy or not, the following two methods help you convert Blu-ray to iTunes for later enjoyment on Apple devices. Remember to prepare a Blu-ray drive before following the ripping steps.
Rip Blu-ray to iTunes
iTunes supports only MP4, M4V, and MOV for videos. As for audio, it is compatible with WAV, AIFF, Apple Lossless, AAC, and MP3. Hence, you must need a powerful converter that supports all these formats and can achieve conversions smoothly. Blu-ray Software strongly recommends Blu-ray Ripper, which meets the above two elements. You do not have to equip yourself with complex techniques. With simple clicks, you can achieve ripping Blu-ray to iTunes smoothly. Besides, it also supports all the above-mentioned video/audio formats. Moreover, you do not have to figure out these format settings since the program has already designed presets for Apple devices. You can convert Blu-ray to iPad, iPod, and iPhone easily.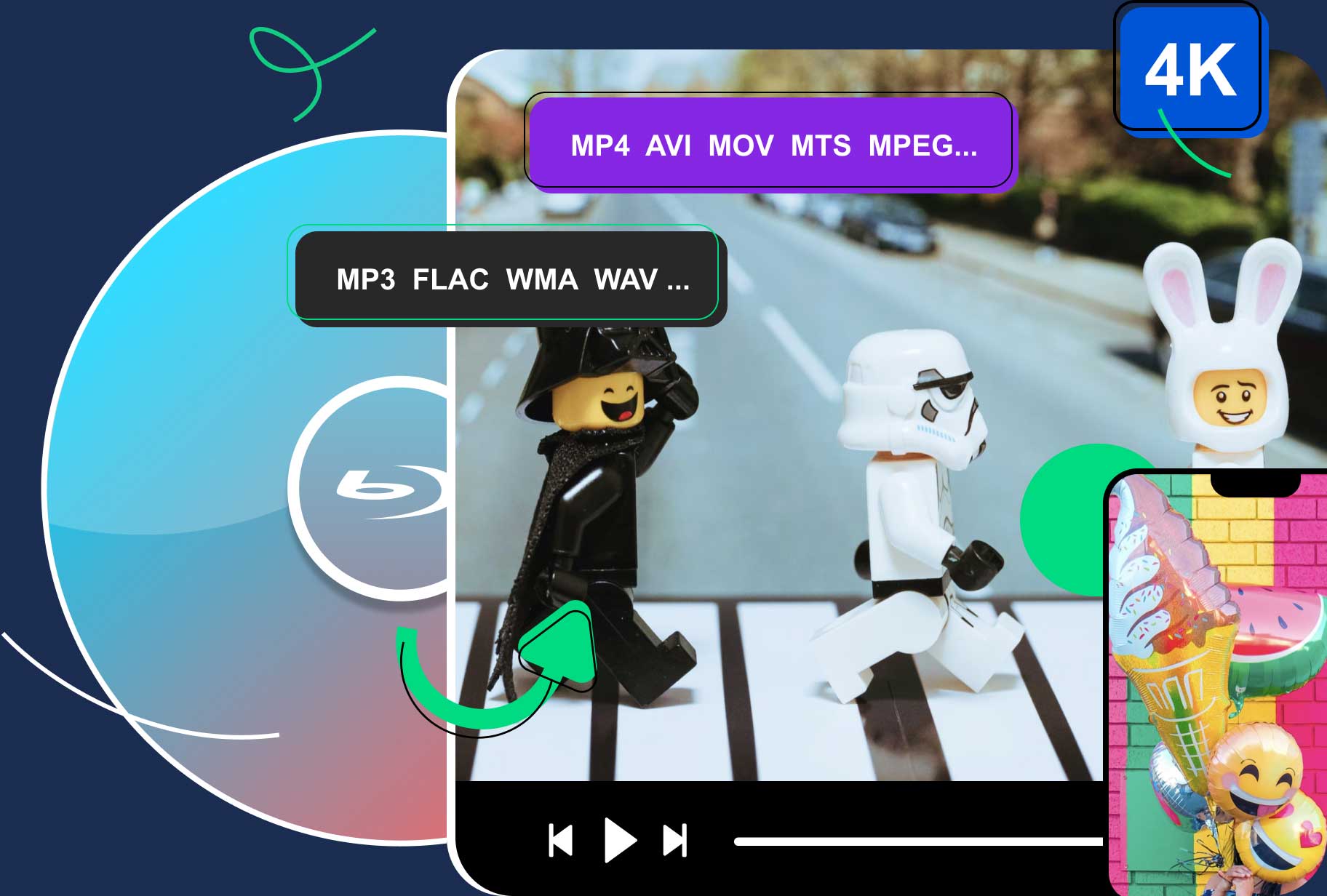 Blu-ray Ripper
Convert with pre-designed Apple presets of different models.
Preview Blu-ray movies before ripping them to iTunes.
Select which audio track or subtitle file to rip.
Trim off the unnecessary parts from Blu-ray movies.
How to rip Blu-ray to iTunes with Blu-ray Ripper
Step 1Insert your Blu-ray disc into the drive. Then, download, install, and launch the ripper to convert Blu-ray to iTunes. The ripper will load your disc automatically and present full titles. You can click the Play button to check which one to rip to iTunes.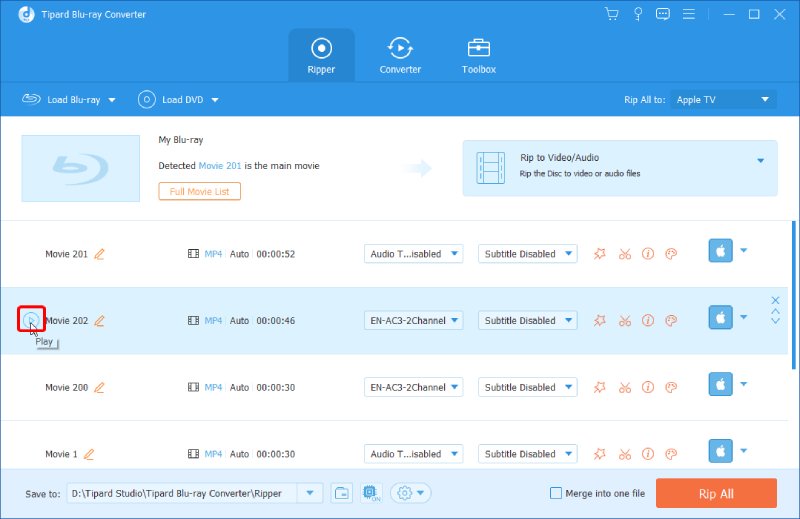 Step 2Next, click the Output Format dropdown button. Click the Device tab and choose Apple. You can then select iPhone, iPad, iPod, or Apple TV for later transferring to iTunes.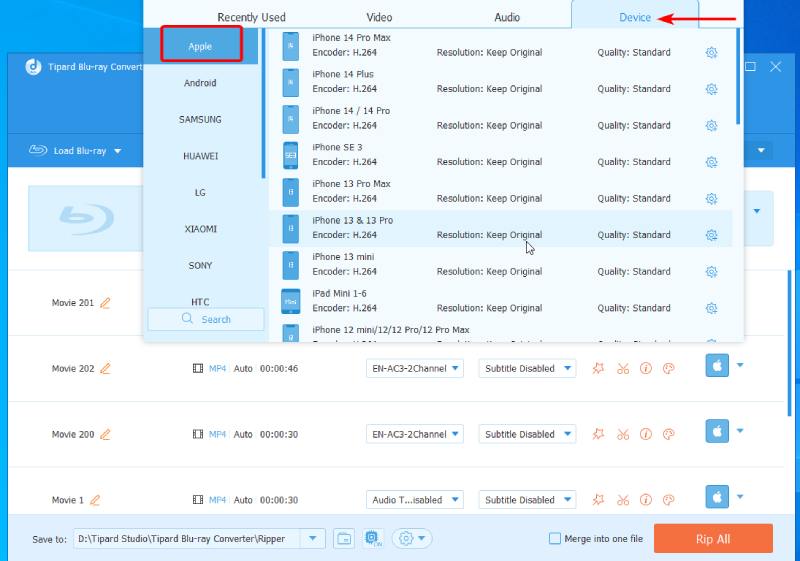 Step 3If your Blu-ray movie has several subtitles, you can select one for ripping by clicking the Subtitle dropdown option and ticking the one you need.

Step 4After that, click the Browse and Select Folder to choose a place to store your output video for iTunes. Then, click the Rip All button to start ripping.

How to transfer ripped Blu-ray to iTunes
After ripping your Blu-ray to iTunes-compatible video format, you can see the steps to transfer it to iTunes. Make sure you have iTunes installed on your PC or Mac.
Step 1Launch iTunes on your computer and click the File button above.
Step 2Click the Add Files to Library button or press Ctrl and O keys to import the videos ripped from Blu-ray.
Step 3Choose the videos and import them to iTunes. You can find them under Home Videos. Now you can sync the Blu-ray videos to iPhone, iPad, or iPod with a USB cable.
Redeem Blu-ray with iTunes Digital Copy
Apart from converting the Blu-ray to digital for transferring to iTunes, there is also a quicker method. If your Blu-ray discs have an iTunes digital copy, you can quickly transfer the Blu-ray to iTunes by redeeming it in iTunes. Following are the detailed steps on different devices.
iPhone/iPad:
Step 1Open Apple TV on your iPhone/iPad. Click your profile icon.
Step 2Choose Redeem Gift or Code.
Step 3Tap the Enter Code Manually option and enter the 12-digit code on your Blu-ray insert.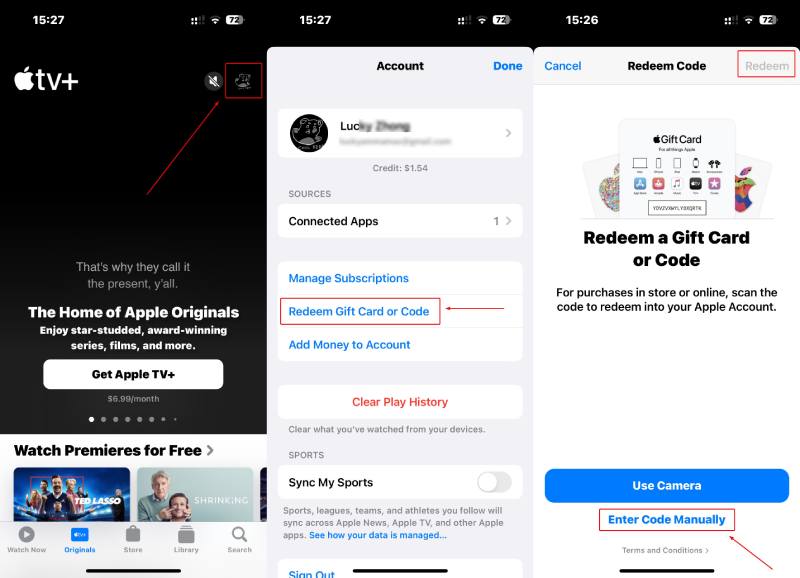 Mac:
Step 1Launch Apple TV on your Mac.
Step 2On the menu bar, click the Account button and choose the Redeem option after that.
Step 3Type your Blu-ray's 12-digit code and download the movies on your Mac.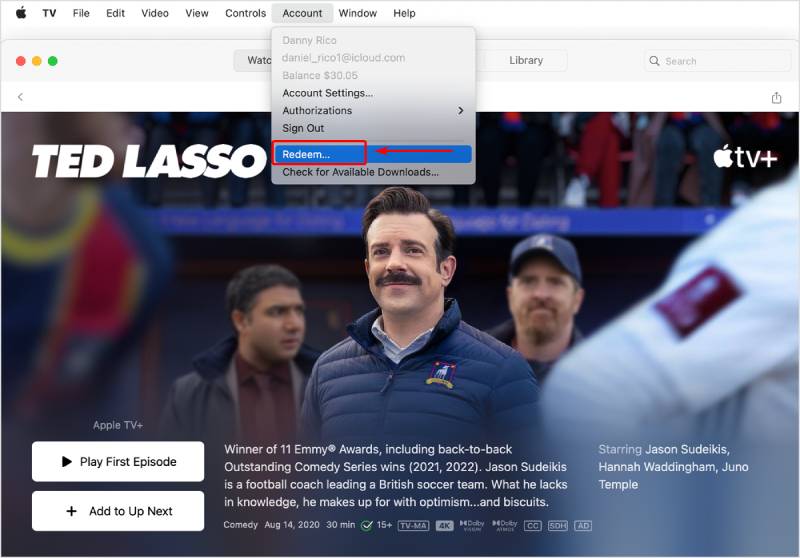 Windows:
Step 1Get the latest iTunes from Microsoft Store on your PC.
Step 2After installation, launch iTunes, click the Account button, and choose Redeem.
Step 3Sign in with your Apple ID and enter the code to download your Blu-ray movie.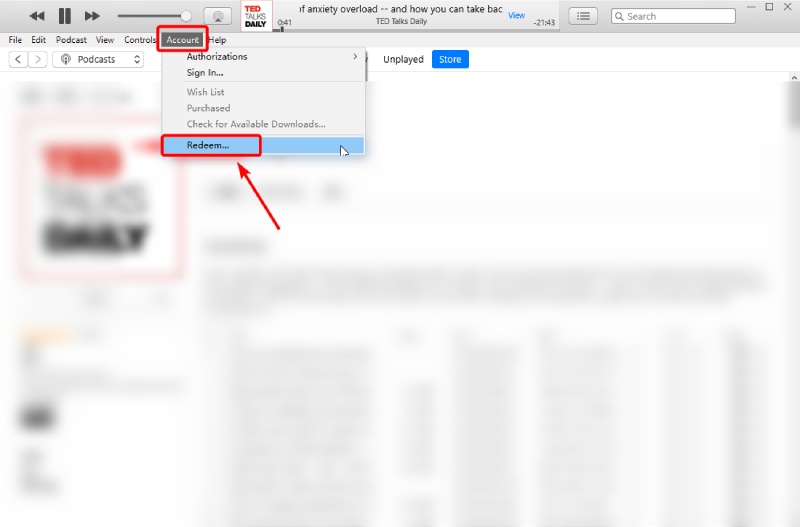 Part 3: FAQs about Rip Blu-ray to iTunes
Will the movie purchase on iTunes last forever?

No, it will not. How long will your purchased iTunes movie last depends on the movie studio or the right owner. Your iTunes movie might disappear somehow, and you must purchase it again to watch it.

Can I transfer Blu-ray to iPhone?

Yes, you can. Following the steps above, you can first rip the Blu-ray to iTunes. Then, you can use a USB cable to connect the iPhone to your computer. Then, sync the movie you ripped to your iPhone.

Does iTunes support the MKV format?

No, it does not. iTunes is compatible with H.264 and MPEG-4 videos. So the supported video formats for iTunes are MOV, MP4, and M4V.
Conclusion
At the end of the article, you must have successfully ripped Blu-ray to iTunes with the guide above. Whether you have the redeemable digital code for iTunes or not, you can transfer your loveable Blu-ray movies to this software and enjoy them on all your Apple devices. Meanwhile, when transferring Bly-rays to iTunes without a digital copy, the Blu-ray Ripper is the most recommended tool to help you achieve the ripping task. You can download it from here and have a try to rip your Blu-ray movies.