Blu-ray Player
Smooth Playback for 4K Blu-rays/Folder/ISO File/Videos.
Free Download
Free Download
How to Cancel Amazon Subscription and Stop Auto-Renewal
Auto-renewal is a convenient feature and helps automatically clear your subscription bill on platforms like Amazon. But once you do not want to use the service on Amazon, it is better to cancel Amazon services or any other subscriptions before the auto-renewal happens. You might have subscribed to different services on Amazon, like Amazon Prime membership (including/excluding Prime Video) and STARZ Channel. Therefore, walk through the guide below to see how to cancel them all on Amazon.

Part 1. How to Cancel Amazon Channel Subscription
Before canceling any subscriptions on Amazon, there is something you should know. First, some services are associated with third parties, and some will charge an early cancellation fee. For example, you might subscribe to other channels in Prime like STARZ, Paramount+, etc (The examples here do not charge an early cancellation fee.)
Second, if you decide to cancel Amazon subscriptions, you will lose access to the benefits immediately. But for streaming services, you can choose to enjoy them till the subscription expires. In that case, you just cancel the auto-renewal.
Once you have decided, here is how to cancel Amazon subscriptions to other channels online.
Step 1Go to Amazon.com. Log in with your account that has subscriptions.
Step 2Click the Account & Lists menu button. From the pulldown menu, click Memberships & Subscriptions.

Step 3You can see all the channel subscriptions on the following webpage. Click the Cancel Subscription button.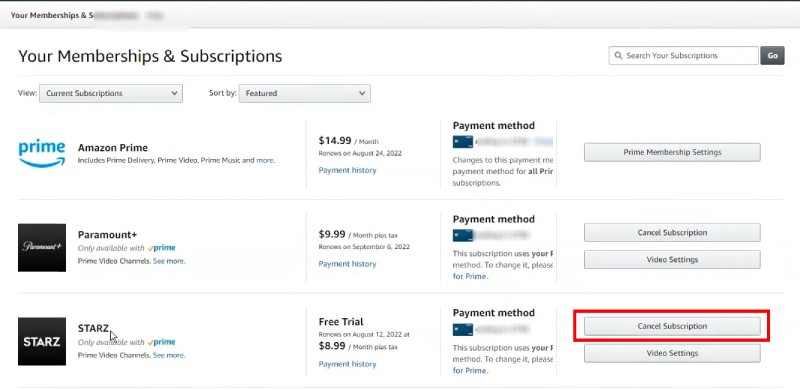 Step 4Then, it will be directed to the channel's official webpage. You will see several options like, remind me before renewal, turn off auto-renewal and watch…, cancel now and refund, or keep the subscription. Click the Cancel My Subscription button.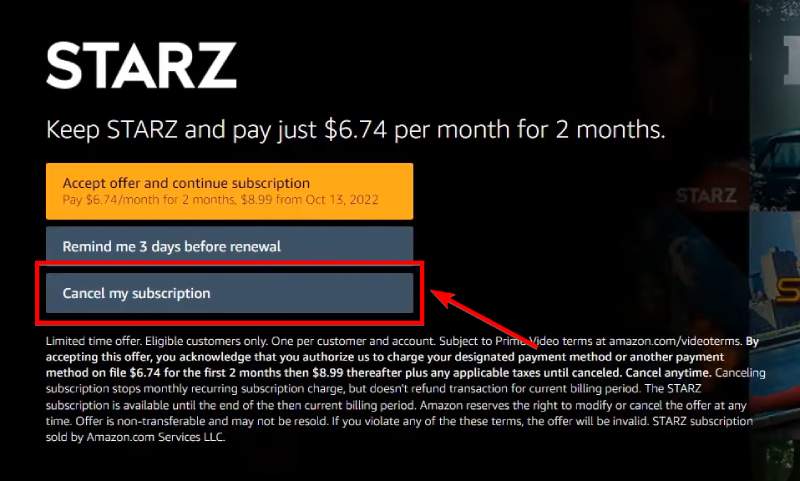 Part 2. How to Cancel Amazon Prime Membership
Amazon Prime subscription costs $14.99 per month and includes many benefits. You can get free shipping, diverse shipping plans, exclusive saving on certain products, early access to new books, etc.
If you have included Prime Video in the membership, you can also get additional streaming services with special offers. Available channels in Prime include HBO Max, Paramount+, Showtime, etc.

Prime Video Channels require you to have an Amazon Prime membership. So, if you cancel Amazon Prime membership, you will also lose access to Prime Video. If you have paid $8.99 for a standalone Prime Video, you can cancel it anytime.
Cancel Amazon Prime Membership
On Desktop
Step 1Open your browser and log in on Amazon with your account. Click the Account & Lists menu button. Select Prime Membership from the pulldown menu.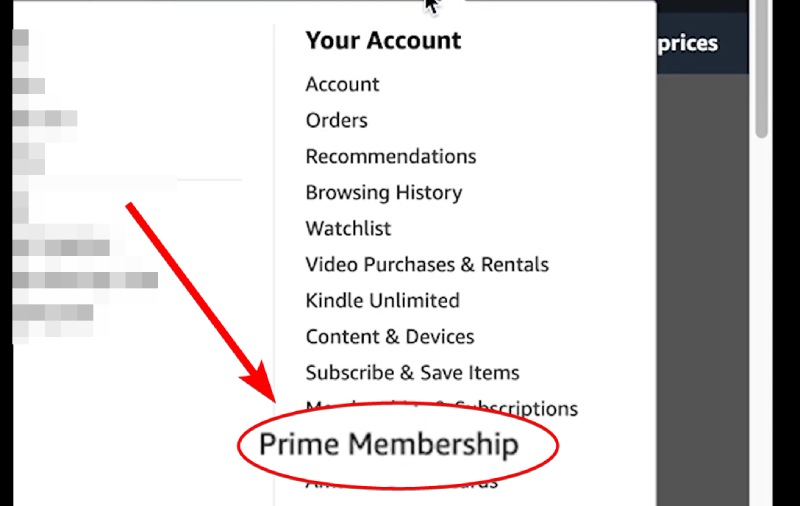 Step 2Then, click the Update, cancel, and more menu button under Membership.

Step 3Next, click the End membership button to cancel Amazon Prime membership.

On A Phone
The following steps work for both Android and iPhone.
Step 1Open the Amazon app on your phone. Tap the Account button below. Then, tap Your Account. Scroll on the screen and find Manage Prime Membership.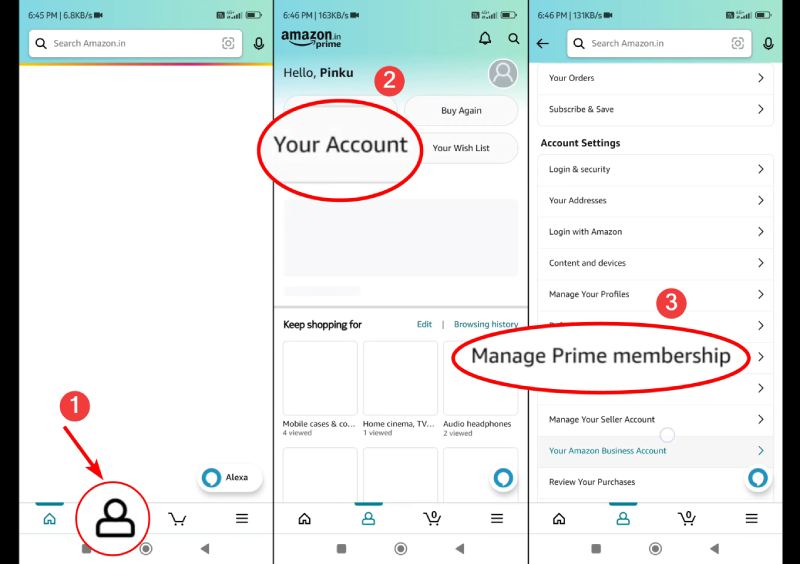 Step 2Next, tap Manage membership. After that, tap Update, Cancel, and more. Then, you can see the End Membership button. Tap on it. Afterward, tap the Continue to Cancel button to confirm.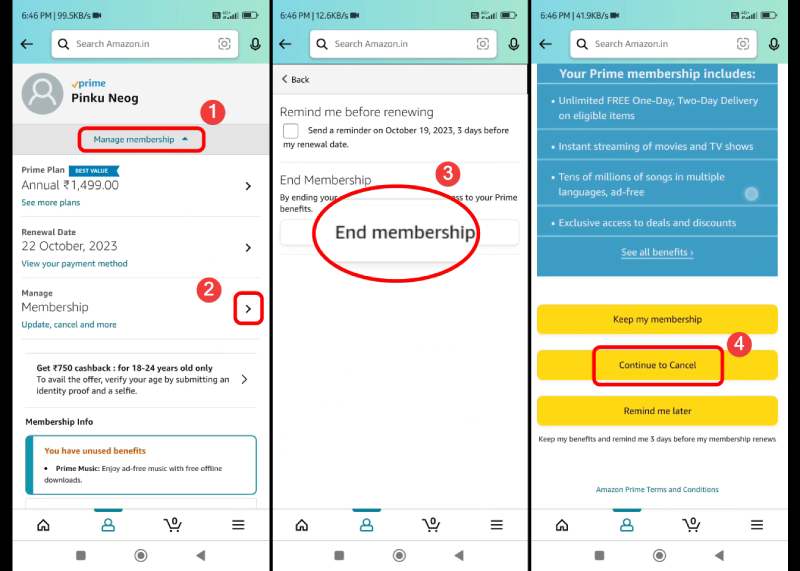 Cancel Amazon Prime Video
Step 1Go to primevideo.com and log in with your Amazon account.
Step 2On the upper right, click the Profile button. Then, click the Account & Settings button.
Step 3If you subscribe to Prime Video only, you will see the End Subscription button. Click it to cancel Prime Video.
If your Prime Video is included in Amazon Prime, click the Edit on Amazon button and follow the previous steps to cancel it.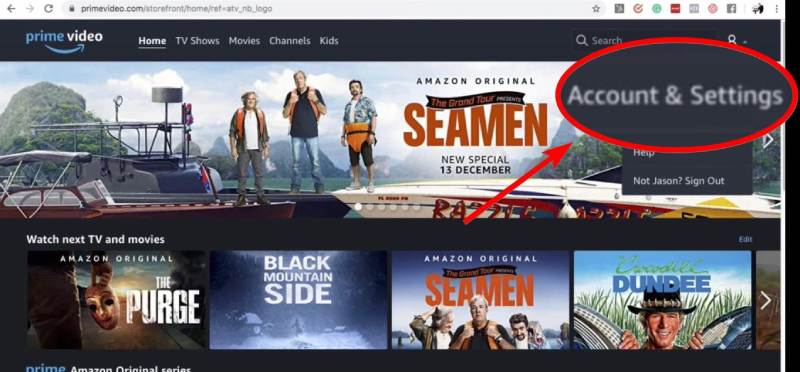 [Extra Tip] Watch Shows & Movies Offline After Cancelling Prime Video
After canceling Prime Video, you can try another way to watch movies and TV shows, which is to watch them offline on your computer. Watching shows and movies offline does not have high-demanding requirements on the internet connection. There is no buffering or loading. Once you download the movie, you just need the best player to watch it. Blu-ray Software has found one, Blu-ray Player. This multi-media player not only supports playing regular media files in MP4, MP3, 3GP, FLAC, AVI, MOV, MKV, etc., but also supports DVD and Blu-ray.
Blu-ray Player
Play 4K UHD videos and discs smoothly.
Support the latest Dolby and DTS sound technology.
Personalize and create as many playlists as you want.
Adjust video hue, contrast, and brightness during playback.
Apart from playing offline media files, Blu-ray Player is a region-free Blu-ray player software that enables you to watch Blu-ray or DVDs from any region.
Part 3. FAQs about Cancel Amazon Subscription
Can I cancel Amazon Prime membership but keep Prime Video?

No, you cannot. Prime Video is associated with Amazon Prime membership. You can subscribe to Prime Video alone. But if you access Prime Video via Amazon Prime, you will cancel both once you cancel the Prime membership.

Can you cancel auto subscriptions on Amazon?

Yes. For example, if you cancel Amazon channel subscriptions, the channel services will offer several canceling options, in which there is an option called 'cancel my subscription but keep watching till…'. Then, you can choose to cancel the auto-renewal subscription.

How do I see my Amazon subscriptions on the phone?

Open the Amazon app and go to Your Account. Then, tap Memberships & Subscriptions. Next, you will see all the services you subscribed to on Amazon.
Conclusion
With the above tutorial, one can quickly cancel Amazon Prime membership and Prime Video. Whether you want to unsubscribe to Prime channels or stop the auto-renewal of the current Prime membership plan, the tutorial covers all the steps. Share the steps with others and help more people stop auto-renewal on Amazon and avoid financial loss.