Blu-ray Ripper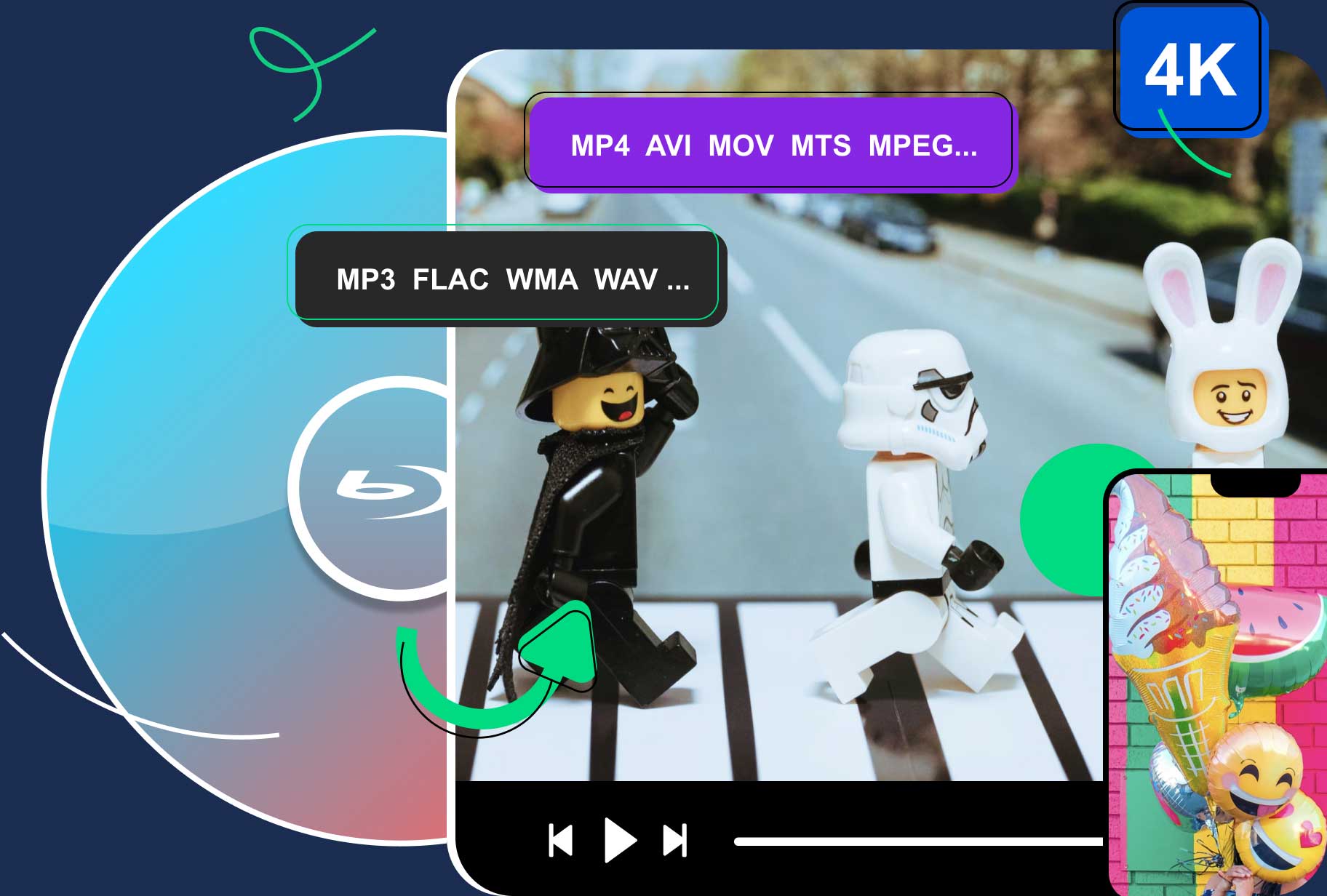 High-Quality Solution for Ripping Blu-ray/DVD/Folder to Any Formats Quickly
Free Download
Free Download
Guide on How to Rip 3D Blu-ray to Google Cardboard
Although Google Cardboard has been discontinued for a long time, you can still get the fun of using a Google Cardboard to watch a 3D Blu-ray movie. It is like a childhood dream come true, and you can get an immersive experience at the lowest cost. Clean up the dirt on your Cardboard and explore the fantastic digital word, following the step-by-step guide here. Turn your physical media into a compatible digital format for Google Cardboard.

Part 1. Google Cardboard: A Telescope-Like VR Glasses
For those who thought the Cardboard was a toy, here is the answer. It is definitely not a toy but a VR platform developed by Google. The cardboard is a low-cost viewer for users to explore VR applications, in which you can insert your mobile phone into the viewer and get a vivid watching experience. Compared to other high-end VR devices, you can make up a Cardboard yourself at home following the specifications published by Google. Still, you can purchase a pre-manufactured one from Google. With a pair of glasses embedded in your Cardboard, you can easily enjoy a 3D movie in SBS format. Apart from the viewer and the VR glasses, a Blu-ray ripper is another thing you need. If you want to play a 3D Blu-ray on Google Cardboard with your smartphone, scroll down for more details.
Part 2. Top 2 Workable Rippers for Ripping 3D Blu-ray to Google Cardboard
Top 1. Blu-ray Ripper
Blu-ray Ripper, selected by Blu-ray Software, is a professional yet simple ripping tool that handles all ripping tasks. You can get lossless results from your 2D and 3D Blu-rays and play the Blu-ray on Google Cardboard. As a one-stop solution, this Blu-ray ripper software also considers the file size and keeps your output SBS 3D MKV file in an ideal size. Even if your Android or iOS devices do not have room for another 2-hour movie, the software can compress the file with the built-in video compressor. Besides, you do not need to be a tech geek to get the hang of the ripper. It streamlines the ripping process and improves its speed with an intuitive interface and hardware acceleration.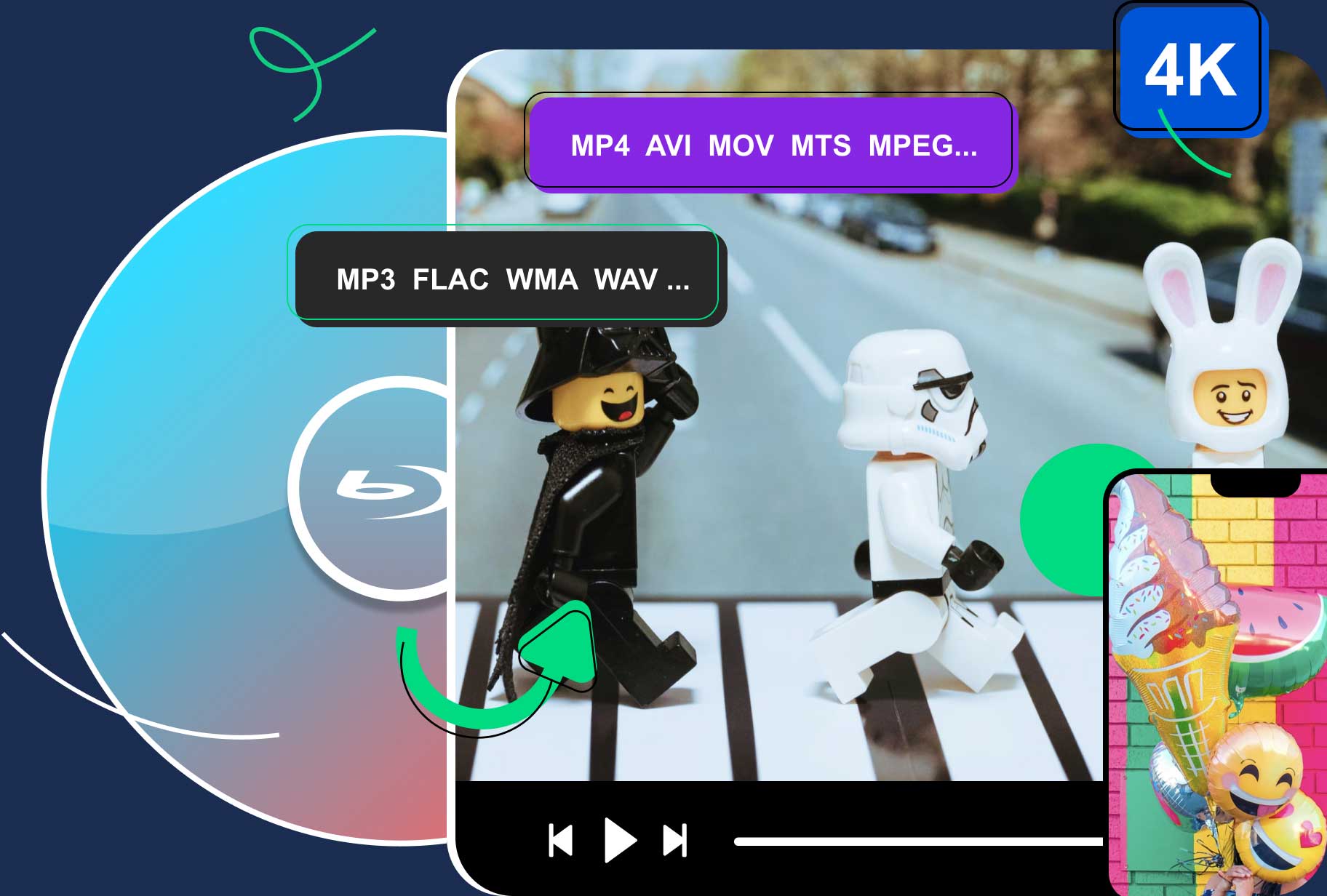 Blu-ray Ripper
Offers SBS 3D and Red-Blue 3D MKV options.
One-click ripping process with no complex operations.
Trim or compress the source 3D Blu-ray video for ideal file sizes.
Create customized 3D videos from regular 2D media files.
Top 2. Pavtube ByteCopy
Pavtube ByteCopy is another feasible Blu-ray decrypter that can create 3D SBS MKV out of the 3D Blu-ray. Whether you want to watch commercial Blu-ray discs on Google Cardboard or discs that are region-locked, Pavtube's ripping tool works fine with all and can encrypt Blu-rays with AACS, BD+, UOP, DRM, HDCP, and BD-ROM copy protections. If you want to convert 3D Blu-ray to Google Cardboard, Pavtube ByteCopy is undoubtedly one of the best choices.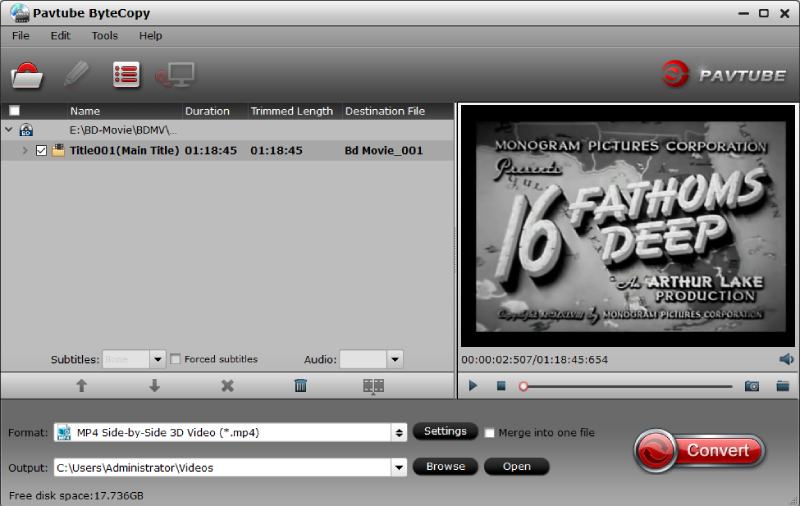 Pros

Rip Blu-ray to 3D SBS MKV and MP4 for Gear VR and Google Cardboard.
Supports ripping Blu-ray encoded with AVC and VC-1.
Provides various output profiles designed for different devices and platforms.
Cons

It supports only the Windows 10 and earlier systems.
Editing is not allowed when choosing a multi-track format for output.
Part 3. How to Convert 3D Blu-ray to Google Cardboard
With the proper tool installed on your computer, it is super easy to convert 3D Blu-ray to Google Cardboard. Taking the Blu-ray Ripper as an example, here is a step-by-step quick guide you can follow to get a lossless 3D MKV video file.
Step 1Install the Ripper
While inserting the disc into the drive, download the Blu-ray Ripper here and install the program on your computer. Once it is completed, launch the program for ripping.
Step 2Load the 3D Blu-ray
You can select the disc from the Load Blu-ray option and choose to import all titles or only the main title. After selecting, preview the 3D Blu-ray by clicking the Play button.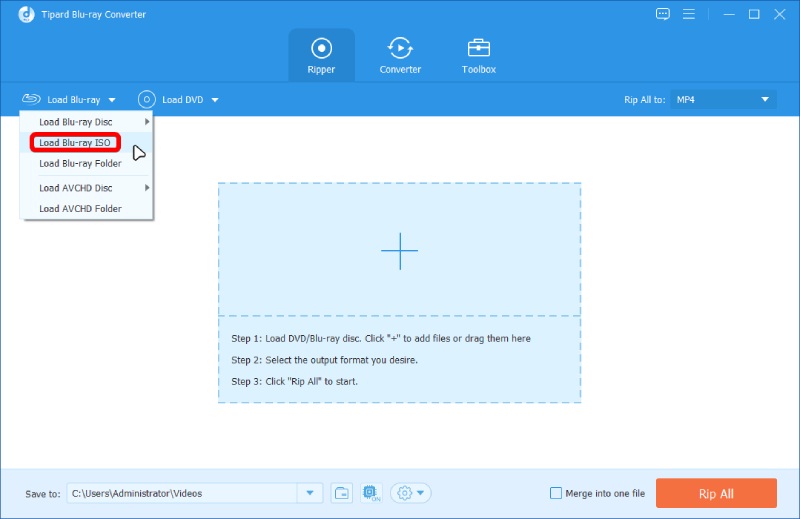 Step 3Choose 3D SBS MKV
In the Rip All to drop-down list, there are many output format profiles, among which you can find the 3D SBS format in the Video tab. Click to choose it.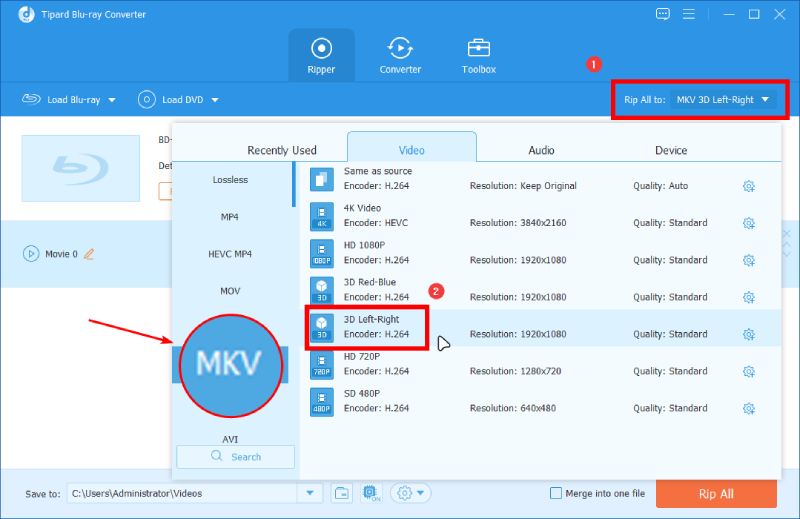 Step 4Set Up the Destination
Choose a folder on your computer, or you can connect your phone to the computer and set it as the target folder. To choose a folder, click the Browse and Select Folder button.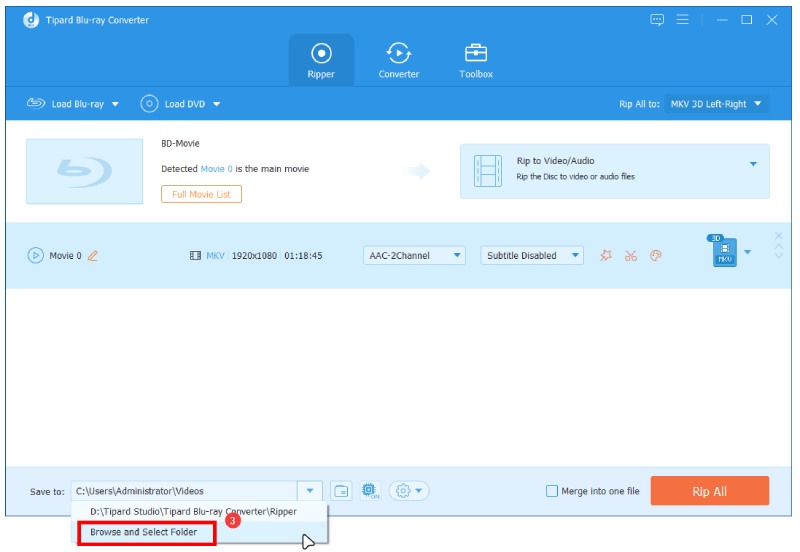 Step 5Rip All to 3D SBS
Click the Rip All button and start ripping the 3D Blu-ray to Google Cardboard. Once it is done, you can transfer the video to your mobile phone, insert the phone into your Cardboard, and enjoy your 3D movie.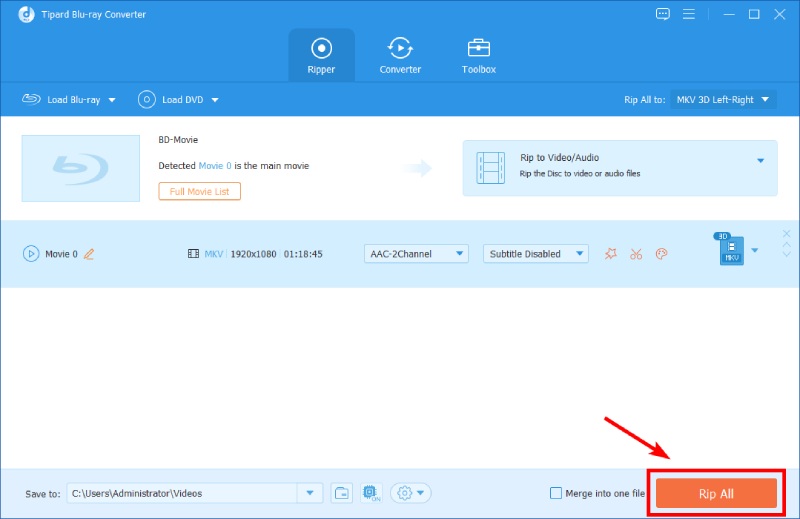 Part 4. FAQs about Converting 3D Blu-ray to Google Cardboard
Is MKV the only format that supports 3D videos?

No, it is not. MP4 is another container that supports both 2D and 3D graphics. Hence, when converting 3D Blu-ray to Google Cardboard, multi-track 3D MP4 is also an option.

Can VLC Play 3D Blu-ray?

Yes, it does. As a versatile media player, VLC supports all the media formats and some discs, including the 3D Blu-ray.

Does Google Cardboard support iPhone?

Yes, it does. The Cardboard's software development kit (SDK) was released for both Android and iOS systems. So, iOS developers can also develop Cardboard apps.

Why is Google Cardboard discontinued?

The enhanced VR platform started by Google, called Google DayDream, was not widely accepted by customers and developers. So, the Cardboard was later discontinued, and Google no longer sells it.
Conclusion
To sum it up, the key points to rip the 3D Blu-ray to Google Cardboard for viewing is to get a workable drive to read the disc and the workable converter software to turn your physical content into a digital video file. Most importantly, figuring out the compatible formats of the Cardboard apps on your mobile is also essential. Luckily, Blu-ray Ripper offers a wide range of format profiles that you never need to worry about lacking choices. To have a go with it, download it here for free.