Blu-ray Player
Smooth Playback for 4K Blu-rays/Folder/ISO File/Videos.
Free Download
Free Download
Top 4 WMA Players Free Download
WMA is one of the most popular audio formats, and it was developed by Microsoft, and it is compatible with the Windows system. Therefore, when you want to play WMA on the iPhone, Android, and Mac, a WMA player is a necessity. Do not worry, this passage will introduce you to the 4 best WMA players for PC, Mac, Android, and iOS. No matter what your devices are, or if the WMA audio fails to be played on your device, you can choose the desired one to deal with your WMA files.

Part 1. Top 2 WMA Players for Windows and Mac
Below, including Blu-ray Player from Blu-ray Software and Foobar2000, are the top 2 WMA Players you can free download we evaluate best for Windows and Mac. You can view them carefully and choose a suitable one for your laptop.
1. Blu-ray Player from Blu-ray Software
Blu-ray Player from Blu-ray Software is a comprehensive media player tool that supports diverse formats, including WMA files. It provides the function of a Playlist, and you can browse your recently played WMA files through it. It has three play modes including Single, Order, and Random, and you can play audio files based on your favorite modes. Notably, you can use some hotkey controls in this WMA player to better control your audio playback, including play, stop, backward, forward, and adjust volume. Besides, this WMA player is available on both Windows and Mac computers and you can free download it.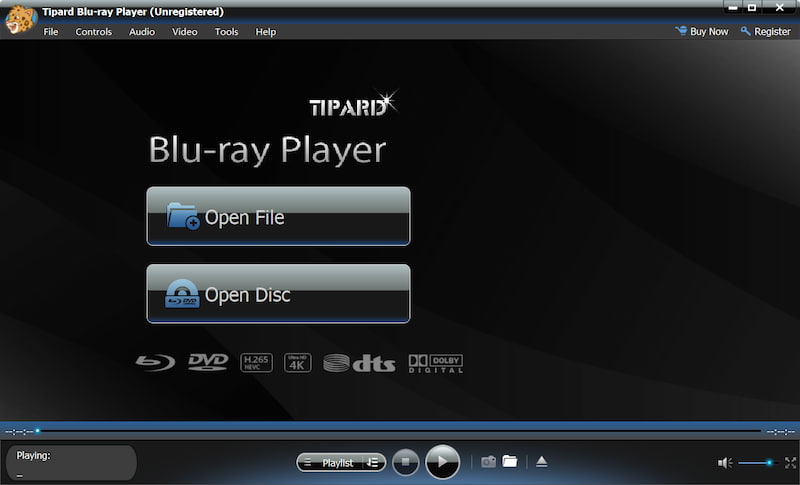 Features:
Support multiple systems.
It can play audio and movies on Windows 7/8/10/11, and macOS X 10.9 and above (including macOS Sonoma).
Support numerous formats.
It can play Blu-ray folder/ISO image files with no limitation.
It can play DVD ISO/ folder/ files with high video/audio quality.
It can play 4K UHD/1080p HD video on the computer.
It can play audio and video files like WMV, MP3, MOV, MP4, MKV, AVI, etc.
User-friendly interface.
Its concise interface delivers an excellent user experience. Users can easily find the playing menu when playing WMA audio files.
Freely choose audio tracks.
This tool allows users to choose titles, chapters, subtitles, and video/audio tracks from Blu-rays/DVDs. Different titles or chapters can be easily switched without hassle on your device.
2. Foobar2000
Foobar2000 is another famous audio player which can also handle the WMA files. It can deal with audio formats and allow users to manage their music library. This tool can also support many audio formats, including CDs, HDCD, and WMA, and it can also serve as a DVD ripper for extracting WMA audio files from DVDs. Foobar2000 is available on Windows 11/10/8/7/XP/Vista and macOS 10.13 High Sierra or newer.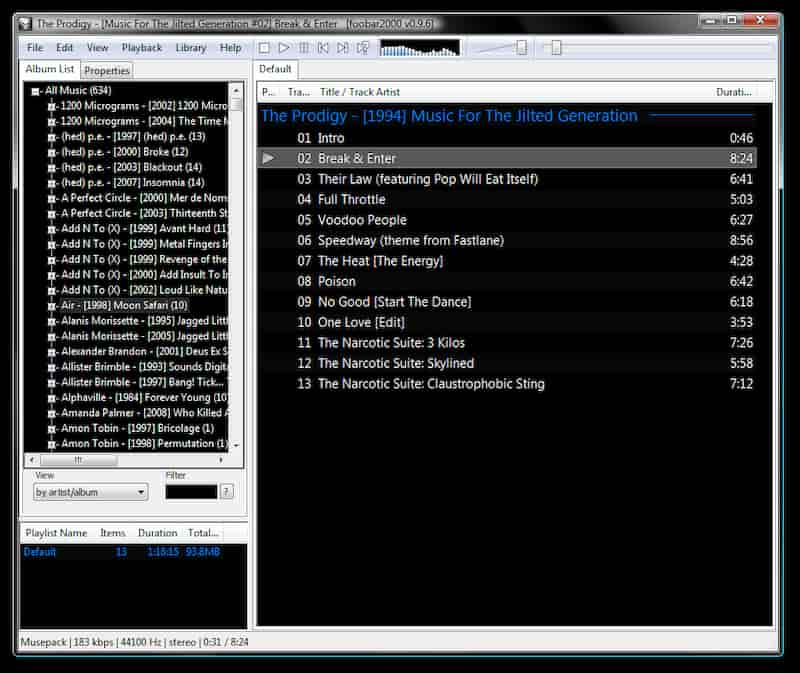 Features:
Support multiple audio and video formats.
Foobar2000 can support various formats including WMA, MP3, MP4, Vorbis, Opus, FLAC, AAC, CD Audio, WAV, AIFF, WavPack, Musepack, SND, Speex, AU, etc.
Intuitive interface.
When playing WMA files, the Default Playlist of this Foobar2000 provides many options including Playing, Artist/Album, Track, Title, and Duration. It gives great convenience for users.
The above are two tools that are compatible with Windows and Mac systems. You can see that the Blu-ray Player from Blu-ray Software provides more functions, while Foobar2000 has limited functions, but both can serve as WMA players. You can choose one that meets your needs to free download on your Windows and Mac. If you're an Android and iOS user, please keep reading, and the section below recommends two of the best WMA players we've rated.
Part 2. Top 2 WMA Players for Android and iOS
Nowadays, we increasingly use smartphones to accept many kinds of audio files. But sometimes, not all files can be successfully opened. Thus, the special players need to be downloaded on our smartphones. Below are two WMA players for Android and iOS. Keep reading and hopefully, you can find one that suits your needs.
1. VLC Media Player
VLC Media Player is an advanced and notable cross-platform media player. It not only supports multiple audio file formats including WMA files, but also supports numerous video file formats including playing Blu-ray, and DVD. Undoubtedly, it can serve as a free WMA layer. The distinctive feature of its role as a WMA Player is its unique interface. Users can browse audio files in the left column vividly. It is available on both desktop systems and mobile devices, including Windows, Mac, Linux, iOS, and Android.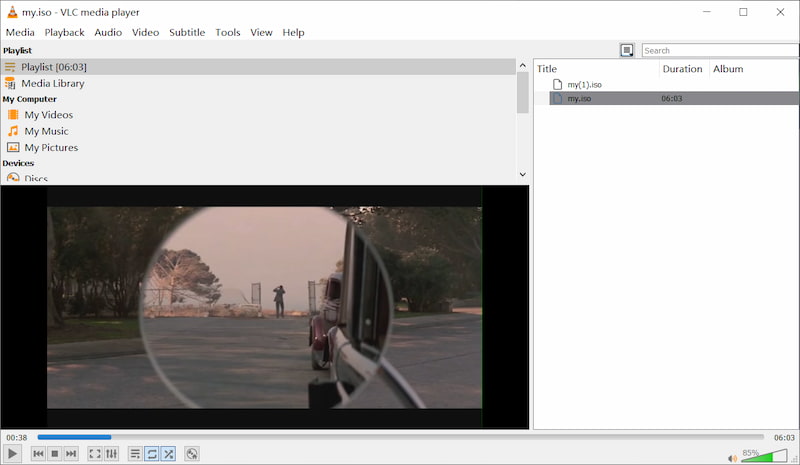 Features:
Support diverse formats.
It supports numerous formats including WMA, MP3, MP4, AAC, AC3, ALAC, Monkey's Audio, Opus, PLS, QCP, QDM2/QDMC, RealAudio, WAV.
User-friendly interface.
The major interface is clear and concise, and the navigation bar is similar to the office software. Users can quickly locate their desired function through the left column, including My Music, My Computer, Devices, Local Network, and Internet. It provides great convenience for users to find their desired files, including playing WMA files.
2. Free HD Video Converter Factory
Free HD Video Converter Factory is a free audio player and converter, but it can also serve as a WMA player because it supports multiple formats. When users open WMA files in this tool, they can individually adjust some parameters to get their designed formats, including downmixing channels, changing the audio bitrate, and normalizing audio for better performance. This tool is available on both iOS and Android.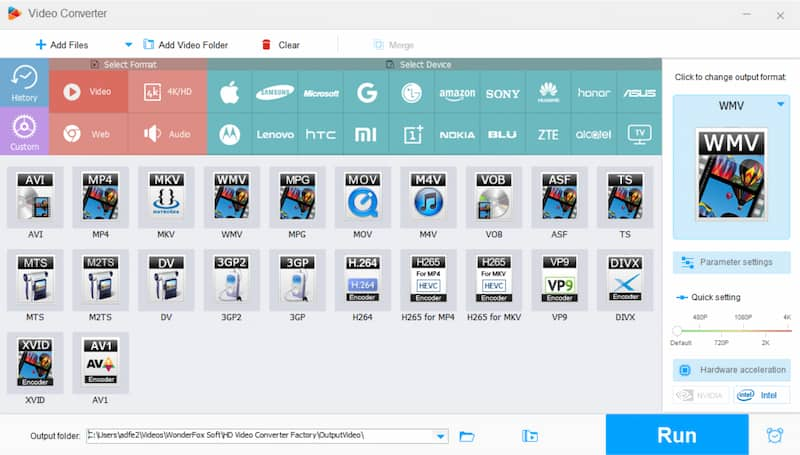 Features:
Download videos.
Users can download videos from external websites at the Free HD Video Converter Factory. Only by pasting the URL of desired videos, users can watch videos they like such as YouTube videos.
Concise Interface.
This tool is friendly to new hands because it has two major functions when users first enter the major interface. And then they can choose specific functions according to their needs including Converter and Downloader.
Wide range of supported formats.
It supports a wide range of video and audio formats, including popular ones like MP4, AVI, MKV, WMA, MOV, MP3, and WAV.
Freeware.
Free HD Video Converter Factory is free to download and use.
The above are two tools that are compatible with Android and iOS with great functions. Especially for Free HD Video Converter Factory, it can realize the connection with external websites, greatly meeting the needs of many video lovers. You can choose any one to serve as your WMA player.
Part 3. FAQs about WMA Player
What is a WMA player?

A WMA player is a media player that is capable of playing audio files in the WMA (Windows Media Audio) format. WMA is a popular audio format developed by Microsoft.

What are the advantages of using a WMA player?

One advantage of using a WMA player is that it supports high-quality audio compression, allowing for smaller file sizes without significant loss in audio quality. Additionally, WMA is compatible with a wide range of devices and platforms, making it a versatile choice for audio playback.

Can a WMA player play other audio formats?

Some WMA players may have the capability to play other audio formats, but their primary focus is on playing WMA files. It's important to check the specifications of the player to see if it supports other formats such as MP3, AAC, or FLAC.
Conclusion
Above all, there are several free WMA players available for download. Blu-ray Software's Blu-ray player and Foobar2000 are compatible with both Windows and Mac systems, while VLC Media Player and Free HD Video Converter Factory are designed for Android and iOS systems. If your Windows computer is unable to play WMA files or if your QuickTime player cannot open WMA files, these players can be excellent options for you. If you find this information helpful, feel free to share it with your friends. Additionally, if you have any other WMA players to recommend, I would appreciate your comments.