Blu-ray Player
Smooth Playback for 4K Blu-rays/Folder/ISO File/Videos.
Free Download
Free Download
An Objective Review Leads You to Know More about WinX DVD Player
Nowadays, as streaming platforms are thriving, why do so many people still like to buy DVDs to watch or listen to? Here's a factor that may better explain the phenomenon: Although media are constantly changing and bring convenience to everyone's life, people's needs for a wonderful experience never change. They're longing for excellent recognition of videos and high-quality audio, and most importantly, they want to possess their favorites permanently without disturbance from time limits or web traffic. Therefore, today, this article plans to pick one kind of DVD Player from plenty of software to test whether it is reliable for users to download or have a try. Then, this article would tell you the objective using experience with that tool, which is called WinX DVD Player. In this essay, let me lead you to explore this powerful software for playing DVDs, and besides, this post will answer some questions about WinX DVD Player that you may want to know.

Part 1. WinX DVD Player and Its Functions
With some easy clicks on computers, people can freely download DVD Playing software to watch their favorite DVDs or something like that at home, which originally should be played in the cinema or on expensive and exclusive equipment for listening to music. I guess someone may have heard of WinX DVD Player, a tool that has been boasted by so many people. But is it really powerful, as the legend says? Here's my review.
WinX DVD Player now has been renamed as 5KPlayer, whose main interface lists several resources that users can download from, including DLNA AirPlay, Video, DVD, Music, TV and Radio, etc. WinX DVD Player is a professional multimedia that users can play videos at 4K/5K/8K and audio with high quality. This user-friendly software allows users to easily operate and play without hitting obstacles, even no need for a user guide. The whole interface is divided into three major parts, every part undertaking different operations.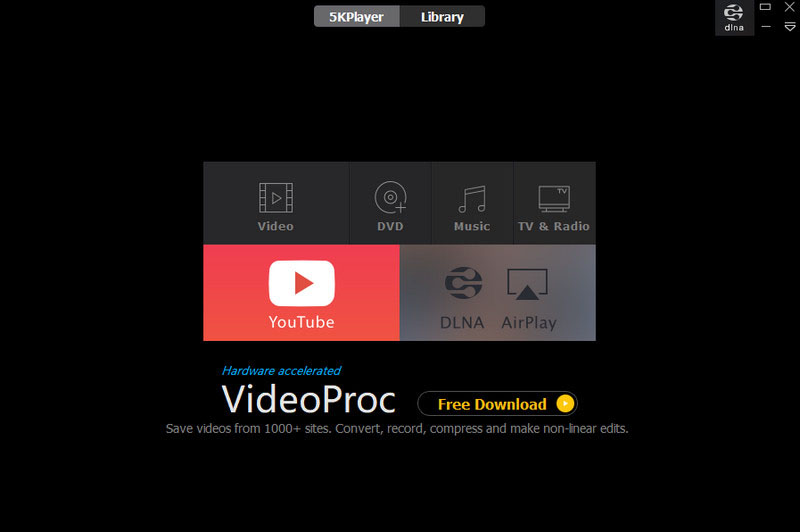 No radio interests you on the menu? Add an external radio
There must be some radio you have collected for many years, but it is a pity that they are not on the list of WinX DVD Player. But do not worry that, now this part will tell you how to add an external radio. First, open this software and click the TV and Radio button, then input an external URL into the checkbox for your service. For example, if you want to listen to VOA, but it isn't on the radio menu, the simplest steps are like this.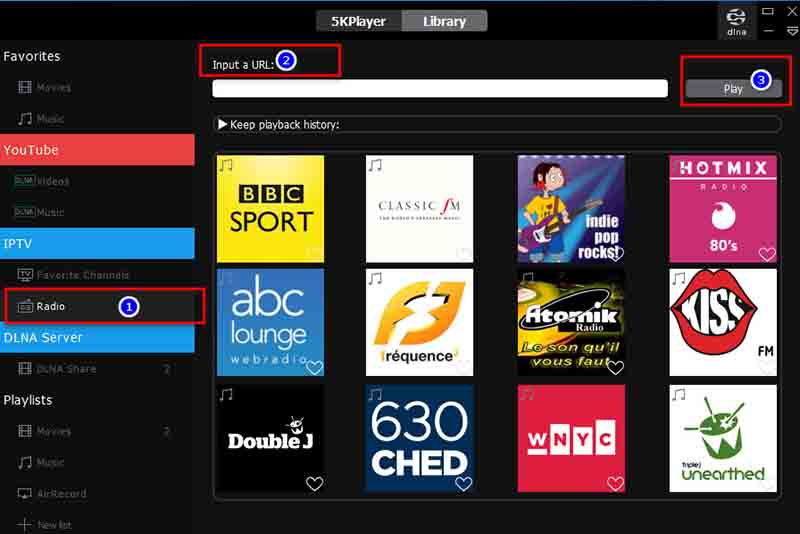 A glimpse at playlists
Also, just as its name is called, WinX DVD Player can play DVDs, VCDs, SVCDs, and so on, making sure you enjoy your favorite movies, videos, or audio at your own pace. There is one thing worth noticing, WinX DVD Player has a playlist to record your recently watched videos and listened audio or radio so that you can easily find it from the menu. Apart from this, you can also create new lists, naming them in terms of your minds to classify those materials. Just click +, or new list under the playlists, you can easily achieve that goal. What's more, WinX DVD Player has another advanced setting for you to create your favorites.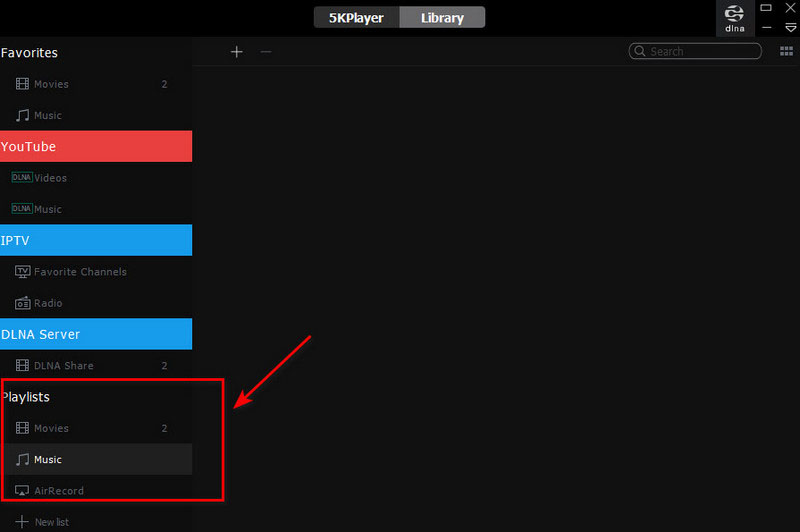 So how to add videos and audio to your favorites? The way is displayed below. And there are three formats you can choose for the converted materials, including MP3, MP4, or AAC.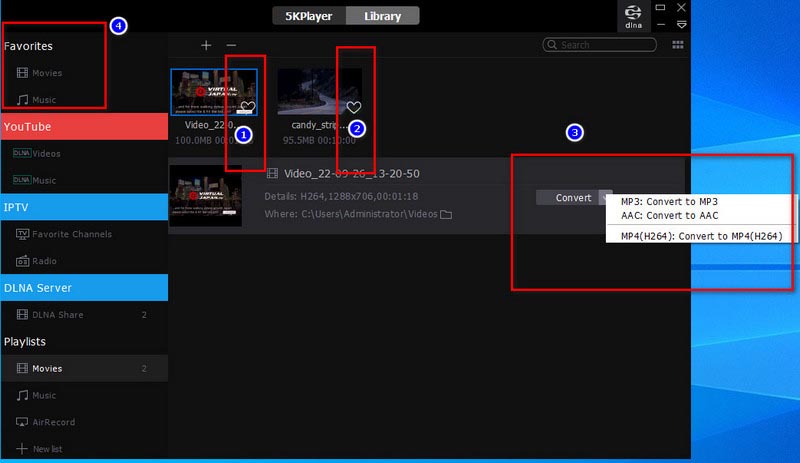 Support you importing a batch of files and a folder
One more exciting function is that you can upload a series of files at the same time, just click DLNA Servers to add folders or a single file. In this way, it would save you time by avoiding adding them to the software one by one.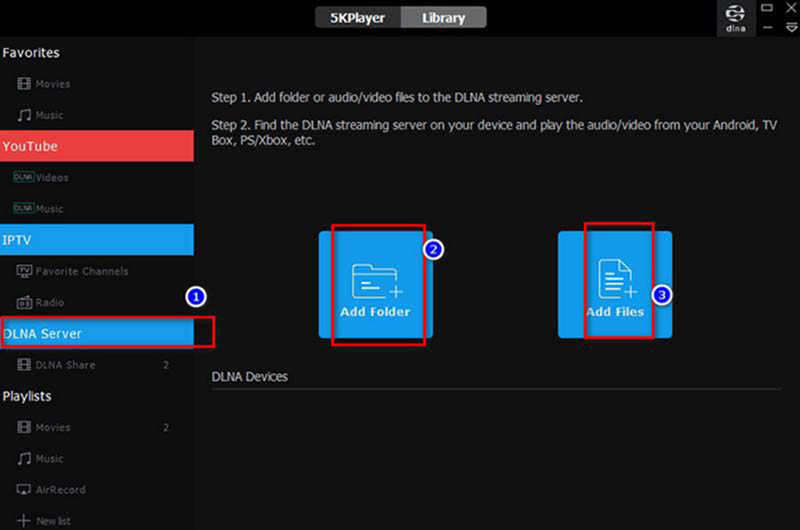 Easy to delete files you do not need anymore
If you want to delete some items since they have occupied too much space, thus you can select DLNA Share under the list of DLNA Server and then click the minus button, then you can pull the useless files out of your menu. There are no complex steps like other software set, which is one of the strengths that WinX DVD Player offers you.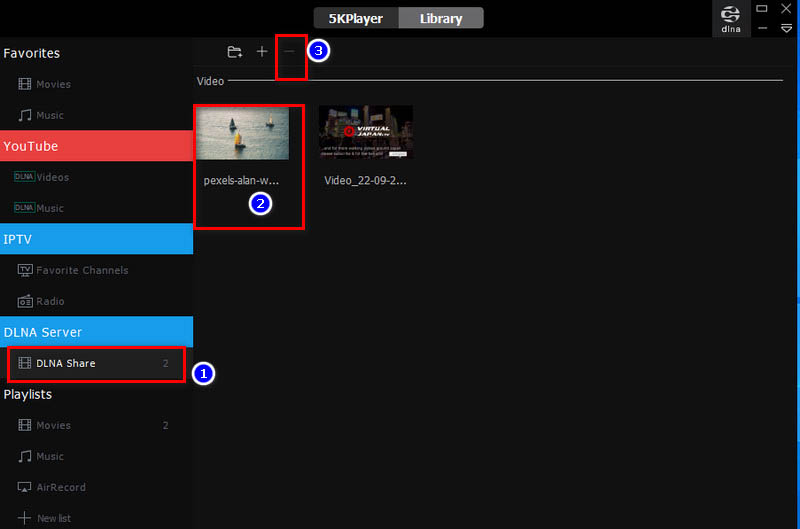 Pros & Cons of WinX DVD Player
Pros

Boast a regional free function.
Provide you with the best audiovisual quality.
Cons

Only 10 languages are available.
Only compatible with Windows, not with Mac and Linux.
Is not equipped with advanced settings.
Therefore, to compensate for these issues, this post will also recommend an alternative to WinX DVD Player.
Part 2. Alternative to WinX DVD Player - Blu-ray Player
Blu-ray Player supports over 600 formats in playing videos and audio, and combines Blu-ray, ISO files, and folder in just one software. It employs a concise interface and easy instructions for users to play movies or audio at fast speed and high quality. What's more, users can edit the content like snapshots, adding titles, etc. Additionally, This Blu-ray player provides playback for 1080P, 4K UHD, and H.265 without decreasing quality. Therefore, you can relish the original content on your computer just as you are in the cinema enjoying the lossless video quality. What is most important is that Blu-ray Player can play Blu-ray, DVD, and more, but WinX DVD Player does not allow you to play Blu-ray.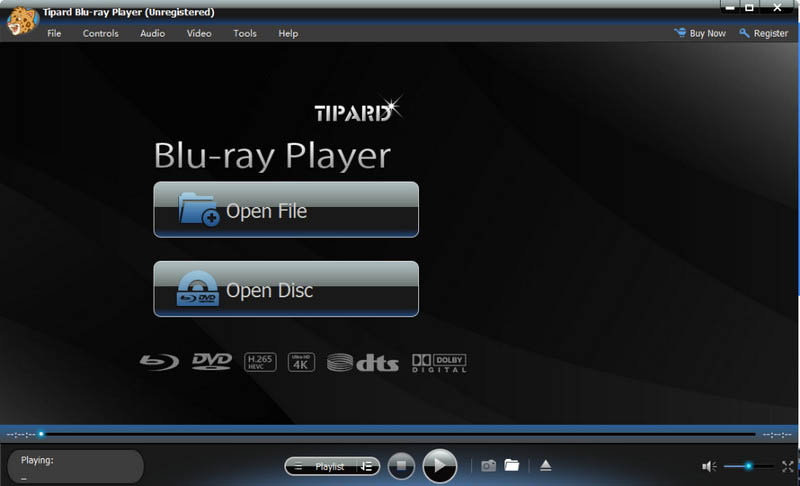 Blu-ray Player
Easily play Blu-ray, DVD disc, ISO and folder
Bring you an immersive audiovisual experience with high quality
Compatible with Windows and Mac
Without regional limitations
Part 3. FAQ about WinX DVD Player
Does the WinX DVD author have a watermark?

No, WinX DVD Player doesn't offer a watermark function. Because its main utility is to play.

Is the WinX DVD player safe?

Yes, although WinX DVD Player is free to download, it is absolutely reliable without computer viruses or other problems.

3. Does WinX DVD Player work?

Yes, as you can see in this post, there are no problems with the WinX DVD Player failing to work.

Which one do most people use, a WinX DVD Player or a Blu-ray player?

You don't have to decide which one you will use according to most people's choices, because the choices of most people may not successfully deliver your goal. Just select the one that suits you.
Conclusion
After testing WinX DVD Player based on my own experiences, I recommend you guys who need to play DVDs or more to try WinX DVD Player. Just as I have said above, it also has some inevitable limitations, including less language selection, incompatible with Mac, etc. In this case, the essay introduced an alternative to WinX DVD Player - Blu-ray Player, which has perfect audiovisual quality, and can export Blu-ray, ISO files, and folder to more than 600 formats. For this reason, Blu-ray Player is exactly a good choice for you if you think WinX DVD Player, or 5KPlayer, cannot give you what you want. Now please act quickly to have a try on this software and leave your comments, I can't wait to exchange ideas and opinions with you.