Does Blu-ray and DVD Player Work for Both Blu-ray, DVD, and CD
As technology continues to evolve, the demand for high-quality content has become increasingly prevalent. Blu-ray players emerge as the preferred choice for movie lovers seeking top-tier video and audio performance. These players have also become an indispensable part of modern home theaters for their superior audiovisual quality. However, the players' use is not confined to playing Blu-rays, and many people wonder: can Blu-ray players play DVDs and CDs too? Theoretically, they can. But, if you cannot play the DVDs or CDs successfully, here are some useful tips to help fix such playback issues on Blu-ray players.

Part 1. Can Blu-ray Players Play DVDs and Why?
The short answer to the question is yes. Most Blu-ray players can indeed play DVDs. But why is this so? Let's look at the technology behind these two disc formats to answer this.
Blu-ray and DVD players use different types of lasers to read data. Blu-ray players employ a shorter wavelength blue-violet laser, allowing it to read smaller data pits, enabling more data storage on a Blu-ray disc than a DVD. On the other hand, DVDs use a red laser, which has a longer wavelength and reads larger data pits.
Moreover, due to the precision of the blue-violet laser, a Blu-ray player can easily switch to a mode that allows it to read larger data pits as a DVD player does. Therefore, if you put a DVD into a Blu-ray player, the device can adjust itself to read the larger pits on your DVD. Besides, the switch is normally seamless and automatic, so you can effortlessly enjoy your DVDs on a Blu-ray player without any extra manual adjustment.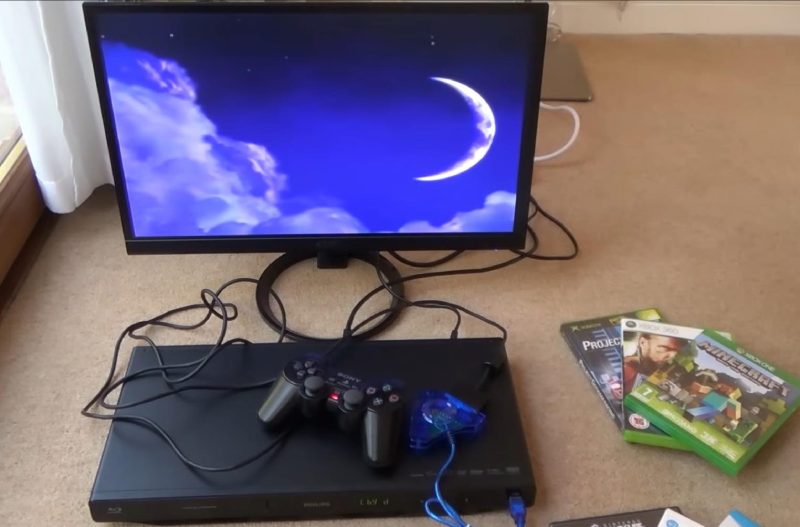 Conversely, can a DVD player play Blu-ray? The answer is no. DVD players cannot read Blu-ray discs. The pits on a Blu-ray disc are too tiny for a DVD player's red laser to read, making it impossible for DVD players to play Blu-ray discs. Moreover, most Blu-ray and DVD players are equipped to play CDs since they are designed to support the Compact Disc (CD) standard. Therefore, users can play their CDs on either of these players without any issues.
However, it's essential to mention that while most Blu-ray players are backward compatible, there might be a few exceptions. Therefore, before purchasing, it's always a good idea to check whether the specific Blu-ray player model supports DVD and CD playback.
Part 2. Fixing: Why Won't My Blu-ray Player Play DVDs?
Despite the general compatibility of Blu-ray players with DVDs, there can be instances where you might face issues trying to play a DVD. There are many reasons behind different playback situations. Below are some common problems and their solutions.
1. Dirty or Scratched DVDs: DVDs can accumulate dirt and scratches over time, affecting the disc's readability. If your Blu-ray player can't play a DVD, the first step should be to check the disc. If it's dirty, clean it with a soft, lint-free cloth. To fix DVD scratches, you can use a DVD repair kit to fix minor surface issues.
2. The Disc Region Doesn't Match: DVDs and Blu-ray discs are often encoded with region codes corresponding to the region where they are sold. If the region code of your DVD doesn't match your Blu-ray player, it might not play. Always check the region code of your discs and player. Having a region-free Blu-ray player player or DVD player is a good solution to solve this issue.
3. Firmware Issues: Sometimes, the Blu-ray player's firmware might need updating. Firmware is the built-in software that controls the player's functions. Outdated firmware might lead to compatibility issues. To fix this, you'd need to update your Blu-ray player's firmware, usually done by visiting the manufacturer's website.
To better illustrate this situation, here is an example of updating Sony's Blu-ray players' firmware. Regardless of your player's release date, always connect it to the power and internet while following the steps here.
For Blu-ray Players Released before 2013
Step 1Connect your player to a TV, and press the Home button on your remote.
Step 2Go to Setup and choose Network Update.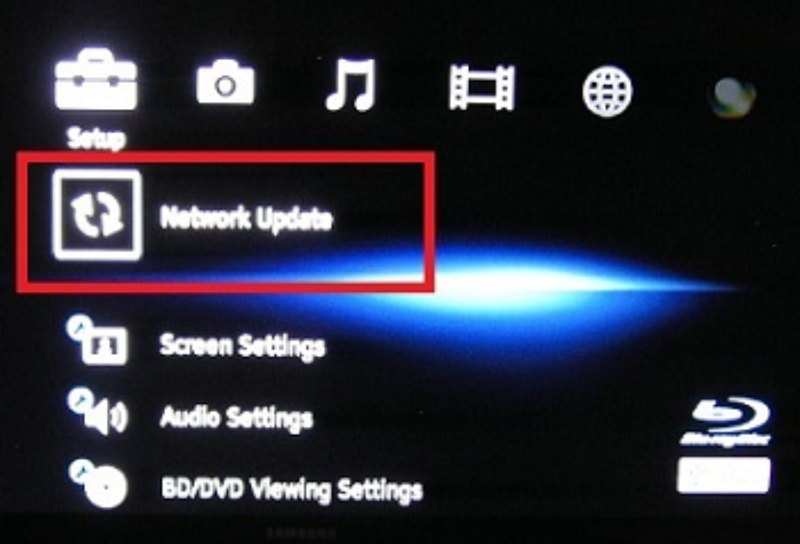 Step 3Select OK to confirm your choice. Once the updates are complete, your Blu-ray player will turn off.
For Blu-ray Players Released after 2013
Step 1Turn on your player and press the Home button on your remote to see the Menu.
Step 2Next, find Software Update in Setup and use your remote to select it.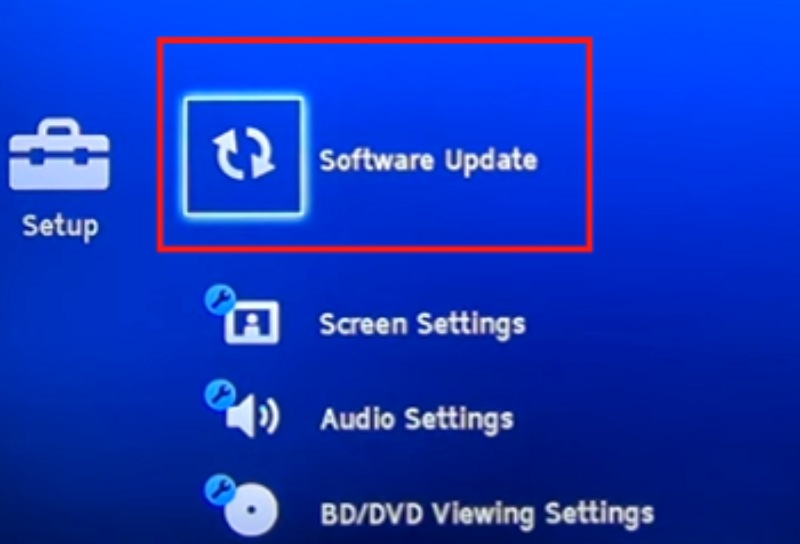 Step 3Select Update via Internet and let it begin.
Part 3. Tip: Watch Blu-ray and DVD on the Computer
Watching Blu-ray and DVDs on your computer can be a convenient alternative option, especially if your computer has a larger screen or you simply prefer the comfort of your desk or bed. Blu-ray Software strongly recommends Blu-ray Player, for it makes this task easy and enjoyable.
Blu-ray Player is a versatile media player that's capable of playing Blu-ray discs, Blu-ray folders, DVD discs, DVD folders CDs, and even ISO files on your computer. It stands out for its high-quality audio and video playback and supports an extensive range of video formats, making it one of the most comprehensive players available. Whether you're watching a movie, TV show or listening to music, Blu-ray Player offers a seamless and quality media experience.
Blu-ray Player
Lossless Blu-ray, DVD, and video/audio playback.
Supports a wide range of media formats like MP4, MOV, AVI, and more.
Offers a user-friendly interface with stable operation.
Creates customizable playlists with various media files.
Simple steps to use Blu-ray Player
Step 1Download the player here for free. Then, install and launch it. Insert your disc (Blu-ray, DVD, or CD) into your compatible drive.
Step 2Once the disc is prepared, click the Open Disc button on the player's main interface. Choose your disc, and it will start playing.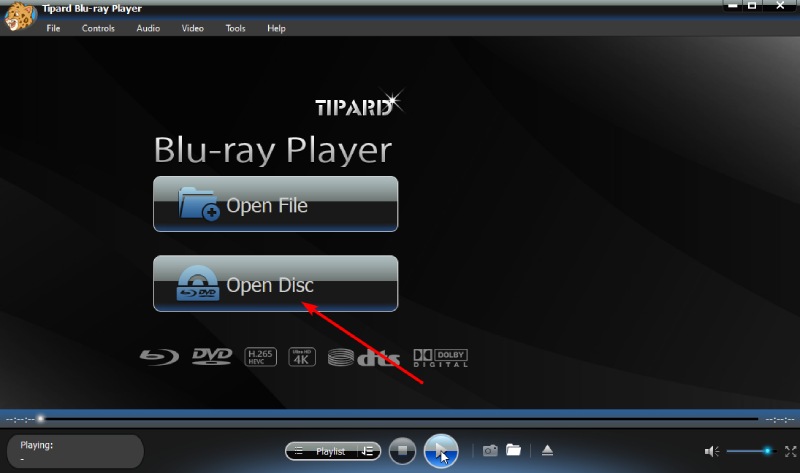 Step 3During the playback, you can adjust picture brightness, contrast, etc. If you want to see all titles, click the Playlist button to view them.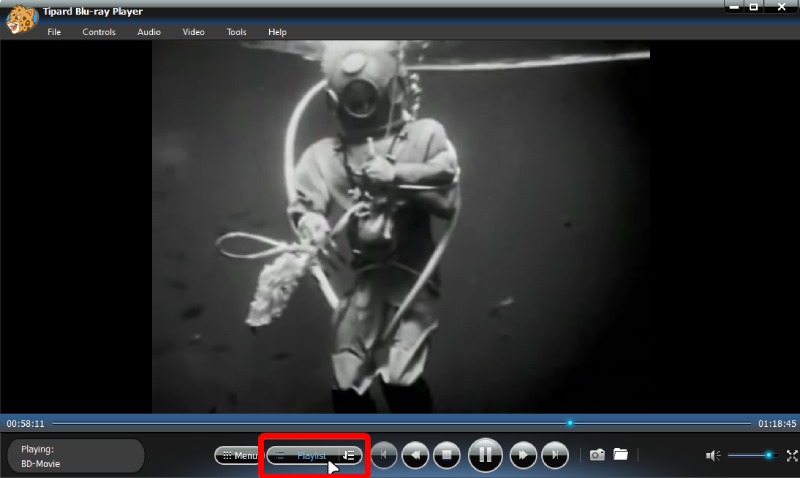 Part 4. FAQs about Blu-ray and DVD Players
Can a DVD player play Blu-ray discs?

No, DVD players are not equipped to play Blu-ray discs. The blue-violet laser in Blu-ray players can read the larger pits of a DVD, but the red laser in DVD players can't read the smaller pits on a Blu-ray disc.

Can Blu-ray players play CDs?

Yes, most Blu-ray players are capable of playing CDs as well. Like DVDs, CDs' data is stored in larger pits that the Blu-ray player's laser can read.

Are there any Blu-ray players that cannot play DVDs or CDs?

While most Blu-ray players are designed to be backward compatible with DVDs and CDs, there may be a few exceptions. It's always best to check the player's specifications before purchasing.

Can a regular Blu-ray player play 4K UHD Blu-ray discs?

No, standard Blu-ray players cannot play 4K UHD Blu-ray discs. To play 4K UHD Blu-ray discs, you'll need a player that specifically supports 4K UHD Blu-ray playback.

Why doesn't my Blu-ray player recognize my DVD?

There could be several reasons, including dirt or scratches on the disc, region code mismatches, or firmware issues. Ensure the disc is clean and in good condition, check the region code, and consider updating your player's firmware.
Conclusion
To wrap up, Blu-ray player devices offer a versatile solution for your home entertainment needs, being capable of playing Blu-ray discs, DVDs, and CDs. The compatibility issues are rare and usually fixable. And if you prefer the comfort of watching on your computer, software like Blu-ray Player provides a user-friendly and quality alternative and works as both Blu-ray and DVD player programs. Do not hesitate to get it for free here and start enjoying the high-definition DVD and Blu-ray movies with ease.