Blu-ray Player
Smooth Playback for 4K Blu-rays/Folder/ISO File/Videos.
Free Download
Free Download
Is There A Smart TV with Built-In Blu-Ray Player Available
Nowadays, smart TVs are gradually making their way into millions of homes. In addition to watching real-time programs, discs have become an important carrier of movie and television works. The development of technology has also made people start to pursue higher definition, so after the appearance of the DVD, Blu-ray Disc was developed and gradually became popular. Many TVs on the market already have a default DVD player, so is there a TV with a built-in Blu-ray player? In this article, we will provide you with the most accurate answer and guide you on how to play content from Blu-ray discs. Some common questions about the disc will also be answered. Read on and explore with us.

Part 1. Can I Find A Smart TV with Built-In Blu-Ray Player
Before the advent of newer TVs, people had to buy an additional DVD player to watch DVDs on their TVs. In addition to spending more money, people also had to carve out extra space for the DVD player. More and more manufacturers are realizing this problem and are gradually introducing smart TVs with built-in DVD players. What used to require the cooperation of two devices can now be done on one machine.
After DVDs, the advent of Blu-ray discs raised the clarity of what people could see on their TVs to an unprecedented level. The price of achieving better video quality is that Blu-ray Discs must carry more data than DVDs and require specialized players. Currently, no smart TVs with a built-in Blu-ray player are available on the market. Perhaps the developers will consider adding this feature in a later version.
However, some excellent smart TVs have achieved very high definition, and the viewing experience they bring to you will not be very different from Blu-ray. If you need to watch Blu-ray discs on your TV, you can consider converting the files to another format first or using a special tool.
Part 2. Alternative Methods for Having A TV with Built-In Blu-Ray Player
Use A Blu-Ray Player
Developing TVs with Blu-ray players can be expensive for developers, and such TVs may also have a higher selling price. So, the most convenient and straightforward way is to buy an external Blu-ray player and connect it to a regular smart TV. This method is simple to use and the safest.
Watch Blu-Ray Files on the Computer
In addition to purchasing an additional player, if you have a computer with a high configuration, you can also use it as an alternative for the TV with a Blu-ray player. You just need to prepare an external Blu-ray drive to your computer for this operation.
You can also try to buy a regular smart TV known for its picture quality. Choose the most suitable method and tool according to your situation.
Part 3. Bonus: Best Choice for Playing Blu-Ray File on Computer
Maybe you don't always have a TV around to watch discs. A computer is an equally good option, and a well-equipped computer often provides an audio-visual experience that is no less than that of a TV and even more convenient for controlling playback progress. If that's what you're looking for, we recommend you try the best player, Blu-ray Software Blu-ray Player. Besides supporting the playback of files from DVD and Blu-ray, it also supports more than 600 multimedia formats. It's the best choice with features such as personalized playlists, quick snapshot, hardware-accelerated decoding, etc.
Blu-ray Player
Play DVD/Blu-ray/ISO files without limitations.
Customize the playlist based on your favorites.
Offers three accelerating decoding options.
Capture the best moment easily via the hotkeys.
Adjust video settings when playing movies and music.
Here are the detailed steps for using Blu-ray Player.
Step 1Download and install Blu-ray Player on your computer. Insert your Blu-ray disc into the drive and connect the drive to the computer.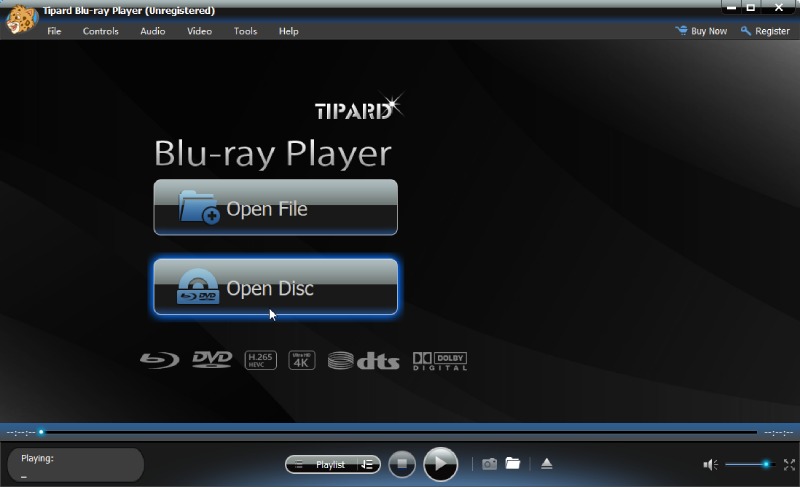 Step 2Open Blu-ray Player and the program will automatically load and play Blu-ray files once detected. You can also click Open Disc to select the disc you want to play.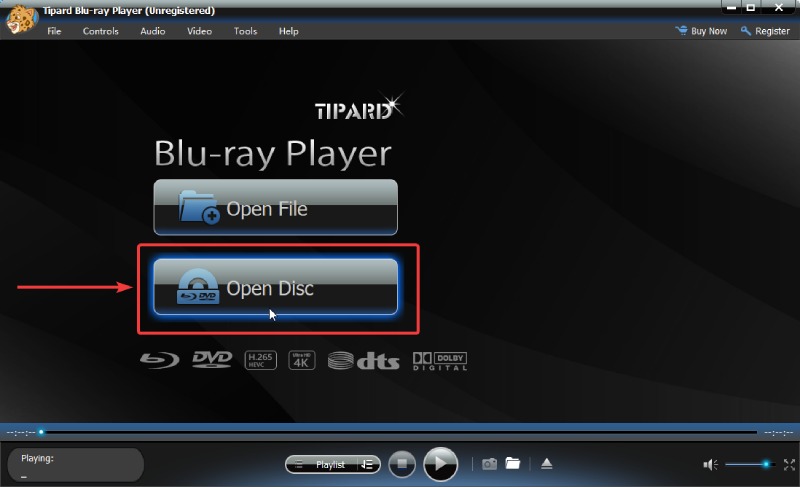 Step 3Now, your Blu-ray video will start playing. You can control the playback on the Control Panel.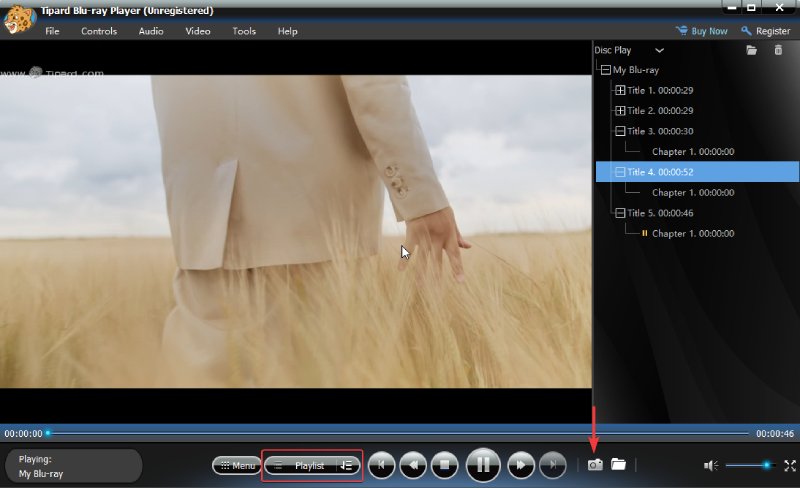 Part 4. FAQs About TVs with Built-In Blu-Ray Player
Is it worth buying a Blu-ray player?

Even though there are many video formats and viewing options available to you, you may want to consider purchasing a Blu-ray player to have the best visual experience possible. It is almost a necessity for you to play Blu-ray discs. Of course, you can also consider burning the disc's contents and then playing it on a regular player, but the picture quality may be lost.

What happens if you insert a Blu-ray in a DVD player?

Blu-ray discs and DVDs carry different amounts of data, so if you put a Blu-ray disc in a DVD player, it's likely that it won't be recognized or play properly. However, you can use a Blu-ray player to play DVDs because the player is equipped with blue and red lasers to automatically activate the red laser to load DVDs. It is better to use a specialized Blu-ray player to play Blu-ray discs.

Is it legal to rip Blu-ray?

Generally speaking, if you rip a Blu-ray disc just to keep the video and watch it yourself, you won't be breaking any law. But it is illegal if you try to distribute the video you ripped from the disc or sell it for profit.

How do I watch Blu-ray on my PC?

First, you need a Blu-ray drive. Insert your Blu-ray disc into it to get your computer to read it. Currently, neither Windows nor Mac supports direct playback of Blu-ray discs. So, you can consider using a third-party player, such as a VLC player. Or you can convert Blu-ray files to MP4 or other popular formats and play them on your computer.

How to keep your Blu-ray discs?

While the Blu-ray disc is stable and ensures that the video stored inside is not lost, it is susceptible to physical damage. To avoid scratches on your disc that could affect the quality of your video, keep it in a cool, dry place, preferably in a professional protective sleeve or case. Also, try to avoid touching its surface directly when accessing it.
Conclusion
In this article, we answer whether there are smart TVs with built-in Blu-ray player that you can choose from and how to smoothly play Blu-ray discs on your TV. Apart from that, if you need to watch Blu-ray files on your computer, we recommend you try the best player, Blu-ray Software Blu-ray Player. After reading this detailed tutorial, we believe you can enjoy the best viewing experience with your friends and family. Please comment and communicate with us if you have better suggestions or ideas.