Blu-ray Player
Smooth Playback for 4K Blu-rays/Folder/ISO File/Videos.
Free Download
Free Download
Problem Solved - Can't Connect Movies Anywhere to iTunes
What is Movies Anywhere? In short, it is a web-based platform operated by the Walt Disney Company that syncs all your purchased movie licenses across platforms. It connects all content from studios or retailers, including Disney, Sony, Universal, etc. Primarily launched as an iTunes-integrated app, Movies Anywhere's initial users are among the iOS users. If you can't connect iTunes to Disney Movies Anywhere, it will be troublesome for you to synchronize all movies you purchased from elsewhere. Let's end this displeasure with solutions in the following content.

Part 1. Solved, Cannot Connect Movies Anywhere to iTunes
iTunes used to be everything on iOS devices, from watching movies, listening to music, syncing files, etc. Although the music and movie features have been separated from it as the new Apple TV and Apple Music apps emerge, it remains a solid digital retailer for iPhone users. You can find many movies on iTunes, from Sony's Spider-Man No Way Home to Disney's Wreck-It Ralph series. If you've disconnected your iTunes account to Movies Anywhere and failed to connect it back, find the matching situations below to fix your problem.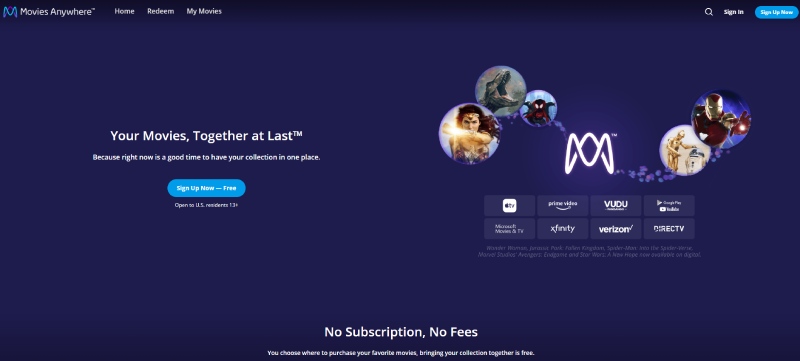 Movies Anywhere 180-Day Rule
Your Movies Anywhere account can only be connected to one account for each Digital Retailer. Once you've disconnected your current account from Movies Anywhere, you must wait 180 days to connect the Movies Anywhere account to a different Digital Retailer's account. Hence, if you previously connected an iTunes account A on this platform, you would surely fail to connect to another account B in a short period.
Connect Again with Apple TV or iTunes App Installed.
As a procedure described on the Movies Anywhere site, connecting to your iTunes account requires installing the Apple TV app or iTunes. If you are using an Android or a Windows-operated computer, check if one of the above two apps is installed. Meanwhile, it is also noted on Movies Anywhere that some users still report failing to connect successfully even when they install iTunes on their PC. Movies Anywhere suggests that switching to an iOS device might improve the success rate.
Tips: How to Link Disney Movies Anywhere to iTunes
Step 1Go to the official website of Movies Anywhere and log in with your account. Then, click Settings in your profile.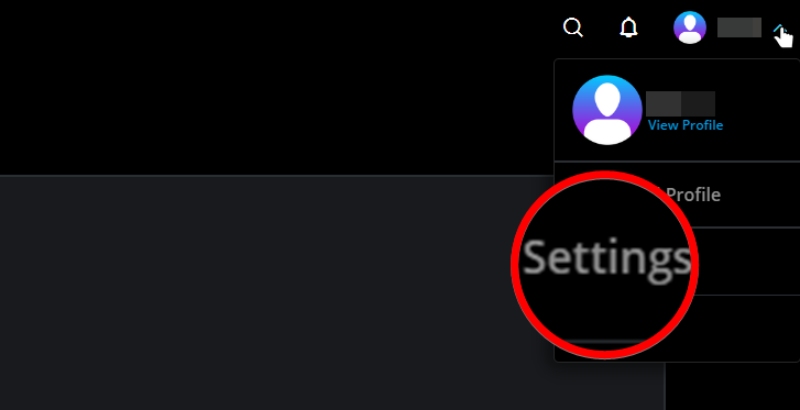 Step 2Choose Manage Retailers on the left side. You can see Apple TV in the first option. Click the Connect button next to it to connect iTunes to Disney Movies Anywhere.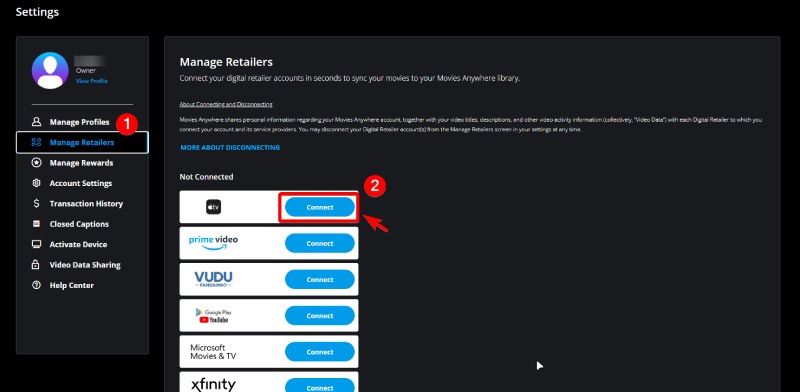 Alternatively, when you first register on Movies Anywhere, you will see the connection page asking if you want to connect to one of the following Digital Retailers. Click the Connect button next to the first option - Apple TV to connect iTunes to Movies Anywhere.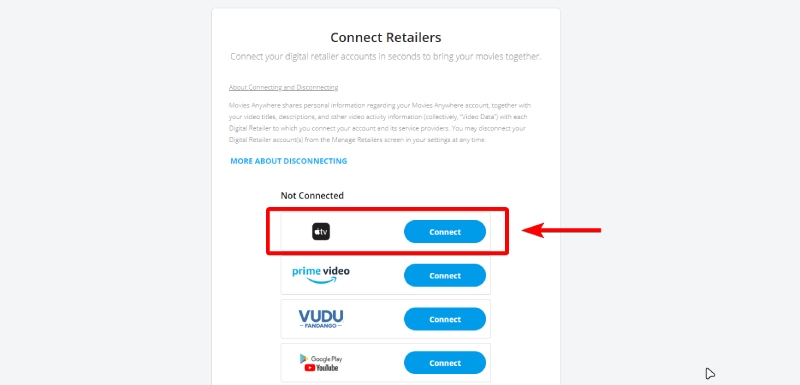 Sync iTunes Movies to Disney Movies Anywhere
Some might think they cannot connect Disney Movies Anywhere to iTunes or do not think they've succeeded because the iTunes movies do not show up. However, the synchronization sometimes can take up to 24 hours to appear in your My Movies collection. Follow the steps below to check whether you successfully link the iTunes account to Movies Anywhere.
Step 1Open iTunes on your device.
Step 2Go to the Store.
Step 3Check the Apple ID Summary. If the connection is built successfully, you will see Movies Anywhere.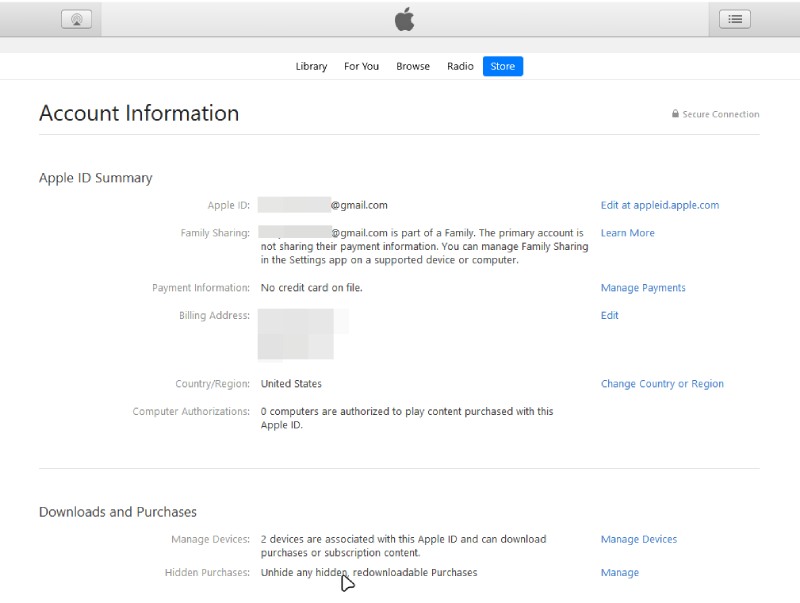 Contact Movies Anywhere
Reaching out for help from the officials is always the ultimate solution. Here in Movies Anywhere, the situation is the same. If none of the above solutions work, call or email Movies Anywhere for support. Alternatively, you can also seek help from Apple Support since you cannot connect the iTunes account to Disney Movies Anywhere.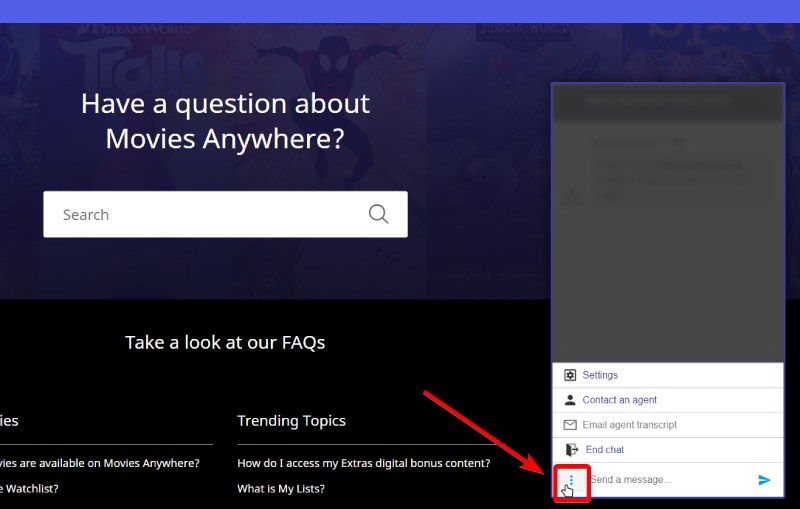 Part 2. How to Download Disney Movies Anywhere to iTunes
Redeeming the digital version of your disc on Movies Anywhere is an excellent way to convert DVD or Blu-ray movies to iTunes. The Blu-ray disc you bought has a digit code for you to redeem the digital movie. You can look it up on the back of the Blu-ray case. Then, you can go to Movies Anywhere and click Redeem. Next, enter the digital code and click the Redeem button. The movie will soon be in your Library. Furthermore, if you've successfully linked your iTunes account to Movies Anywhere, the movie will be synced to your iTunes Store.

Part 3. Top 1 Choice for Watching Movies Offline on PC/Mac
With no Wi-Fi or internet connection, you can only watch movies offline. Even when offline, we do not want to turn the enjoyment off. When the connection is off, Blu-ray Player is always here to ensure your watching experience is not compromised. Available for Windows 11 and macOS Sonoma, Blu-ray Player let you enjoy movie and music across platforms. Plus, with its Dolby Vision and DTS 5.1 sound support, you will always get authentic audiovisual quality on the computer.
Blu-ray Player
Play 4K videos and movies smoothly.
Compatible with all popular media formats, Blu-ray, DVD, and folder.
Easy navigation through the built-in playlist support.
Move back and forth on the timeline without a quality drop.
Part 4. FAQs about Can't Connect Disney Movies Anywhere to iTunes
How many Digital Retailers does Movies Anywhere support?

You can see the retailers in the Manager Retailers in your Profile settings. There are 8 Digital Retailers: Apple TV, Prime Video, VUDU, Google Player & YouTube, Microsoft Movies & TV, Xfinity, Verizon, and DirectTV.

Does Disney Movies Anywhere still work?

Yes, it still works. You can register and get access to millions of movies online and redeem the digital version of your Blu-ray disc.

What is the alternative to Movies Anywhere?

Google TV and VUDU are similar sites to Movies Anywhere, where you can access various movies and redeem your discs.

Is Movies Anywhere the same as Vudu?

No, they are not. Movies Anywhere lets you connect to different Digital Retailers, with more extras than VUDU.

Can you access Movies Anywhere outside the State?

If you already have logged in on Movies Anywhere, you can still access and download movies from your collections even outside of the USA. But to create a Movies Anywhere account, you must be a resident of the United States and physically located in the country.
Conclusion
In conclusion, there are several things you can try if you cannot connect iTunes to Disney Movies Anywhere. Besides, you can also learn tips here on how to link the accounts of these two platforms. To help more people who are in the same trouble as you, share this article to let more people know how to fix the connection problem. Moreover, if you tend to travel a lot and prefer to enjoy movies on a PC or Mac without the Internet, a Blu-ray player can be your best companion along the way.