Blu-ray Player
Smooth Playback for 4K Blu-rays/Folder/ISO File/Videos.
Free Download
Free Download
Discover Seamless Ways on How to Play Blu-ray without Remote
Have you ever found yourself preparing for a relaxing movie night only to discover that your Blu-ray remote control has gone missing? You might have turned your living room upside down looking for it, perhaps suspecting it's lost in the couch cushions or hidden in some overlooked nook. In the chaos of a busy household, remote control can disappear like a magician's coin trick.
Don't let a lost remote spoil your movie night. In this guide, we offer you practical methods to control the Blu-ray without a remote, whether you're using a TV or computer. So, grab some popcorn and follow this guide to get your movie night back on track.

Part 1. How to Play Blu-ray without a Remote on TV
2 ways can solve the remote issue when the remote is lost or not working. You can either use the physical button or install a universal remote app on your mobile to control your player. Following are the detailed steps.
Method 1: Using Buttons on the Blu-ray Player
Most Blu-ray players, whether they are 3D Blu-ray players or 4K Blu-ray players, come with physical buttons that can control basic functions. Look for a play button on your Blu-ray player's panel. For example, if you have a Sony Blu-ray Player, you can find the Play/Pause physical button on some earlier models. Press it to control the Blu-ray movie playback.

If your player is not from Sony and can't find a play button, look for buttons labeled 'Enter' or 'OK,' which often serve the same purpose.
Method 2: Using Remote Apps on Mobile
The digital age has turned our smartphones into universal remotes. The Universal Blu-Ray Remote Contro app, available for iOS and Android, is a great tool. It has a user-friendly interface, offering the same functionality as a physical remote. Simply download the app, select your Blu-ray player model, and you're ready to go to play your Blu-ray disc.
However, note that not all Blu-ray player models are supported, and some features might be limited in the free version of the app.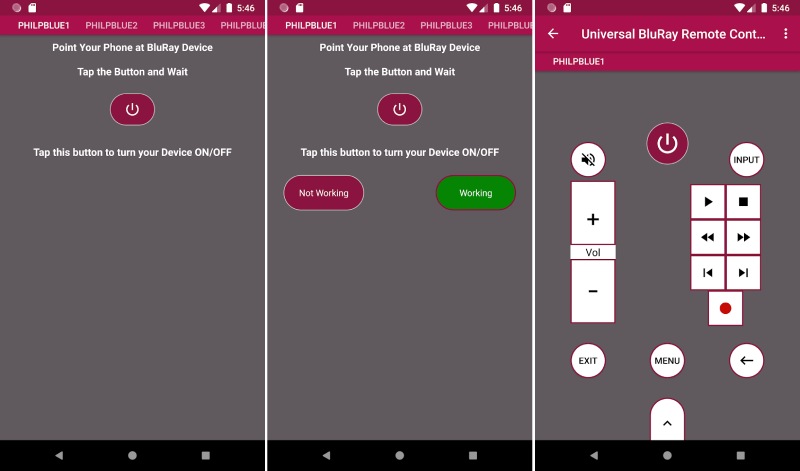 Main Features:
Control the Blu-ray without a remote seamlessly.
Offers fast-forward and rewind functionalities.
Advanced features include menu navigation and selection.
Pros

An intuitive and user-friendly interface.
Versatile support for a wide range of Blu-ray player brands.
Save money on buying replacement remotes and batteries.
Cons

Does not support older Blu-ray player models.
Your phone must have an IR blaster to let the app work.
How to use the Universal BluRay Remote Control App
Step 1Download the Universal Blu-Ray Remote Contro app from the App Store or Google Play.
Step 2Open the app and ensure your Blu-ray player and smartphone are under the same Wi-Fi network.
Step 3The app will automatically detect your Blu-ray player. Select your player from the list of detected devices.
Step 4Your smartphone is now your remote control. Navigate using the on-screen buttons to control your Blu-ray player.
With the Universal Blu-Ray Remote Contro app, you can replace your missing remote and discover a new level of control and convenience. It brings the power of a remote to your smartphone, ensuring you can always sit back and enjoy your favorite Blu-ray movies.
Part 2. An Easy Way to Control Blu-ray Without a Remote on Computer
On a computer, the task becomes even simpler. Blu-ray Software recommends Blu-ray Player, a versatile software that supports Blu-ray, DVD, and many other video formats, including MP4, WMV, MKV, AVI, MOV, 3GP, FLV, etc. With this versatile Blu-ray Player, you don't need a remote to navigate; all controls are conveniently placed on the screen or accessible via keyboard shortcuts. The shortcuts are also customizable, allowing you to establish a personalized control system.
Blu-ray Player
Support all kinds of Blu-ray discs and DVDs.
Create personalized playlists with video, audio, and folders.
Provide seamless control when fast-forwarding, rewinding, etc.
Take a quick screenshot via the convenient hotkeys.
Part 3. FAQs about How to Press Play on a Blu-ray without Remote
Can I control my Blu-ray player with my TV remote?

Some TV remotes are universal and can control a variety of devices, including Blu-ray players. Check your TV remote manual for more information.

What if my Blu-ray player doesn't have a play button?

Some Blu-ray players use an 'Enter' or 'OK' button as a substitute for play. If that fails, consider using a remote app on your smartphone.

Are there any other alternatives if I can't use a remote app?

Yes, you can purchase a physical universal remote that is compatible with your player.

Do all mobile phones work as the universal remote?

No, some remote apps might require the IR blaster. But there are still many other remote apps that can turn your iOS or Android phone into a remote via Wi-Fi. Carefully select one when downloading.

What other Blu-ray player software can I use on my computer?

VLC, PotPlayer, and 5KPlayer are some other good options.
Conclusion
Losing a Blu-ray remote doesn't have to mean losing control of your movie night. With a little bit of creativity and adaptation, you can easily navigate your way around your Blu-ray player and get your movie running. From using the buttons on your player to downloading a universal remote app for the Blu-ray player or utilizing computer software like Blu-ray Player, there's always a way to hit play and sit back for an evening of cinematic pleasure. If you seek convenient playback, download the versatile player software here to start your cozy movie night.