Blu-ray Ripper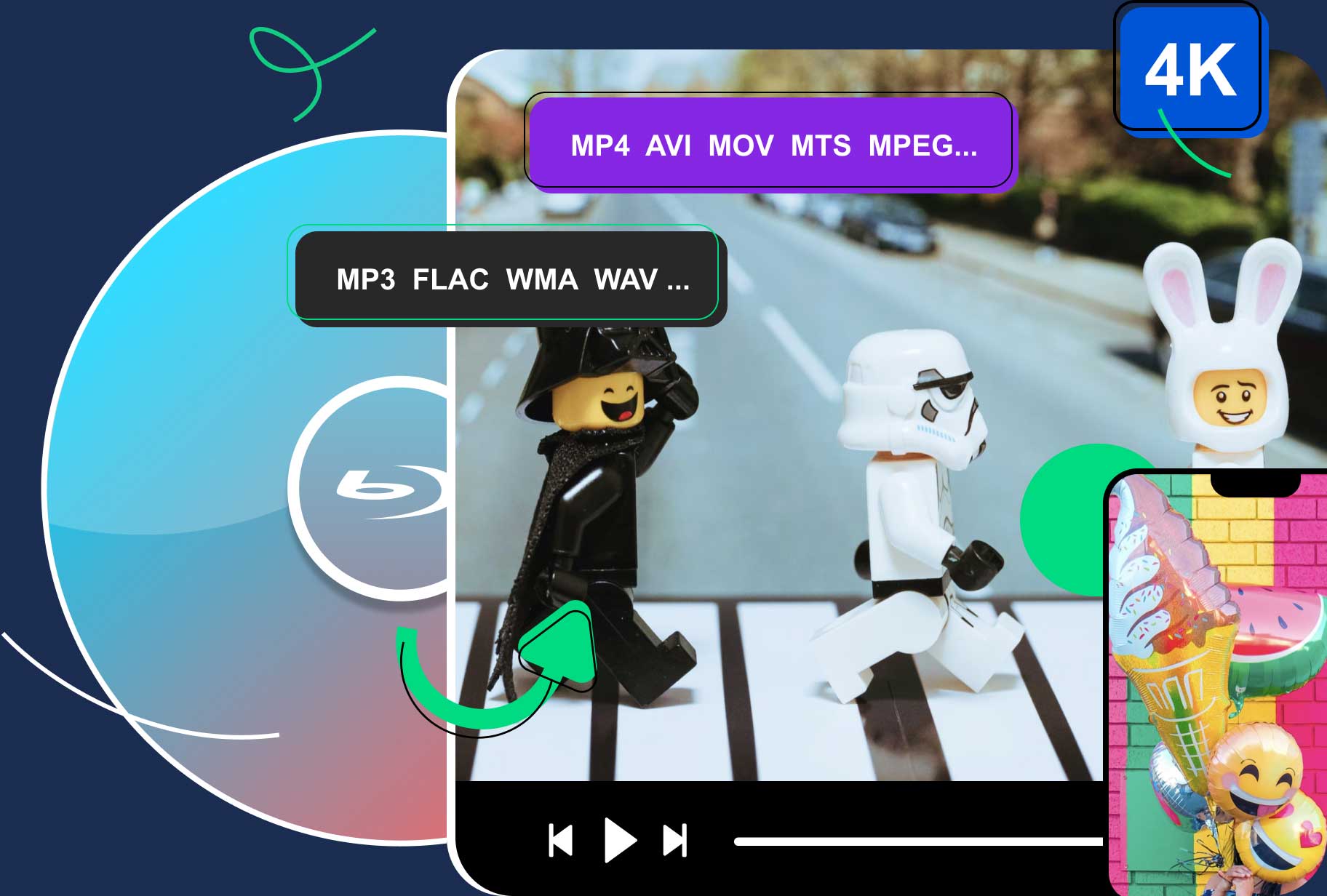 High-Quality Solution for Ripping Blu-ray/DVD/Folder to Any Formats Quickly
Free Download
Free Download
Is Xbox Region Free? Related News of Xbox Helps You Know More It
Xbox, as a renowned brand built by Microsoft, has been pursued by millions of followers globally, which brings convenience to entertainment. However, the rules and policies of Xbox are varied due to intellectual property so that Xbox, also as a powerful playing product, cannot play DVDs and Blu-ray from any other region. Therefore, people who frequently move around the world cannot enjoy anytime and anywhere. But there are always more solutions than difficulties. This article will popularize knowledge of Xbox and how to change Xbox's regions. Blu-ray Ripper that can rip and Blu-ray Player that can play DVDs, Blu-rays, and more from any regions will also be introduced. Is Xbox region free? Find the answer in this post.

Part 1. Is Xbox Regionally Free
Is Xbox Series region locked? This question has been constantly asked. The answer should be classified under different situations. If you want to play Xbox games, just change the locations or something like that. But if you want to play Blu-rays or DVDs on Xbox, as for most of them, you have to resort to other tools. To know more factors behind it, we need to trace back to rules related to Xbox.
Xbox console is made for particular Blu-ray and DVD regions. The Xbox console and Blu-ray discs and DVDs have to be from the same place. Although countries around the world do not clearly enact regulations and laws to ban Xbox playing Blu-ray and DVDs, manufacturers of movie broadcasting equipment and movie producers can implement region-restricting techniques to ensure that movies can only be shown in specific regions. No matter what the United States or China is, both have implemented copyright protection and regional restriction policies to protect the interests of movie producers and distributors.
Part 2. Use Blu-ray Ripper to Play Blu-ray Anywhere
If you migrate from the US to France, you do not have to migrate your account. Because you can change the location of Xbox console anytime. The steps generally are to find the login of the homepage of the Xbox. Log into your Xbox account. Find support in the top menu of your profile, and then click Manage Profile. With these steps followed, you can successfully change your location.
But it's not the same process when it comes to Xbox playing Blu-ray and DVDs, given the fact that Xbox has geological restrictions and cannot play Blu-ray and DVDs from other regions. So this article will introduce two applications to let you play Blu-ray and DVDs from any countries and regions. They are Blu-ray Ripper and Blu-ray Player.
Blu-ray Ripper is a ripping tool that can help users rip the content on Blu-ray discs and DVDs to other popular video formats, such as MOV, M4V, MP4, AVI, WMV, MKV, FLV, SWF, WebM, etc., and even to HD video formats. In addition to its powerful Blu-ray ripping functions, Blu-ray Ripper also provides many editing features that can be used to trim the length of the video, crop video frames, add text or image watermarks, etc. It also supports outputting to a wide range of portable devices compatible with iPod, iPhone, PSP, etc., as well as extracting audio streams and saving them to AAC, AC3, AMR, OGG, MP3, WAV, and so on. Now, the following content will teach you how to rip Blu-ray and DVDs on Blu-ray Ripper.
Step 1Please click the Free Download button to install Blu-ray Ripper and activate this program.
Step 2First, insert Blu-ray or DVDs into your computer. Second, click Load Blu-ray Disc to select your aim in it, then click Ripper.
Step 3Please select your ideal format in the list, such as AAC, AC3, AMR, OGG, MP3, WAV, and so on.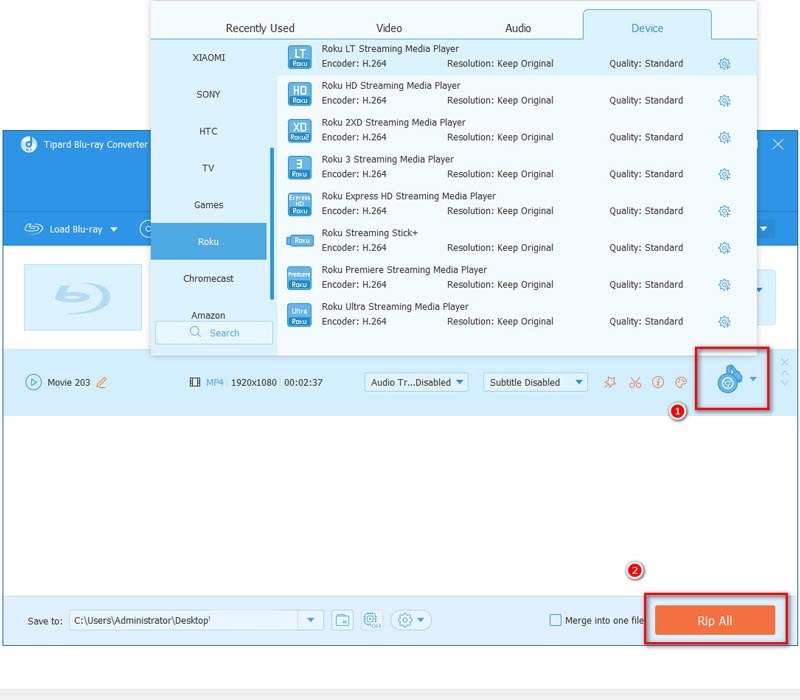 Step 4Click Rip All. Then click OK. Then you can play the content on your Blu-ray regionally free.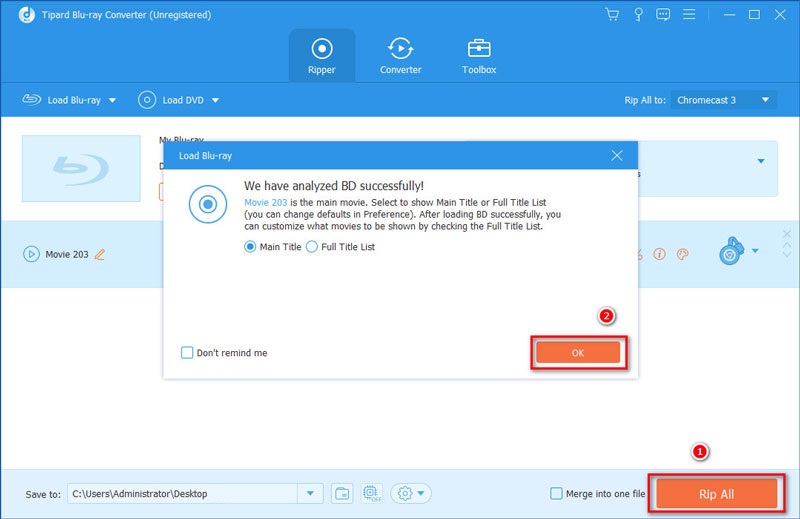 Part 3. Play Blu-ray Without Region Restricted Directly
Of course, a more convenient way to play Blu-ray or DVDs is to use Blu-ray Player directly instead of using Blu-ray Ripper in advance. Blu-ray Player is a regionally free program to play Blu-ray, DVDs, folders, and ISO files. It enjoys simple instructions to play its videos and audio without losing quality. Additionally, Blu-ray Player offers people a theater-like experience even at home, allowing them to kill their time without monotony. Apart from that, you can also edit videos and audio by adjusting hue, saturation, contrast, and brightness, adding subtitles and audio tracks. Here are steps to play Blu-ray or DVDs.
Step 1Click the Free Download button below to download Blu-ray Player. Insert your DVD or Blu-ray drive into your computer.
Step 2After that, click Open File or Open Disc of the interface in Blu-ray Player to select your target.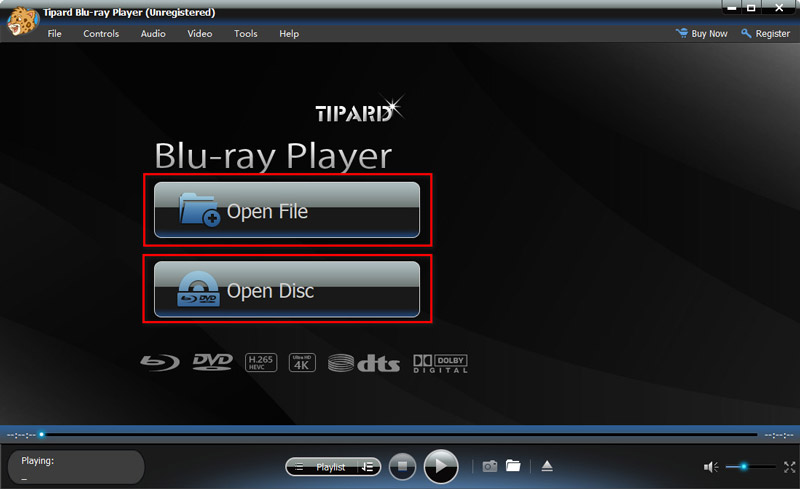 Step 3Select the location of your disc, and then click OK to open it. In this way, DVDs or Blu-ray from other regions can be successfully played.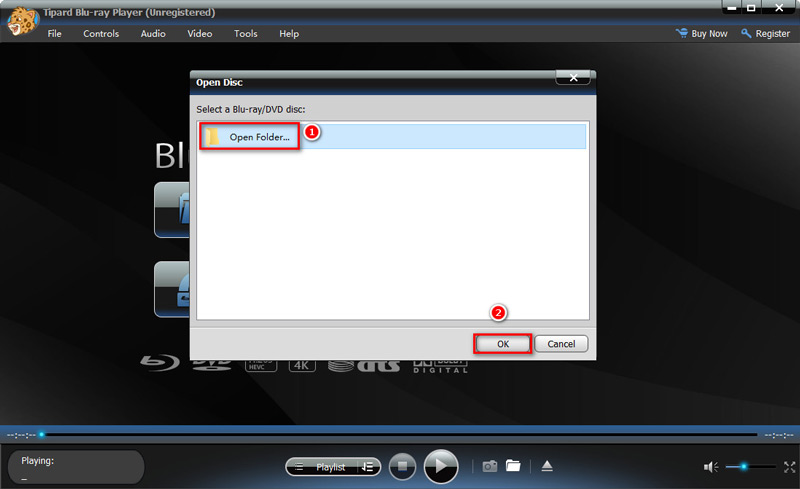 Part 4. FAQs about Xbox Region Lock
Is Xbox regionally free?

No, Xbox consoles or Xbox games are made for particular regions. It has geological restrictions, so you cannot use it freely.

How do I change Xbox's location? Is that allowing me to play DVD or Blu-ray?

First, you can change the location of your Xbox. But it cannot solve the root problem. If you want to play DVDs or Blu-ray on Xbox, you can use Blu-ray Ripper to rip any videos of DVD or Blu-ray on your computer first. Or you can use Blu-ray Player to play them without employing Xbox.

Can I change the Xbox region?

The steps are as follows: Find the login in the top right corner of the homepage of the Xbox official website. Log into your Xbox account. Find support in the top menu of your profile. On the left side of My Support, find Gamertag and Profile, select it, and then click Manage Profile. At last, you will see the area to change your location.

Can you play Xbox One games from other countries?

Yes, you can. Some games have regional restrictions, but games, including Xbox One, are regionally free, and you can play from other countries.
Conclusion
Xbox, as a multimedia device, supports 4K Blu-ray, HDR 10, and more. That allows you to watch videos from movies to TV shows, live streaming, etc. But the complication is that you have to use the matching Xbox console while playing Blu-ray and DVDs in a specific region. In short, Xbox is regionally locking. To solve this situation, this article has presented two tools to play Blu-ray and DVDs from other countries. Blu-ray Ripper can rip Blu-ray and DVDs into videos, while Blu-ray Player can directly play Blu-ray and DVDs once you install it on your computer. Therefore, you can choose one way you like to meet your needs.