Best Blu-ray Players for Laptop and External Blu-ray Drives
To successfully enjoy your Blu-ray discs on the laptop, you will need two essential things, and both can refer to as Blu-ray players. What you need is the Blu-ray player software for the laptop. Meanwhile, you also need a laptop Blu-ray drive to read the discs, especially when there is an internal one on your laptop. With these two tools, Blu-ray playback will be a piece of cake on your laptop. However, whether it is software or hardware, there are always so many options that can almost drown you. Hence, this article is here to help you by pointing out the right direction and elaborating on the three best Blu-ray player software along with 4 excellent drives that can work for your laptop.

Offline Use
Smooth Playback
Price
Region-Free
Supported OS
Customizable Aspect Ratio
Playback History
Memorize Playback Position
Blu-ray Player
√
√
$32.00
√
Windows 11/10/8/7;
OS X 10.9 to macOS 13 (Ventura)
16:9; 4:3; 1:1; 16:10; 2.21:1; 2.35:1; 2.39:1; 5:4
√
√
VLC Media Player
√
√
Free
√
Windows XP SP3 to 11;
Mac: OS X 10.7.5 or later;
Android; iOS
16:9; 4:3; 1:1; 16:10; 2.21:1; 2.35:1; 2.39:1; 5:4
×
×
Leawo Blu-ray Player
×
Frozen When Speed Up
$99.95
√
Windows 10/8/7;
Mac: OS X 10.10 to macOS 13 (Ventura)
×
×
√
Part 1: Top 3 Blu-ray Players for Laptops [Windows & Mac]
Among the ocean of Blu-ray player software market, here comes the three top Blu-ray players for laptops. They all work fine with Blu-ray discs as well as DVDs. More importantly, none of them would consume extensive resources on your laptop.
1. Blu-ray Player [Best Pick]
Blu-ray Software's first recommendation is Blu-ray Player. A clean and user-friendly interface delivers many conveniences to most users. Since all the buttons are on the surface, there are no complex operations. You can play your Blu-ray disc or drag an ISO file to this simple player whenever you want. If you accidentally quit the player, do not worry. This player will remember your previous playback position and start from it instead of from the beginning.
The easy snapshot feature in this simple player enables you to share the best moment from your video quickly. You can choose JPEG, PNG, or BMP as the snapshot format. Meanwhile, you can create personal playlists for your discs based on their genre.
Blu-ray Player
Adjust video aspect ratio with eight options.
Play the titles from Blu-ray discs in Random, Single, or Order.
Watch Blu-ray on the laptop with the best picture quality.
Personalize picture effects during the playback.
How to play Blu-ray on the laptop with Blu-ray Player
Step 1Insert the Blu-ray disc into your laptop's drive. Then, download, install, and launch this simple player on your laptop. After that, click the Open Disc button to choose the disc you insert. The player will play the titles in order.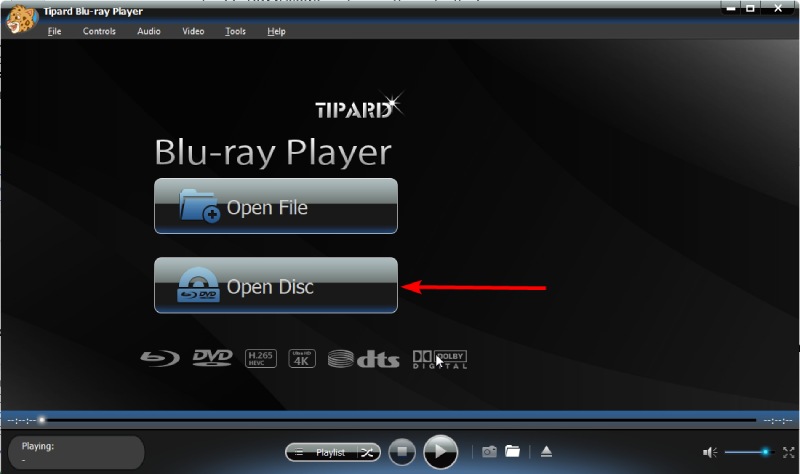 Step 2Click the Menu button to open the Blu-ray menu and jump to a title you like. You can also click the Play Movie button to see the main movie directly.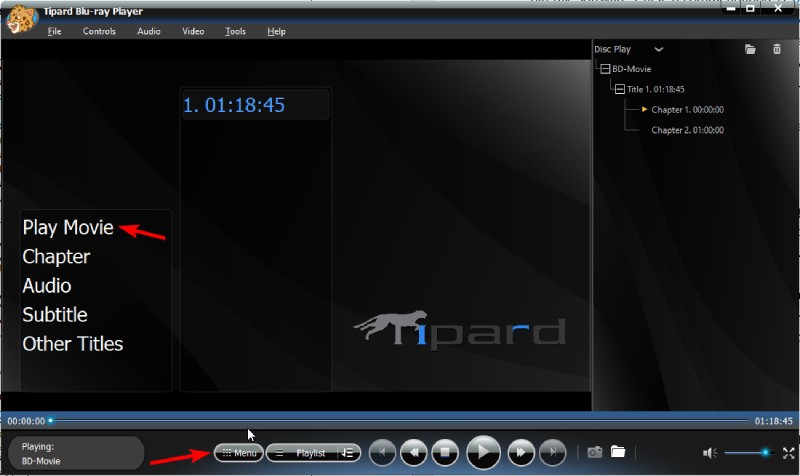 Step 3You can capture a screenshot by clicking the camera icon below on the playback control panel. Or press Alt and S keys to capture.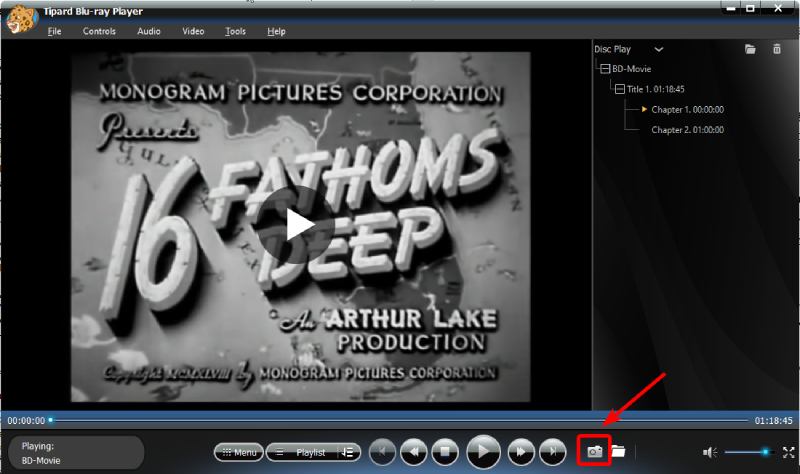 2. VLC Media Player
VLC Media Player is a versatile Blu-ray player for your laptop. Except for the media & disc playback function, VLC also lets you convert Blu-ray to digital or convert between regular video files. Due to the old-fashioned interface, beginners might need clarification when trying VLC for the first time on a laptop. But you can customize the user interface if you are interested. There are also many other customizations in this versatile Blu-ray player. For example, you can customize the audio & video effects and sync audio & subtitle tracks.
Record your Blu-ray playback on the laptop.
Play your Blu-ray movie frame by frame for details.
Search the videos within your playlist.
Listen to podcasts when connected to the internet.
How to play Blu-ray on laptop with VLC
Step 1Download the latest version of VLC from its official website. Install and launch this Blu-ray player on the laptop. After that, insert the Blu-ray disc into the drive of your laptop.
Step 2Click the Media tab on the interface. Then, choose the Open Disc option.
Step 2Choose Blu-ray in the pop-up and click the Browse button to import your Blu-ray disc. Next, click the Play button.
Step 4It will play your disc from the start. You can see the menu but cannot control or click it. However, you can open the playlist to see titles.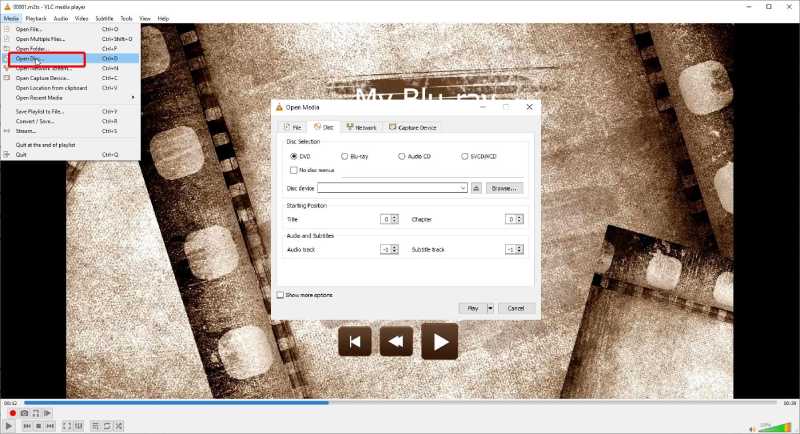 3. Leawo Blu-ray Player
Leawo Blu-ray Player is another convenient media & Blu-ray player software for the laptop. If you do not mind the ads, you can try this player and play Blu-ray discs for free on your laptop. The ads will occupy the interface when you stop the playback. When watching Blu-ray on the laptop with this player from Leawo, you will find the interface is super clean. All the buttons are under the brand name.
Watch Blu-ray on the laptop with 14-speed options.
Virtually click on the Blu-ray with the controller and keyboards.
Offer a complete set of convenient keyboard controls.
Convert Blu-ray & DVD to MKV on the laptop.
How to play Blu-ray on the laptop with Leawo Blu-ray Player
Step 1Once you install and launch the Leawo player, put the disc into your laptop's drive.
Step 2Click the Leawo Blu-ray Player dropdown button to choose the File option.
Step 3Next, click the Play Disc option and select your disc.
Step 4A virtual controller will appear, and you can use it to click on the menu.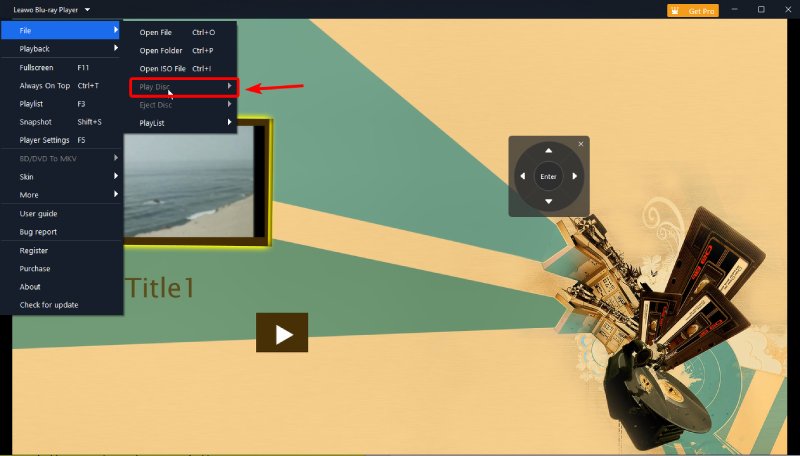 Part 2: 4 Excellent Blu-ray Drives for Laptops
Can my laptop play Blu-ray without an internal Blu-ray drive? No, you can't. Under this circumstance, you need an external Blu-ray drive for your laptop. Below are the latest recommendations. The price might vary because of sales or different dates.
1. LG BP50NB40
Price: $79.99
OS: Windows
This LG's drive is an external USB Blu-ray drive for the laptop with a Windows system. It can help read both DVD and Blu-ray discs. You can use it to read or rewrite BD-R/RE/R TL/ROM, DVD±RW/±R/±R DL, DVD-RAM, DVD-ROM, and CD-R/RW/ROM. The maximum reading speed of this player hardware is 6× for BD-ROM, while for DVD-ROM or CD-ROM, it can reach 8× and 24×, respectively.

Lightweight Blu-ray drive with USB 2.0 interface.
Lightweight Blu-ray drive with USB 2.0 interface.
Read, burn, rewrite, and rip discs at a fast speed.
2. Buffalo BRXL-PT6U2VB
Price: $109.99
OS: Windows & Mac
Buffalo's external laptop Blu-ray drive works fine for both Windows and Mac systems. It supports Windows Vista/7/RT8.1/RT/8/8.1, Mac OS X 1.08, and later. You can use a high-definition display and quick connections when playing your discs with this lightweight, portable Blu-ray drive. Besides the playback feature, the drive enables you to burn and store large amounts of data. With 6× maximum BD-ROM read speed, this external drive lets you quickly enjoy the movie on the laptop with a short setup process. Additionally, there is a slight drawback. Some customers have complained about its short USB cable.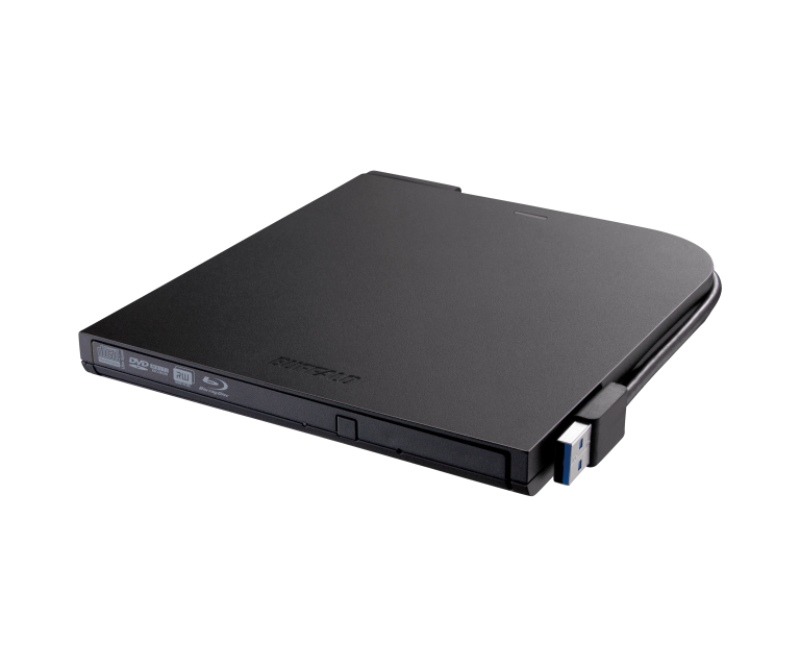 Work great with region-free Blu-ray discs.
Easy playback and burning process.
There is not much noise during working.
3. LG BP60NB10
Price: $109.99
OS: Windows & Mac
Here is another external laptop Blu-ray drive from LG. The greatest speed of this external drive reading information from discs can be 24×. This drive also comes with bundled software to play Blu-ray or DVDs on the laptop. But the software only offers a free trial and does not support playing UHD Blu-ray discs. You can also use this drive for file transferring.

The silent play feature gives less background noise.
Support a wide range of disc formats.
Work fine with USB 3.0 ports.
4. Pioneer BDR-XD07B
Price: $105 (at Amazon)
OS: Windows & Mac
Pioneer's external Blu-ray drive for the laptop supports USB 3.0 and has a firm disc tray. You can play BDXL, Blu-ray, DVD, and CD media files with this drive on your laptop. Although it supports Windows and Mac operating systems, it appears that macOS Ventura 13.2 can't recognize this optical drive. Other than that, this drive from Pioneer is a moderately excellent drive for playing regular Blu-ray movies on the laptop.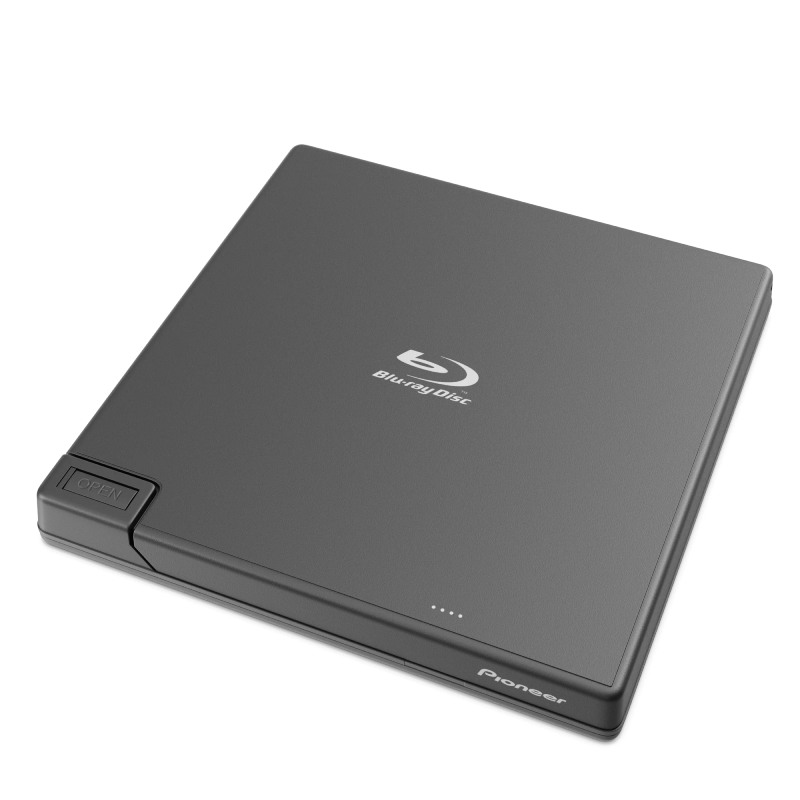 Consume less power.
Require no AC adapters.
Skip the damaged part of your disc instead of stopping.
Part 3: FAQs about Blu-ray Player for the Laptop
Can my laptop read Blu-ray?

Yes, your laptop can read a Blu-ray disc if it comes with an internal drive that supports Blu-ray discs. Or if you have a compatible external Blu-ray drive, that will work too.

Do all laptops have a DVD or Blu-ray drive?

No, they do not. Some laptop manufacturers will not contain the drive to cut off some weight and save more room. Besides, nowadays, it is rare to see software stored on DVD or Blu-ray discs.

Can a DVD drive read Blu-ray discs?

No, it cannot. DVD drives only read DVDs. On the contrary, a Blu-ray drive can read both CDs and DVDs.
Conclusion
From what has been discussed above, you can easily select a suitable player from the choices above. Whether you want a Blu-ray player for a laptop or an external drive, the answers are all above. Blu-ray Software strongly recommends Blu-ray Player at the top of the list, considering its convenience and user-friendly features. Have a try with this simple player and make it the best partner for your laptop to play your treasured Blu-ray movies smoothly.