Blu-ray Player
Smooth Playback for 4K Blu-rays/Folder/ISO File/Videos.
Free Download
Free Download
Best 5 External DVD Players Make You Get to the Destination without Detours
After a busy day at work, you need time to relax. In this case, what would be the most suitable thing? I think most people's answers must go to the movies. That's true. Movies have been an indispensable part of people's lives; they can help you spend cozy and comfortable time with family and friends. But the theater would be too noisy and not private, so what about creating a theater at home? A screen, a DVD player, and a sound box are more than enough to bring you the best audiovisual experience and homemade cinema. I'm not blowing things out of proportion but telling the truth. So how wonderful it is, this DVD players' review will uncover the puzzle.

Part 1. 5 Fascinating External DVD Players
The following external DVD players not only offer excellent compatibility and functions but also boast an easy-to-use interface. You can select your favorite movies, adjust playback settings, and even connect Bluetooth headphones or speakers to create your own viewing space. Let you easily connect to your computer, TV, and other devices for high-quality image playback. Besides, this article will tell you which players are regionally free. Now, come with me to learn more about these 5 different professional external DVD players.
Sony DVD Player
This external DVD Player is produced by Sony, which is a renowned and competitive company specializing in many kinds of electrical products. With respect to the design of the Sony DVD Player, it adopts a simple but fashionable appearance, showing its high-end and advanced texture. Sony DVD Player can play multiple CD formats, such as DVD, CD, VCD, SVCD, and more. Many video and audio formats are also supported, including MPEG-1, MPEG-2, VI, MP3, WM, etc. With these functions in store, users can enjoy various audiovisual files at home. Additionally, Sony DVD Player features a screen mirroring function, which can cast videos onto playing devices like TVs. Meanwhile, Sony DVD Player supports wireless transmission like Bluetooth and Wi-Fi so that you can conveniently enjoy excellent audio quality. However, the drawbacks of Sony DVD Player also troubled many people with its high price, not suiting all compatibility and relatively complex operations.
Resolution: 1080p
Price: $64.99
Available Platform: Amazon, Best Buy, official website, etc.

LG DVD Player
If you crave a high-quality video and audio experience, then the LG DVD Player will be one of the best choices! Starting from its appearance, it boasts light and portable features, making you enjoy audio and videos anytime and anywhere. LG DVD Player supports a wide range of disc formats, including DVD, VCD, SVCD, CD, etc. More importantly, it has Wi-Fi connectivity and supports Blu-ray after all, endowing you to watch online platforms effortlessly. Although the LG DVD Player can bring you surround Dolby effect and high recognition, some discs cannot be played deriving from its failure to suit all.
Resolution: 1080p
Price: $73.95
Available Platform: Amazon, Best Buy, Walmart, official website, etc.

Pioneer DVD Player
As one of the top 5 DVD players, the Pioneer DVD Player is not only an economical DVD player, but a good partner that helps you spend lonely time. Pioneer DVD Player allows you to play file formats like MP3, JPEG, WMA, and so on. The USB connectivity enables users to connect external devices, such as TVs or acoustic facilities. In addition to traditional DVD playback functions, the Pioneer DVD player also supports HD video playback and image browsing. But to some extent, the bad news is that Pioneer DVD Player does not support Blu-ray, especially nowadays has seen Blu-ray being more popular.
Resolution: 1080p
Price: $175
Available Platform: Amazon, Walmart, official website, etc.

Samsung DVD Player
Samsung DVD Player is one of the most popular players in the market. Not only was it owing to the brand influence, but it was also attributed to its professional functions. Samsung DVD Player supports many media types like CD, DVD, and Blu-ray disc. Besides, Wi-Fi and HDMI connectivity are also available, improving your user experience on the one hand and facilitating your life on the other hand. But Samsung DVD Player has high requirements for DVDs, because some discs cannot be played on it. Additionally, not everyone can afford its price.
Resolution: 1080p
Price: $124.36
Available Platform: Amazon, Best Buy, Walmart, official website, etc.

Panasonic DVD Player
Panasonic DVD Player is a high-quality audio/video device with a variety of functions and for users to connect to other devices. It supports many discs, including DVDs, VCDs, SVCDs, and CDs. Panasonic DVD Player employs sound compensation technology to enhance its audio quality. Furthermore, when you use it to watch videos, it often brings a lossless viewing experience. Besides, you can control the Panasonic DVD Player remotely, which makes your life cool and high-tech significantly. But the shortcoming is that it cannot play Blu-ray and sells at relatively high prices.
Resolution: 1080p
Price: $44.88
Available Platform: Amazon, Walmart, official website, etc.

Part 2. Bonus: Wonderful DVD Player Software
As technologies develop, external DVD players are not so popular. The factors behind it were the complicated operations of playing DVDs, CDs, or Blu-rays. Because external DVD players often require additional cables and connecting devices, maybe they are more inconvenient to use than internal DVD players for most people. Besides, external DVD players need to be connected to a TV or PC via a cable, which can lead to unstable signal transmission and affect playback quality. Therefore, now it is time to introduce a piece of software that can play DVDs, Blu-rays, etc., just on your laptop, enabling your life to be more convenient. That is the Blu-ray Player.
As its name has been said, Blu-ray Player is compatible with Windows or Mac and can play Blu-ray discs with high quality, as well as DVDs, folders, ISO files, and more. In addition, it can also be used as a powerful media player to play 4K UHD/1080p HD/SD videos in MP4, MOV, AVI, MKV, and other formats. Although Blu-ray Player is a professional video player, it can also create an immersive and surround sound environment. Therefore, while Blu-ray Player brings you an amazing watching experience, it brings you a surprising audio experience as well. Without complex operations and other external devices, you can easily play whatever you want on that portable screen. What's more, Blu-ray Player is a region-free player; you can play DVDs or Blu-ray from any region.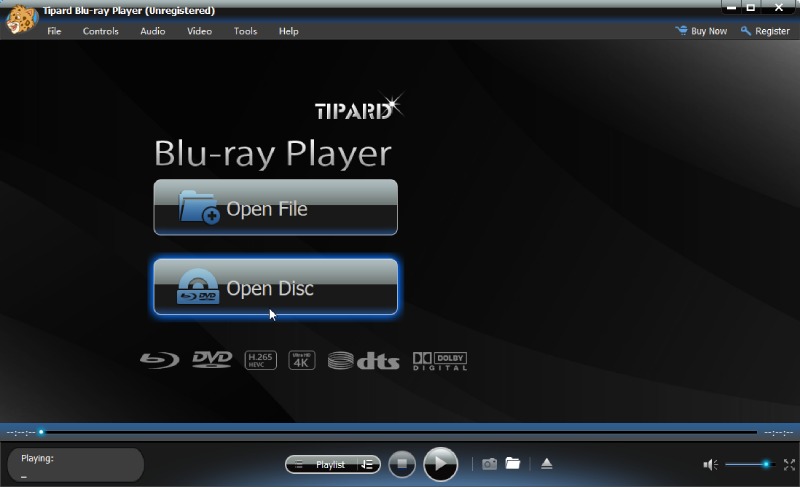 Part 3. FAQs about External DVD Player
Is there a DVD player with a screen?

Yes, there are a few DVD players with screens on the market, including WONNIE 16.5" Portable DVD Player, DBPOWER 16.9" Portable DVD Player, YOTON 17.5" Portable DVD Player, etc.

Are 4K DVD player better than Blu-ray Player?

First, most Blu-ray discs are 1080P, while the height of 4K resolution is 2,160 pixels, and the width of 4K resolution is 3,840 pixels. So 4K DVDs are better than Blu-ray. But Blu-ray Player is better than DVD Players.

Which DVD player is the best to buy?

There are many good DVD players you can buy. But as for the best, it isn't easy to select. Maybe you can try the following brands: Sylvania, Panasonic, LG, Philips, Wonnie, and EMON READY.

Can any DVD player be made region-free?

Not always. Some DVDs can only be used in a particular region due to copyright protection. Maybe you can use tools like Blu-ray Player, which is regional free.
Conclusion
This article mainly talks about 5 external DVD players and one DVD player program. They are all special and usable devices. But given the portable and convenient aspect, external DVD players gain the lower hand. On the contrary, internal DVD players, take Blu-ray Player as an example, may enjoy the last laugh since they do not need cables, monitors, or other auxiliary products; just one computer is enough. Additionally, compared with external DVD players, Blu-ray Player is also a cheap DVD player to effortlessly meet your needs. Here I tend to recommend you use an internal DVD player-Blu-ray Player.