Blu-ray Ripper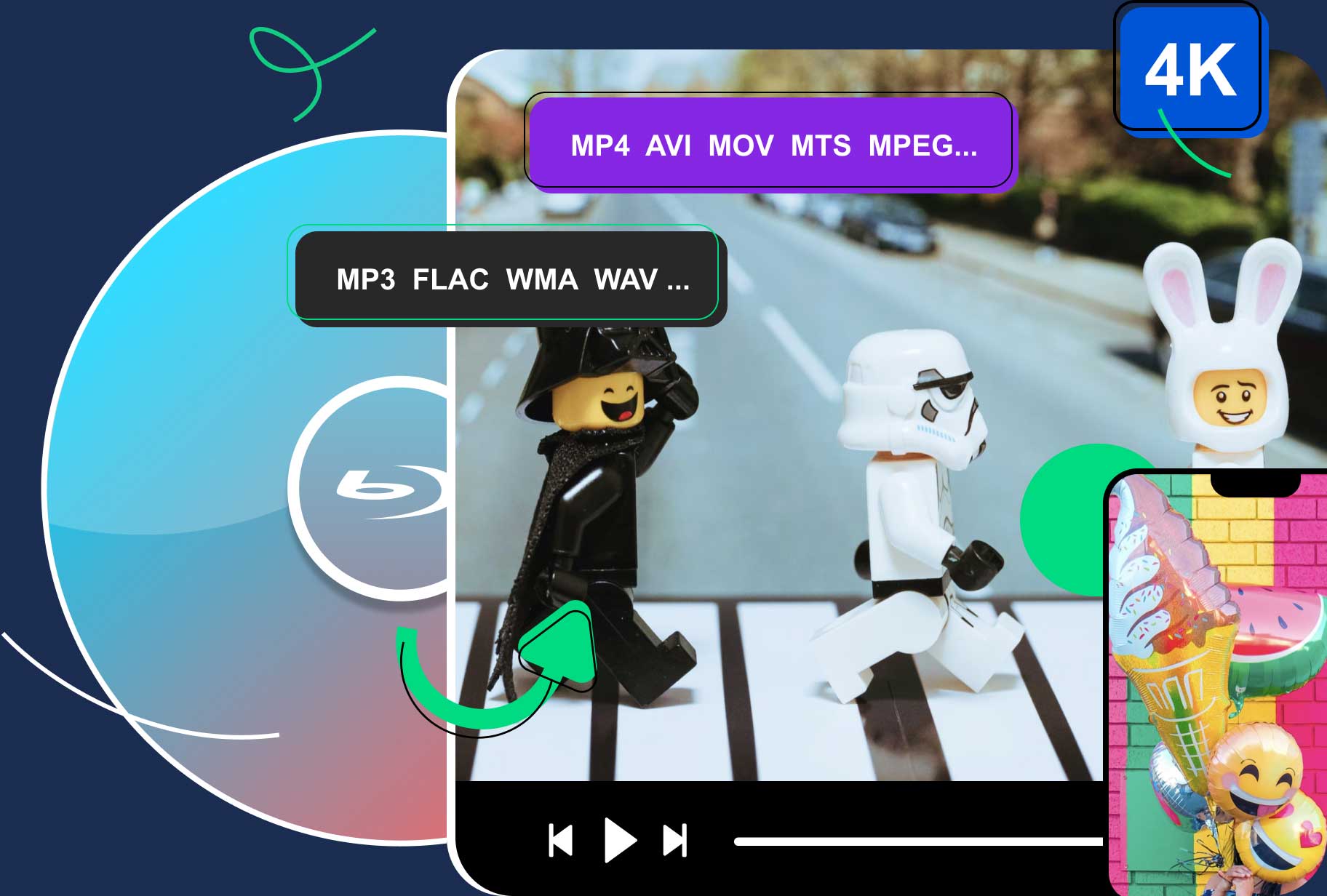 High-Quality Solution for Ripping Blu-ray/DVD/Folder to Any Formats Quickly
Free Download
Free Download
Best Converter Ever to Rip Blu-ray to FLV without Hassle
Blu-ray is a high-quality choice for people who want to enjoy movies at the best resolution at home. However, you must have a Blu-ray player to play such discs and cannot enjoy them in places with only mobile phones, computers, and no disc drives. To get rid of this dire situation, you will need a ripping tool to rip Blu-ray to digital formats like FLV. FLV, as the streaming choice for YouTube, offers lots of benefits to video playback, such as consistency and compatibility. Meanwhile, with the best Blu-ray to FLV converter below, there will be no problem preserving your movie's original quality. Move on to learn more about this converter and how to use it.

Part 1: Top 1 Blu-ray to FLV Converter on Windows and Mac
Blu-ray Software carefully picks Blu-ray Ripper as your computer's top 1 ripping tool. The tool converts any Blu-rays and produces over 500 video/audio formats. You can also choose a preferred format based on the device you are about to use to play the movie, which saves you the trouble of figuring out the suitable format yourself.
If you have used HandBrake or MakeMKV before, you would know that neither lets you preview the Blu-ray movie. However, you can watch the whole movie entirely with this ripping tool. So, you can quickly find the main movie or adjust with the built-in editor if you dislike anything. Furthermore, this ripping program provides many other tools to help with your video conversion, enhancement, etc.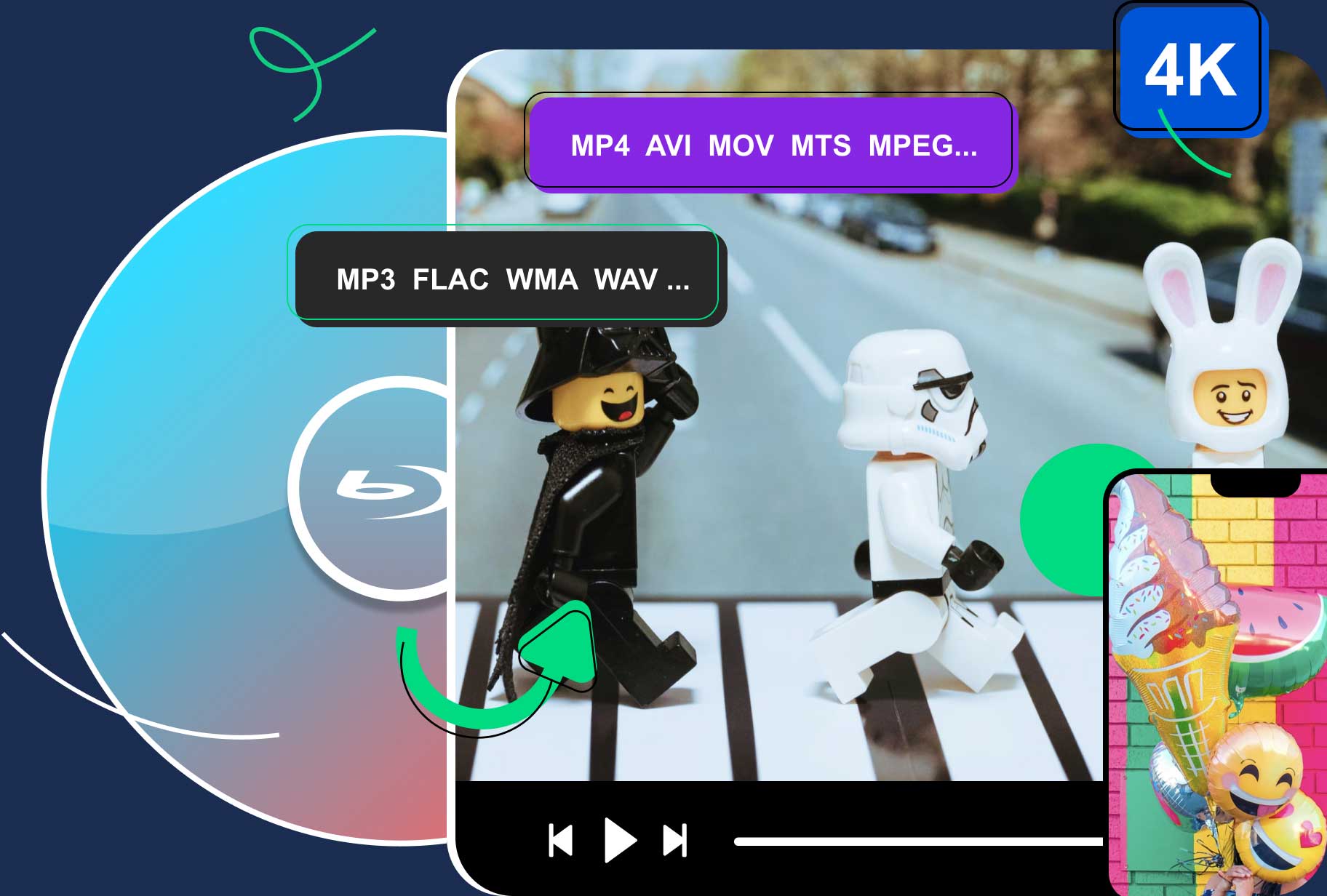 Blu-ray Ripper
Rip Blu-ray to FLV video quickly in less than half an hour.
Offer four FLV options with different video resolutions.
Change the encoder, frame rate, and bitrate for the output FLV video.
Replace audio and subtitle tracks with new ones.
How to Rip Blu-ray to FLV with the Top 1 Ripper
Preparation: Before following the steps below, make sure your Blu-ray drive can read Blu-ray and connect the drive to your computer with the proper cable. Meanwhile, please note that ripping commercial Blu-ray discs is not allowed in most countries or regions.
Step 1Load Blu-ray Disc
Insert the disc into your Blu-ray drive. Download the top 1 Blu-ray to FLV ripper here for free. Next, launch the ripper on the computer. Choose your disc from the Load Blu-ray Disc option.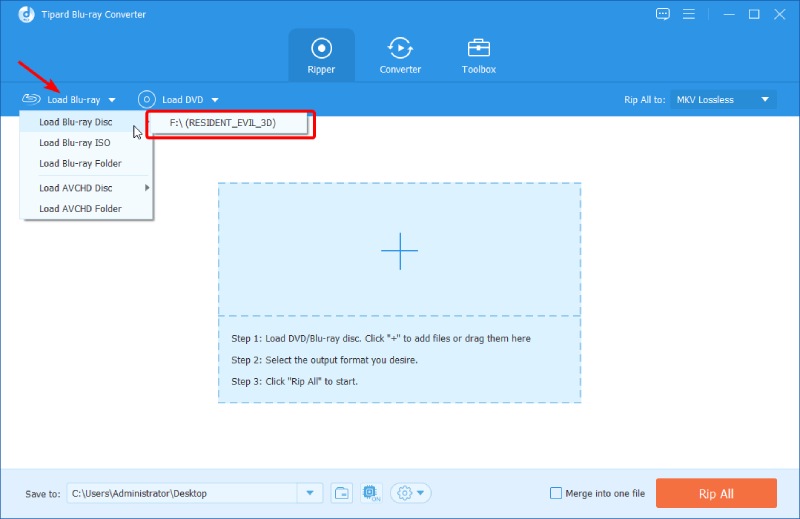 Step 2Preview the Blu-ray Movie
To check out the main movie, click the play icon to see it. Once you click it, a new window pops up, and you can also take a screenshot of the video by clicking the camera icon below. Click the cross icon above to go back to the main interface.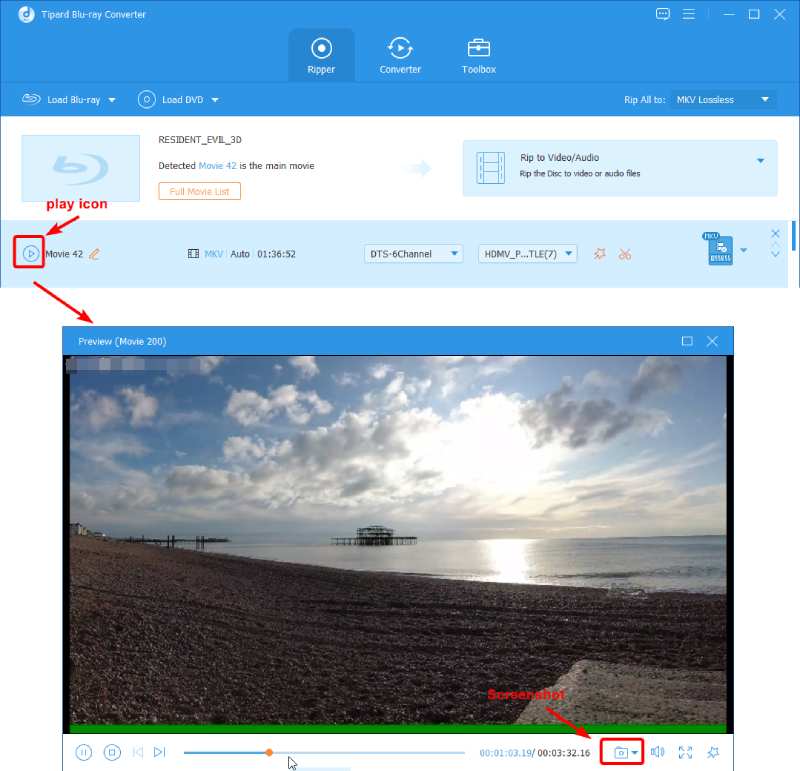 Step 3Choose FLV for Output and Rip It
You can rip the main movie to FLV. Click the Output Format button and search for FLV to find the format. As you can see, there are different resolutions: 1080P, 720P, 480P, and 360P. Then, find a destination folder via Browse and Select Folder. Next, click the Rip All button to get an FLV Blu-ray movie.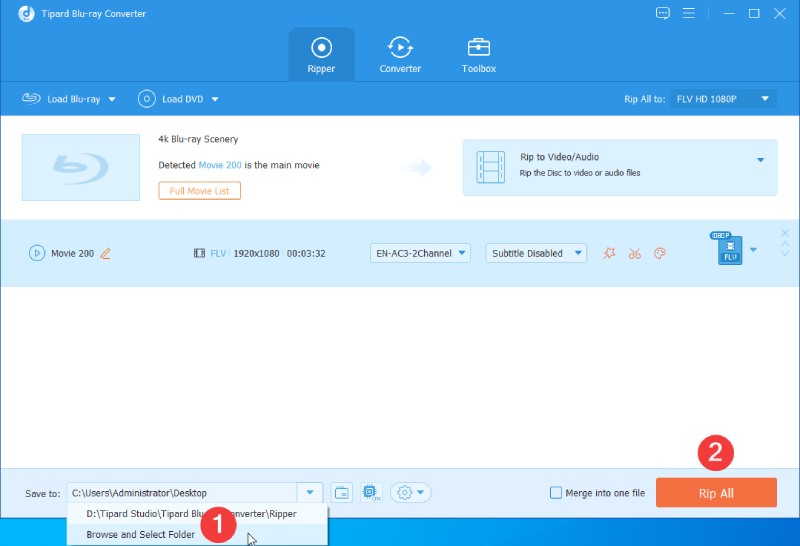 Note
Apart from converting your Blu-ray movies to FLV video, you can also convert Blu-ray to other digital formats. Meanwhile, this player even allows you to convert FLV to other video formats, which will be especially useful on Mac since it does not support playing FLV videos by default. So, if you use a Mac, you can rip the output FLV with Blu-ray Ripper or find a third-party player to watch the video.
How to Play FLV Video on Mac with Blu-ray Player
Since your default player, QuickTime Player on Mac, cannot play the ripped FLV videos, Blu-ray Software picks an alternative for you, Blu-ray Player. This player is compatible with almost all video/audio formats. As a powerful multimedia player, it also plays Blu-ray, DVDs, ISO files, and Blu-ray/DVD folders. You can simply drag and drop any media file to the player and let it play.
Blu-ray Player
Remember previous playback positions automatically.
View your recent videos directly in the Recent playlist.
Create as many playlists as you want in the player.
Capture the FLV video quickly during playback.
Step 1Download the Player on Mac
Get this powerful FLV player on Mac for free here. Then, launch the program after installing it. You have two ways to open the FLV video. You can drag and drop the video to the Blu-ray Player window. Alternatively, you can click the Open File button to import your FLV video.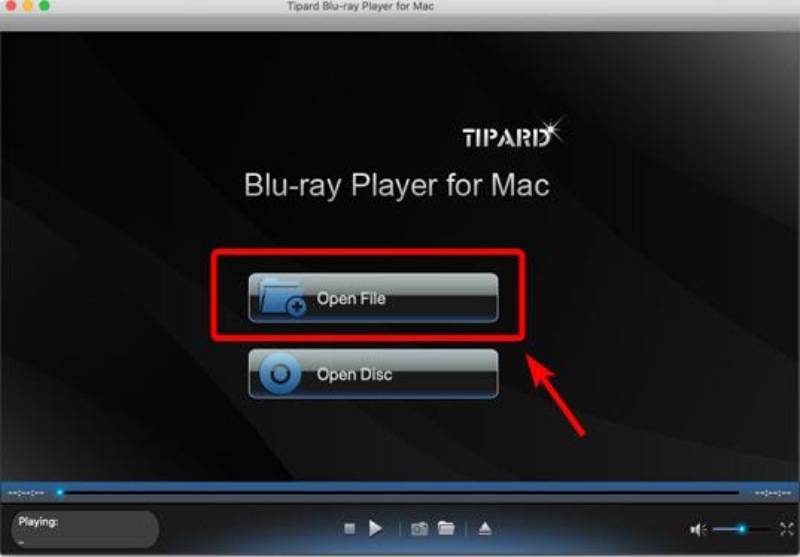 Step 2Control the FLV Playback
During the playback, you can press the Space bar on your keyboard to stop playing. Meanwhile, click the camera icon below, and you can get a screenshot of the playing video. Besides, you can import a subtitle file by clicking the Video button in the menu bar and importing it from the subtitle track.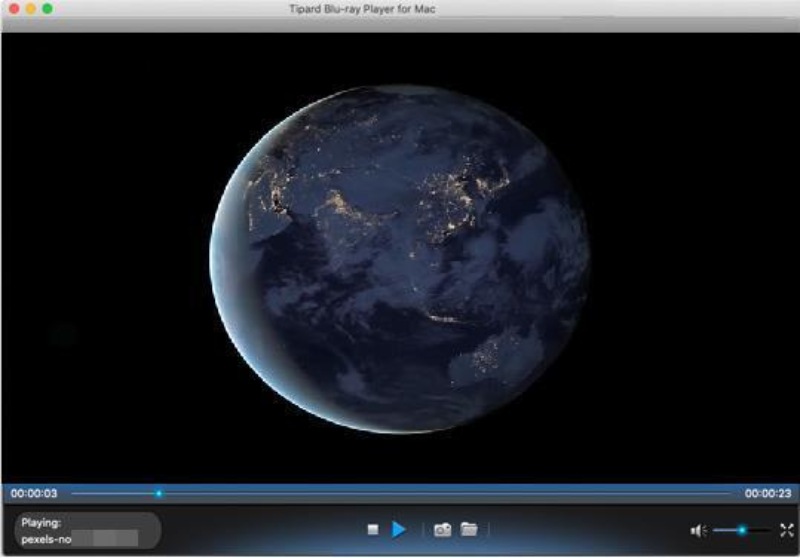 Bonus Tip: FLV Format 101
What is FLV? Standing for Flash Video, FLV is a video format developed by Adobe for the Flash Player. In the early days, FLV was a popular format for embedded video online. Still, it gradually became outdated for its performance and security problems. Now, streaming services prefer using HTML-5 or other formats instead of FLV.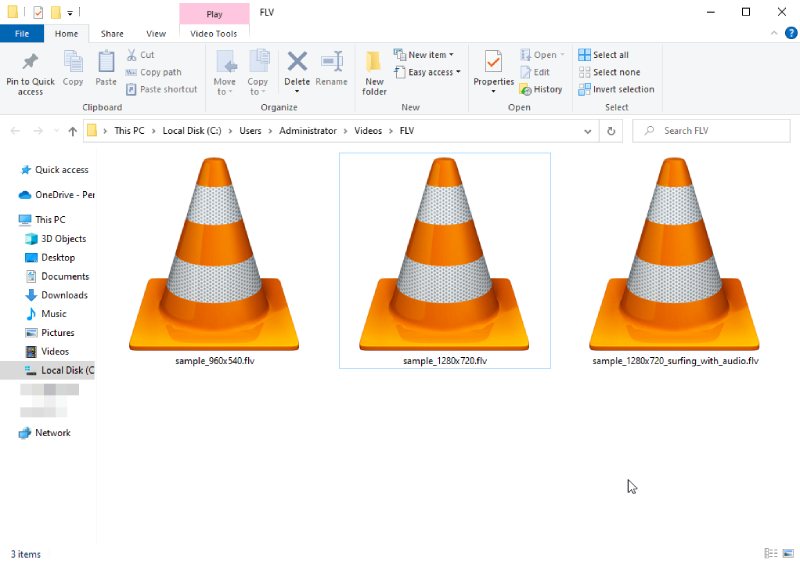 How to open an FLV video? You can use Adobe Flash Player to open such a video. But Adobe has discontinued the software. Suppose you still want to open an FLV video. In that case, there are other alternative options, including Adobe Animate, Media Player Classic, Blu-ray Player, and VLC Media Player. Besides, the last choice, VLC, works across all platforms (Windows, Linux, Mac, Android, and iOS).
Part 2: FAQs about Blu-ray to FLV
Is FLV better than MP4?

No, it is not. At least from the compatibility perspective, MP4 is superior to FLV since the former is compatible with almost all devices. But FLV has advantages in online video.

Can I play FLV files with Windows Media Player?

Yes, you can. After ripping Blu-ray to FLV on Windows, you can easily watch the output FLV video with Windows Media Player. You can drag the FLV file to the player's window, and it will play directly.

Does YouTube still use FLV?

Yes, it does. YouTube still supports FLV video uploading. If you want to upload your Blu-ray movie clips on YouTube but want to avoid getting an invalid file format error message. FLV is a workable choice for uploading videos on YouTube.
Conclusion
Getting an FLV Blu-ray movie is as simple as described above in this post. Once following the correct steps and use the workable ripper, you will have no issue converting your Blu-ray to FLV video. Meanwhile, you can watch the FLV video with many players, including VLC and the default Windows Media Player. FLV is also an ideal video format for YouTube video uploading. Download the Blu-ray Ripper here to enjoy the complete features of ripping Blu-ray.