Blu-ray Ripper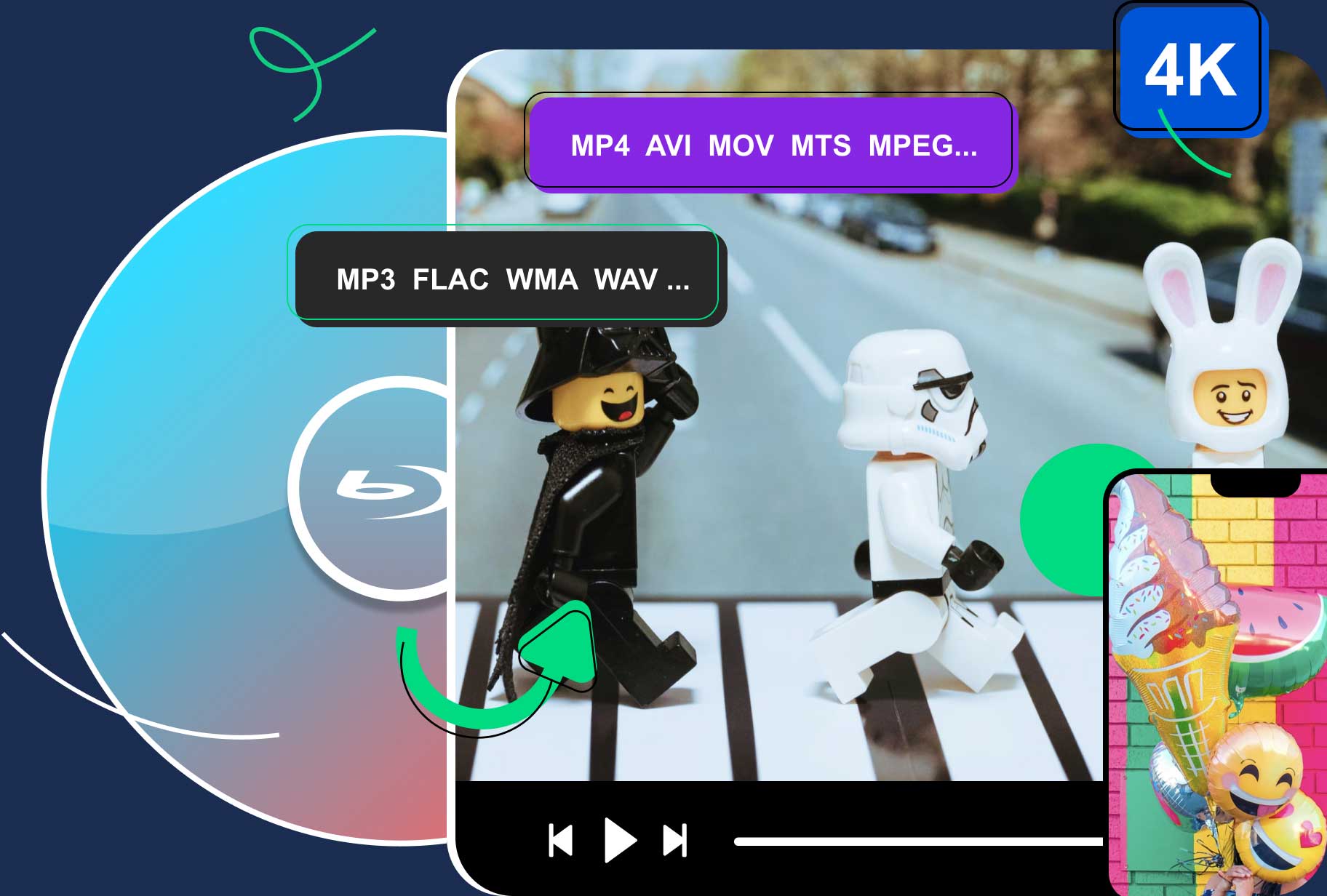 High-Quality Solution for Ripping Blu-ray/DVD/Folder to Any Formats Quickly
Free Download
Free Download
How to Cast Blu-ray to Chromecast Wirelessly or with a USB
Have you ever been in a situation where you don't know how to play your Blu-ray videos on TV even with the Chromecast? If you have such confusion, this article will give you the answer. We will offer you 2 solutions to help you solve the problem with high efficiency. Whether you're a tech-savvy individual or a casual user, these methods are designed to cater to various skill levels. So, if you're intrigued and eager to find out the secrets to seamlessly casting your Blu-ray to Chromecast to play on TV, continue reading and discover the answers you've been looking for.

Part 1. What is Chromecast
A Chromecast is a small receiver device that plugs into an HDMI port on the back of a TV to wirelessly stream content from a computer or other device to the TV. Chromecast is compatible with apps that have a cast button, and users can also cast content from the Chrome browser to the TV. It should be noted that the video formats supported by Chromecast are limited to MP4 and WebM.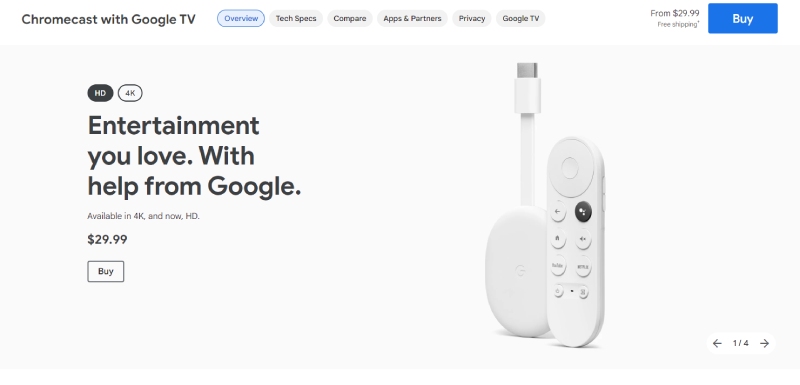 Part 2. How to Cast Blu-ray to Chromecast on a PC
There are 2 solutions to cast Blu-ray to Chromecast on pc. One is ripping Blu-ray by Blu-ray Ripper, and the other is using the VLC player. Next, follow the lead of the following content and see more details and which is the best solution.
Cast Blu-ray to Chromecast with Blu-ray Ripper
Blu-ray Ripper, picked by Blu-ray Software, offers a comprehensive set of features for ripping and converting 4K Blu-rays. Edit video, audio, titles, and subtitles directly from your Blu-ray and customize your videos by trimming, cropping, adding watermarks, adjusting effects, and more. Choose from over 500 output presets tailored for video, audio, and popular iOS devices to ensure compatibility and optimum playback quality on different platforms. Blu-ray Ripper incorporates an all-in-one toolbox offering various adjustment options to enhance your output videos by adjusting parameters like brightness, contrast, saturation, and more. Effortlessly rip, edit, and convert your Blu-ray movies into desired formats, satisfying your specific needs while preserving the quality of your favorite film..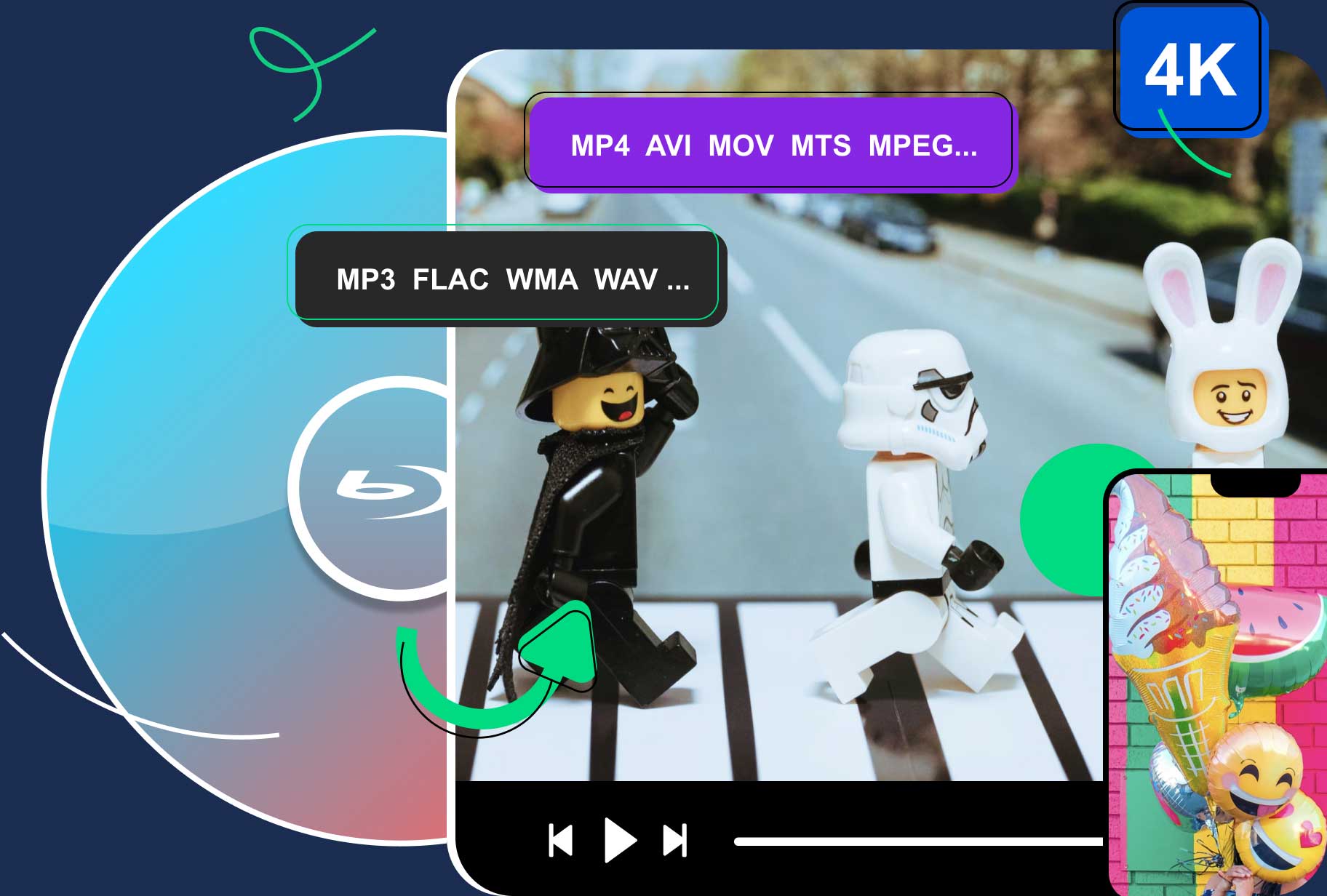 Blu-ray Ripper
Offers pre-designed output profiles for Chromecast 3 and Ultra.
One-click ripping from Blu-ray to digital videos of any format.
Upscales the ripped videos up to 4K.
Supports playing the Blu-ray movie with the built-in player.
How to use Blu-ray Ripper
Step 1After downloading Blu-ray Ripper, click the plus button in the middle of the interface in the ripper bar to add the DVD or Blu-ray disc you want to rip. (It takes a few minutes to analyze the disc, so you may need to wait for it.)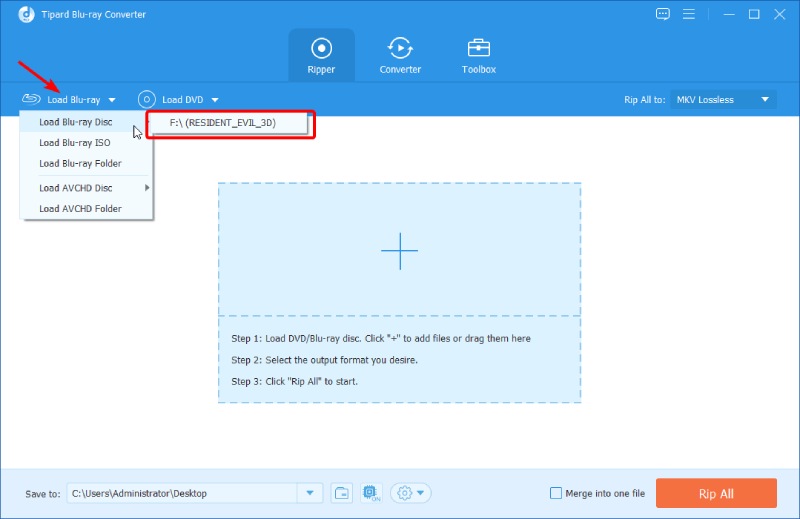 Step 2Click the inverted triangle at the top right of the interface, and select Chromecast in the Device column. After that, you can choose the resolution you want. Blu-ray Ripper has 2 resolutions to choose from in Chromecast format.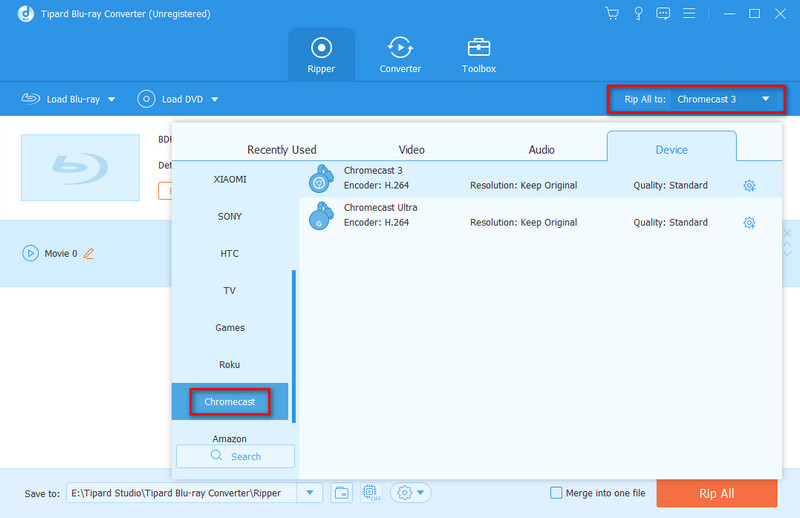 Step 3There is an edit bar below the video, where you can freely choose to modify the audio track, video or audio duration, etc.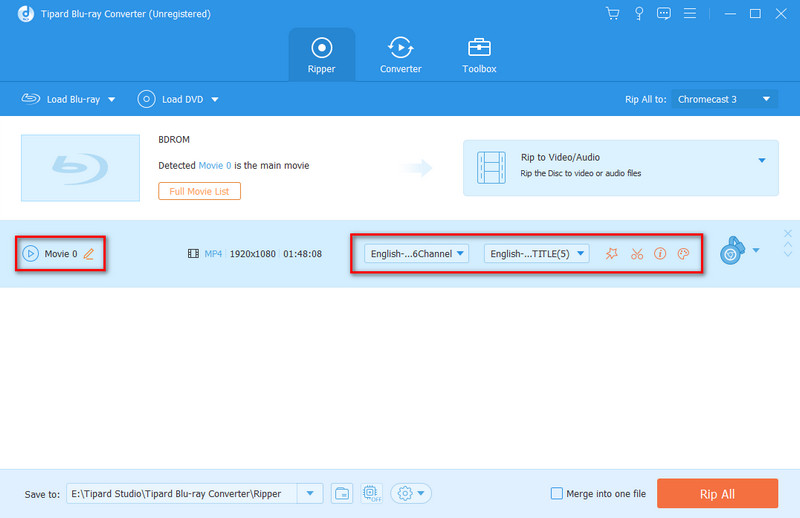 Step 4After completing the modification, select the path you want to save and click Rip All (before this, you can also click merge into one file if you have multiple videos to combine). Then you will get the video format that can be played via Chromecast successfully.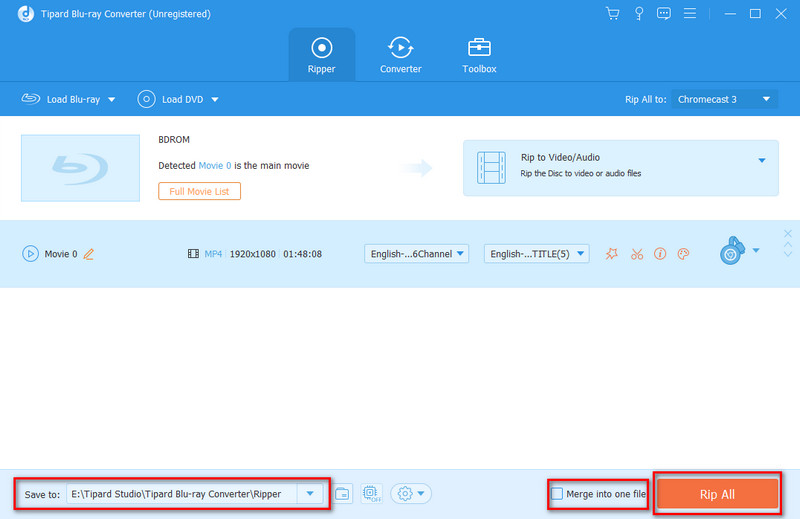 Cast Blu-ray to Chromecast with VLC
VLC media player, previously known as the VideoLAN Client and widely recognized as VLC, is a versatile and robust media player software and streaming media server. It is renowned for being free, open-source, and portable, making it compatible with various platforms.
One of the features of VLC is its extensive support for audio and video compression methods and file formats. Whether it's Blu-ray, DVD-Video, Video CD, or various streaming protocols, VLC has got you covered. Additionally, VLC excels at streaming media over computer networks and offers the convenient ability to transcode multimedia files, ensuring optimal compatibility and effortless playback across different devices and network environments. VLC is not limited to desktop operating systems but is also available on mobile platforms such as Android, iOS, and iPadOS. You can easily access VLC through popular digital distribution platforms like Apple's App Store, Google Play, and Microsoft Store. However, if your Blu-ray cannot be opened successfully in VLC, check the following articles to get more solutions.
How to use VLC
Step 1After downloading VLC, click the Renderer button from the Playback menu to scan for your TV's Chromecast.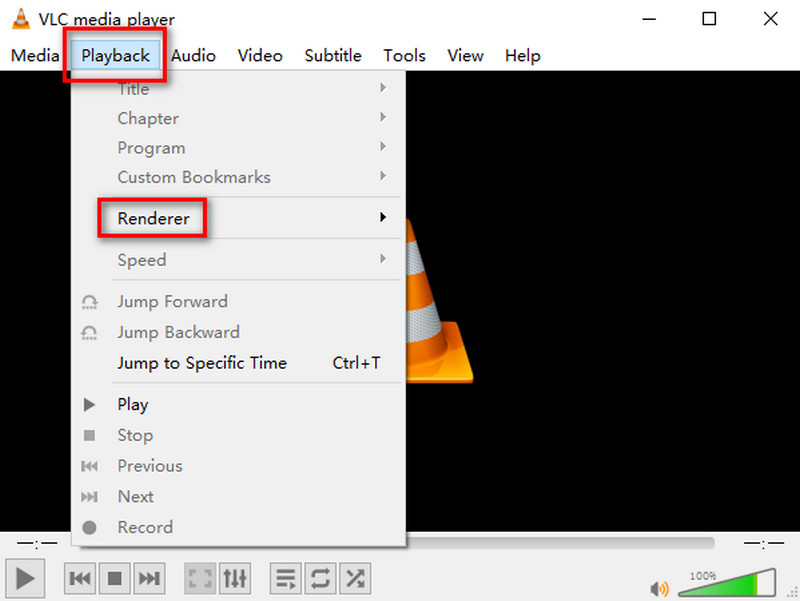 Step 2After clicking the Renderer, a menu will open. You can select your Chromecast device from the list.
Step 3Open your Blu-ray video, then it will automatically play on your TV. Finally, you can easily watch the Blu-ray video on TV through VLC.
Part 3. FAQs about Chromecast Blu-Ray Streaming
Can I connect a Chromecast to a Blu-Ray player?

No, you can't. You are supposed to choose a standalone Blu-ray player hardware to connect the Chromecast to a Blu-Ray player.

How do I stream Blu-Ray movies to my TV?

Through Chromecast, you can stream Blu-Ray movies to your TV.

What devices can be casted to Chromecast?

iPhone/iPad with iOS 15.0 or later. Android phone/tablet with Android 8.0 or later.

Does Chromecast use HDMI?

Yes. To use a Chromecast, you'll need a TV with a HDMI port to connect Chromecast.

How do I stream Blu-ray movies?

To easily stream high-quality Blu-ray movies, use Blu-ray Ripper with Google Chromecast. Import your movie into the software and cast it to your TV with Chromecast for an immersive viewing experience.
Conclusion
All in all, Blu-ray Ripper is a standout software specifically created to extract and convert Blu-ray discs, folders, and ISO files into digital formats. With Blu-ray Ripper, users can efficiently transfer their Blu-ray collection to various digital formats, ensuring the preservation and accessibility of their files on both Windows and Mac operating systems. VLC is a powerful media player and streaming server. It's free, open-source, and works on multiple platforms. If you're going to cast Blu-ray to Chromecast, both Blu-ray Ripper and VLC are great options, but if you're only picking one, I'd recommend Blu-ray Ripper, which is high-quality and more feature-rich.