Blu-ray Ripper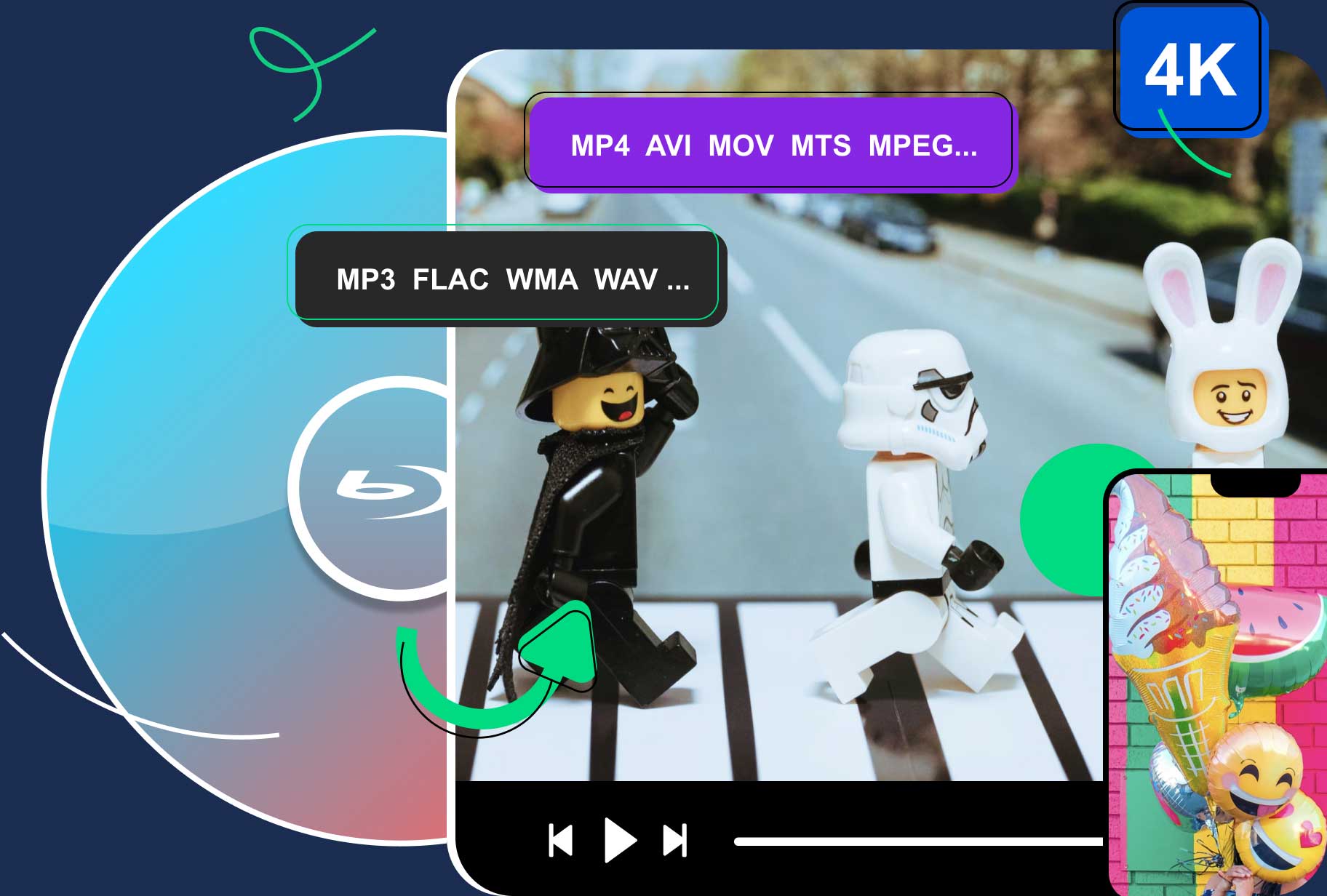 High-Quality Solution for Ripping Blu-ray/DVD/Folder to Any Formats Quickly
Free Download
Free Download
Best Methods to Extract Blu-ray to TS Files with Subtitle
If you're in search of a format to save movies from Blu-ray discs with full subtitles, the TS format is the perfect choice because it can keep subtitle files in the video. If you want to convert Blu-ray movie to TS files, Blu-ray Ripper is the perfect solution for you. With 2 main features, this software offers a comprehensive range of functionalities for ripping Blu-ray to TS video. Now, let's delve deeper into this Ripper's features and how to use it to extract Blu-ray movies to TS video files. Without further ado, scroll down and get more details.

Part 1. What is TS File
TS (Transport Stream) is an encapsulated format, and its full name is MPEG2-TS. MPEG2-TS is a standard data container format that transmits and stores audio and video, program, and system information protocol data. It is mainly used in digital broadcasting systems, such as DVB, ATSC, and IPTV. Transport Streams were originally designed for broadcasting. But now you can find it is often used for storing videos on a DVD. To open such files, a regular M2TS player like VLC Media Player, PotPlayer, Blu-ray Player, etc., all work well on Windows/Mac.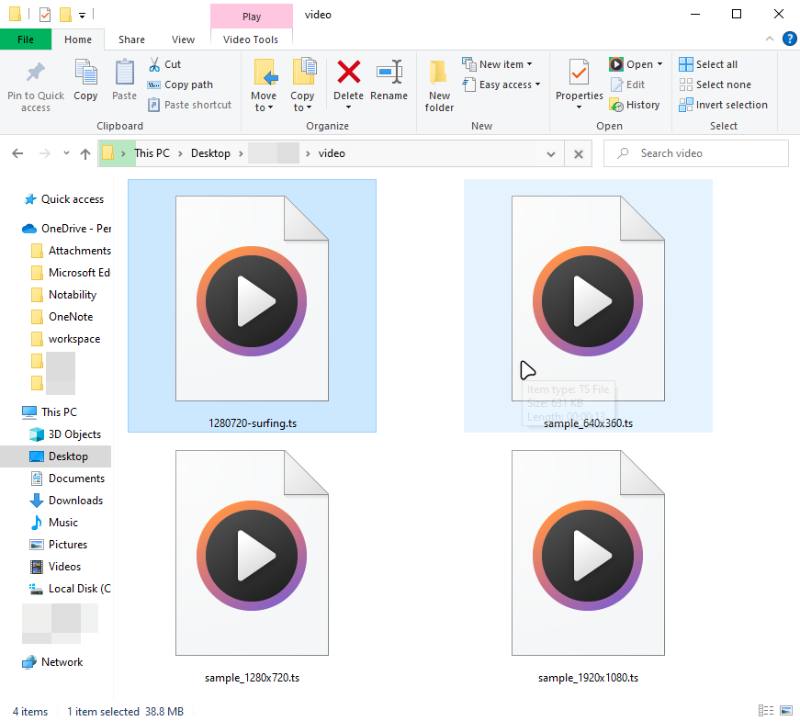 Part 2. Best Ripper to Extract Blu-ray to TS Files
Blu-ray Ripper is a software designed to rip and convert Blu-ray discs, folders, and ISO files into digital formats. In addition to being able to Extract Blu-ray to TS Files, it has many other essential functions. By using Blu-ray Ripper, users can quickly transfer their Blu-ray collection to multiple digital formats, ensuring the safety and longevity of their movie library on both Windows and Mac systems. One of the key features of Blu-ray Ripper is its ability to rip Blu-ray discs into compatible formats for various mobile devices, such as iPhones, iPads, Android phones, and more. This allows users to enjoy their favorite 4K UHD Blu-ray movies on the go without the need for a physical disc. Blu-ray Ripper supports numerous video formats, making it easier to watch movies on different devices. In addition to mobile device compatibility, Blu-ray Ripper also supports converting Blu-ray folders and ISO image files to streaming formats. This means that users can rip their Blu-ray collection and stream movies directly to larger screens using platforms like Plex. This feature enhances convenience and accessibility for users who prefer to enjoy their movies on bigger screens.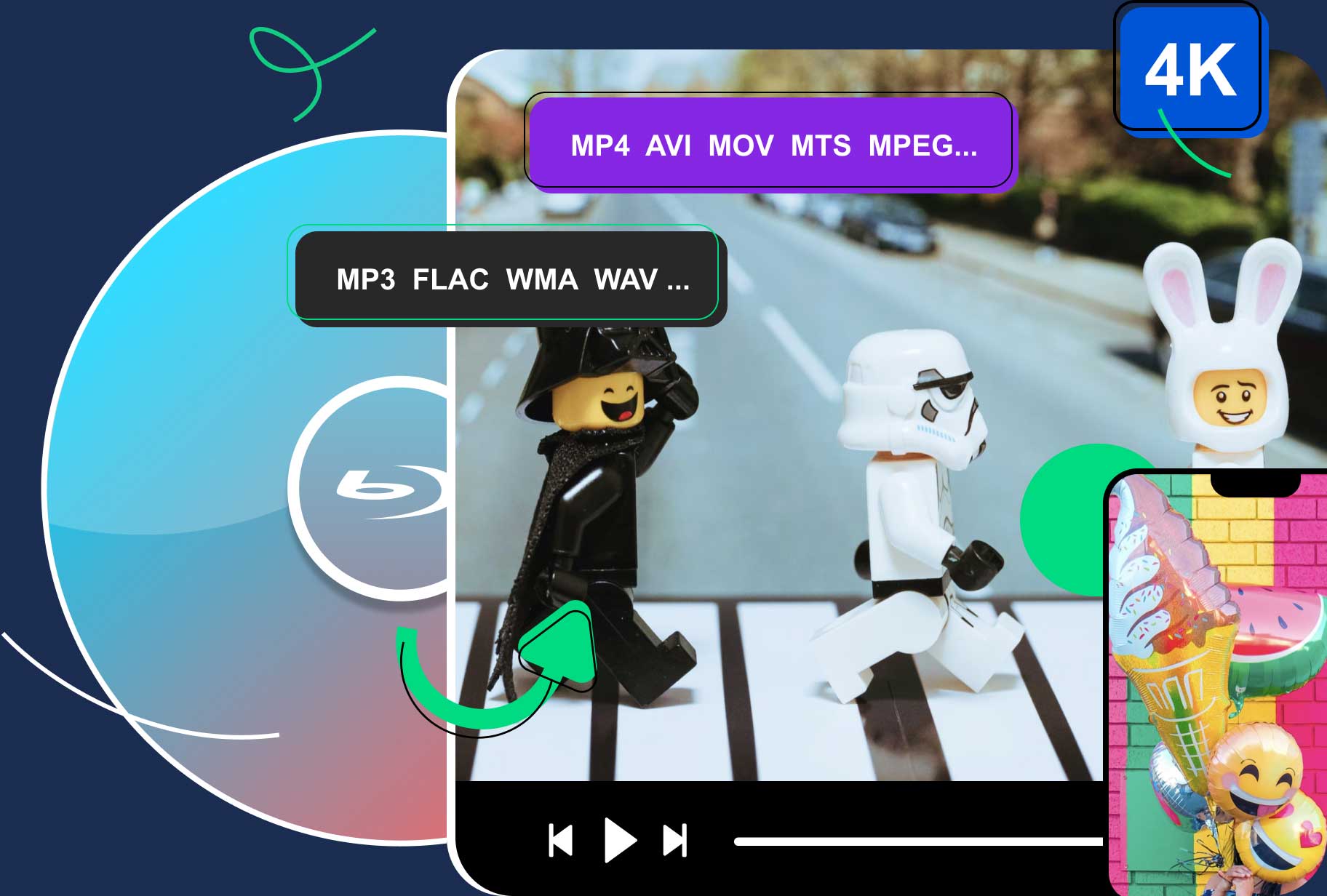 Blu-ray Ripper
Converts Blu-ray to TS files without quality loss.
Support a wide range of output formats, including TS, MPEG-4, AVI, 4K MKV, etc.
Customizes Blu-ray videos as you like with the built-in editing tools.
Achieves the ripping process at lightning speed with hardware acceleration.
All in all, Blu-ray Ripper provides a comprehensive solution for ripping, converting, and customizing Blu-ray videos while maintaining their quality and ensuring compatibility with various devices and platforms.
Part 3. How to Extract Blu-ray to TS Files
Step 1After downloading Blu-ray Ripper, click the plus button in the middle of the interface in the ripper bar to add the Blu-ray disc you want to rip. (It takes time to analyze the disc, so you may need to wait for a few minutes.)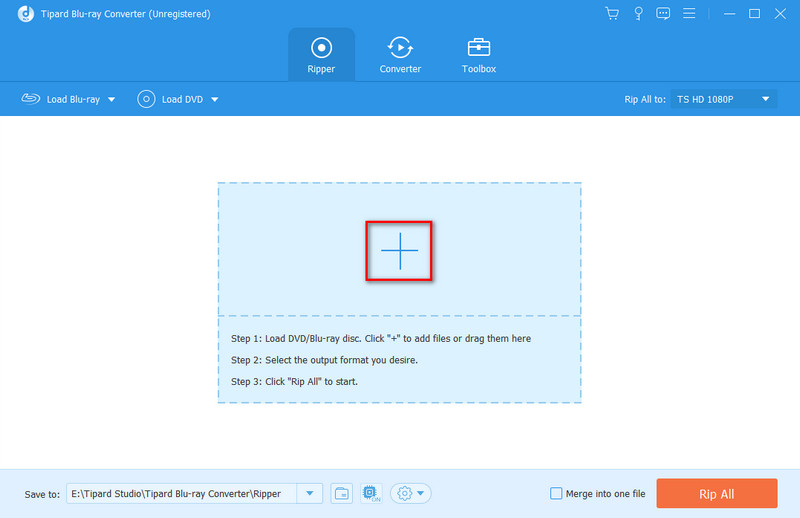 Step 2Click the inverted triangle at the top right of the interface, and select TS in the video column. After that, choose the resolution you want, in TS format Blu-ray Ripper has 2 resolutions to choose from.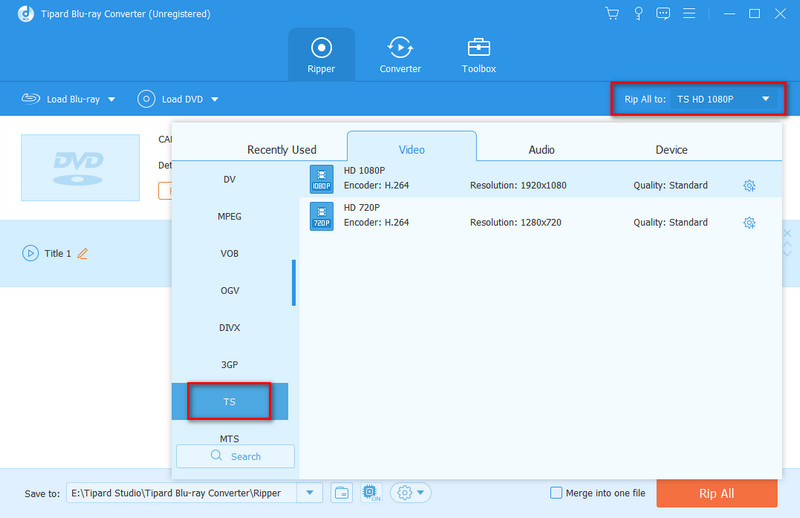 Step 3There is an edit bar below the video, where you can freely choose to modify the name, audio track, video or audio duration, etc.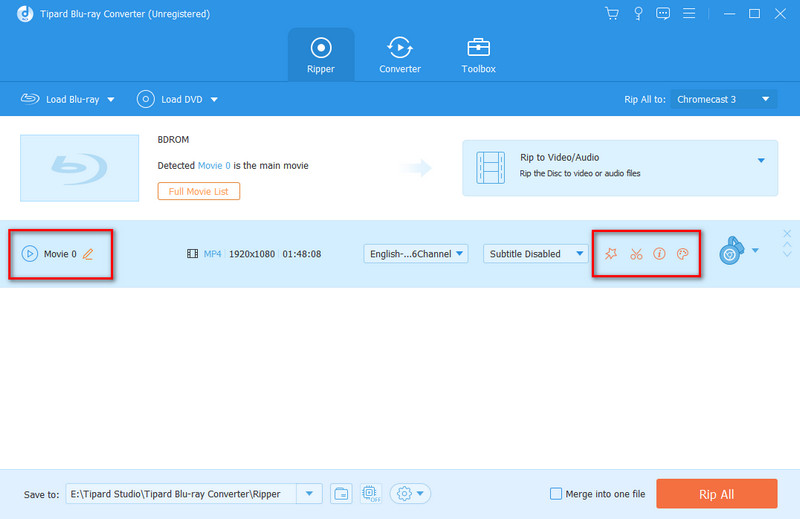 Step 4Click the drop-down list of Audio Track and Subtitle and choose the audio track and subtitle you like.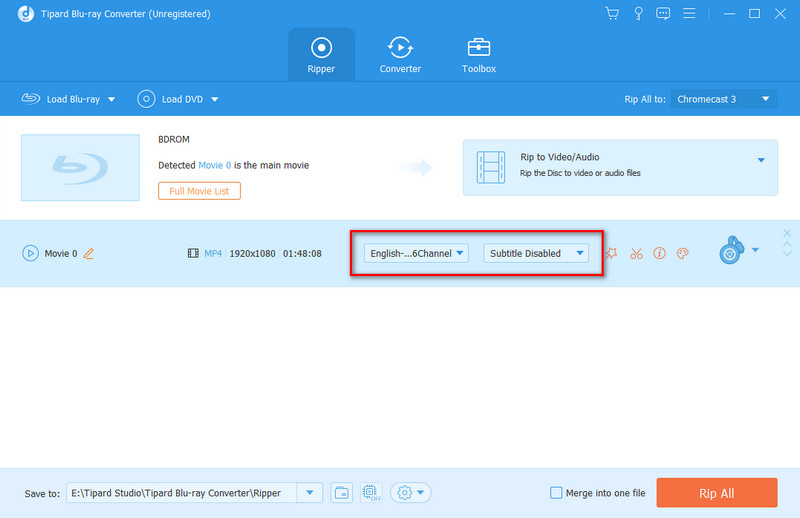 Step 5After completing the modification, select the path you want to save and click Rip All (before this, you can also click merge into one file if you have multiple videos to combine). Then you will get a TS file successfully.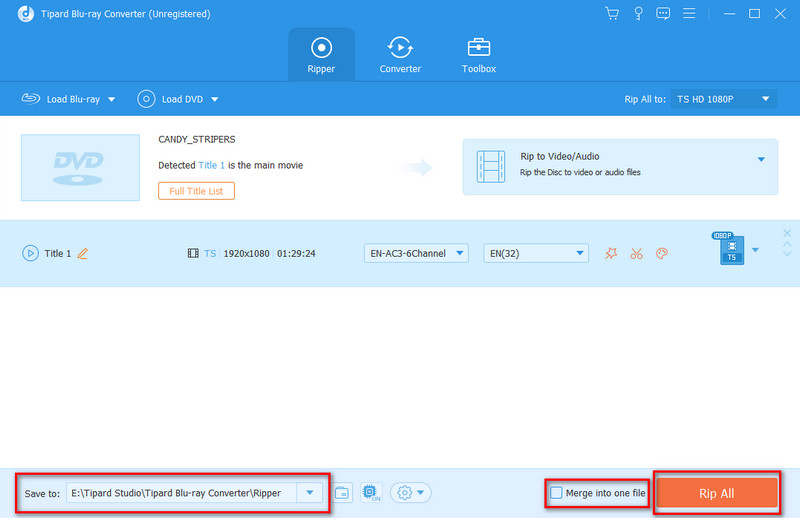 Part 4. FAQs about Blu-ray Ripper
Is it illegal to rip Blu-ray?

The legality of ripping Blu-rays in the US depends on the kind of Blu-ray you want to rip. Ripping copyright-protected Blu-rays is considered illegal. However, it is legal to rip Blu-rays that are not copy-protected.

How long should it take to rip a Blu-ray?

It depends on the video duration and the software you use. Most of the time, it takes a few minutes to tens of minutes. It should be noted that good software can help you save time.

How do I play audio and video TS files?

You may not be able to play the TS file directly successfully. In this case, you need to use software to play audio and video TS files. You can take Linux. MPEG Streamclip, VLC, and the Movies & TV Windows app into consideration.

What format can Blu-ray Ripper rip to?

You can always use the ripper to convert them to MKV, MP4, AVI, M4R, FLAC, MOV, WMV, TS, 3GP, and many other formats. Blu-ray Ripper offers 500+ output presets for video, audio, iOS devices, etc.

How do I extract Blu-ray to TS files without losing quality?

Blu-ray Ripper can help you rip videos from 4K Blu-rays with high quality.
Conclusion
Overall, Blu-ray Ripper offers a comprehensive set of features for ripping, converting, and customizing Blu-ray movies. It provides a lossless solution to preserve movies digitally, enhances compatibility for mobile devices and streaming platforms, enables easy sharing and backup, allows for editing and customization, and employs hardware acceleration for optimized performance. It will definitely meet your need to rip Blu-ray to TS files.