Blu-ray Ripper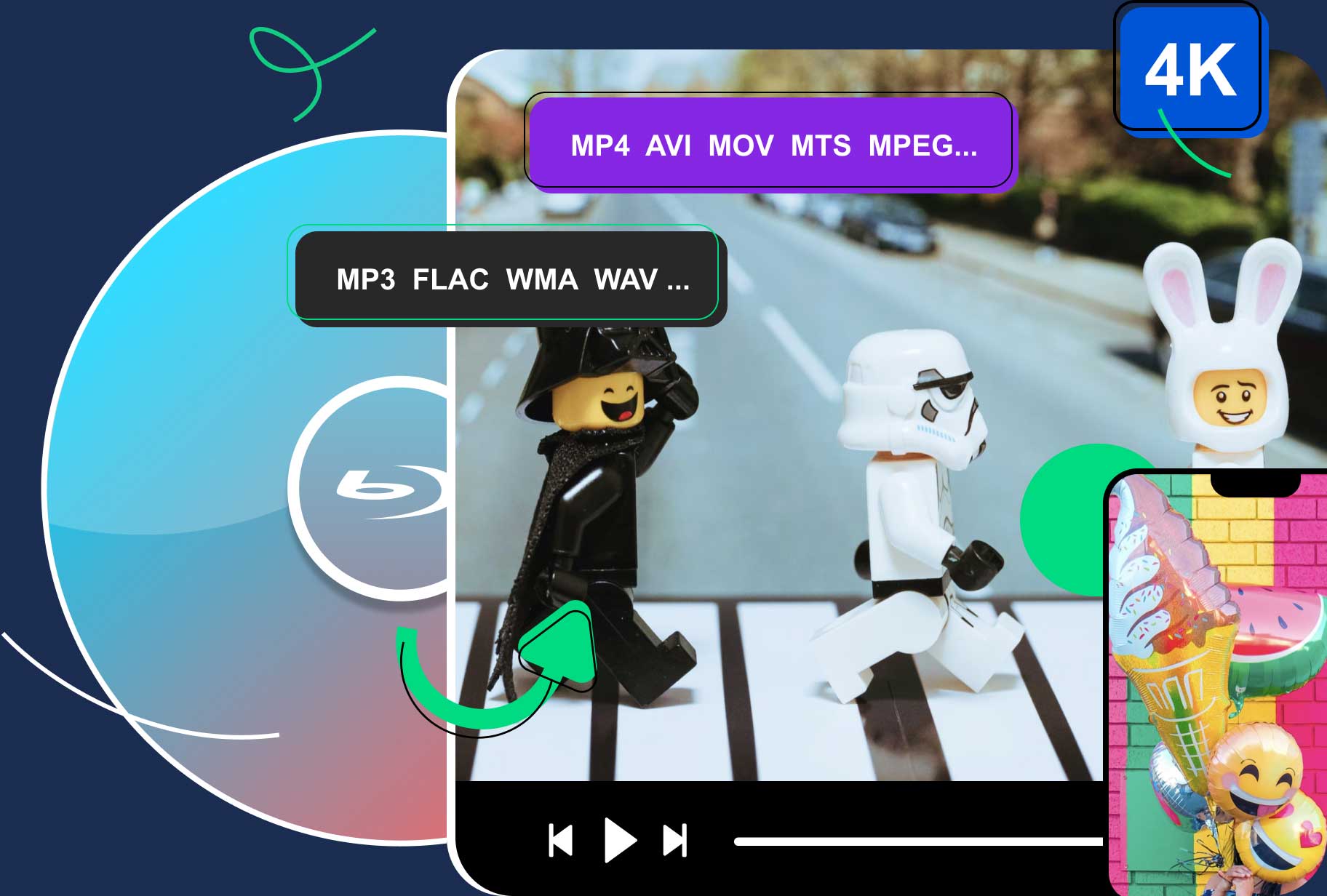 High-Quality Solution for Ripping Blu-ray/DVD/Folder to Any Formats Quickly
Free Download
Free Download
6 Best Blu-ray Decrypters: Your Guide to Convenient Blu-ray Playback
Embarking on the high-definition journey offered by Blu-ray Discs can be exciting, but the journey is often blocked by encryption. Fear not, because Blu-ray decrypters are here to help you unlock this world of high-resolution content. To help you along the journey, we present the top six Blu-ray decrypter software tools, each with its own unique set of features, pros, and cons. Without further ado, scroll down for the detailed content.

Disclaimer: This article aims to provide information about Blu-ray decrypters. Please note that decrypting copyrighted materials may be against the law in certain jurisdictions. Users are encouraged to respect and abide by copyright laws.
Part 1. DVDFab
DVDFab, a versatile Blu-ray decrypter with an advanced set of features. Known for its robustness and reliability, this software can rip, copy, and burn Blu-rays to and with various formats while preserving the original video quality. With its powerful decryption capabilities, DVDFab works as an excellent Blu-ray decrypter on Mac/Windows and can remove all known AACS copy protections, giving you unprecedented access to your Blu-ray collection. Besides, if you do not want to convert Blu-ray to digital formats, you can still use the Cinavia Removal feature to remove the protection only.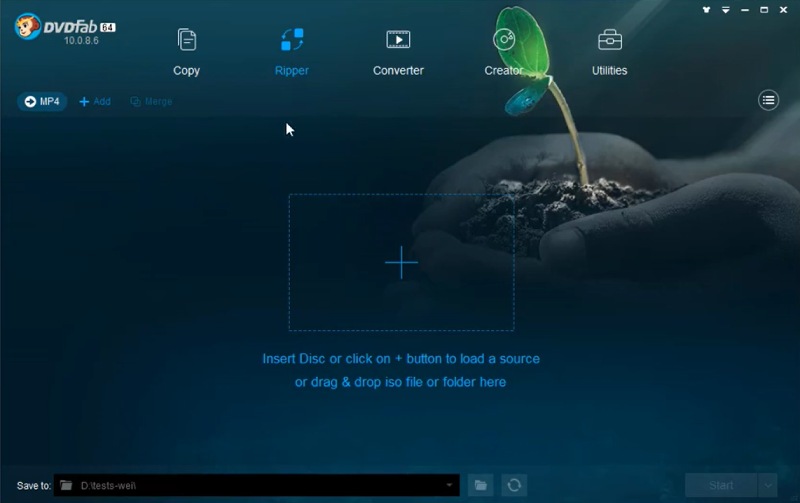 Key Features:
Supports a wide variety of formats.
Advanced compression algorithm.
Ability to remove all known AACS copy protections.
Pros

High-quality output.
Supports 3D conversion
Cons

Expensive.
The free version has limited features.
Full protection removal is not available in the free version.
Bonus Tip: Most Convenient Ripping Tool - Blu-ray Ripper
Blu-ray Ripper, picked by Blu-ray Software, is an industry-leading software designed to bring high-quality Blu-ray ripping capabilities to your fingertips. Although it is not a complete decrypting software, it still helps simplify the task of converting Blu-ray content to any popular video or audio format with its user-friendly interface and high-speed ripping process. Whether you're a casual viewer or a film enthusiast, you can trust this tool to provide the optimal viewing experience.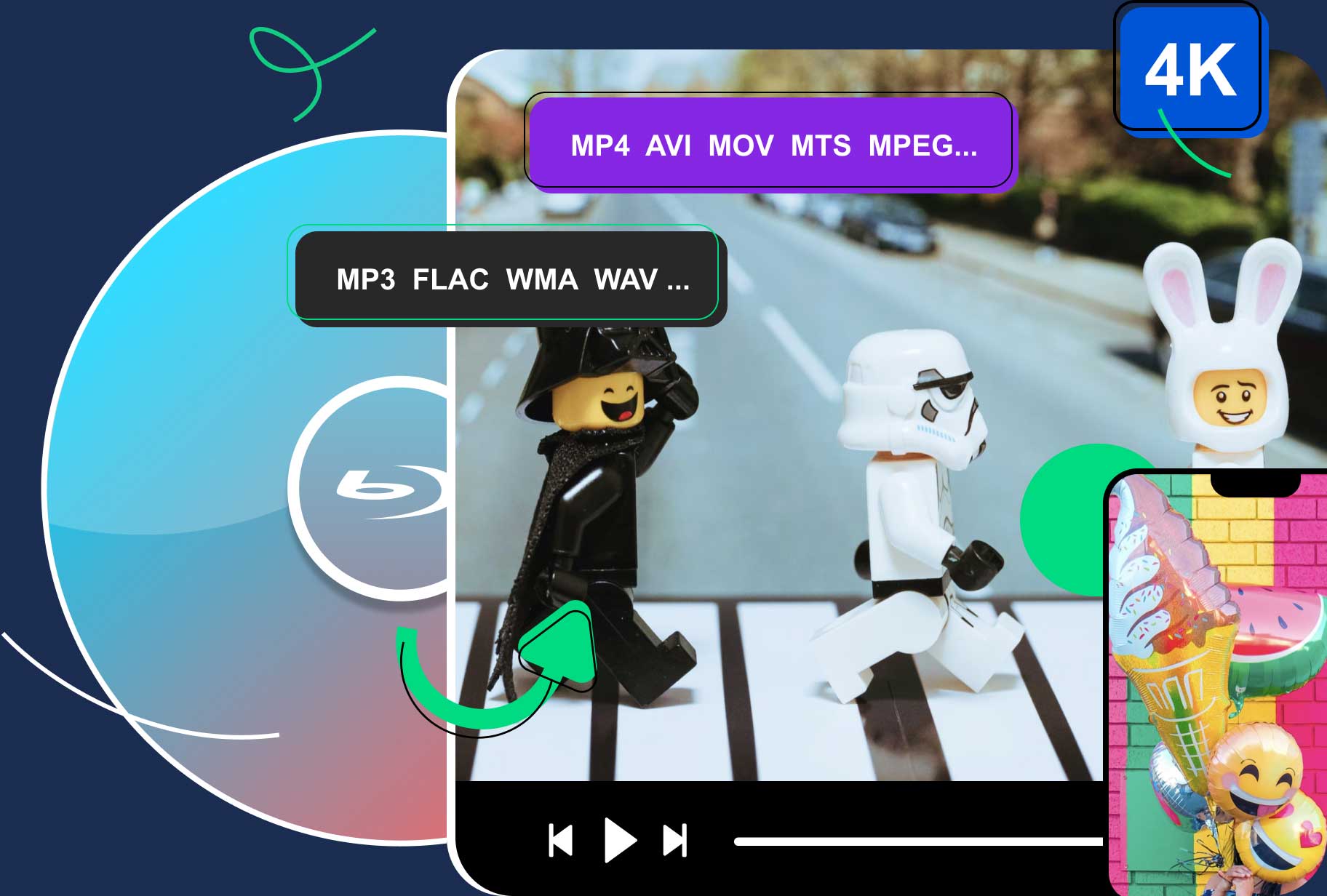 Blu-ray Ripper
Supports a wide range of output formats, MKV, AVI, MOV, MP4, etc.
Advanced but easy-to-use editing tools for customization.
High-quality output profiles like 4K and 1080p are available.
A high-speed ripping process with hardware acceleration.
Compatible with all disc types from BD-R, BD-R DL to DVD-RW, DVD-R, etc.
Step 1Insert your disc into the drive, and free download this program here. Then, install and launch it. You can import the disc by clicking the Load Blu-ray Disc button. Afterward, all titles will show up.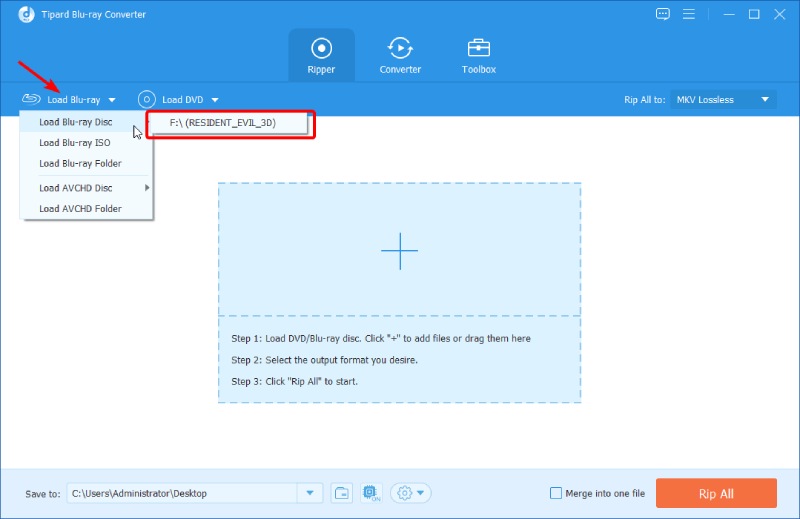 Step 2Choose an output format from the Rip All to drop-down list in the right corner above. You can choose whatever format you want based on your output devices or platforms.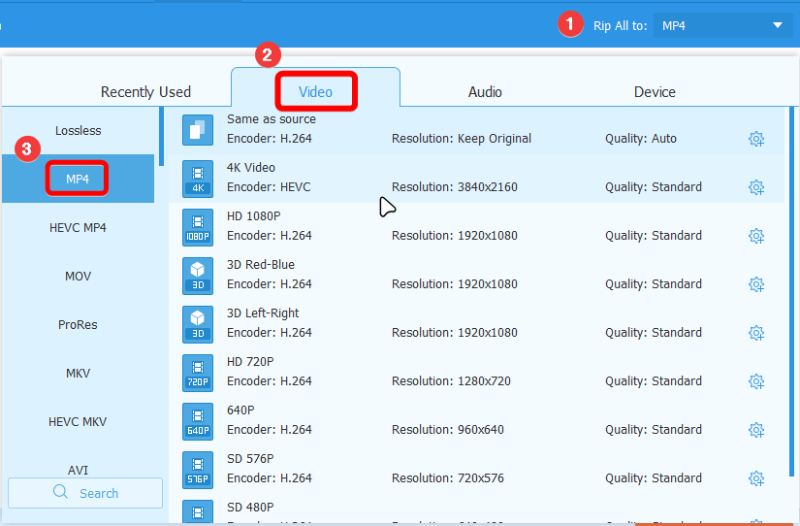 Step 3Find a destination folder for the output file and click the Rip All button to start ripping. Once the ripping is done, the output folder you selected will pop up. You can transfer the ripped video to whatever device.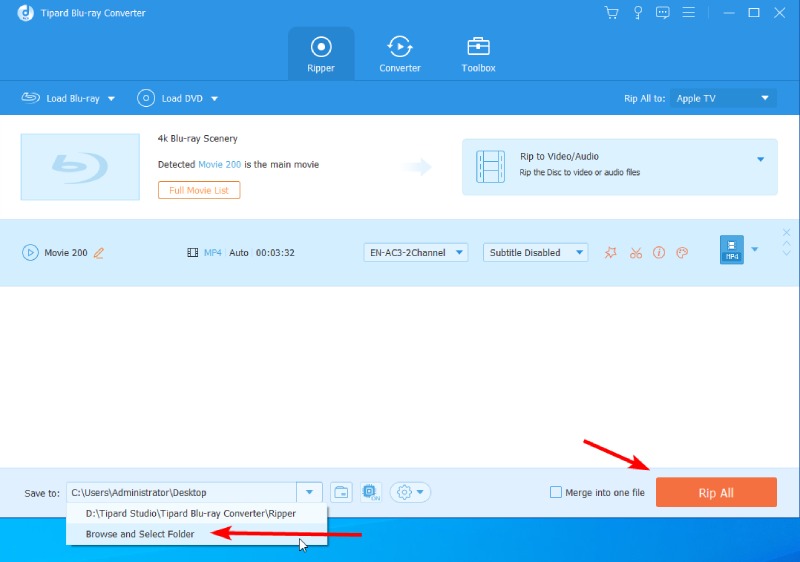 Part 2. MakeMKV
MakeMKV is a straightforward Blu-ray decrypter that directly converts Blu-ray to MKV format, making it an excellent choice for those who value simplicity and effectiveness. It preserves all video and audio tracks, including HD audio, making it a great tool for creating high-quality MKV files from your Blu-ray discs. If you are interested in MakeMKV and want to know more similar programs, check the post below to see more alternatives to it.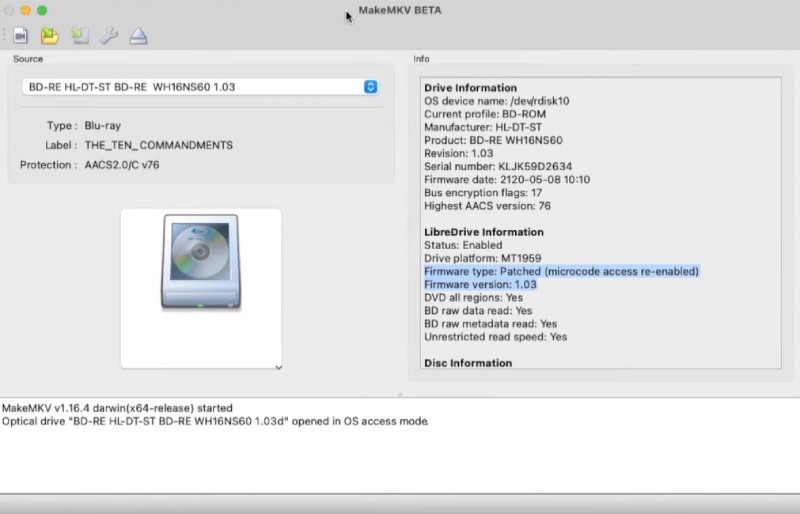 Key Features:
Directly converts Blu-ray to MKV format.
Preserves all video and audio tracks.
Free while in beta.
Pros

Easy to use.
Free while in beta.
Cons

Only has MKV output format.
Part 3. AnyDVD HD
AnyDVD HD is a smart solution for those seeking a versatile Blu-ray decrypter that works seamlessly in the background. Capable of removing restrictions on Blu-ray media, AnyDVD HD enables you to experience unrestricted viewing. If you're looking for a tool to automate your Blu-ray decryption process, AnyDVD HD could be the answer.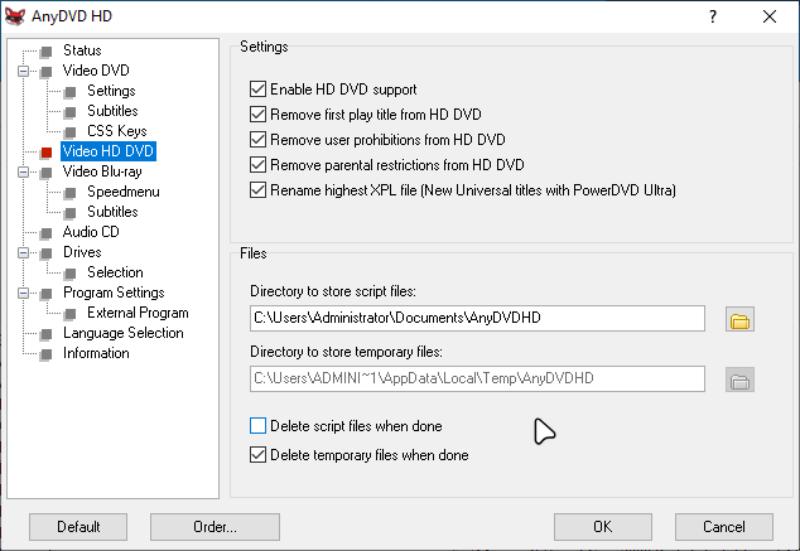 Key Features:
Works in the background to automatically decrypt Blu-rays.
Removes restrictions on Blu-ray media.
Supports all video DVD media.
Pros

Great for removing Blu-ray region codes.
Cons

The interface is not beginner-friendly.
The installation of AnyHD DVD requires a restart of the computer.
Part 4. CloneBD Blu-ray Ripper
CloneBD Blu-ray Ripper is a top-tier software solution for users who wish to rip their Blu-ray discs to a variety of formats. Supporting multi-core CPUs and hardware acceleration, it offers speedy performance without compromising the quality of your media files. With its selective copy feature, it gives users the flexibility to choose what part of the movie to rip.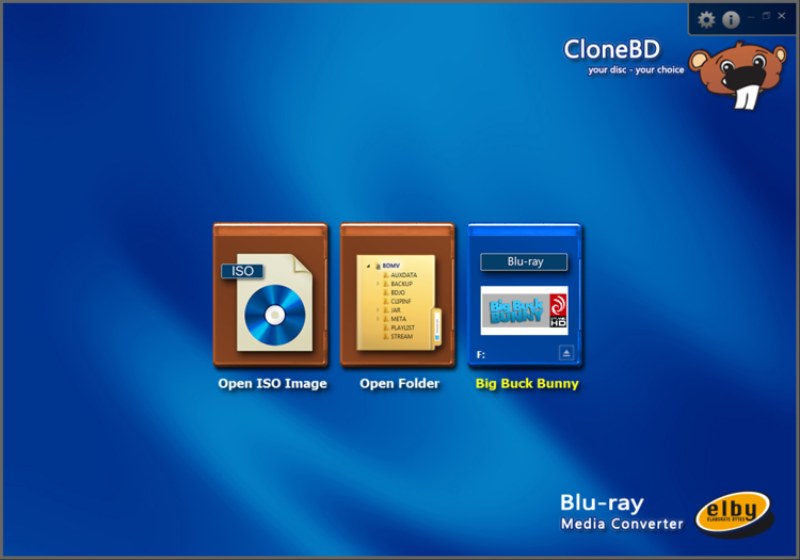 Key Features:
Supports a variety of output formats.
High-speed ripping process.
3D conversion capabilities.
Pros

Quick ripping process, high-quality output
Cons

Does not support all formats, expensive license
Part 5. Aurora Blu-ray Copy
Aurora Blu-ray Copy is a simple yet efficient decrypter, ideal for those looking to copy Blu-ray to ISO or burn to a blank disc. It's a great tool for beginners due to its easy-to-understand interface. If you need a reliable solution for non-commercial use, look no further than Aurora Blu-ray Copy.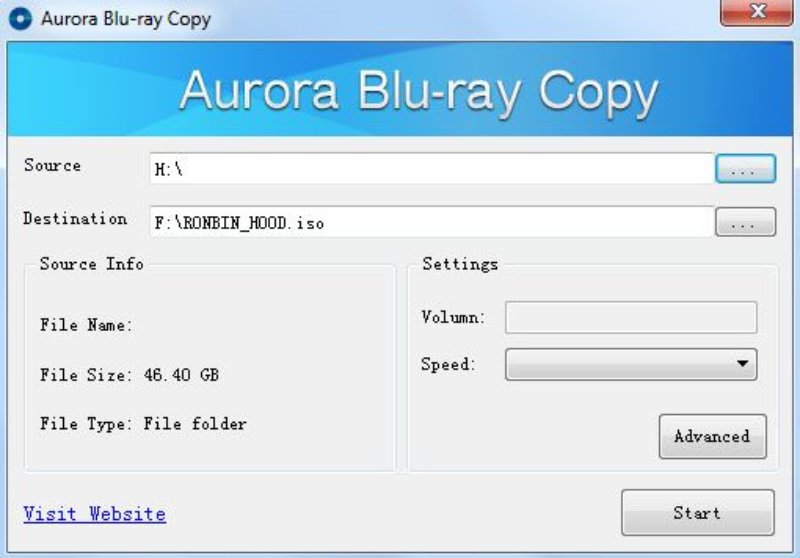 Key Features:
Copy Blu-ray to ISO or burn to a blank disc.
Remove protections like BD-Live and region code.
Free for non-commercial use.
Able to remove AACS, BD+, MKB v26, and bus encryptions.
Pros

Completely free for non-commercial use.
Cons

Limited features compared to others.
No conversion to other formats other than ISO files and Blu-ray folders.
Part 6. Leawo Blu-ray Ripper
Last but not least, we have Leawo Blu-ray Ripper. Designed to deliver excellent quality output, this software can rip Blu-ray to a wide variety of formats, ensuring you can enjoy your favorite content on any device. With its advanced disc decryption and 2D to 3D conversion capabilities, Leawo Blu-ray Ripper is a comprehensive solution for all your Blu-ray ripping needs. When downloading this software, you might also find that there are many other features like a player, copier, and burner combined in this tool.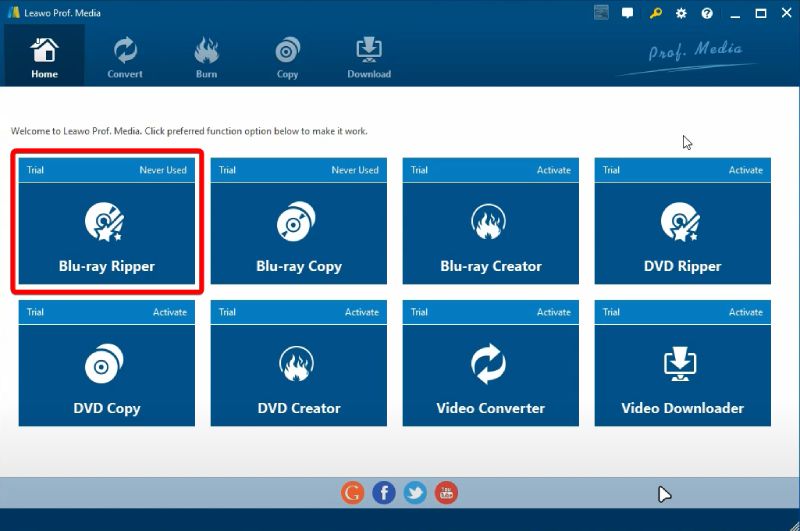 Key Features:
Supports a wide variety of formats.
Advanced disc decryption.
Convert 2D Blu-ray to 3D videos.
Pros

Supports a wide variety of formats.
Straightforward icons for easier operations.
Cons

The free version has watermarked output.
There are too many tools combined in one software.
Bottom Line
Please remember that the "best" decrypter will depend on your specific needs and budget. Review your options carefully, and make sure to stay in compliance with copyright laws. Then, enjoy your high-resolution content on your computer without hassle.
Part 7. FAQs about Blu-ray Decrypter
Is using a Blu-ray decrypter legal?

The legality of using Blu-ray decrypters varies by country. It is recommended to understand the copyright laws in your jurisdiction before using such tools.

Why is a Blu-ray decrypter necessary?

Most commercial Blu-ray discs are encrypted to prevent unauthorized duplication and distribution. A Blu-ray decrypter helps to bypass this encryption so you can back up or convert your Blu-ray media.

Does a Blu-ray decrypter affect the video quality?

The best Blu-ray decrypters aim to maintain the original quality of the video while decrypting. However, the quality may be slightly reduced based on the software and output format you choose.

Can I use a Blu-ray decrypter to make copies of my Blu-ray movies?

Yes, you can use a Blu-ray decrypter to make backups of your Blu-ray discs. This is helpful to preserve the content in case the original disc gets damaged.

Is HandBrake a Blu-ray decrypter tool?

HandBrake, by default, can convert DVD discs and normally the ones without copy protections. Sometimes, for Blu-ray ripping, even when the disc has no protection, it is reported that HandBrake fails to rip the whole movie. Hence, most people often use it as a compression tool after ripping Blu-ray in MakeMKV.
Conclusion
In conclusion, whether you're looking to convert your Blu-ray collection to a more portable format or trying to back up your favorite films, the right Blu-ray decrypter is out there for you. Review your options carefully, respect copyright laws, and enjoy the enhanced convenience these tools provide.