Blu-ray Ripper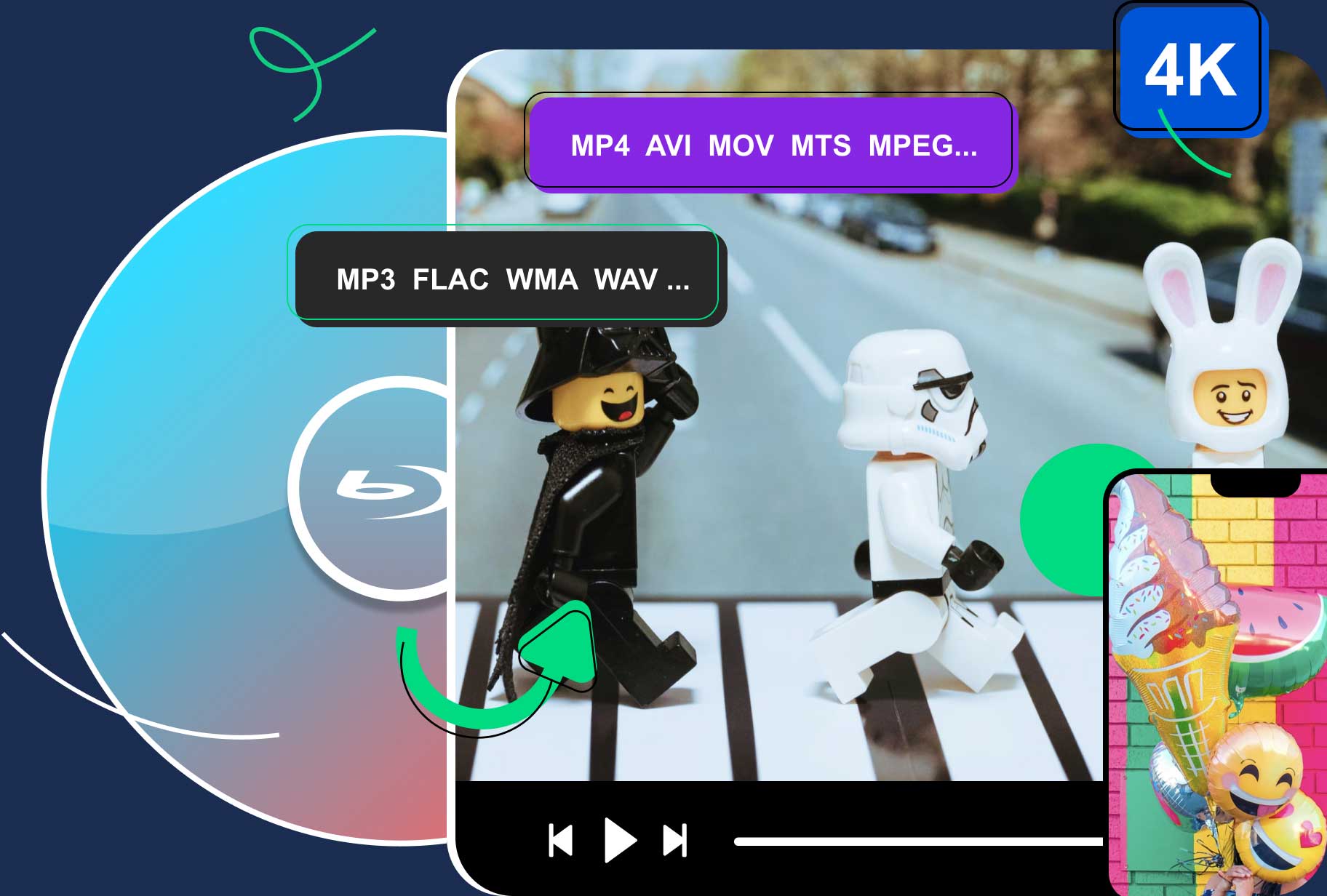 High-Quality Solution for Ripping Blu-ray/DVD/Folder to Any Formats Quickly
Free Download
Free Download
A Detailed Review to Bring You into DVDFab Blu-Ray Ripper
Blu-ray disc, as an advancement of regular DVD, is often used to save high-quality videos. However, since it carries far more data than a DVD, it requires a specialized Blu-ray player and normal DVD players often cannot read the files inside smoothly. Obviously, one cannot have the Blu-ray player with them all the time and may need to play the videos inside on another device. At this point, you will need professional tools to help you copy videos from Blu-ray discs.
As a leader in the industry, DVDFab Blu-Ray Ripper delivers a satisfactory answer. We will offer a review of the DVDFab Blu-Ray Ripper and provide you with detailed instructions. We hope you have something to gain from reading it.

Part 1. DVDFab Blu-Ray Ripper Review
DVDFab Blu-ray Ripper is a software that allows you to rip and convert Blu-ray discs into various digital formats. It is aimed to provide high-quality video and audio conversion while maintaining the original quality of the Blu-ray disc. The software has a user-friendly interface and various customization options, allowing you to adjust video settings and edit the video before ripping.
Platform
Windows and macOS
Ripping Quality & Speed
Equipped with a high-quality engine, DVDFab DVD Ripper supports ripping videos from Blu-ray discs into lossless multimedia formats, including MP4, MKV, M2TS, DTS-HD, TrueHD, TrueHD Atmos, DTS:X, etc., making it possible for you to play high-quality files on other devices. During the conversion process, it guarantees that your video will not lose any original quality.
DVDFab Blu-Ray Ripper applies the latest advanced GPU acceleration technologies. Supported by a multi-core CPU, NVIDIA CUDA, AMD, IQS (Intel Quick Sync), and Video ToolBox (macOS), you are allowed to achieve speeds up to 50× faster than the normal ripping process. It converts at around 300 frames per second. This means that you only need about 15 minutes to finish copying a Blu-ray movie.
Supported Formats
Input Formats
Blu-ray disc (2D & 3D), Blu-ray folder, Blu-ray ISO image file
Output Formats
2D Videos: MP4, MP4.4K, MP4 Passthrough, MKV Passthrough, MPEG-4, MKV.4K, FLV, AVI, MKV, WMV, M2TS, TS, H.265, etc.
3D Videos: 3D AVI, 3D WMV, 3D MKV, 3D M2TS, 3DTS, 3D MP4, 3D MKV.4K, 3D MP4.H.265 3D MP4.4K, 3D MKV.H.265
Audio: MP4, MP3, M4A, WMA, WMA10, DTS, OGG, WAV, AAC, PCM and AC-3/E-AC-3 5.1 etc., with up to 7.1 channels
Best Settings for DVDFab Blu-Ray Ripper
Windows 11/10/8.1/8/7 (32-bit/64-bit)
At least 2GB of RAM
100GB of free hard disk space
An external Blu-ray drive is necessary
Pentium II 500 MHz
Enable a stable Internet connection
Pros & Cons
Pros

Offer a clean interface and very easy to use.
Effective in the Blu-ray ripping process.
Have various video edit features to choose from.
Cons

The price plan is pretty expensive.
The Price Plan of DVDFab Blu-Ray Ripper
You are able to enjoy a free trial for 30 days after downloading the DVDFab Blu-Ray Ripper and registering.
The price for a 1-year license is $69.99. During this year, you will have access to all the features and enjoy the automatic update service. An account can only be used on 1 computer.
The price for a lifetime license is $99.99. Once purchased, you get lifetime access to all features as well as priority for technical support. You will enjoy a 30-day money-back guarantee after purchasing. An account also can only be used on 1 computer.
The price for DVDFab All-In-One (Lifetime) is $265.99. Purchase gives you lifetime access to all features as well as the update service. One account can be used on 5 computers. You are allowed to request a refund within 30 days of purchase.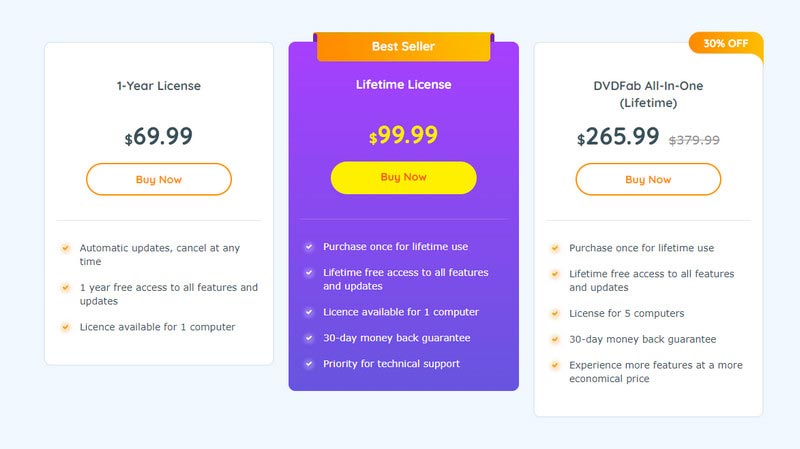 Part 2. DVDFab Blu-Ray Ripper Tutorial
After a detailed review of DVDFab Blu-Ray Ripper's features and pros and cons, you may be ready to use it. Its steps are quite simple, the interface is user-friendly, and you can easily find the features you need.
Here is the DVDFab Blu-Ray Ripper tutorial to help you operate it.
Step 1Download DVDFab Blu-Ray Ripper from its official website and install it on your computer.
Step 2Insert your Blu-ray disc into the external Blu-ray drive. Click the Add button. Or you can drag the folder onto the main interface.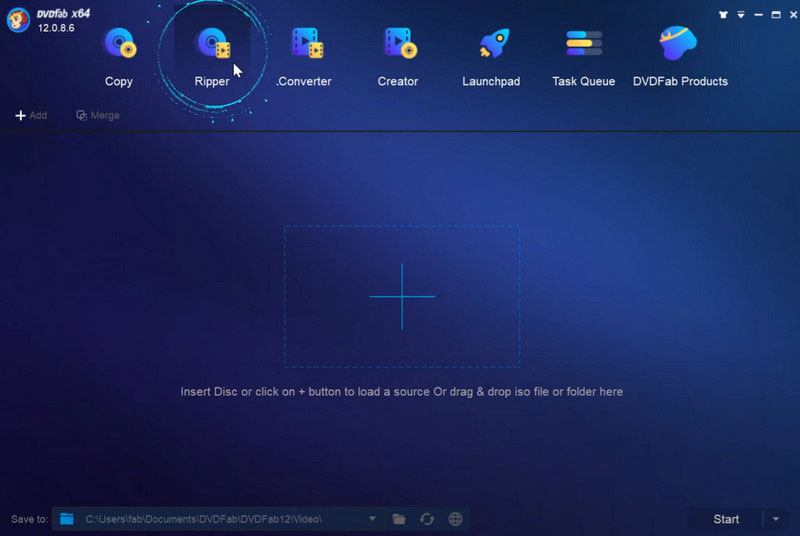 Step 3Click Choose Other Profile to find the file you want to rip from the disc. Adjust the settings of audio tracks, subtitles, and titles. You can also customize the video in Advanced Seeings or Video Editor. Choose the save path by dropping down the list next to Save to.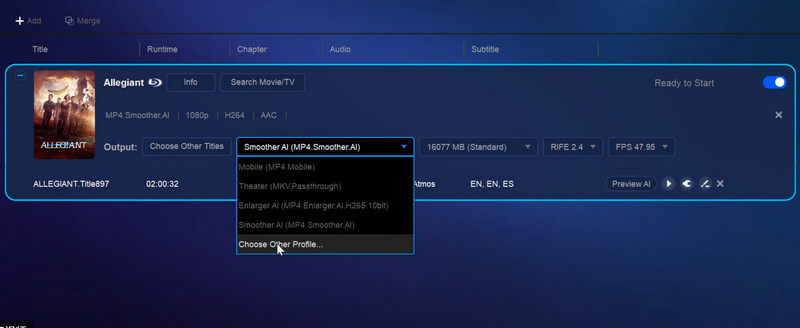 Step 4After finishing all the DVDFab Blu-Ray Ripper settings, click Start to let the program rip your Blu-ray disc.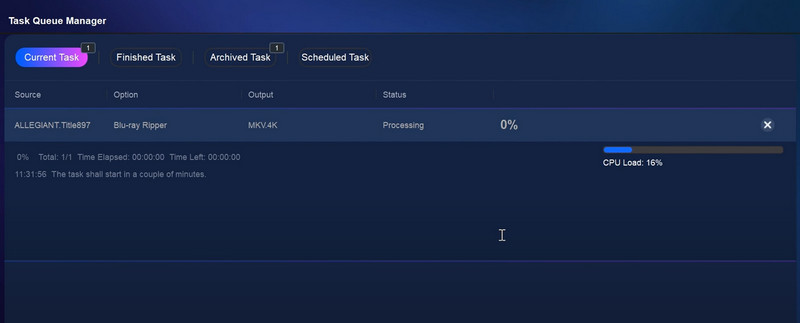 Part 3. Best DVDFab Blu-Ray Ripper Alternative
As good and comprehensive as DVDFab Blu-Ray Ripper has been, it can't help but be limited in some areas. At this point, we recommend you try its best alternative, Blu-ray Ripper, which is not only able to rip videos from Blu-rays with high quality but also supports you in editing the video, audio, titles, and subtitles from your Blu-ray.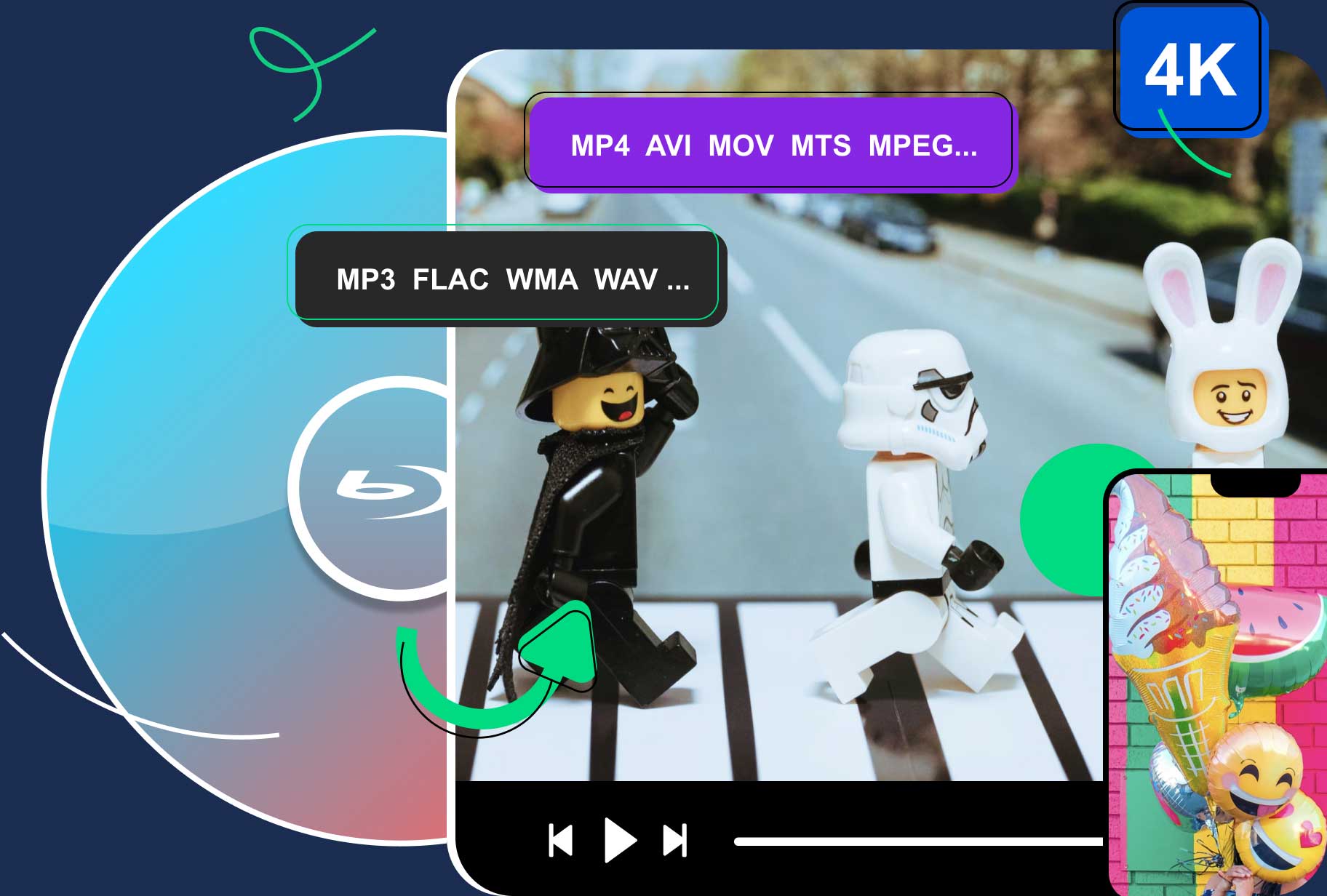 Blu-ray Ripper
Rip videos from Blu-ray and convert them to compatible formats for mobile devices.
Support converting Blu-ray folders and files to over 500 media formats and devices.
Offer easy editing tools for Blu-ray audio, video, title, and subtitles.
Provides speed-up performances for computers supporting GPU acceleration.
Here are instructions for operating Blu-ray Ripper.
Step 1Download and install Blu-ray Ripper on your computer. Insert your Blu-ray disc into the Blu-ray drive of your computer.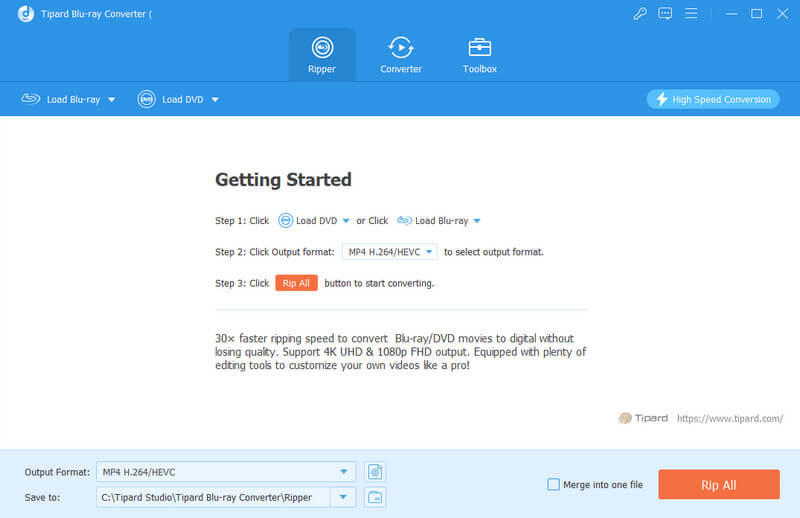 Step 2Click Load Blu-ray Disc and select the target disc. Maybe your disc will be automatically recognized by the program.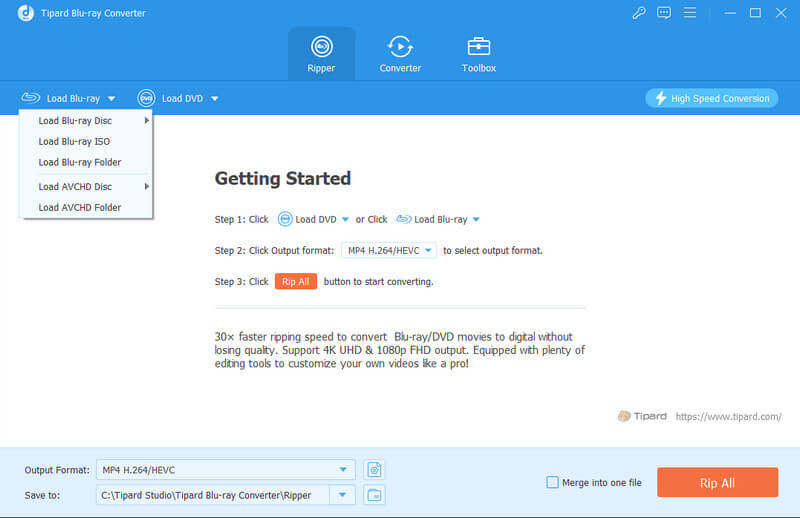 Step 3Choose the format you prefer from Output Format. Select a save path by dropping down the list next to Save to.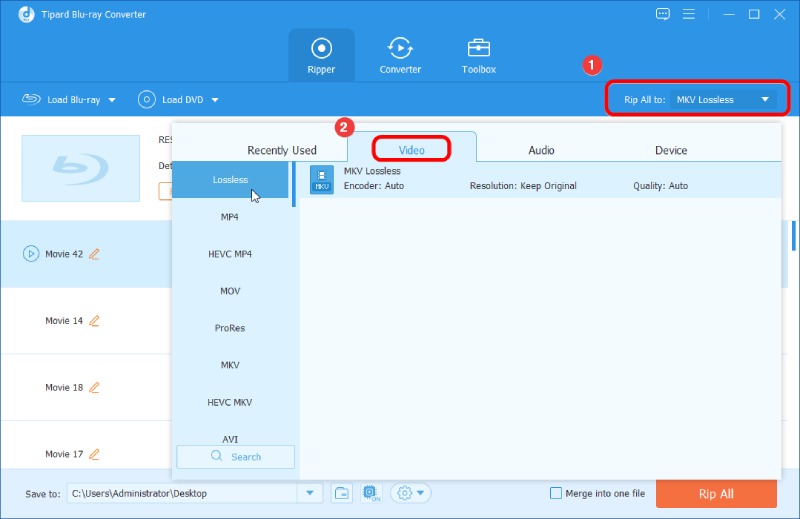 Step 4Finally, click Rip All to start the Blu-ray ripping process.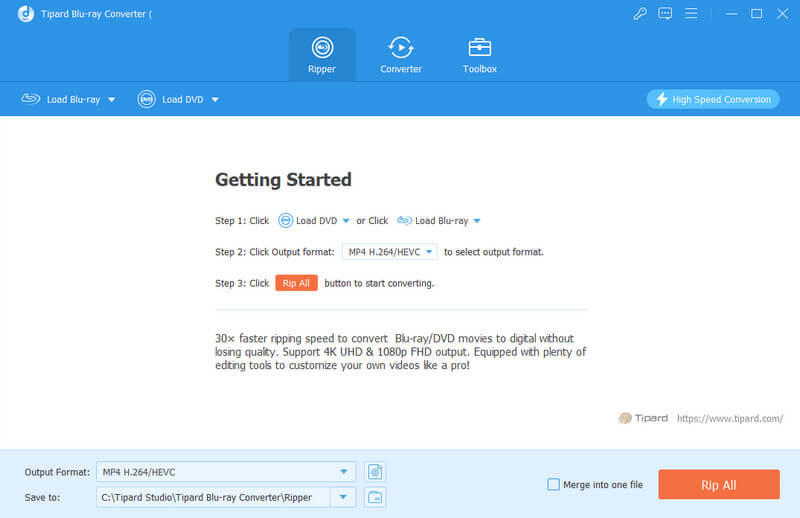 Part 4. FAQs About DVDFab Blu-Ray Ripper Review
How long will it take to rip a video to Blu-ray discs?

Since the videos stored in Blu-rays are of higher definition compared to normal videos, the files are larger. Generally speaking, it takes 45 minutes to an hour to rip a Blu-ray movie. But if you are using tools with acceleration technology, this time will be decreased. For example, using Blu-ray Ripper or DVDFab to burn a movie that is two hours long, you may only need 10-20 minutes.

Does ripping a Blu-ray damage it?

Burning this process won't cause any harm to your discs, so you don't need to worry about it. However, it cannot be ruled out that you have debris inside your Blu-ray drive that can cause damage to your Blu-ray discs inside. Also, the process of using the disc has the possibility of hurting it. So you can take and place it carefully, and check your drive in advance before you start. And when you do not need the disc, keep it in a cool and windy place.

Can DVDFab Blu-ray Ripper rip DVDs?

With numerous features, DVDFab Blu-ray Ripper supports ripping standard DVDs and Blu-ray discs that store high-quality videos. You can use it to transfer your files loaded in discs to several popular formats, and the process is guaranteed to be safe so that you can use it with confidence.

Is it illegal to rip a Blu-ray?

It depends on what you are ripping the Blu-ray disc for. If you just want to save the videos you have recorded or to transfer the videos from the Blu-ray disc to USB or other devices for playback, then copying is perfectly fine. If you copy other people's discs and distribute them or sell them, you run the risk of breaking laws and regulations.

Can I rip a Blu-ray with a DVD drive?

No, you can't. Only a Blu-ray drive can read the contents of your Blu-ray disc. Blu-ray discs store far more data than DVDs, and a normal DVD drive cannot read the higher-density data on a Blu-ray disc.
Conclusion
As a powerful and comprehensive software, DVDFab Blu-Ray Ripper is trusted by many users. This article gives you a detailed DVDFab Blu-Ray Ripper review, introducing you to its features, strengths and weaknesses, the environments it is suitable for, and steps to use it. We also recommend one of the best alternatives, Blu-ray Ripper, based on its features. These contents will help you to apply the Blu-ray copying tool better. If you have any new ideas after reading our content, please feel free to leave a comment and communicate with us.