Blu-ray Ripper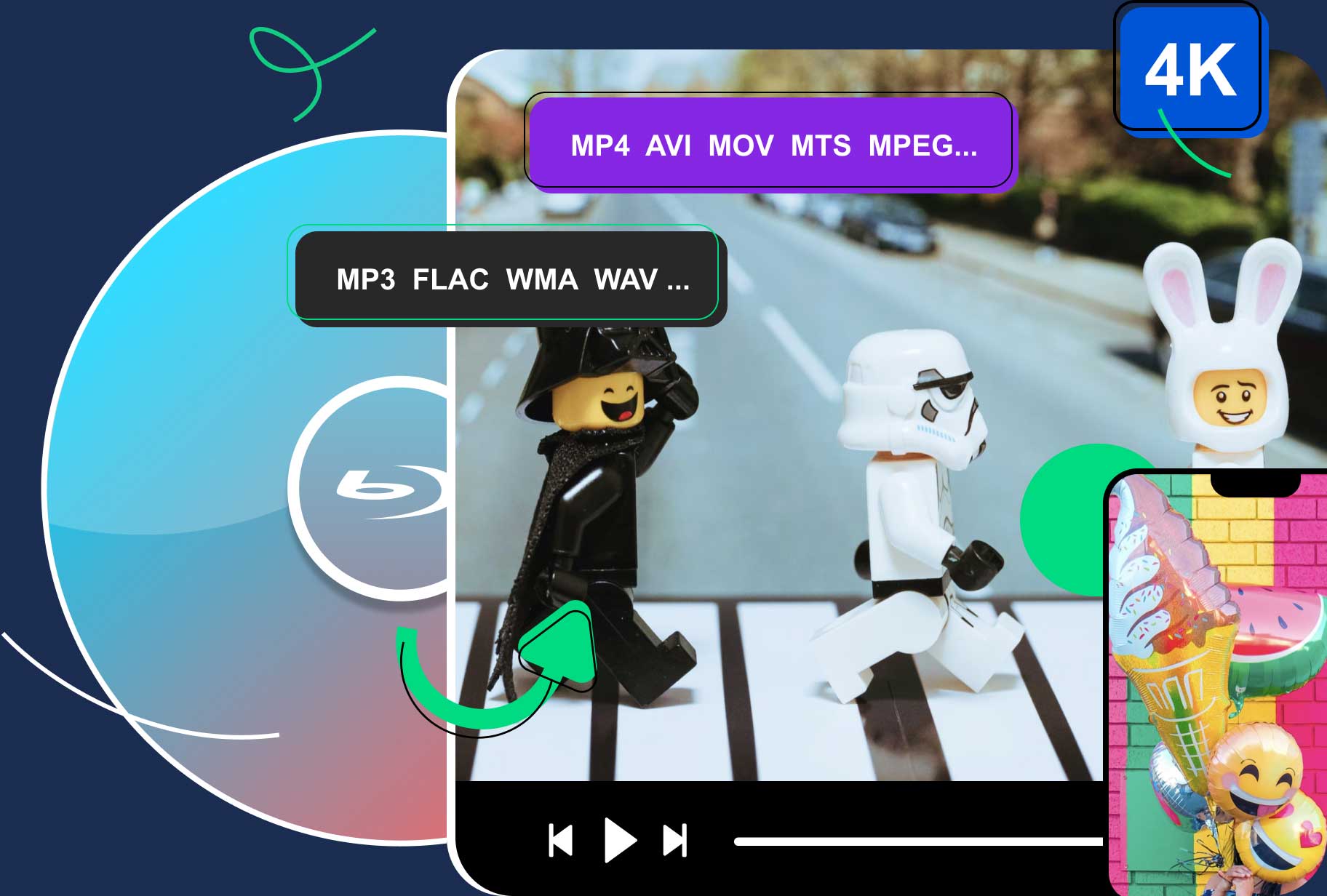 High-Quality Solution for Ripping Blu-ray/DVD/Folder to Any Formats Quickly
Free Download
Free Download
A Comprehensive, Step-by-Step Guide to Ripping Blu-ray to USB
Movies and TV shows on Blu-ray offer an unparalleled viewing experience with their high-definition visuals and superior sound quality. However, the physical nature of Blu-ray discs can be a limitation. They can get damaged, lost, or become unreadable over time. Ripping your Blu-ray to a USB drive is a fantastic solution to ensure you never lose access to your favorite media. This comprehensive guide will explore three user-friendly methods to help you transfer your Blu-ray content to USB for secure backup and easy accessibility.

Part 1. How to Copy Blu-ray to USB Drive for Backup
Backing up Blu-ray movies brings much more convenience for movie enthusiasts. Storing the backup in a USB drive is an excellent choice to level up this convenience. How to save movies to a USB flash drive? Follow the method below and convert the Blu-ray to digital to back it up on a USB drive. After having Blu-ray video on a USB drive, you can watch the movie anywhere, even without a Blu-ray drive.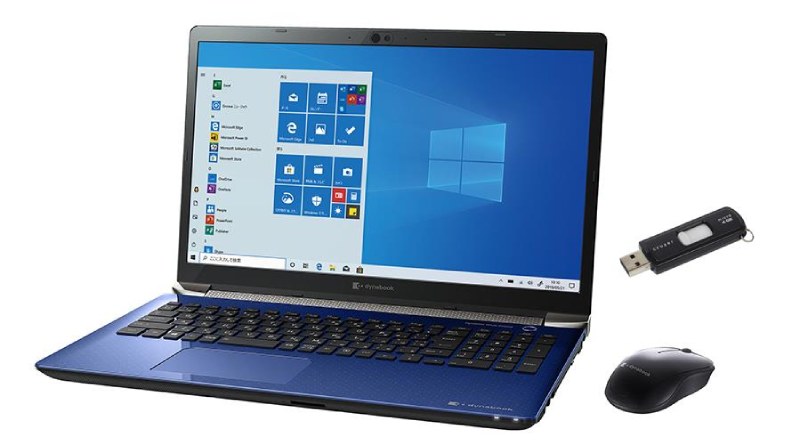 Method 1: Blu-ray Ripper – Most Recommended
Blu-ray Ripper is a powerful tool that excels in ripping Blu-ray content swiftly and seamlessly. As a dedicated ripping software, it is designed with various features that enable it to convert Blu-ray content into digital formats apt for USB storage. Blu-ray Ripper's prowess lies in its ability to balance speed and quality, ensuring that users can rip content quickly without compromising the high-definition quality that Blu-ray is known for. If your USB flash drive does not have enough room to store a high-quality Blu-ray movie, this ripper can also help you compress the video file size after ripping.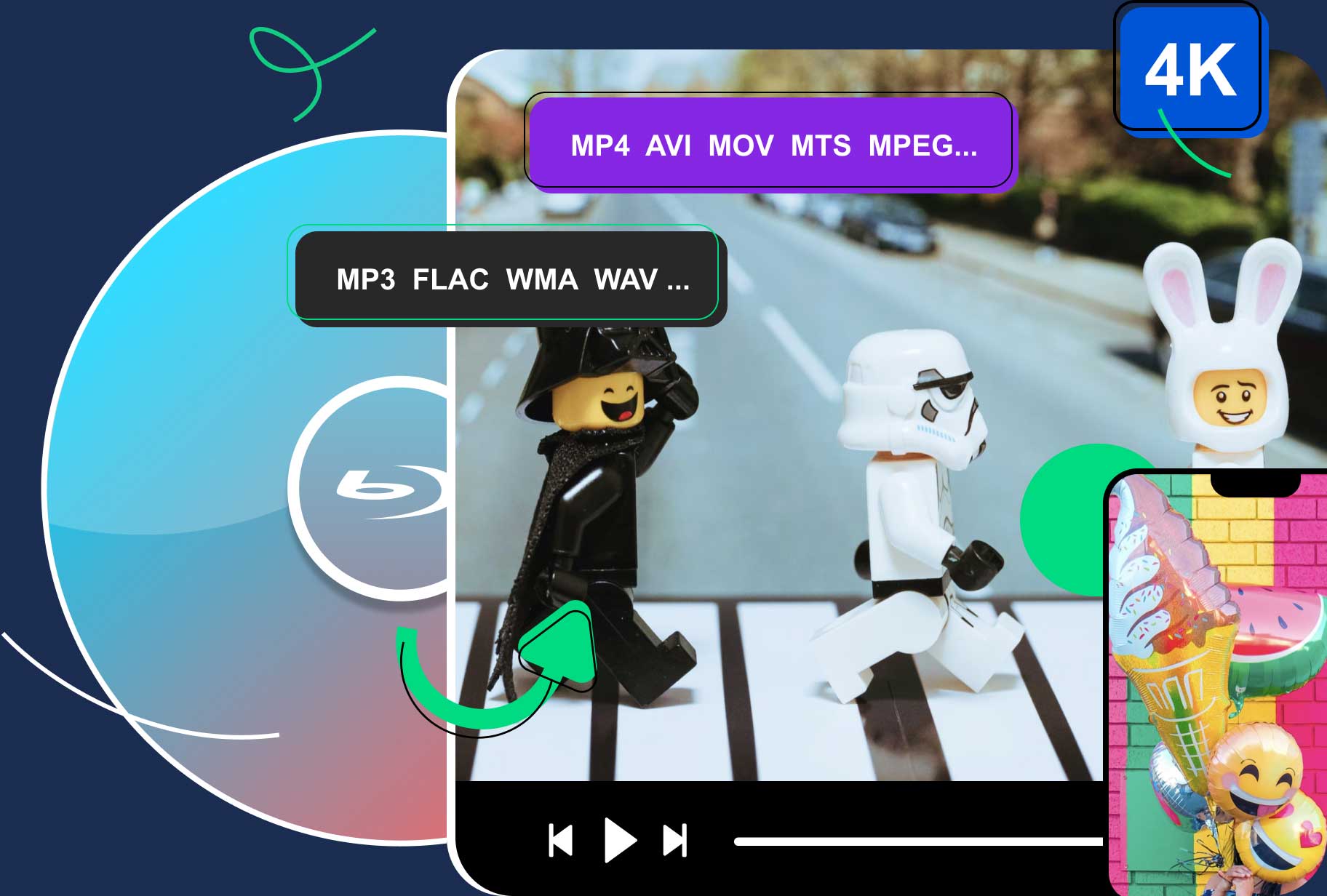 Blu-ray Ripper
Rips Blu-ray discs into numerous digital formats, such as MP4, AVI, and MKV, based on your preferences.
Ability to maintain the original quality and preserve the Blu-ray's high-definition audio and video.
Supports various audio codecs and subtitles, ensuring comprehensive media ripping.
Simplifies the ripping process with an intuitive and user-friendly interface.
Step 1Download and install Blu-ray Ripper on your PC or Mac. Then, launch the program and insert your Blu-ray disc into the drive. In the software interface, click the Load Blu-ray Disc button and select the Blu-ray.

Step 2Choose the output format suitable for your USB drive from the Rip All to drop-down list. For example, you can choose MP4 from the Video tab, as it is compatible with most players.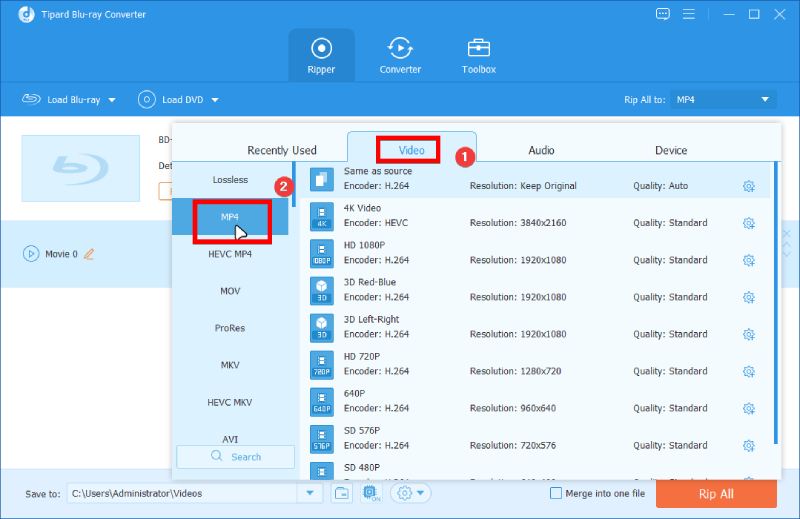 Step 3After that, select a destination folder by clicking the Browse and Select Folder button. Next, click the Rip All button to convert the Blu-ray to USB suitable format. The destination folder will pop up when the ripping ends.

Method 2: VLC Media Player
For those looking for a more economical solution, the VLC Media Player is a great alternative. VLC, while primarily a media player, also offers powerful Blu-ray ripping capabilities. However, it's worth noting that the process is more complex and may require a bit of technical know-how to rip Blu-ray with VLC, especially since it can only rip homemade Blu-ray to USB. Despite the steeper learning curve, VLC's extensive customization options and the fact that it's free make it a compelling option for those willing to spend more time ripping.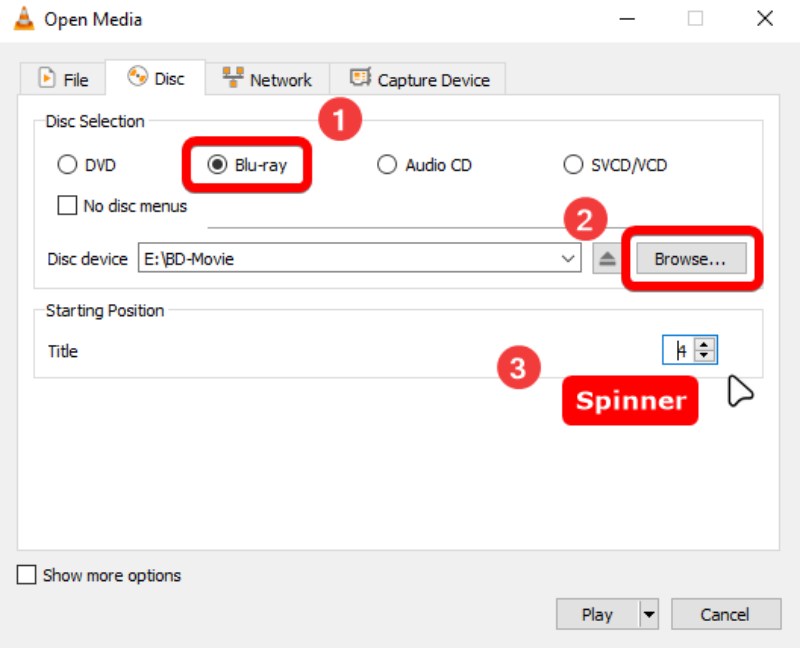 Key Features:
A free and open-source solution, making it accessible to all users.
Plays and converts various media formats, proving its versatility.
Plays and converts various media formats, proving its versatility.
Step 1Download and install the VLC player on your computer. Insert the Blu-ray disc into the drive.
Step 2Launch VLC, click the Media button, and then the Convert/Save button.
Step 3Click on the Disc tab and select the Blu-ray disc to rip.
Step 4Choose the desired output format and destination.
Step 5Click the Start button to rip the Blu-ray disc, then move the ripped file to your USB.
Pros
Free and highly customizable.
You can preview Blu-ray disc before ripping it.
Allows to skip the Blu-ray menu during the ripping process.
Cons
A complex process, not suitable for beginners.
Method 3: Leawo Blu-ray Ripper
Leawo Blu-ray Ripper is another effective tool for ripping Blu-ray content. This software is a combo for all tools related to Blu-ray. Not only can you rip the discs in it, but also copy and create discs. For the ripping feature, Leawo offers a straightforward way to rip Blu-ray to USB displaying all the necessary buttons on its main interface. Leawo Blu-ray Ripper simplifies the ripping process without sacrificing quality or versatility, making it an excellent choice for those looking for a blend of power and simplicity.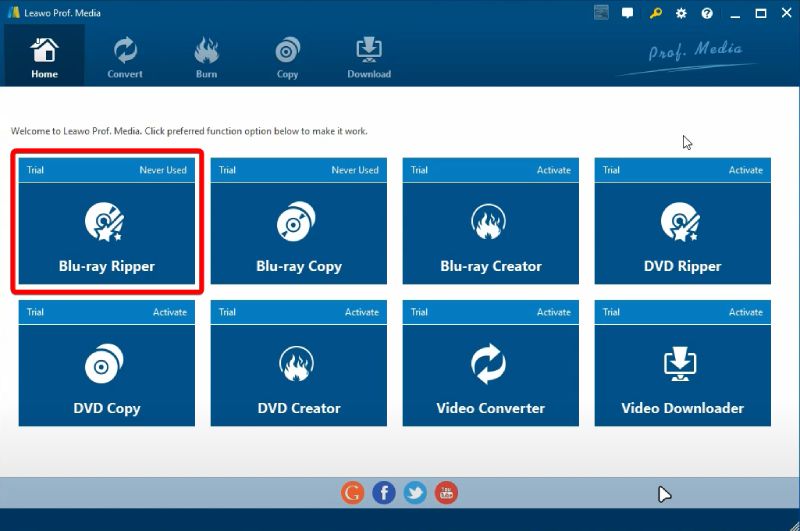 Key Features:
Supports a broad range of output formats, providing more options for users.
An intuitive user interface that simplifies the ripping process.
Guarantees high-quality output, maintaining the quality of your media content.
Step 1Download and install Leawo Blu-ray Ripper from its official website. Insert the Blu-ray disc you want to rip.
Step 2Open the program, click the Add Blu-ray/DVD button, and select your disc.
Step 3Choose your desired output format and the destination.
Step 4Click the Convert button to start ripping. After ripping, connect the USB drive to your computer and move the ripped video to it.
Pros
Intuitive interface, high-quality output.
Supports importing photos, media files, and discs for conversion.
Cinavia protection removal.
Cons
Advanced features are available for the paid version only.
Part 2. FAQs about Copy Blu-ray to USB
Can I rip Blu-ray to USB without using any software?

While it's technically possible to rip Blu-ray to USB without software, it isn't very easy and is not recommended for ordinary users. Using ripping software makes the process much easier and more efficient.

Is ripping Blu-ray to USB legal?

It depends on your local copyright laws. Generally, it's legal to rip Blu-ray for personal use. However, sharing or distributing ripped content is illegal.

Does ripping Blu-ray reduce the quality?

If you use high-quality ripping software and choose a high-quality output format, the quality reduction can be minimal.

How long does it take to rip a Blu-ray to USB?

The ripping process can vary depending on the content's length, your computer's speed, and the software you're using.

How much space does a ripped Blu-ray take on a USB?

The space required depends on the output format and the length of the video. However, a full-length HD movie typically requires 1-2 GB of space.
Conclusion
Ripping Blu-ray content to a USB drive is a practical and convenient solution to safeguard your precious media content from loss or damage. You can easily access your favorite media anywhere, anytime, by converting your Blu-ray discs into digital formats and storing them on a USB drive. Whether you prefer the advanced features of VLC Media Player, the simplicity and efficiency of Blu-ray Ripper, or the balanced features offered by Leawo Blu-ray Ripper, each method offers unique advantages. Remember, however, to respect copyright laws and only rip Blu-ray content for personal use.