Blu-ray Player
Smooth Playback for 4K Blu-rays/Folder/ISO File/Videos.
Free Download
Free Download
Blu-ray Audio: An In-Depth Analysis of the Evolutionary Sound
The dynamic world of audio technology has undergone remarkable transformations, bringing groundbreaking innovations to music lovers. One of these significant milestones is the development of Blu-ray audio technology. This innovation has considerably raised the standards of audio experiences, offering much superior sound quality to regular CDs. This article will explore what Blu-ray audio is, its distinguishing features, its performance against the ubiquitous CD, and its status in today's digital age.

Part 1. What is Blu-ray Audio: The Advent and the Evolution
Blu-ray disc technology appeared in 2000 when a group of leading technology corporations united to create a revolutionary optical disc format. Then, Blu-ray discs came into birth in 2006. Shortly after, the Blu-ray audio disc made its debut.
Unlike traditional music CDs or MP3 players, a Blu-ray audio disc is a specific type of Blu-ray disc designed to store high-quality audio data. Its unique feature is its vast storage capacity: 25 GB for a single-layer Blu-ray disc and an enormous 50 GB for a dual-layer disc. This powerful storage capability allows the encoding of audio data at exceptionally high bitrates, producing sound output with unrivaled depth and complexity.
However, Blu-ray audio discs do not have a wide range of popularity. The boom of digital music distribution channels and the convenience of streaming services have led to a decline in the demand for physical audio disc formats such as Blu-ray audio.
Instead of listening to physical discs, people prefer to listen to music on streaming services like Spotify, Apple Music, Tidal, etc. That's why you can rarely see such a disc in your daily life.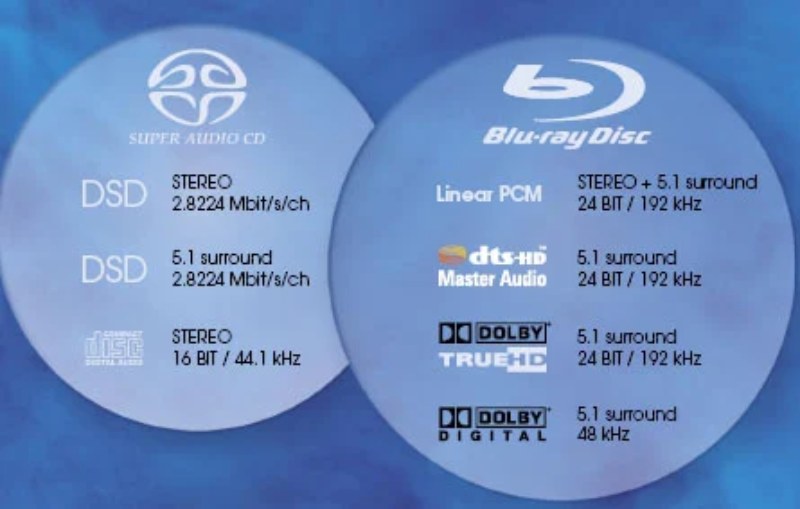 Part 2. Blu-ray Audio Disc vs. CD: A Detailed Comparative Study
It's hard to compare Blu-ray audio with digital music, for the latter has outweighed Blu-ray in convenience and accessibility. You must have certain Blu-ray players to enjoy the lossless physical discs. Although Blu-ray audio cannot beat online streaming services, let's look at the comparison between two physical audio discs, Blu-ray audio and CD.
As the dominant form of the music distribution sector in the late 20th century, CDs offer a fresh perspective in understanding the Blu-ray audio disc and its relevant technology. To let you clearly see the differences between the two-disc types, below is a chart that compares the Blu-ray audio disc with the CD from the aspect of storage capacity, sound quality, bitrate, and codec.
| Feature | Blu-ray Audio Disc | CD |
| --- | --- | --- |
| Storage Capacity | 25-50 GB | 700 MB |
| Sound Quality | High-Resolution Audio | Standard Audio |
| Bitrate | Up to 24.5 Mbps | 1.411 Mbps |
| Codec | LPCM, Dolby TrueHD, DTS-HD Master Audio | PCM |
As we dive deeper, you can see that Blu-ray audio discs redefine sound quality with high-resolution audio that delivers a vast frequency range and exceptional detailing. CDs, in contrast, offer 'standard' audio quality, confined in its frequency range and detailing relative to Blu-ray audio discs.
The bitrate, a measure of the amount of audio data processed per second, clearly shows the big difference in audio quality between these two discs. Blu-ray audio bitrate is up to 24.5 Mbps, ensuring a richer sonic experience that is far superior to the 1.411 Mbps bitrate of CDs. This significant bitrate difference results in better sound quality with Blu-ray audio discs.
Moreover, Blu-ray audio discs support high-quality lossless audio codecs like LPCM, Dolby TrueHD, and DTS-HD Master Audio. These codecs preserve the original audio data during encoding, ensuring high-fidelity sound reproduction. CDs, although using the lossless PCM codec, do not support high-resolution audio.
Despite the excellent sound quality Blu-ray audio discs hold, their market share of them is not ideal. The rise and dominance of music streaming platforms have led to a lesser market share for both Blu-ray audio discs and CDs. Although CDs are gradually declining, they still hold a significant portion of the music distribution.
Part 3. Make Blu-ray Audio Convenient in the Digital Age
While the advantages of Blu-ray audio are obvious, its adoption in the consumer market has been slower than expected, mainly due to the accessibility and convenience of digital music platforms. However, for music enthusiasts who value high-resolution audio, Blu-ray audio discs offer an unrivaled auditory experience that digital platforms can't match yet.
Hence, to gain this superiority in sound quality, Blu-ray Software recommends Blu-ray Player to help you make Blu-ray audio accessible again on your computer. Simply use this omnipotent player to enjoy lossless music on Windows and Mac.
Blu-ray Player is compatible with various disc types, including regular DVDs, Blu-rays, and Blu-ray audio discs. Besides, you can also play high-quality digital audio files in it like FLAC, WAV, WMA, etc.
Blu-ray Player
Delivers the original Blu-ray audio quality.
Offers smooth audio playback with hardware acceleration.
Switch to any song in the Blu-ray disc via the Playlist.
Listen to the Blu-ray audio in Shuffle, Order, and Single.
How to Play a Blu-ray Audio Disc with Blu-ray Player
Step 1Get a free download of the program here. Install and launch it afterward. Then, insert the audio disc into the drive and click the Open Disc button on the main interface to select the disc.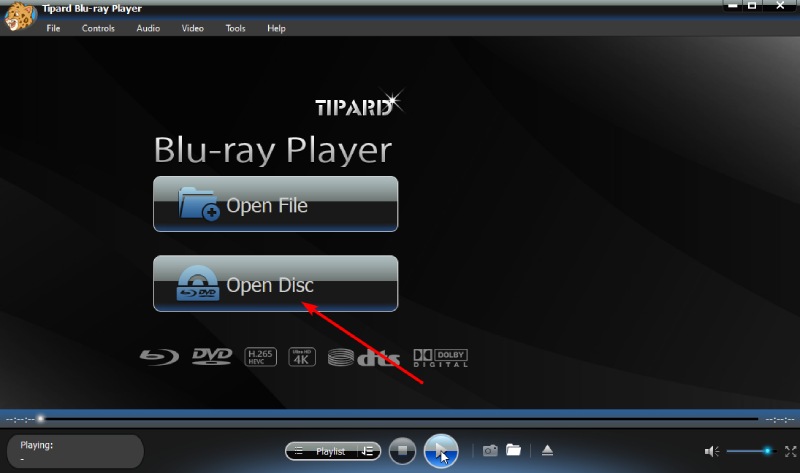 Step 2Once you've chosen the disc, your music will immediately start playing. You can also click the Playlist button to check all the songs.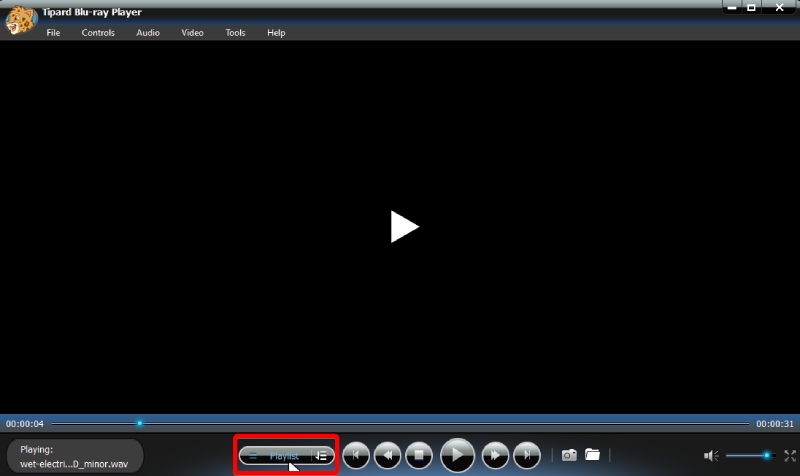 Part 4. FAQs about the Blu-ray Audio
Can I play Blu-ray audio discs on any regular Blu-ray player?

Yes, you can play Blu-ray audio discs on regular Blu-ray players. However, to truly appreciate the high-resolution audio, a quality sound system is recommended.

Does Blu-ray audio offer better sound quality than music streaming services?

In terms of sheer audio quality, Blu-ray audio has the upper hand due to its high bitrate and support for lossless audio codecs. However, music streaming services offer convenience, variety, and accessibility, making them a preferred choice for many.

Can I create my own Blu-ray audio discs?

Yes, with the correct software, you can burn high-resolution audio files onto a Blu-ray disc. Remember, the quality of the audio will depend on the quality of your original files.

Are Blu-ray audio discs costlier than CDs?

Generally, Blu-ray audio discs are more expensive than CDs. This is due to their enhanced storage capacity, superior audio quality, and the technology involved. However, prices can vary based on content and brand.

Do Blu-ray audio discs employ region coding like Blu-ray video discs?

Unlike Blu-ray video discs, Blu-ray audio discs do not utilize region coding. They can be played by any player, irrespective of their geographical location.
Conclusion
The Blu-ray audio quality is indeed lossless and much superior to most online digital music or regular CDs. Unfortunately, its market share and sound quality are out of proportion, occupying a small amount of the music distribution sector. However, for true music lovers, having a lossless immersive playback experience is a great thing. If you are one of those, download the powerful Blu-ray Player here and share this post with those who want to know more about cutting-edge Blu-ray audio technology.