Blu-ray Player
Smooth Playback for 4K Blu-rays/Folder/ISO File/Videos.
Free Download
Free Download
BDMV vs BDAV Format: What are They and How They Differ
How to open BDMV files? Can you open the BDMV or BDAV files with Windows Media Player? Some might have these questions wandering in their minds when encountering two forms of Blu-ray information files, BDMV and BDAV. These two distinct formats underpin the structure of Blu-ray discs, shaping the way we consume and interact with the movies and videos from the discs. To fully understand these two formats, this article will compare them in terms of their structure, compatibility, storage, etc. Besides, with the versatile players recommended in the following content, you will easily enjoy your movie after extracting the BDMV/BDAV files from Blu-rays.

Part 1. Definition of BDAV and BDMV Formats
BDMV (Blu-ray Disc Movie) and BDAV (Blu-ray Disc Audio/Visual) represent two different formats that serve as the foundation for Blu-ray discs. Below are their brief definitions.
What is BDMV
BDMV is short for Blu-ray Disc Movie. It is primarily used for commercial movie releases and high-definition video content. This format is often used for storing high-definition video, audio, and interactive features on a Blu-ray disc, but it does not contain the actual multimedia file. It allows for complex menu structures and interactive content. You can see several files with the .bdmv extensions in a Blu-ray folder.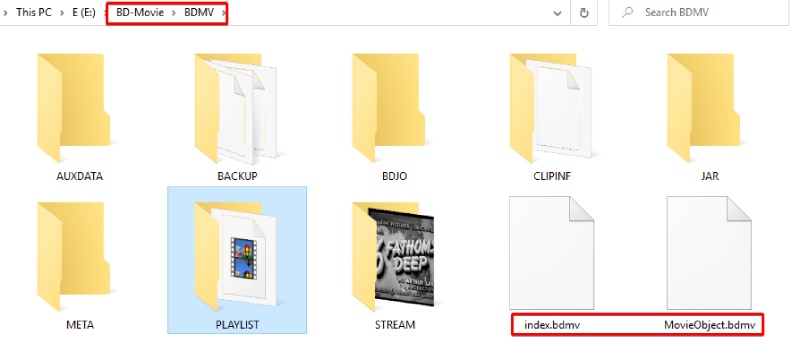 What is BDAV
BDAV stands for Blu-ray Disc Audio/Visual. It was initially designed for home camcorder recordings, personal media creation, and smaller-scale projects. Unlike BDMV files, BDAV lacks advanced menu structures and interactive features. The filename extension used for this format is .m2ts.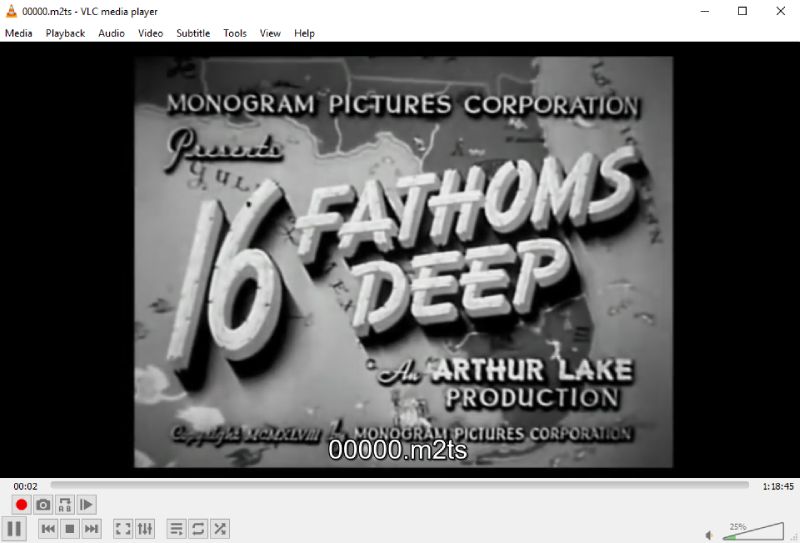 Part 2. BDMV vs BDAV: Detailed Comparison
Structure
BDMV: It contains multiple audio and subtitle tracks along with an extensive navigation option, and the option is what separates it from BDAV files.
BDAV: BDAV employs a simpler structure primarily suited for straightforward video playback. The MPEG-2 transport stream container serves as the BDAV file's foundation. On Blu-ray discs and AVCHD, this container type is frequently utilized for high-quality video.
Compatibility
BDMV: BDMV is compatible with a wide range of Blu-ray players and software, making it suitable for commercial movie releases.
BDAV: BDAV is generally more straightforward and has broader compatibility with various Blu-ray players, especially for personal recordings.
Storage
BDMV: Due to its complexity and potential for extensive content, BDMV files tend to occupy more storage space on a Blu-ray disc.
BDAV: BDAV files are relatively smaller in size, as they use variable rate Transport Streams to optimize the storage size.
Aspect
BDMV
BDAV
Pros
Supports advanced interactive menus
An easier playback due to a simpler structure
Ideal for commercial movie releases with bonus features
Smaller file sizes for personal recordings
Offers a rich multimedia experience
Broader compatibility with Blu-ray players
Cons
Requires more storage space due to the complex structure
Lacks advanced interactive menus/features
Not all Blu-ray players support such files
Limited menu customization options
To summarize the differences between BDAV and BDMV files, the biggest one is that BDAV does not have menu support, while BDMV does. Meanwhile, their filename extension is different. BDAV file uses .m2ts, and BDMV uses .bdmv. Since we've got all the differences and pros and cons between BDAV and BDMV files, it is time to open these files on the desktop and enjoy the movies.
Part 3. How to Open BDMV and BDAV Files on Windows and Mac
Opening BDMV and BDAV files can be accomplished with two versatile media players, VLC Media Player and Blu-ray Player on Blu-ray Software. Both are compatible with Windows and Mac.
VLC Media Player
Being a free, open-source, and cross-platform multimedia player, VLC is renowned for its wide format support. It can handle BDMV and BDAV files efficiently on your Windows and Mac computers. If you have other uncommon file formats like SWF or HEVC, this BDMV player can also open them.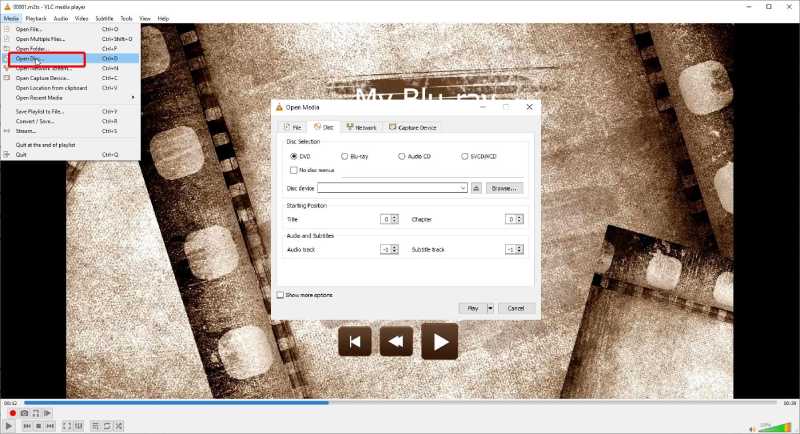 Step 1As a free player, VLC is accessible and uncharged on its official site. You can visit VideoLAN to download it.
Step 2Launch VLC after installation. Click the Media button in the left corner above.
Step 3Select Open Folder and import the folder containing your BDMV or BDAV files. VLC will automatically detect and play the content.
Blu-ray Player
Blu-ray Player is a specialized player designed for Blu-ray content, including BDMV and BDAV formats. It provides a high-quality viewing experience and immersive audio quality. You can quickly open a media file by dragging it to the player. Furthermore, its simple design makes the navigation smooth and seamless.
Blu-ray Player
Offers superior audio and video quality.
You can play over 500 video and audio formats in it.
Use hardware acceleration to spread processing burden between the CPU and GPU to improve playback performance.
Automatically play the Blu-ray/DVD when the disc is inserted.
Step 1The player is free and safe to download. After downloading, install and launch the software.
Step 2Click the Open Folder to select a folder on your computer that contains the BDMV or BDAV file.
Step 3The player can automatically play after selection. If you have chosen a BDMV file to play, you can see a Menu button appears for you to control the Blu-ray menu.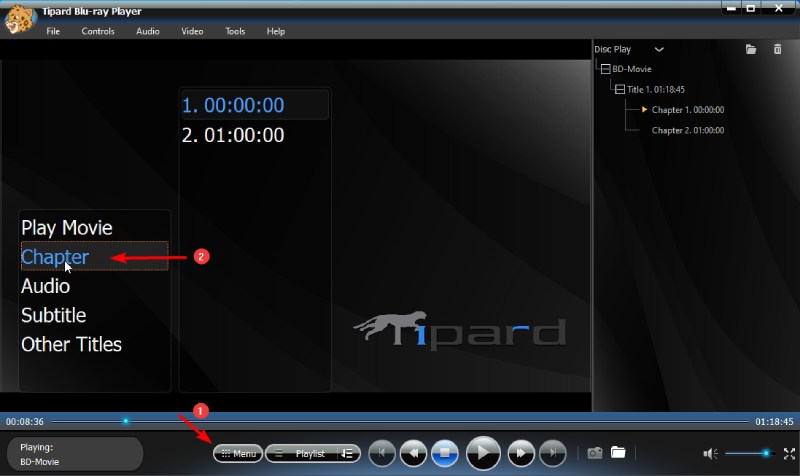 Part 4. FAQs about BDMV vs BDAV
What is the biggest difference between BDMV and BDAV formats?

BDMV has a more complex structure and holds Blu-ray menu customization options, while the BDAV format does not have a menu in it.

Can I play BDAV files on my Blu-ray player?

Yes, BDAV files are generally compatible with a wide range of Blu-ray players.

Are BDMV files compatible with all Blu-ray players?

BDMV files may not be compatible with all Blu-ray players due to their complex structure. Compatibility can vary between players.

Can I customize menus in BDAV files?

BDAV files offer limited menu customization options compared to BDMV.

What is the primary use of the BDMV format?

BDMV is primarily used for Blu-ray discs, featuring video materials like movies and video games.
Conclusion
In the end, understanding the differences between BDMV and BDAV formats can help you make informed choices when working with Blu-ray discs. Whether your BDMV or BDAV files are from personal recordings or commercial movie discs, VLC and Blu-ray Player can open these formats and ensure a seamless viewing experience.