Blu-ray Player
Smooth Playback for 4K Blu-rays/Folder/ISO File/Videos.
Free Download
Free Download
Spotify Private Listening: Create Personal Playlists or Hide Listening Activities
Spotify values the share and social features as a popular streaming service. Apart from enormous access to multiple songs, podcasts, and audiobooks, Spotify lets you create playlists with friends and share listening activities with them. As great as these features can be, we would also want 'me' moments once in a while. Hence, learning how to make Spotify playlist private or hiding your listening activities from others or Spotify can be helpful in those moments. Let's get wrapped and dive into this step-by-step guide to see how to build your privacy on Spotify.

Part 1. Steps: How to Make Spotify Playlist Private on PC/Mobile
Before we start, let's get to know the different statuses of Spotify playlists. Usually, they are open to the public, and everyone can see your playlists. While they are open, you can invite people to co-create this playlist. You can add/remove songs and listen together. Such playlists are collaborative. Another playlist status is what we want to achieve here: Private. It's quick and easy to make a playlist private, and the steps can be similar even on different devices. Hence, let's take a quick look at how to do it.
Turn Spotify Playlist into Private on Mobile (iOS / Android)
Step 1Open Spotify on your device and find the playlist you want to make private.
Step 2Go into that playlist and tap the three-dot icon to see more options.
Step 3Tap Make Private to make the Spotify playlist private.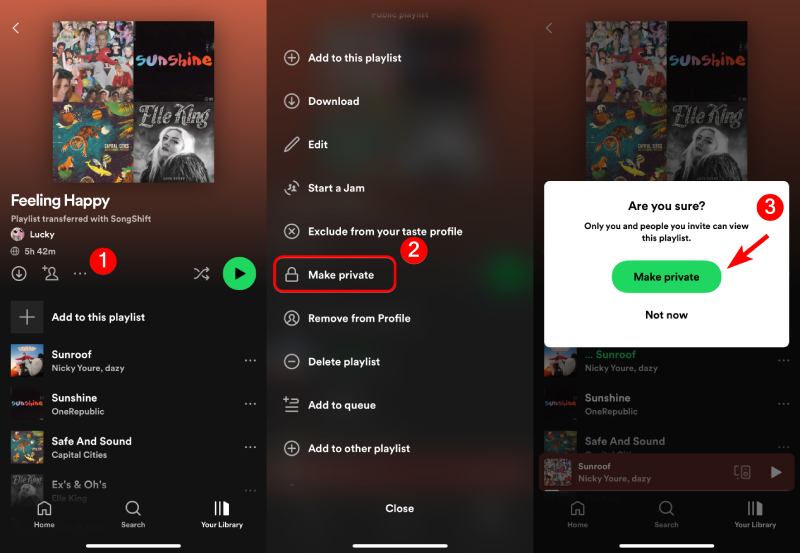 Note
You cannot make a Spotify collaborative playlist private to others while allowing your friend to add songs. It's hard to do both. Once you make the playlist private, you can't invite others to add songs to it but only to view it. And if the playlist becomes collaborative, others can still see your playlist if they search the name.
Make Spotify Playlist Private on Desktop
Step 1Launch Spotify on your desktop. Open a playlist and click the More options button.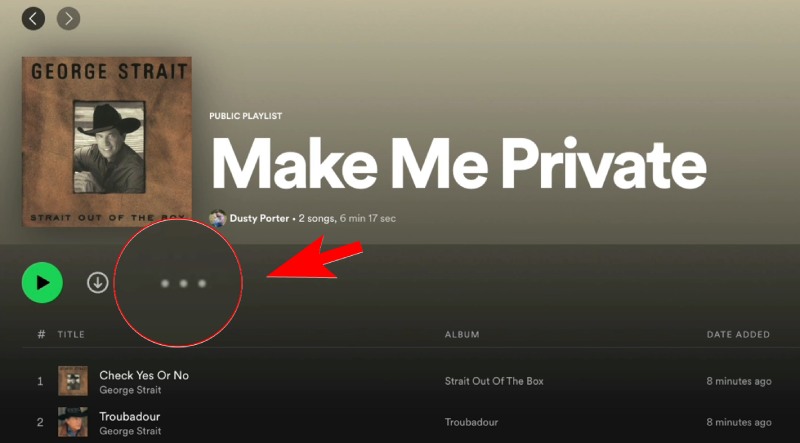 Step 2Next, click the Make Private button to set the playlist status as Private on Spotify.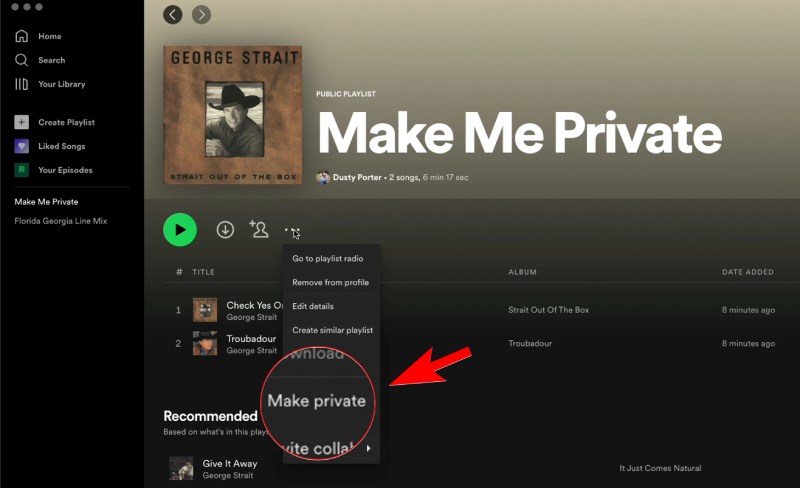 Step 3You will see a floating bar that says Playlist has been made private.

Part 2. More Tips to Gain Private Listening on Spotify
The private playlist is not the only solution to listening privately on Spotify. The Private Session is another feature that keeps your listening activities private to others and even to Spotify.
But what is a Private Session on Spotify exactly? To answer that, you need to know Friend Activity, for these two are associated. Friend Activity is a social feature launched by Spotify, enabling friends to see each other's listening activities. If you want to hide your activities but don't want to turn this social feature off permanently, starting a Private Session is a nice solution.
Private Session only lasts for 6 hours and will stop once you restart Spotify. This feature allows you to block Friend Activity, and your friends can't see what you are listening to. Besides, the Session helps you hide from Spotify algorithms if you don't want current activities to count for Spotify Wrapped. See the quick guide below to turn Private Session on. A small heads-up for you: Friend Activity is a desktop feature and is accessible for Premium accounts only.
Start A Private Session on Spotify
On Mobile
Step 1Go to Spotify and tap your Profile picture.
Step 2Tap Settings and privacy. Then, find the Privacy & Social setting.
Step 3There, you can turn Private Session on and hide your listening activities from your followers temporarily.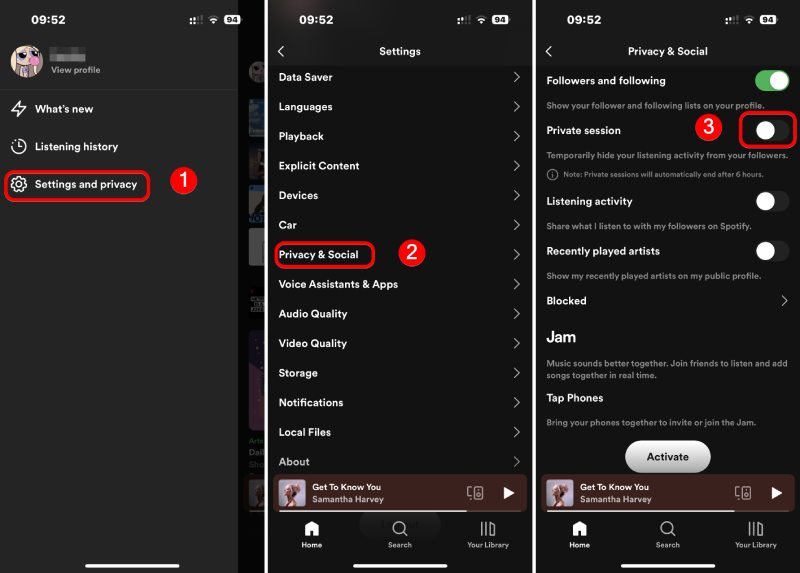 The screenshot below shows what your Spotify interface will look like in Private Session, and you can start private listening on Spotify then.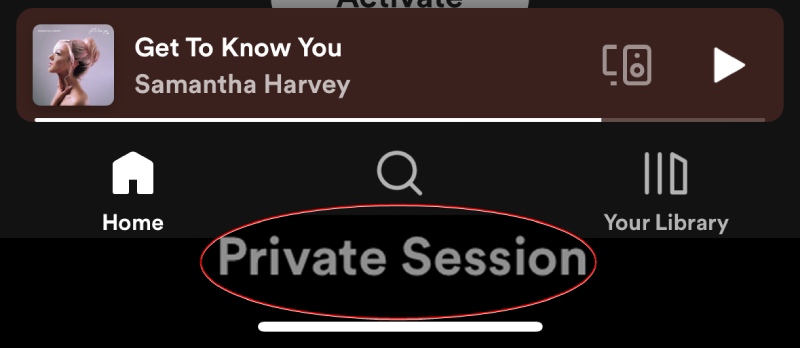 On Desktop
Step 1Whether on the browser or Spotify desktop app, log into your account.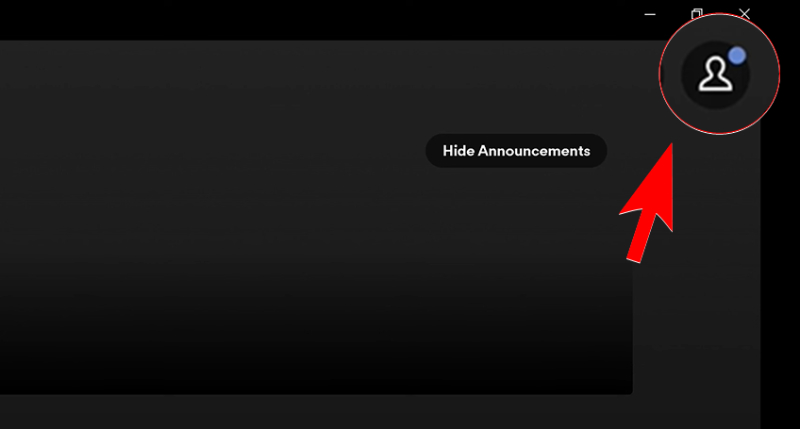 Step 2Click your profile and select Private Session to turn it on.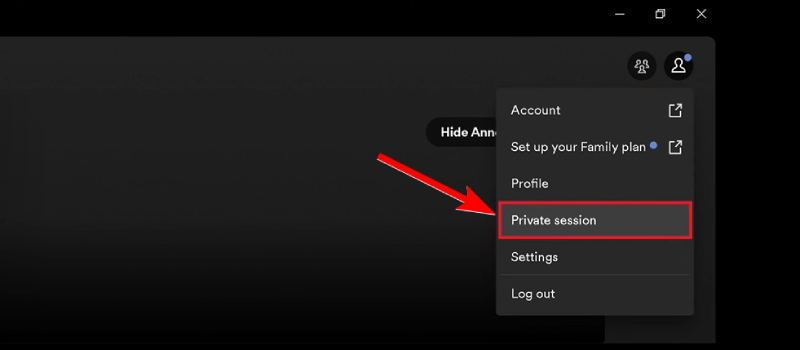 Step 3After entering the Private session, your profile will show a lock icon beside it, and your followers cannot see your listening activities at all and will only show your last song.

End Friend Activity Feature on Spotify
Since the Private Session has a time limit, you can end other possible sharing features and enjoy private listening on Spotify. The following tips can help you switch the sharing and Friend Activity features to OFF. By the way, if you have a portable Blu-ray player that supports Spotify, you can then enjoy music on a bigger screen at home after adjusting these settings.
On Desktop
Step 1Click your profile and go to Settings in the Spotify desktop app.
Step 2Next, under Display, turn off See what your friends are playing.
Step 3Then, scroll down. Under Social, you can switch the Share my listening activity on Spotify to OFF. These will help you stop Friend Activity entirely.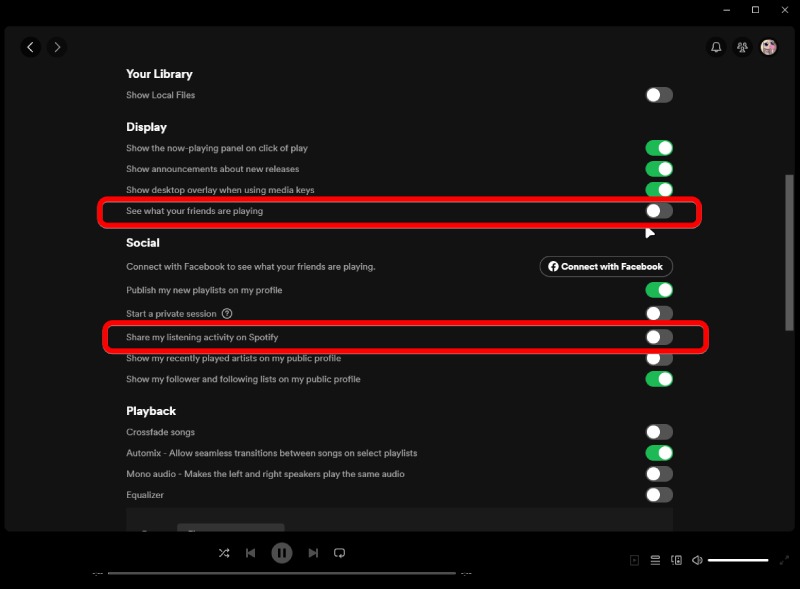 Since Friend Activity is a special feature on the desktop app, you will not find the option to stop seeing friends' listening activities.
Step 1Tap your profile to go to Settings and privacy.
Step 2Then, tap Privacy & Social. After that, switch Listening Activity to Off. This can stop sharing what you are listening to with others or Spotify.

Bonus Tip: Enjoy Music Privately on Your Desktop with a Stable Media Player
Indeed, the tips above help one enjoy music privately during online streaming. What else can you do to listen to your music privately and avoid any algorithms? An offline player is undoubtedly a nice solution. We recommend Blu-ray Player for your offline music enjoyment. This multi-media player shows what a stable, simple, and user-friendly player looks like. No complex features are cluttered in one program. All you will have is an amazing audiovisual experience due to the player's support of Dolby Digital and DTS sound.
Blu-ray Player
Set up personal playlists with your local tracks and music.
Add favorite soundtracks to your collections.
Mix music videos and songs in one playlist alone.
No skipping or glitching issues when enjoying the music.
Part 3. FAQs about Spotify Private Listening
Can you share a private playlist on Spotify?

Yes, you can. Even if the playlist has been made private, you can still share the playlist link with friends and invite others to view it. But strangers who have no invite link cannot see your playlist.

How long does Spotify Private Session last?

The Private Session on Spotify only lasts 6 hours. If you quit the Spotify app, the Private Session will also end automatically.

Can Spotify friends see what playlist you are listening to?

No, they can't. Whether you turn on the sharing listening feature or not, friends can only see the song you are listening to currently and which album it is from. They can't see what the playlist is regardless of its opening status.
Conclusion
That's all for all the tips you need to make playlists and listening activities hidden from others to get private listening on Spotify. Whether you want to enjoy a 'me' moment for a while or stop others from spoofing on your listening, Spotify has offered many useful options for you to simultaneously set up a comfortable social zone. Nevertheless, enjoying music is the essential goal while attempting to achieve privacy. Sometimes, going offline might benefit you the most, and the Blu-ray Player can be your reliable companion along your music journey. Don't miss out and have a free download here.