Blu-ray Ripper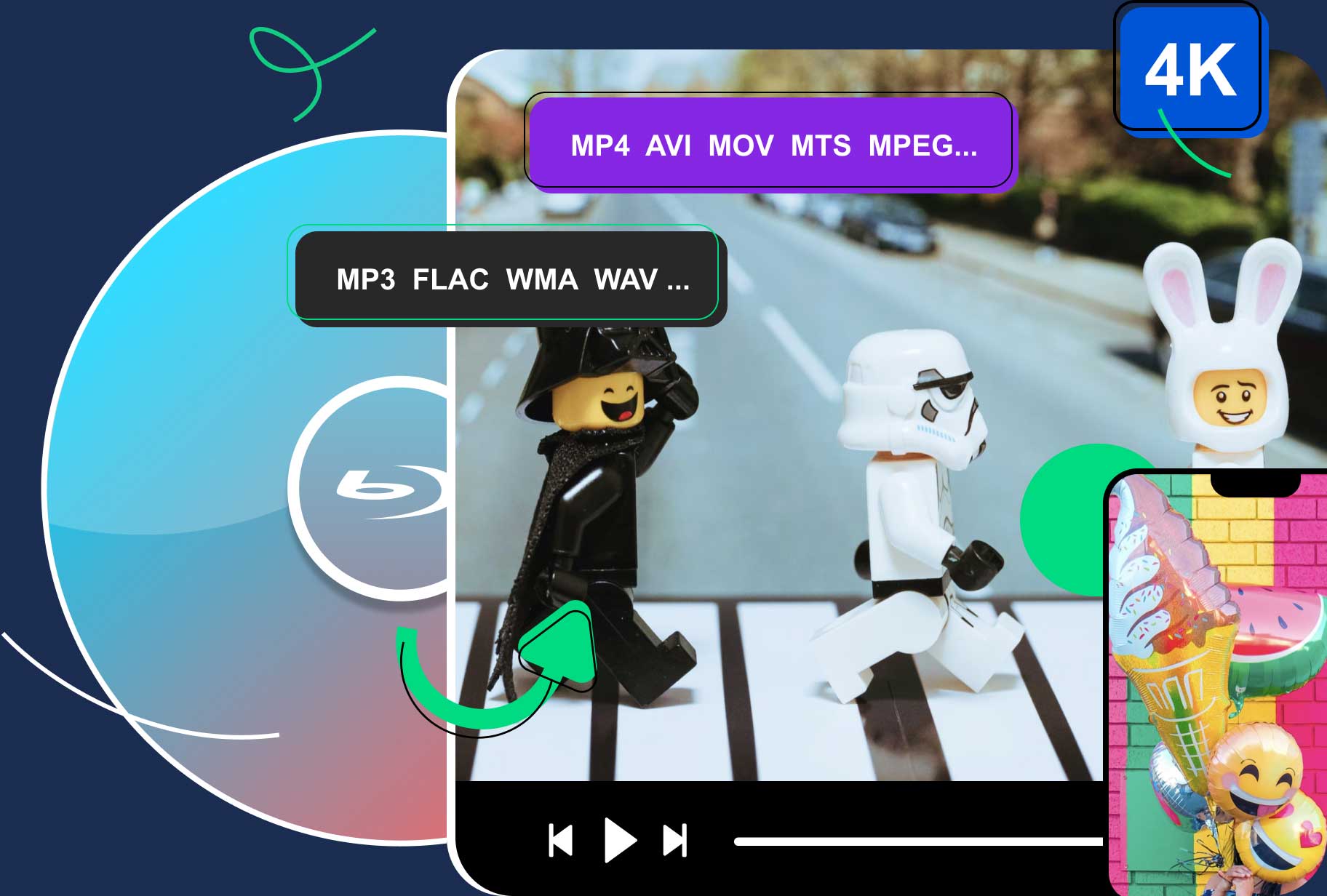 High-Quality Solution for Ripping Blu-ray/DVD/Folder to Any Formats Quickly
Free Download
Free Download
Cleaning Blu-ray Discs to Prolong Their Lifespan
Physical discs can last as long as you wish. But DVD and Blu-ray discs' lifespans vary a lot. Blu-ray generally tends to last longer than DVD due to its hard coating. (On average, it last for 100 to 150 years, according to manufacturers) But it does not mean the storage condition and improper Blu-ray disc cleaning will not affect it.
On the contrary, these two factors are essential. Besides, cleaning includes more than just swiping the disc surface. Disc data cleaning is also part of it and brings extra space to store more meaningful data in a long-lasting way. Follow the tips and instructions here to see how.

Part 1: Is Blu-ray Cleaning Necessary
Cleaning Blu-ray discs is necessary, especially for those being played multiple times. You should check the disc surface and see if there are small light scratches that are not too late to fix.
Besides, dirt on your Blu-ray disc can cause playback errors or, even worse, ruin the disc.
It is time to check your Blu-ray collections and see if there is any dirty disc that needs a thorough cleaning. If there is, do not hesitate to use the following tips to make it shine again.
Part 2: How to Clean Blu-ray Disc Surface
Preparation:
No expensive chemical cleaning agent is needed in the Blu-ray cleaning process.
Soft and dry cloth. Or microfiber cloth for glasses.
Only cleaning agent: Water.
Clean your hands before cleaning the Blu-ray disc.
Quick Preview:
Use a soft cloth and hold your dirty Blu-ray with your clean hands.
Gently swipe on the disc's surface outward.
Gently swipe on the disc's surface outward.
Put it back in its case after cleaning.
Above are the short preparation steps and summary for Blu-ray cleaning. To see more details about the cleaning, keep reading and see the tips below.
What You Need to Do Before Cleaning
Before the cleaning starts, check if there are scratches on your disc and make sure your hands are clean. The best way to clean the Blu-ray disc is to use tap water. Other expensive cleaning products will not be necessary.
Also, check other cleaning tools, like the cloth, and ensure they are soft. It is not a coarse wool cloth with threads sticking out because they might scratch your Blu-ray disc accidentally. It is best that you can prepare two soft cloths, one for cleaning and the other for drying.
A fancy Blu-ray cleaner is not necessary, and it is often expensive.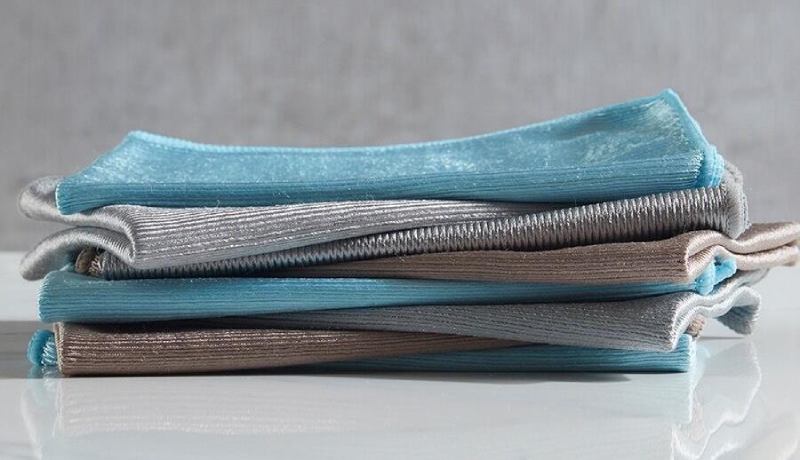 How to Clean Blu-ray Disc
Give your Blu-ray discs a cleaning bath with the following steps.
1. Take out your disc and hold it in your hands. You can hold it around the edge or stick a finger into the center hole.
2. Dampen the cloth with clean water. Use it to scrub the disc softly. The direction is important. You must clean from the center to the outside edge and avoid scrubbing the disc in a circular manner because the circular motion will hurt the disc data.
If you are cleaning Blu-ray's labeled side, avoid wiping it too hard, for it can damage the data inside.
3. Repeat the step and spin your disc until every spot has been cleaned properly. Check again to see if the fingerprints, dust, or debris have gone.
4. Dry the disc after cleaning off the dust. You can softly wipe the Blu-ray disc with another dry and soft cloth.
After Cleaning the Blu-ray
Before putting the disc back in its case after cleaning, you can check if the accidental malfunctioning appears.
Start your Blu-ray player and insert the disc into it. If you hear the normal spinning sound and the playback looks fine, your disc is all right.
You can also check the disc by playing it on the computer. Do not have a compatible drive or perfect player software? It is time to pick one, and the article can help you.
After that, you can store the disc back in its Blu-ray case.
How Often Should One Clean the Blu-ray Disc
It depends on how often you use or play the disc. There might be many fingerprints if the Blu-ray movie or the game disc is used frequently. Then it is suggested that you can clean the Blu-ray once a week or even clean it every time you use it.
For the Blu-ray collections that you only play once a year or so, cleaning them once a year or month is enough if you store the discs properly in their cases.
How to Store the Blu-ray Disc Properly to Prevent Scratches
The best place to store the Blu-ray disc is its original case. Putting them back in that case after playing can prevent most major damages like heat or accidental scratches.
Speaking of heat, you can keep those Blu-ray cases along with your discs in them in a dry and cool room at your house to prevent heat and extreme humidity.
Note
Remember not to use any solvent or household cleaning chemicals that are too harmful to the Blu-ray disc. Additionally, cleaning the Blu-ray disc player is also helpful in preventing discs from getting stuck inside.
Part 3: What to Do If You Are Tired of Cleaning Blu-ray
Cleaning can be exhausting if there is a large disc collection. Some might get bored at wiping all the Blu-ray discs one by one. The quickest and easiest way to get rid of this boredom is to rip the Blu-ray.
You can get digital copies of the movie or data stored on your Blu-ray through ripping. Then, you will no longer need to clean the disc or worry about data loss. To perfectly extract the video files from the Blu-ray disc, use Blu-ray Ripper, recommended by Blu-ray Software, and get an identical digital copy losslessly. In this ripping software, you can convert Blu-ray to MP4, AVI, MKV, MOV, MP3, HEVC, and more formats. Besides the wide range of formats, the output resolution is also great, with up to 4K/5K/8K. Once you get the digital version of the Blu-ray, you can say goodbye to Blu-ray cleaning.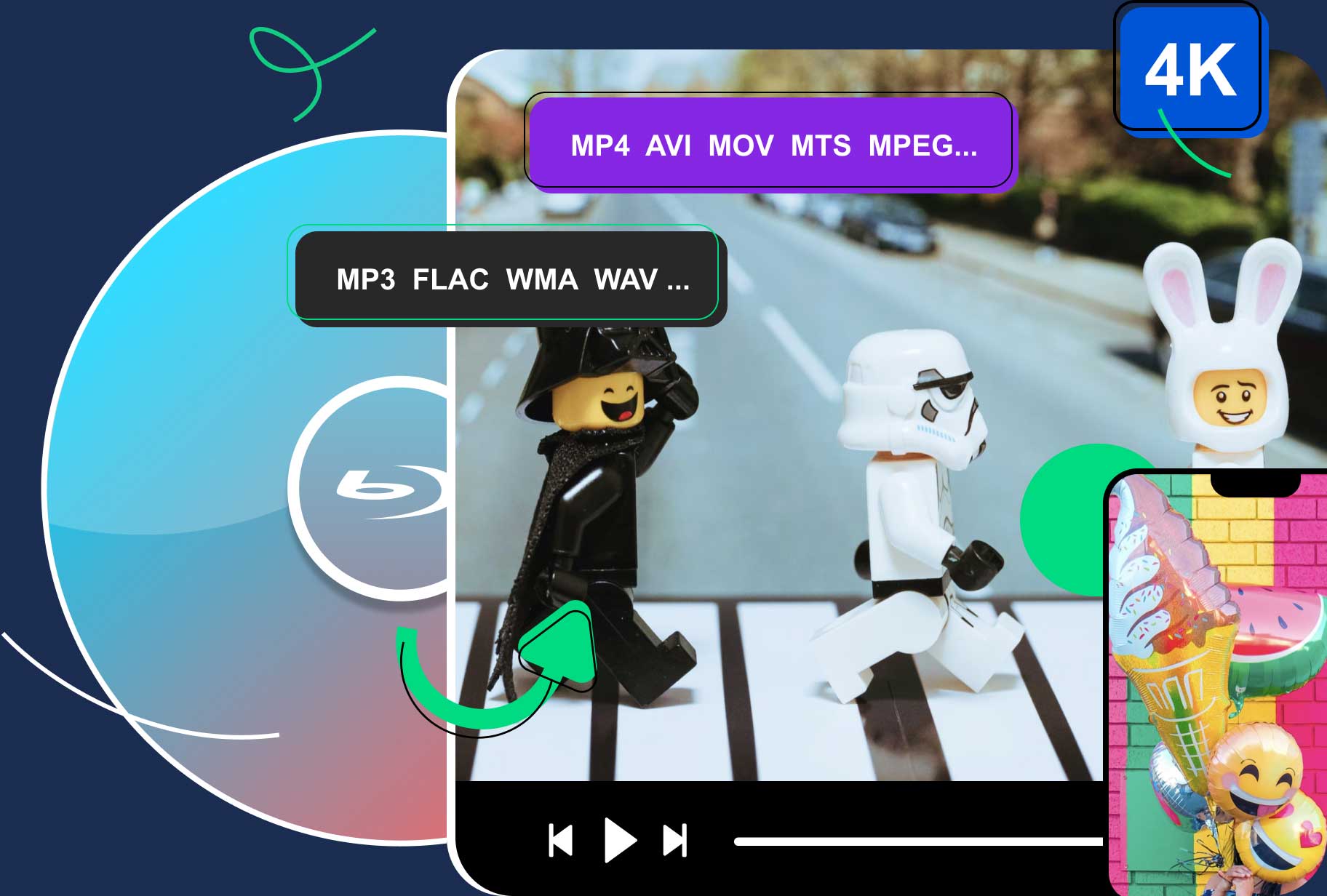 Blu-ray Ripper
Convert Blu-ray to 500+ formats.
Store the ripped Blu-ray video on any device.
Edit Blu-ray by trimming, cropping, rotating, etc.
Rip Blu-ray at a fast speed within minutes.
Part 4: FAQs about Cleaning Blu-ray Disc
Is it OK to leave a Blu-ray disc in the player?

Yes, it is. Your disc is safe there. It will not harm the disc. Some people even forget a disc inside the player for years and find it in good condition after a long time.

What is the shelf life of a Blu-ray disc?

According to manufacturers, a Blu-ray disc can last 150 years maximum if appropriately stored in a cool and dry environment. But no one has confirmed that, and if accidents happen, some Blu-ray discs won't even make it to 2 or 4 years.

Can you clean Blu-ray discs with alcohol?

Cleaning Blu-ray only requires water as the cleaning agent. Pure alcohol with strong corrosivity is not recommended. But it is ok if you mix alcohol in the water to clean the disc.
Conclusion
The best way to clean Blu-ray discs is to use a soft cloth and clean water. All the steps and tips are listed above, and you can see that disc cleaning is not troublesome and can be done quickly. Plus, regular cleaning benefits a lot, which keeps your disc shining and prevents it from malfunctioning. Additionally, ripping the Blu-ray disc is an alternative for those who hate cleaning. It is always safe to have a backup, and it is never too late to download a ripper for a try.