Blu-ray Creator
Burn Videos in 600+ Formats to Blu-ray discs with Colorful Menus.
Free Download
Top 5 Blu-ray Burning Software on PC & Mac
There are so many important moments in lives that you might want to capture forever and hold firmly. It is best to film them with your camera and burn the videos into blank Blu-ray discs with the proper tools. This way, you can hold the memories permanently and review significant events like graduation, weddings, birthdays, etc. You can also gift the discs to your partners or friends. With the five best Blu-ray burners below for both Windows and Mac, you can easily store your big moments from now on. Keep reading and find out their features, pros, cons, and tutorials. blu-ray-burner

| | Supported OS | Built-in Editor | Menu Templates | Output Disc Type | Dual-layer disc | Starting Price |
| --- | --- | --- | --- | --- | --- | --- |
| Blu-ray Creator | Windows | √ | √ | Blu-ray /Blu-ray ISO & Folder | √ | $33.15 |
| ExpressBurn | Windows & Mac | × | × | CD / DVD /Blu-ray / ISO | √ | Free |
| BurnAware | Windows | × | × | CD / DVD /Blu-ray / ISO | √ | Free |
| ImgBurn | Windows | × | × | CD / DVD / HD DVD / Blu-ray / ISO | √ | Free |
| Leawo Blu-ray Creator | Windows & Mac | √ | √ | DVD /Blu-ray / ISO | √ | $39.95 |
Note
Before using any of the following software for Blu-ray disc burning, here is the preparation process. Insert the Blu-ray disc into a drive. Connect the drive to your computer and download the burner you prefer.
Part 1: Blu-ray Creator – Burn Blu-ray to PC Losslessly [Recommended]
Blu-ray Creator, carefully selected by Blu-ray Software, is a versatile Blu-ray burning software on PC. You can import over 600 different media formats for Blu-ray burning without conversion. This burning tool also supports making copies and letting you simultaneously burn media files into several discs. You can also burn Blu-ray ISO to the disc besides media files. Meanwhile, if you have redundant parts in the imported videos, you can trim them with the Clip tool. Moreover, the Edit tool inside the burner lets you adjust the video's brightness, contrast, saturation, and hue. If you are unsatisfied with the original audio, this burning software allows you to replace it with new audio tracks and adjust the volume.
Blu-ray Creator
Provide various menu templates of different themes.
Burn Blu-ray discs quickly with hardware acceleration.
Support different Blu-ray disc sizes, including BD-25 and BD-50.
Preview imported media files before making any changes.
Free Download
How to burn Blu-ray with Blu-ray Creator
Step 1Prepare a blank Blu-ray disc and insert it into a compatible drive. Then, connect the drive to your computer. Download, install, and launch the creator on your computer. Next, click the Add Files button on the left corner above to import videos.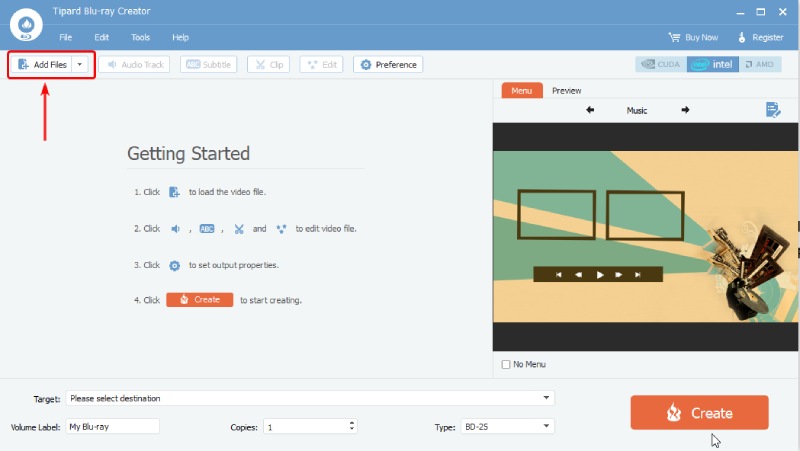 Step 2To add audio tracks to your video, choose your video and click the Audio Track button. The Edit Audio/Subtitle window will show up, and you can also import subtitles there. Click the OK button to confirm and apply the changes.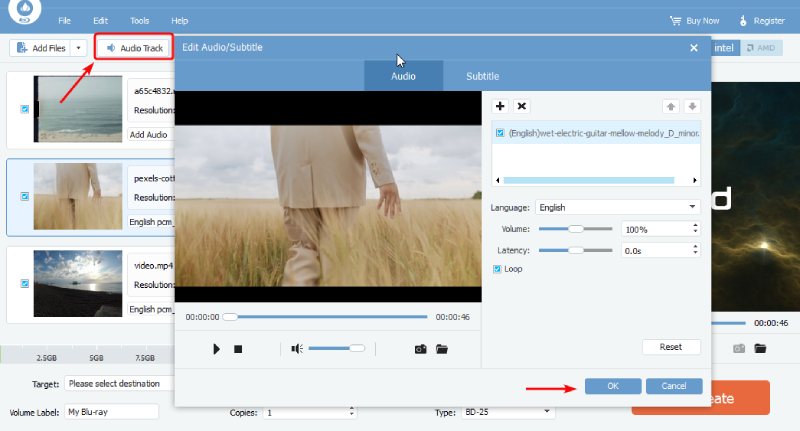 Step 3Choose a menu for your Blu-ray by clicking the Edit Menu button. You can choose a new frame or button from the dropdown option or change the text. Then, click the Save button and keep the changes.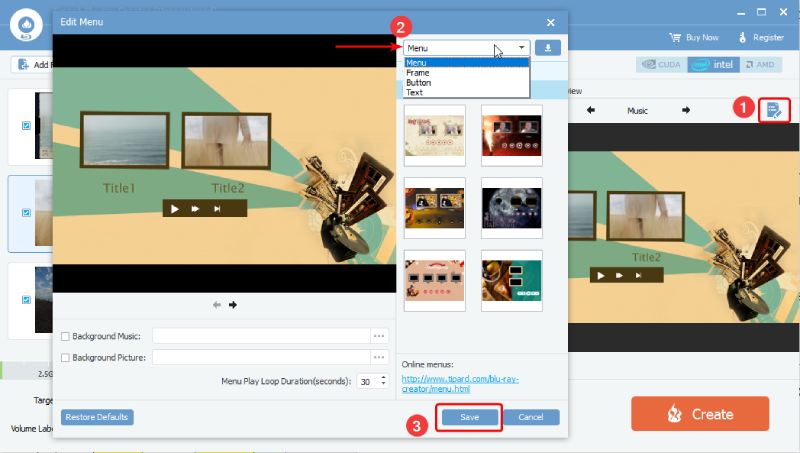 Step 4Click the Target dropdown option to choose your Blu-ray disc as the destination. Afterward, choose the disc type. You can also rename the Volume Label and set up Copies. Finally, click the Create button to burn the videos to your disc.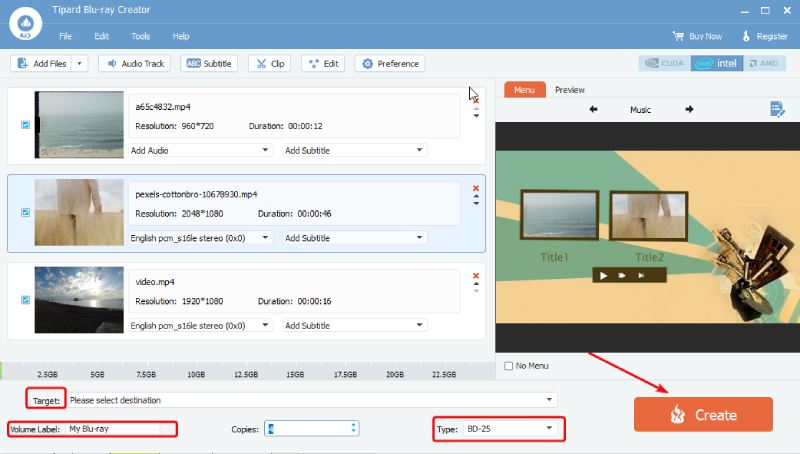 Part 2: Express Burn – Beginner Friendly
Express Burn, developed by NCH Software, is a DVD and Blu-ray burning software for Windows and Mac. It offers free and plus versions. The free version allows you to burn Blu-ray discs for non-commercial use only. This burner has a straightforward layout with all the buttons on the main interface. Additionally, it is lightweight and occupies only a little on your computer.
Features:
Support CD, DVD, and Blu-ray burning.
Write only data to your Blu-ray disc.
Offer TV aspect ratio options.
Preview source video file.
Pros

Consume only a few resources for Blu-ray burning.
Record ISO image files with high quality.
Support lossless video export for burning Blu-ray.
Cons

Lack of customization tools like the video editor.
There are no decryption and compression capabilities.
How to burn Blu-ray with Express Burn
Step 1Install and launch Express Burner. A pop-up will appear and ask you to choose the disc type for burning. Select the Video Blu-ray option and name your disc. Then, click the Create button.
Step 2Click the Add Files button to import media files. To adjust the title in your Blu-ray menu, click the Create Menu button.
Step 3Create chapters for these videos by clicking the Manage Chapters button. Once everything is set up, click the Burn Video Blu-ray button below to start burning.
Part 3: BurnAware Free – Burn Blu-ray with Video, Audio, and Document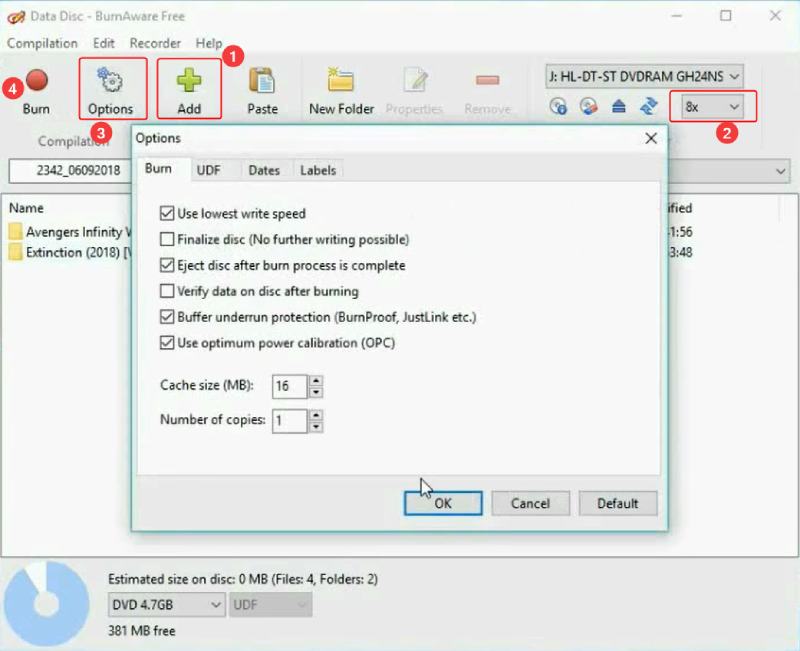 BurnAware Free is another free Blu-ray burning software. Like Express Burn, BurnAware's free version only allows burning for personal use. Besides burning Blu-ray with regular media files, you can also import documents and digital photos for burning. Meanwhile, you can even burn Blu-ray to a PC by extracting data and files from the disc and creating an ISO image file. Unfortunately, the burner does not have a built-in Blu-ray player for your laptop, and you cannot preview the Blu-ray after burning it.
Features:
Use very little of your CPU's power.
Use very little of your CPU's power.
Erase your Blu-ray disc for burning if it is not blank.
Write anything to your Blu-ray disc, including even archives.
Pros

There is a built-in video converter.
Easy directory navigation with a clean file system.
Create data Blu-ray with electronic data like files or applications.
Cons

Users complain about the time-consuming buffering process.
You must download extra software for editing.
Burning Blu-ray folders is not available in the free version.
How to burn Blu-ray with BurnAware Free
Step 1Download and install the free version from BurnAware's official website. Launch the software on your computer. Then, click Data Disc.
Step 2Drag and drop your media files or images to the BurnAware window. You can choose a burning speed from the dropdown option on the right.
Step 3If you want to burn more than one Blu-ray disc, click the Options button to set up copies number.
Step 4Finally, click the Burn button to start burning the Blu-ray.
Part 4: ImgBurn – Burn Blu-ray & DVD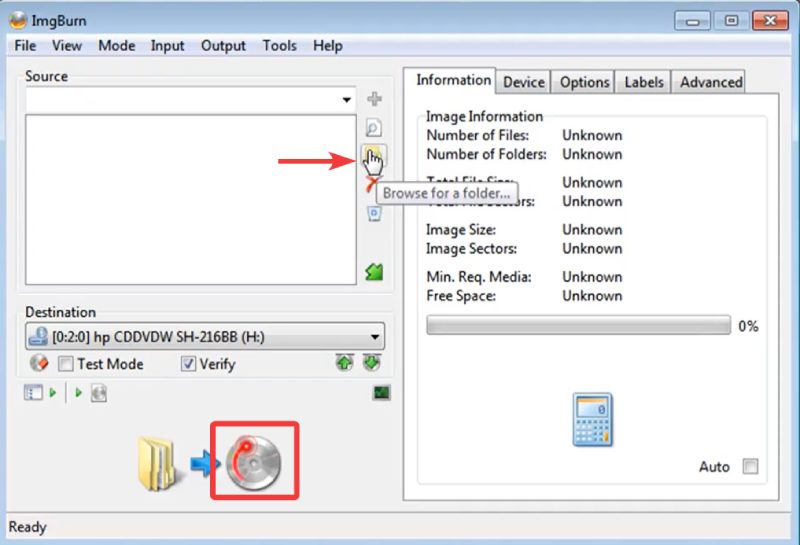 ImgBurn is a free Blu-ray burner for you to burn Blu-ray and DVDs on Windows. You can fill your blank Blu-ray disc with media content or extract the media files from your DVD or Blu-ray in ImgBurn. But you can't directly create Blu-ray with video or audio files. This burner only offers image-file-to-disc and files/folder-to-disc options for burning. In this case, you must have Blu-ray ISO image files or folders.
Features:
Check the quality of the burns your drive is making.
Offer suggestions of suitable settings for your disc.
Specify details while burning a Blu-ray disc.
Pros

Verify your disc size, capacity, and other parameters.
You can adjust the writing speed to improve burning efficiency.
Cons

It would download extra software.
How to burn Blu-ray with ImgBurn
Step 1The Custom Installation option is recommended when installing ImgBurn on your computer. Then, launch the Blu-ray burning software and choose the File to Disc option.
Step 2Click the Browse for a folder button and import your video folder. If you are burning a dual-layer disc, you must use the calculator icon to set the dual DVD layer break point.
Step 3Next, without extra settings, click the disc icon to burn a Blu-ray.
Part 5: Leawo Blu-ray Creator – Design Blu-ray Menus
Leawo Blu-ray Creator is a paid burner on Mac and Windows. You can quickly burn Blu-ray on Mac or PC with colorful menu templates. When burning the videos, you can personalize the video content via trimming, cropping, applying effects, etc. One of the biggest highlights of this Blu-ray burning software is that you can download website videos directly in this program and use them for burning.
Features:
Burn your videos to Blu-ray discs in 720P or 1080P.
Convert imported videos to compatible formats.
Burn, convert, and download your videos in one program.
Provide two burning engines: VSO and ImgBurn.
Pros

Create slideshows and photo albums for your discs.
Free disc menu templates and online presets.
There is a Menu Designer for disc menu editing.
Cons

It's hard to arrange the video thumbnails in the menu.
No compression, and the output can be huge.
How to burn Blu-ray with Leawo Blu-ray Creator
Step 1Once you have installed the creator from the official site. Launch it. Click the Burn tab on the main interface.
Step 2Click the Add Video button to import files. You can also import photos through the Add Photo button.
Step 3Choose your disc type, burning option, and aspect ratio. Then, if your Blu-ray disc has a region code, go to Settings to choose the correct code.
Step 4You can also choose a menu template on the right. Next, you can click the green Burn button above. After that, choose the destination, name the Disc Label, and you can save the project to the computer.
Step 5Finally, click the Burn button to start burning the Blu-ray disc.
Part 6: FAQs about Blu-ray Burner
Does Windows 10 have Blu-ray burner software?

Yes, it does. You can use the Windows File Explorer on Windows 10 computer to burn CDs, DVDs, and Blu-rays. After inserting your disc, choose the Write a CD/DVD/ player option.

Can my computer burn Blu-ray without a drive?

No, you can't. If there is no internal drive on your computer, you can use the external drive to read the Blu-ray disc. Then it can work with the burner software and help you burn the disc.

Do I have to buy an external Blu-ray burner?

No, you don't. If you already have a Blu-ray drive to read your disc, you can always rely on the free burners above to burn a Blu-ray disc on your computer.
Conclusion
That's all for the 5 best Blu-ray burning software on Windows and Mac. You will find a desirable one to burn your Blu-ray disc on the computer. With the detailed steps above, you can immediately prepare a Blu-ray disc and create great content after picking the suitable tool. Furthermore, if you want to save more time while getting the best output quality, the Blu-ray Creator is strongly recommended by Blu-ray Software.