Blu-ray Player
Smooth Playback for 4K Blu-rays/Folder/ISO File/Videos.
Free Download
Free Download
A Review on DVDFab Player Helps You Do Optical Choice
This age has seen a phenomenon that people are more likely to pay for a high-quality life, no matter how much cost they would take. People's spare time has been squeezed very tight because of the fast pace of city life, which leads to a tragedy that they do not have time to shop, go to the cinema, spend with family, etc. But some things, take watching movies and shopping as examples, do have antidotes, allowing people to shop and watch movies by using software. In this article, the focus will be put on the introduction and review of a DVD-playing product, that is DVDFab Player. Additionally, this post will also answer some questions about DVDFab Player in the end. Now please keep reading to know more.

Part 1. DVDFab Player And Its Utilities
Does your DVD player only play DVDs? Does it have regional limitations? Are you still being bothered by plenty of unorganized documents? If you have hit these obstacles, maybe now it is time to shift to the DVDFab Player. But all sayings are less convincing than doing so. This post will lead you to test and review this software. Here we go!
DVDFab Player, a professional DVD-playing product, has now been renamed as PlayerFab DVD Player, which enables you to play DVD discs, ISO files, folders, Blu-ray, and more. If you have some DVDs that are out of print, and you do not want to buy a disc drive on the one hand, and are accustomed to playing it on the computer on the other. So DVDFab Player will perfectly meet your two needs at the same time, allowing you to enjoy videos or audio at home with high quality and zero lags. Besides, no matter whether you own commercially-produced DVDs or traditional DVDs, DVDFab Player can help you play both of them, creating an immersive theater-like experience.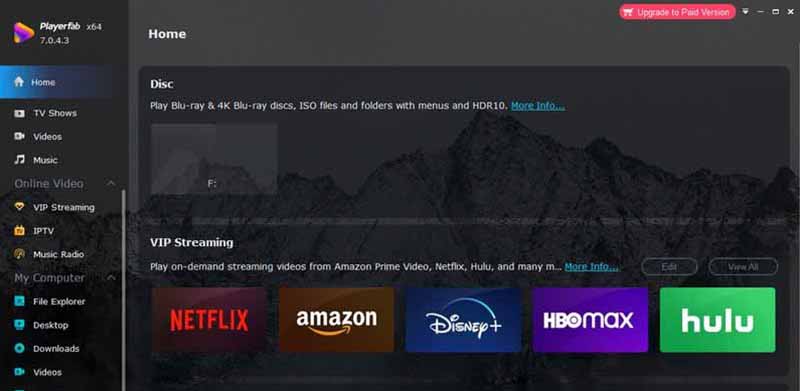 Without regional limitations
Some DVD Players do not support you playing materials from other regions considering intellectual properties. But DVDFab Player is one of the 'clear streams' among all software. It can easily process audio and videos like DVDs, 4K Blu-ray discs, Blu-ray, ISO files, and folders from other regions and shift them into amounts of formats, such as MP3, WAV, M4A, FLAC, WMV, MOV, FLV, etc.
Able to play videos from various sources
From local videos and audio to streaming ones, DVDFab Player is totally qualified for them. You can play and import videos and audio from your computer, or some renowned online platforms.
Well manage your files
Most of you may have been troubled by the phenomenon that all files are crammed into one folder, wasting a lot of time in finding the target. But DVDFab Player will provide you with a local media library in which discs, movies, TV shows, music, videos, and collections are all listed clearly on the homepage. Thus, worries about this matter would go away forever.
Easily customize your video and audio
DVDFab Player enjoys a variety of advanced settings, including setting your hotkeys and subtitle styles like position, size, bold, italic, or what. Besides, you can also make snapshots and turn them into types like JPG, PNG, and BMP. As for playback, you can select different languages for the menu, audio, and subtitles.
Multiple channels from countries around the world
DVDFab Player allows you to choose channels from different nations, such as the US, the UK, Japan, Germany, and so on, according to categories like cooking, animations, auto, business, culture, science, etc.
Just as I have mentioned above, DVDFab Player boasts lots of functions and advanced settings, so maybe you will get confused to using it at the start. Now comes my tutorials on how to use it.
Make your materials in order
DVDFab Player offers users alternatives to classify their materials in terms of types. You can put your files in preset libraries like music, videos, movies, discs, and so on. It's up to you.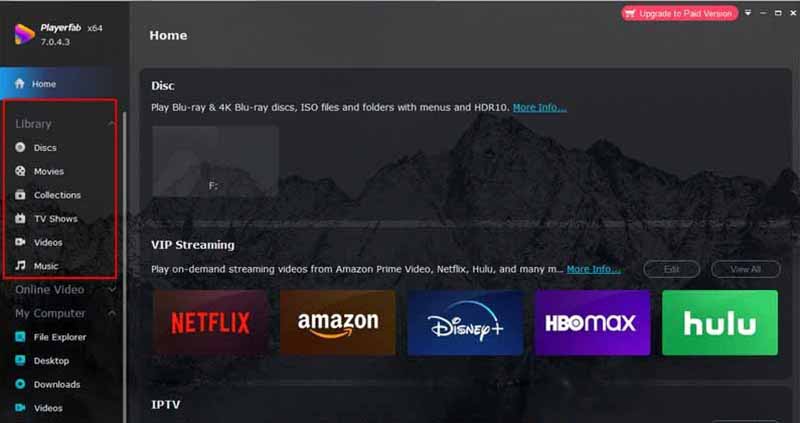 Customize your needs
You must not anticipate that DVDFab Player unexpectedly gives you choices to set your own page. Just click settings or tap F5, and the advanced settings will come to your eyes.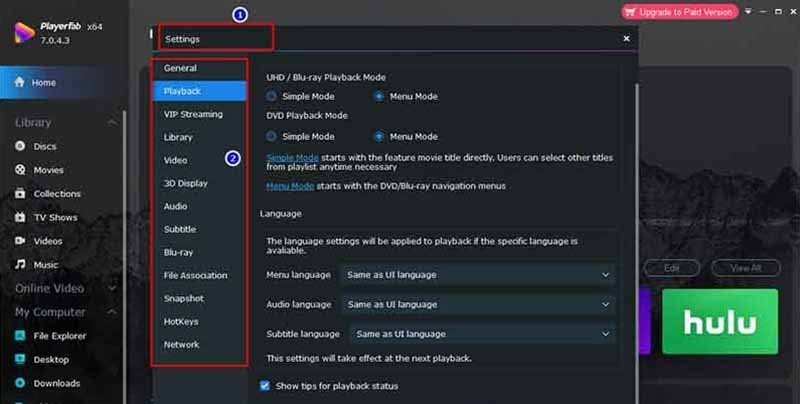 Select worldwide channels
DVDFab Player can let you play videos or audio from channels of many countries with a fast speed.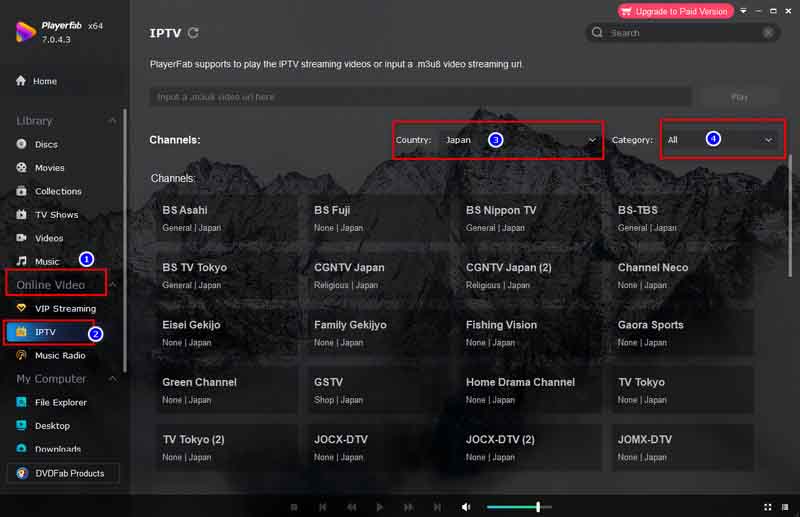 Pros

Enjoy a regional free function.
Multiple formats are available.
Customized services to satisfy you.
Cons

It may arise malaise in some older Windows systems.
Complex and unfriendly user interface.
Expensive subscription fees.
As for the shortcomings of DVDFab Player, there is an alternative to compensate for it. So this post will recommend another DVD player, that is Blu-ray Player.
Part 2. Alternative to DVDFab Player
Blu-ray Player can play videos and audio and support Blu-ray, ISO files, and folder well. It boasts an easy but not casual interface as well as explicit instructions for people to play their favorites without quality loss. In addition, Blu-ray Player provides users with a theater-like experience at home, endowing them with surround audiovisual scene. Besides, you are allowed to edit those videos and audio, like adding subtitles and audio tracks. Although the DVDFab Player enjoys more functions, it is exactly its shortage because most users do not even need them, or feel dazzled when facing such numerous functions. Additionally, DVDFab Player supports Mac and Windows as it advertises, but it still gets into troubles when you install it in systems like Windows 7 because of the relatively old version. Therefore, this article will introduce an alternative to DVDFab Player, which is cheaper and as powerful as DVDFab Player.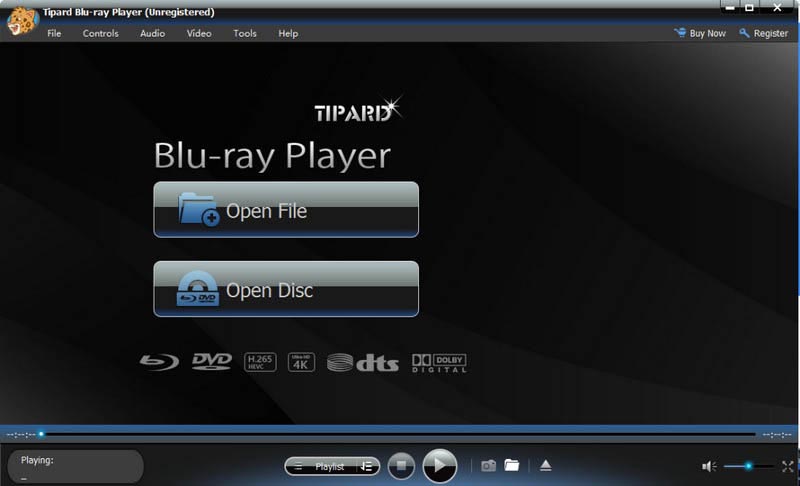 Blu-ray Player
Support hundreds of video and audio formats playing
Free to set audio/subtitle/video track at fast speed
Concise interface with simple operation
High resolution image and surround sound
Part 3. FAQ about DVDFab Player
What is the alternative to DVDFab Player?

Blu-ray Player is one of the alternatives to DVDFab Player, which can play videos and audio, and allow to import Blu-ray, ISO files, and folder.

Can DVDFab play Blu-ray?

Yes, DVDFab Player can easily process DVDs, 4K Blu-ray discs, Blu-ray, ISO files, folders. What's more, HD and UHD 4K are also available.

Does DVDFab work on a Mac?

Yes, DVDFab Player supports users in playing their videos and audio both on Mac and on Windows. So you don't worry that it doesn't work on Mac.

Is DVDFab malware?

No, DVDFab Player is not malware. It is produced by a legal and trustworthy company. So just use it with enough assurance.

What does DVDFab do?

DVDFab Player enables you to play DVD discs, ISO files, folders, Blu-ray, and more. It can help you customize your videos and audio at your free mind.
Conclusion
After testing DVDFab Player, my experience is that it is a reliable software and you can play DVDs or more on it. As the post disseminates its strength, the drawbacks of this software cannot be ignored. Shortages including a complex interface, the advanced settings that may cause you to feel dazzled, high price to subscribe it, etc., also impair its shine. Therefore, the essay has also introduced an alternative to DVDFab Player - Blu-ray Player, which has perfect audiovisual quality and can export Blu-ray, ISO files, and folder to hundreds of formats, and much cheaper than DVDFab Player. For this reason, Blu-ray Player may be a better choice for you. Are you still hesitating? Move and act quickly to try this software; I'm sure that you will be definitely surprised by DVDFab Player.