Blu-ray Ripper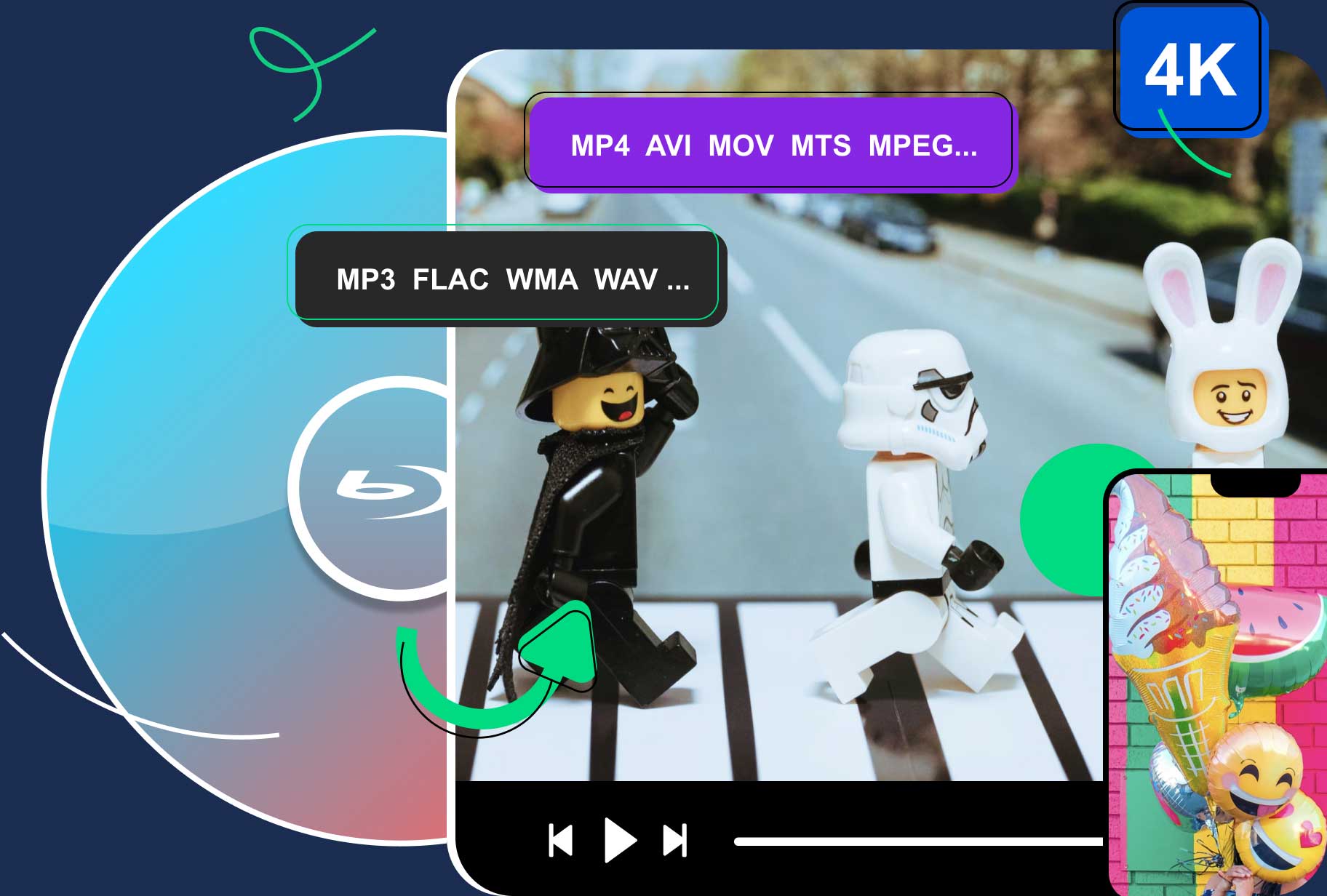 High-Quality Solution for Ripping Blu-ray/DVD/Folder to Any Formats Quickly
Free Download
Free Download
4 Steps to Convert Blu-ray to Xvid on PC and Mac
Xvid compresses your raw video file size to make it more suitable for storing on the disk. Otherwise, the raw file can be crowded on the computer. You can also access your videos/movies at your fingertips. Converting Blu-ray to Xvid can take advantage of this benefit, allowing you to even burn the Xvid files to a DVD with a smaller storage capacity than the source Blu-ray disc. You just need an excellent Blu-ray to Xvid converter to help, and Blu-ray Software has found you one. Below are the conversion tutorial and detailed introduction that compares Xvid and its popular rival, DivX.

Part 1: Are DivX and Xvid the Same?
DivX and Xvid are not the same. They are both video codec libraries and not video formats, which means they can compress video to formats for direct playback on the computer. For example, Xvid is a program for compressing to MPEG-4 ASP format. MPEG-4 Part 2 DivX, H.264 / MPEG-4 AVC DivX Plus HD and the High-Efficiency Video Coding DivX HEVC Ultra HD codec are all DivX codecs.
The biggest difference between DivX and Xvid is that Xvid is free software and can be widely used on more platforms than DivX. Most modern DVD and Blu-ray players support playing Xvid but only some support DivX. As for media players, if they support DivX, then you can definitely play Xvid files in them.
As for the compression, a full-length DVD film can be compressed well enough with Xvid to fit on a single CD. DivX can maintain relatively high quality while compressing the video to a smaller size.
Usually, Xvid files often appear with a .xivd file extension, while video files encoded with DivX can have .avi, .divx, or .div extensions. Some even have a .mkv file extension.
Despite all these differences, DivX and Xvid are no longer popular anymore due to the emergence of a new codec - H.264, which has become the new industry standard today. Additionally, if you want to open Xvid and DivX files, there are still plenty of media players you can choose from: KMPlayer, VLC Media Player, and Windows Media Player.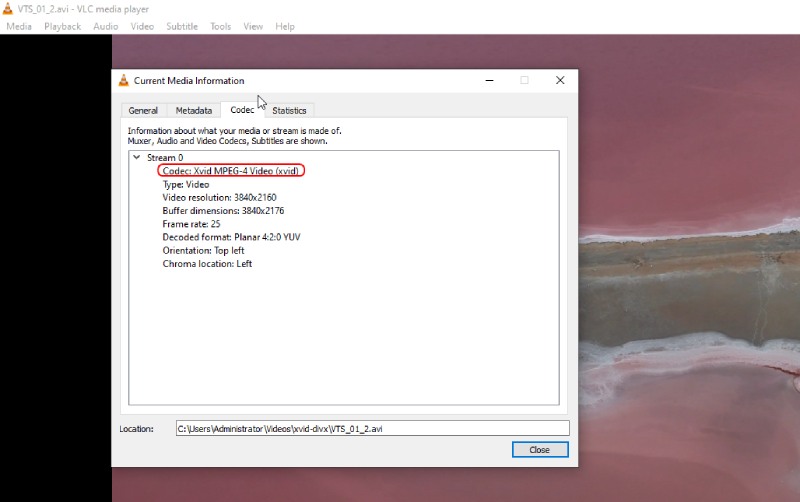 Part 2: Convert Blu-ray to Xvid (PC & Mac) - Blu-ray Ripper
Blu-ray Ripper is an excellent Blu-ray to Xvid converter for Windows PC and Macs. Compatible with Windows 10, 11, and macOS 13, this ripper software can easily rip the Blu-ray disc to Xvid encoded video format. The pre-installed presets inside the ripper make it easier to choose output resolution. The Xvid preset offers 4 different resolutions. You can get as high-definition as 1080P.
Apart from the Xvid codec, there are others you can choose from. For example, the DivX codec is also available in the ripper. But two codecs generate AVI videos after ripping. Although you cannot change this format, you can change other settings, like Bitrate, in the Xvid-encoded format profile.
It is also worth mentioning that Bitrate can influence your output video size and quality. If you are not a professional, simply using the Smart Match option would be enough.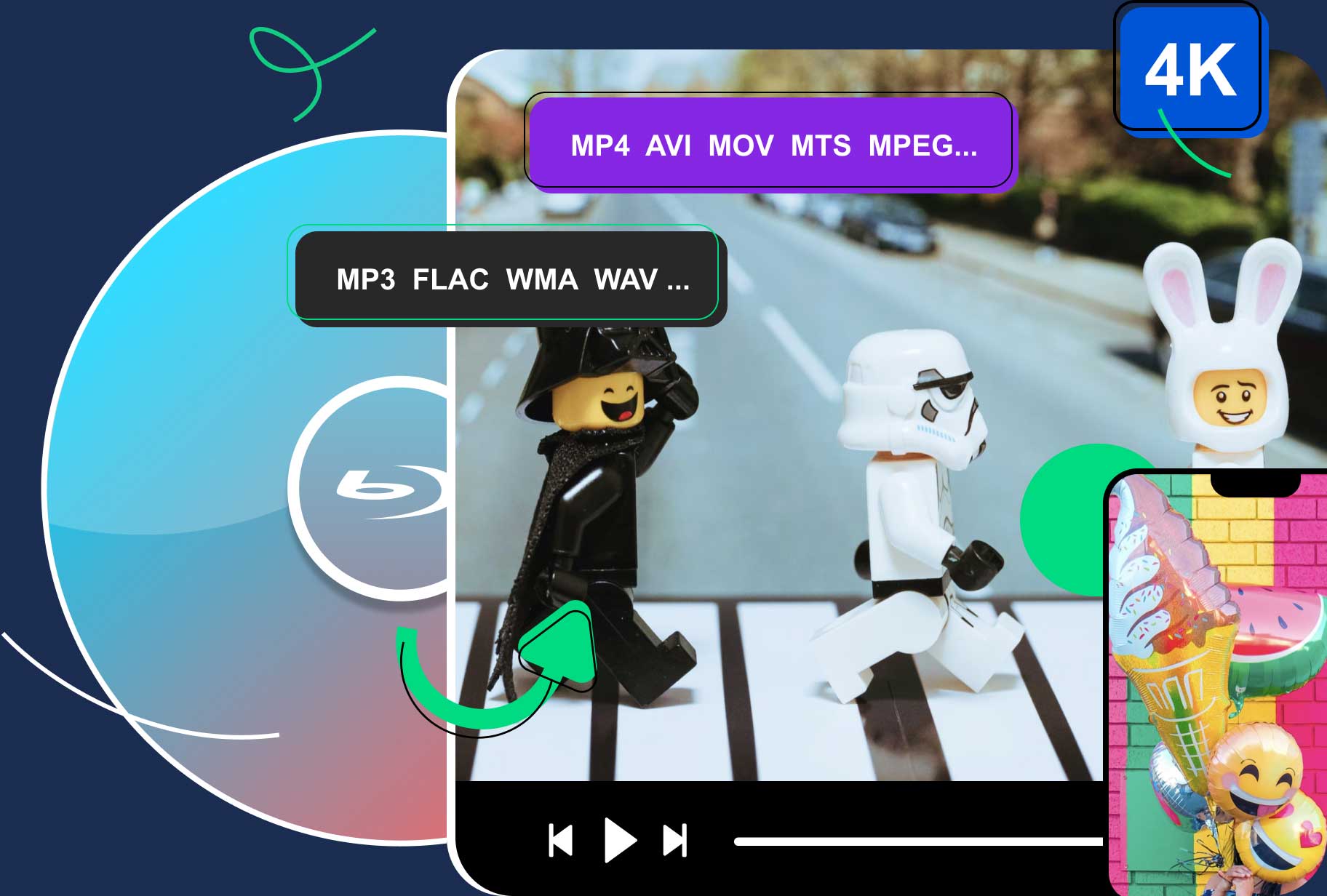 Blu-ray to Xvid Converter
Set up a new profile of Xvid codec with new settings.
Get high-quality Blu-ray ripping results.
Convert Blu-ray to AVI format using Xvid codec easily.
Use the built-in toolbox to enhance the compressed video quality.
How to Convert Blu-ray to Xvid on Windows and Mac
All the buttons in the following steps are the same, whether you are using Windows or Mac.
Step 1Safely download the converter for free via the button above. Then, install it, and you can connect your Blu-ray drive to the converter simultaneously. Next, launch the converter and insert your disc into the drive. Click the Load Blu-ray Disc button, and you will see your disc.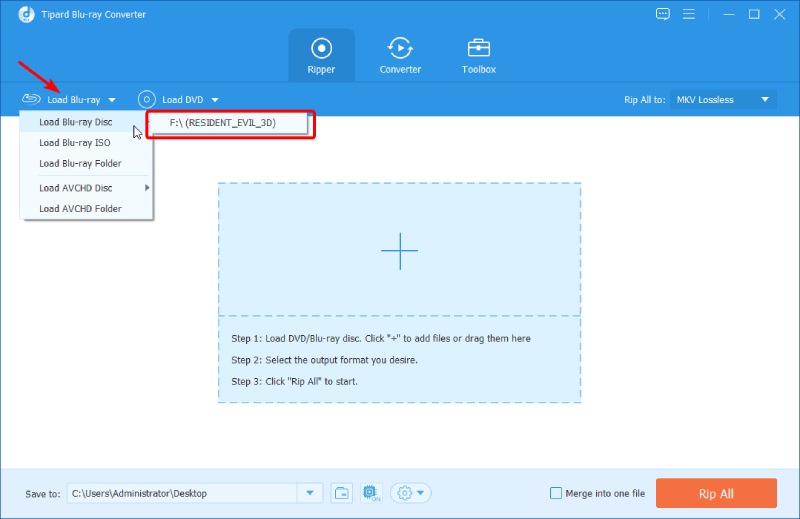 Step 2After choosing your disc, the converter will load all its titles. Click the Rip All to dropdown button to choose Xvid codec for them. You can find the Xvid profile in the Video tab.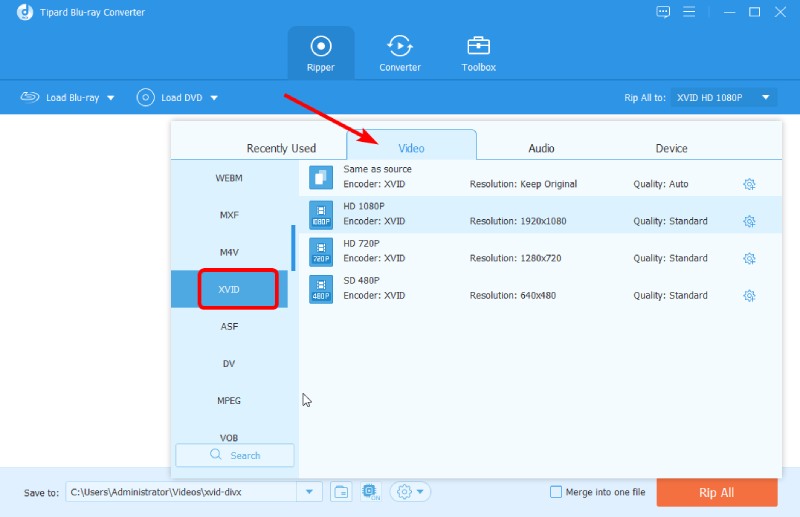 Step 3Choose the destination folder by clicking the Save to dropdown button. Then, click Browse and Select Folder, which will open a new window.

Step 4After selecting the folder, click the checkbox of Merge into one file. All the Blu-ray titles from the disc will be combined into one video. Click the Rip All button nearby to start converting Blu-ray to Xvid.

Tips
After ripping ends, you will get a video with the AVI file extension. If you are unsatisfied with the output Xvid-encoded video quality, you can go to Toolbox in this Blu-ray to Xvid converter and find Video Enhancer. You can import the video there and increase its resolution.
Part 3: FAQs about Blu-ray to Xvid
What codec does Blu-ray use?

The video and audio files in the Blu-ray disc can use various codecs. So there is no specific answer. For Blu-ray players and recorders, the codec support is limited. They support MPEG-2, MPEG-4 AVC, and SMPTE VC-1 as video codecs. For audio, they support LPCM, Dolby Digital, Dolby Digital Plus, Dolby TrueHD Surround, DTS-HD High-Resolution Audio, and DTS-HD Master Audio.

Can Mac play the Xvid file?

No, it cannot. At least Mac's default player, QuickTime player, does not support Xvid codec, and therefore, you cannot play files encoded with Xvid. To play such files after converting Blu-ray to Xvid, you can either convert them or download a player that supports Xvid. VLC can do both.

Can Blu-ray players play Xvid files?

According to some users, Sony's players cannot play Xvid files. But technically, they should have supported such playback, given that Xvid is a subset of H.264 with a simpler profile.
Conclusion
Simply summarize, an excellent Blu-ray converter software, a Blu-ray drive, and four simple steps are all you need to convert Blu-ray to Xvid on the computer successfully. The ripping tool picked by Blu-ray Software works perfectly fine on Windows PC and Mac. You do not need to worry about the compatibility issue of the output Xvid file on Mac, given that the converter also has a built-in video converter. Do not hesitate and download this Blu-ray converter software here.